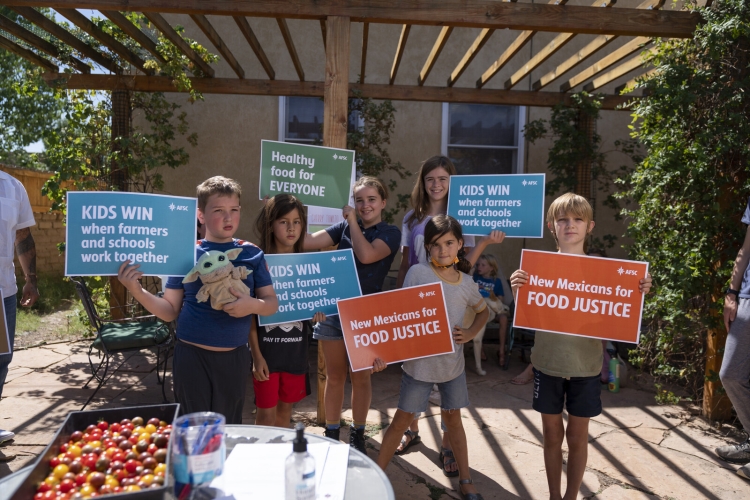 For nearly 50 years, the AFSC New Mexico Program has supported historic, land-based, and marginalized communities in growing their own food and protecting their access to land and water.
Today, our program continues to focus on supporting small-scale, sustainable farmers in providing nutritious and affordable food to children and their families.
Here are a few of our accomplishments in 2022:
Annual Farmer Gathering
Huddled under blankets, we convened farmers and partners for our ninth annual Farmer Gathering in March. For the first time since the start of the pandemic, we met in person outdoors. It was a joy to reconnect, reaffirm our relationships with each other, and discuss our futures together.
"The best part of the gathering is that it builds community connections, giving me hope," one farmer said. "Learning and listening to each other, I realize our challenges are so similar."
Farm to Food Bank
We celebrated Farm to Food Bank, our successful COVID-response project that ended this year. The project supported local farms' economic viability during the pandemic while getting much-needed healthy produce to local food pantries.
Over 18 months, we purchased over 22,000 pounds of produce from more than 30 family farms. We then donated that food to New Mexico's largest food bank and 12 other food pantries. We are glad that the State of New Mexico is now piloting a Farm to Foodbank program through the state's Department of Agriculture.
Acequias exhibit
Acequias are democratically controlled waterways that serve as the lifeline of the South Valley. Acequias bring water to fields and nourish community relationships, wildlife, and agriculture. Rooted in place, common values, traditions, and a shared future, they have a deep global history and have shaped the South Valley for centuries.
This year, AFSC co-created an educational exhibit with community partners about the acequia system, and it was a huge success. This summer, the exhibit reached more than 1,500 people. As a result, the City of Albuquerque has requested the exhibit be shown through their facilities.
Farm to Preschool
This fall, AFSC New Mexico completed the fourth year of our popular Farm to Preschool campaigns. This work connects small, sustainable family farms and early childhood education centers. Local food grown with regenerative farming practices is powerful medicine—for our bodies, our cultures, and our planet.
For the youngest children, we added Bidii Baby Food for infants, the first Navajo-owned/Navajo-grown baby food company. We also pushed to get local veggies on preschool menus on a regular basis.
With efforts like our fourth annual Great Carrot Crunch, we provided 1,500 children and teachers with lots of fun ways to try veggies from seven local farms. We partnered with Albuquerque Friends Meeting for a celebration of local farms with our annual Cherry Tomato Chomp.
Farmer Fidel Gonzalez, a graduate of our farmer training program, brought cherry tomatoes for Meeting members to eat. Fidel talked about farming and the impact AFSC has had on his life. The children loved trying the red, yellow, and purple tomatoes.
Farm to School
Our Farm to School project is creating a replicable model for school food procurement that supports local producers in sourcing fresh, healthy produce for school children. We work with the New Mexico Department of Agriculture to direct public funds to schools to buy food produced by local farmers.
"The students love the opportunity to have fresh fruit during the day," says Charlotte Trujillo-Adelte, principal of the Mark Armijo Academy in Albuquerque. "We have a long school day, so being able to put out snacks for them has been great. And the parents really appreciate their kids being able to get fresh food."
Patrick Jaramillo, AFSC New Mexico program co-director, says schools have very limited budgets. Even when they want to provide fresh, local produce to their students, they often can't afford it. "But with this program, they can tap into resources set aside to help support the farmers in their communities," Patrick says. "So they don't have to rely on subsidized industrial products to feed their kids."
When farmers have a market they can rely on, they have a much better chance of being successful in the long term. This is especially so in a landscape dominated by larger industrial businesses. This is important for up-and-coming farmers in training, who AFSC NM prioritizes with this program.
Harvest for Justice
In October, we gathered with friends and former staff to celebrate this good work in our inaugural Harvest for Justice reception.
We remain grateful for these opportunities to make a difference in the lives of our children, local farmers, and communities.
Thank you to all who help make our work possible!