By Patrick Jaramillo and Sayrah Namaste, co-directors
On March 7, 2022, AFSC New Mexico convened farmers and partners for our 9th annual Farmer Gathering. For the first time in over two years, we met in person to reconnect, reaffirm our relationship with each other, and discuss our futures together.
More than 20 people masked up and gathered outside at the historic Gutierrez Hubbell House in Albuquerque. Out of an abundance of caution, we invited fewer people and met for a shorter amount of time than usual and stayed outdoors to ensure that the event was as COVID safe as possible.
The weather was all anyone could ask for from a March day in New Mexico; beautiful, sunny, not too cold, not too windy, but just enough to remind you that it is still winter, but spring is in a hurry to get here. We had outdoor heaters, blankets, hot drinks and hot soup to keep folks warm; our lunch catered by our local food cooperative.
"The best part of the gathering is that it builds community connections, giving me hope," one farmer said. "Learning and listening to each other, I realize all of our challenges are so similar."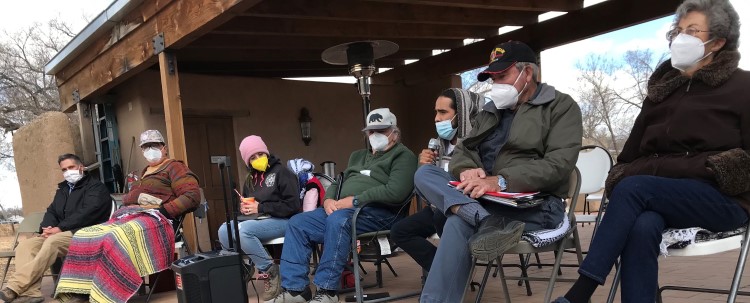 Farmers shared about their operations, where and what they grow, and some of their successes and challenges over the last two years. AFSC NM gave program updates, sharing what we have been up to around New Mexico and within the broader AFSC.
We wrapped up by having some small group discussions around issues raised by farmers that they or their communities are facing. We talked about how AFSC can continue accompanying them in their work to protect our land and water as well as feed and care for each other.
"The AFSC farmer gathering helped me strengthen old connections, make new connections, and I learned so much!" another farmer said. "I loved the presentations and discussions. I just wish it was longer."
While this year's gathering may have been more abbreviated than we would have wanted, after so long apart, it was so great to see and spend time with the people who make the work of AFSC-NM possible.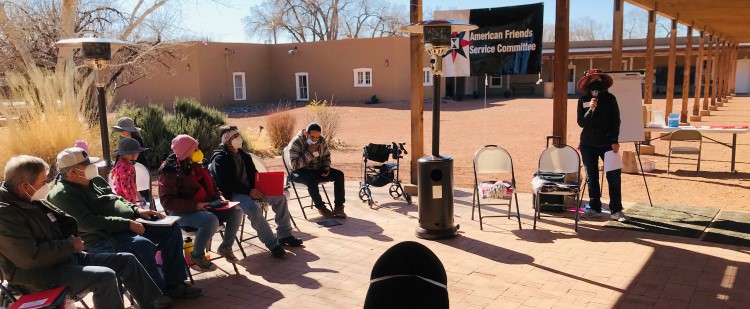 photos: AFSC New Mexico staff