On Wednesday June 8, the AFSC New Mexico Program hosted a small gathering at Valle del Bosque Park in the South Valley of Albuquerque. We shared the results of an evaluation done of our Farm to ECE (Early Childhood Education) work with all those who helped make the program such a success.
Farmers, ECE teachers, AFSC-NM staff, the clerk of our Program Area Committee, along with our evaluator from META Associates and our grant officer from the W.K. Kellogg Foundation all got to meet each other. We enjoyed fresh vegetables featured in our Healthy Food Campaigns; peas, carrots, and salad turnips grown by the participating farmers. We also shared a delicious meal provided by a local caterer.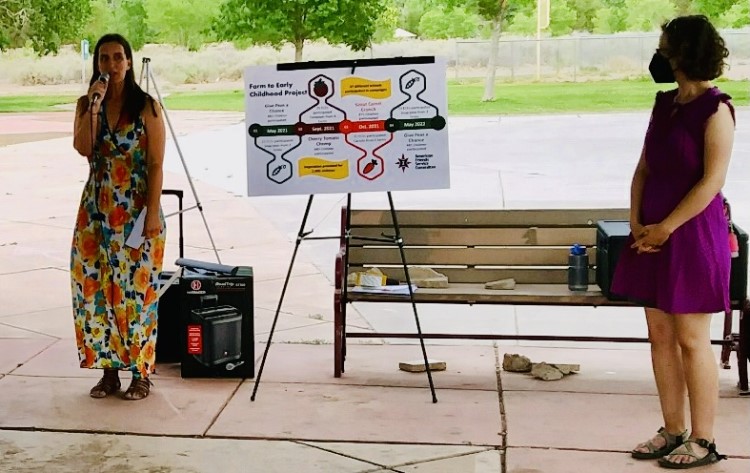 AFSC NM staff Sayrah Namaste (left) and Angelina Lopez-Brody (photo: AFSC NM)
The completion of this 18-month grant from W.K. Kellogg Foundation was a good opportunity to celebrate our successes, honor the ECE staff farmers who made it possible, share information about what was accomplished, and consider the future of the Farm to ECE work.
We are proud to say that AFSC-NM met or exceeded all the goals of the grant. We're very happy to announce that the W. K. Kellogg Foundation will be funding AFSC-NM for another two years to work on going beyond the Healthy Food Campaigns to getting local produce on the ECE centers' menu regularly.
We believe the Farm to ECE programs can play a pivotal role in helping children get the nutrition they need, and all of us at AFSC are excited to be finding ways to make a difference in a program that helps both children and farmers.