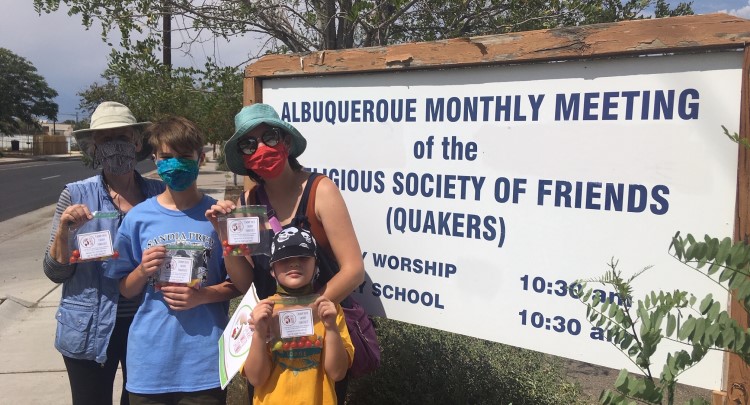 August in New Mexico is abundant with tomatoes! A group of farmers we work with suggested AFSC build on the success of the 2019 Great Carrot Crunch with a 2020 Cherry Tomato Chomp. Despite the pandemic, we were able to work with an elementary school and three preschools.
Angelina Lopez-Brody, one of the AFSC New Mexico program staff, worked with a local Quaker who is a graphic designer to create a Cherry Tomato Chomp Guide full of fun activities for teachers, parents and students. One of my favorite activities in the Guide is a historical timeline and world map showing how tomatoes were first cultivated in South America and then spread across the globe. The activity guide covers school subjects like math, geography, history, art and vocabulary words.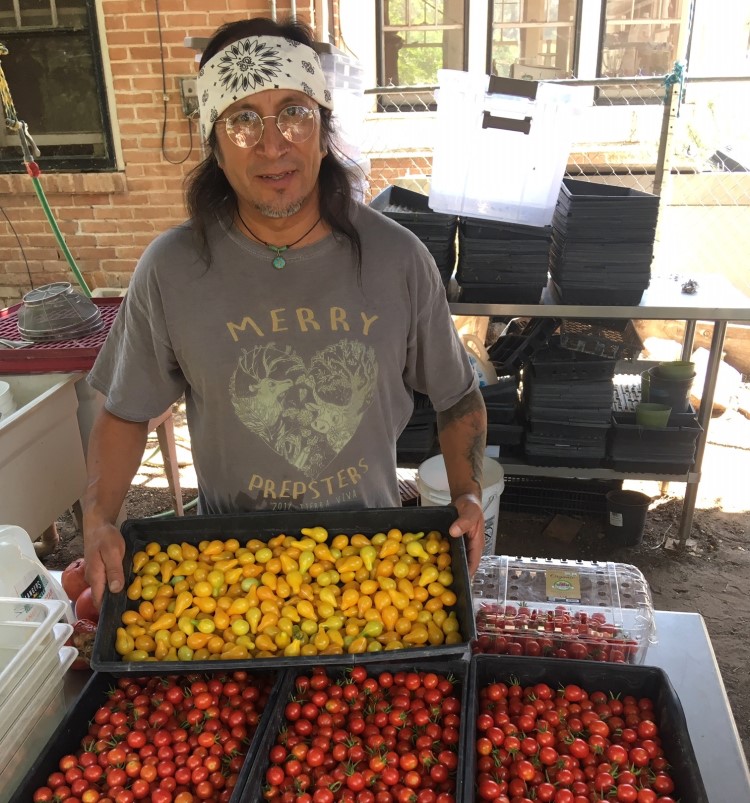 Fidel Gonzalez, Albuquerque farmer
Many of the small sustainable family farms we work with have lost a lot of their customers during the COVID-19 pandemic, so they were relieved that the Cherry Tomato Chomp was not cancelled. We adapted the healthy food campaign knowing that some of the schools are not meeting in person yet. The Albuquerque Friends Meeting volunteered to help us label hundreds of individual bags and then filled them with cherry tomatoes so students and their families could eat them together at home.
One of the schools we worked with has a student whose father grew the tomatoes, something the eight-year-old was very proud of. As I unloaded coolers full of cherry tomatoes, I noticed two teachers sitting outside laughing. "We have never seen so many cherry tomatoes in our lives!" they explained. "This isn't even half of them!" I told them. "We have enough for all the teachers and staff, too!"
We know that American children suffer from high rates of childhood obesity and juvenile diabetes, and anyone with pre-existing health conditions is at greater risk of contracting COVID19. We also are dismayed that small organic farms struggle to keep afloat, especially during a pandemic when many businesses have closed.
"Kids Win When Farmers and Schools Work Together" is the motto of our healthy food campaigns, and we are grateful for another successful season thanks to the dedication of the teachers, school staff, farmers and community members who rallied together.