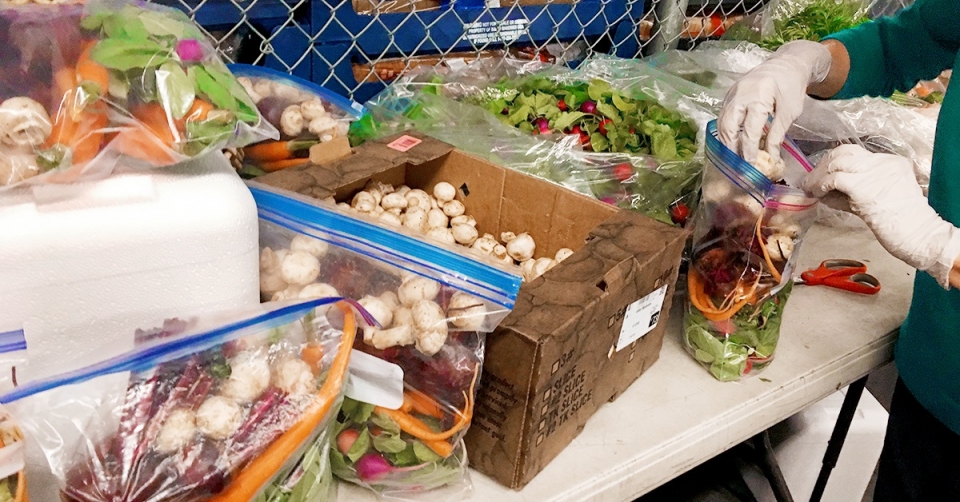 Photo: Core-Visual
At the start of the pandemic, AFSC launched the Farm to Food Bank Project in New Mexico to connect small-scale farmers with food banks struggling to meet rising needs during the pandemic.
As the director of AFSC's New Mexico Program, I want to thank you for helping us bridge this critical gap.
Since March, we have provided more than 12,000 pounds of local, fresh produce—reaching thousands of community members in need. None of this would be possible without the support of the AFSC community and our partners.
Your support is helping us to purchase fresh, organic produce from 25 sustainable farms and distribute that food to Roadrunner Food Bank—the state's largest food bank—as well as five shelters and food pantries that serve people who are homeless, domestic violence survivors, seniors, and immigrants. We're also supplying farmers with seeds and other farming materials, as well as safety items like face masks and gloves. In return, farms are providing a portion of the food they grow to local relief agencies.
One Albuquerque farmer told us: "If I didn't have AFSC's Farm to Food Bank to sell my produce to, I may not have farmed this season. I lost most of my restaurants and farmer's markets because of the pandemic. I was able to continue to employ two workers this season at living wages thanks to AFSC's program. It's been a life saver."
Every week, I've enjoyed delivering freshly harvested locally grown vegetables to the food bank, including carrots, radishes, turnips, beets, cabbage, lettuce, onions, garlic, tomatoes, squash, leeks, and asparagus. Food bank staff have told me they have never received such a high-quality produce, since typically food donations are near expiration when they receive them.
Support from Farm to Food Bank came at a critical time for Roadrunner Food Bank. The CEO of Roadrunner shared: "Any time we can get access to nutritious food—especially local, nutritious food—is wonderful. When people are willing to raise their hands in times of difficulties like these, it helps, for sure, to provide nutritious food that is very much needed right now."
Every day, I've been moved by growing local support for Farm to Foodbank—from the County of Bernalillo, which has pledged funding, to our area synagogue, Nahalat Shalom, which organized a fundraiser for our project. And I'm grateful for the dozens of individuals across the U.S. who have donated to our efforts.
Farmers and food banks are key to keeping people healthy during this pandemic and year-round. And connecting those who grow food and those who need it is a concrete, practical way for us to mitigate the devastating effects of COVID-19 and strengthen our communities.
Thank you for helping our Farm to Food Bank project continue to grow!
For updates and photos on Farm to Food Bank, check out AFSC New Mexico's Facebook page.

In the media