"For the Mayan culture…the relationship with the Earth with the land… for them [it's] really important to understand…that we are part of this universe….For them it's really like integrative."
"…what and how we produce that food, that has impacts… environmental impacts. It has social impacts…this is almost at the very core of our society. So that kind of change [to our food system] is going to be difficult."
—Staff members of the American Friends Service Committee's (AFSC) Farming for Social Change network
As a Quaker researching peace, it struck me that food and freedom from violence are both fundamental needs in and of themselves. Yet they are also both connected to how we treat the Earth, how we relate to one another, and how we distribute resources. They are integrative issues. They sit at the cross-roads of overlapping ideas and multi-purpose work. Food work is fundamentally tied up with peace work.
Peace work is complicated, and usually the stories of success and failure, injustice, resilience and survival are all tied up with each other. But when I started my research I knew that it would be easy to get caught up in the injustices of the world, failing to see what was going well. And that wouldn't just be a missed opportunity for feeling good. When we don't look at what resources we already have and what is currently succeeding, we risk taking it for granted.
So I focused on the work undertaken by the Farming for Social Change Network. It's made up of AFSC programs who are united in their use of food work for justice and peace, despite their differences in operations, geographies, and communities. After speaking to multiple member programs, I've come to see that complexity is exactly the network's power. In coming together they provide a perspective on the food system that is global in outlook and local in its practices. Such an approach has the potential to shine a light on the inequities of the status quo and support alternatives that honor our connection to the Earth. It is work that Quakers, and all who care about peace, should know about, pay attention to and support. Because by bringing together locally grounded practices and a perspective that is global in scope, this network carries the potential to create ways forward that will not only nourish people, but also restore our relationship with the Earth and strengthen peace in our communities.
Food, Climate and Peace:
My work focuses specifically on Proactive Peace, which is conflict prevention work. Proactive Peace creates conditions where violent conflict never has cause to arise by proactively addressing conflict risk-factors. Broadly, these risk-factors include things such as resource scarcity and unjust resource distribution. Water, land and food are all examples of key resources, and how they are distributed impacts the potential for peace or conflict. Even though the specific ways that conflict risk-factors manifest always look different in different places, their relationship to peace, to food and to climate change is inseparable. This means that to address them well we need approaches that are integrative, whilst still being grounded in local specifics.
In my research, I wanted to see what Proactive Peace work was already occurring. It never ceases to amaze me just how much such peace work is occurring all the time, without much fanfare or attention. Farming for Social Change is a wonderful example. Made up of lots of smaller AFSC programs (think, two or three staff), they have come together because of their common focus on food and growing as a medium for peace and justice. Predominantly working with migrant, Black, Indigenous and traditional communities, their programs take an approach to food that puts people and the planet first. Working together as a network, they bring this balance of both local action, and an integrative perspective.
Alternatives Exist:
So what does this work look like in a day-to-day sense? To paint a better picture of this, it is worthwhile going through some of the programs I interviewed.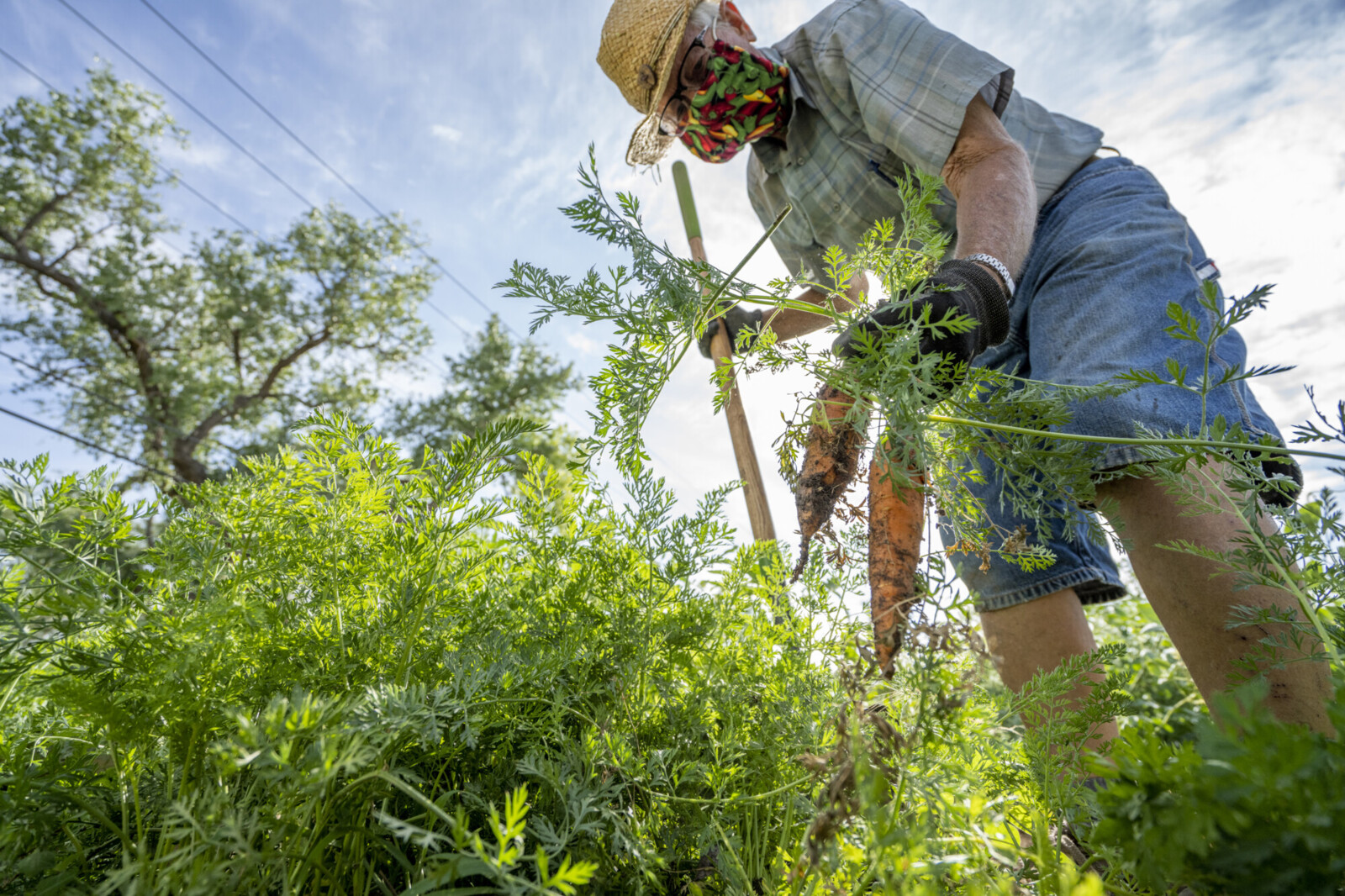 AFSC New Mexico
One of the first member programs that I spoke to in the network is one of its founding members, AFSC New Mexico. They work to support traditional land-based communities to stay farming their land as they have traditionally done. These farming techniques don't use toxic chemicals, and they work with the Earth instead of fighting against it.
Unfortunately, maintaining this kind of farming practice can be an uphill battle. Large-scale and conventional (ie. not organic) agriculture is what is currently subsidised, making it hard for organic growers to compete. AFSC New Mexico provides support in a wide range of ways, including helping groups advocating for water access; campaigns against water-thirsty corporate developments; and creating mutual learning spaces for traditional farmers to come together, support and learn from each other.
The program also helps create markets for the local, organic produce of traditional farmers. For example, the Farm to School program enables local farmers to engage with the community directly, as well as teaching children about where food comes from. Approaches such as this enable a wider range of people to access organic produce. Otherwise many who live near the farms are priced out. This work helps people to stay on the land and in their communities. It contributes to peace by enabling more equal land distribution. It contributes to climate change action by supporting traditional farming practices. Given the significant contribution to climate change made by conventional agriculture, such alternatives are urgently needed.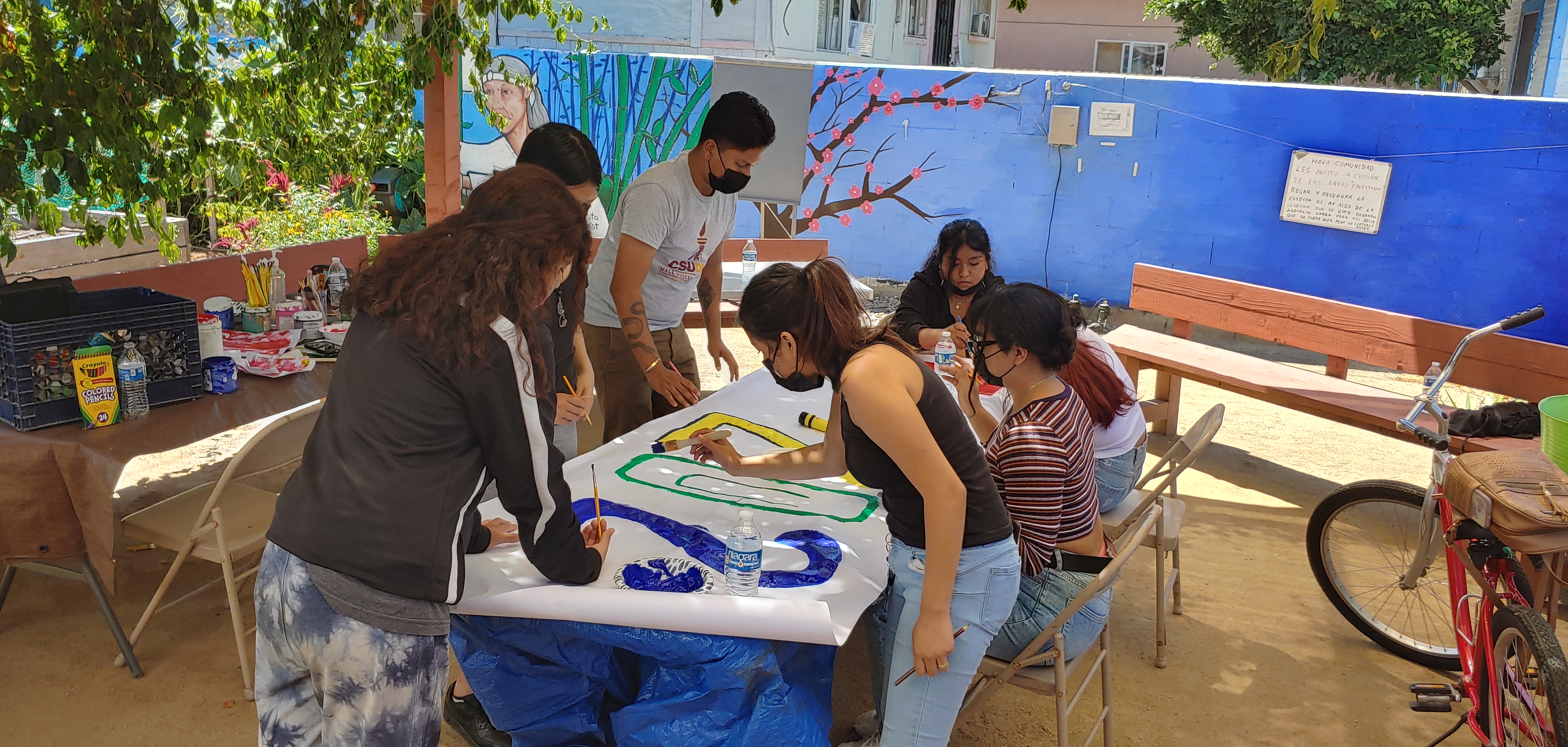 Roots for Peace is based in Los Angeles. It works in a very different context, supporting residents to plant gardens at public housing sites in city neighborhoods. This brings organic produce to communities who wouldn't otherwise be able to afford it. It also brings people together, working in the garden, sharing food, and sharing the skills that the members of this predominantly migrant community bring. This doesn't just involve helping people to grow food and maintain a garden. It also engages in activism and community-organising to try and change council regulations that prohibited tenants of the Public Housing Authority from growing food in their own gardens. Though different in appearance to AFSC New Mexico, this program also contributes to peace through more equal land access, by enabling community usage of the land. This contribution to peace is inseparable from its contribution to food and climate work, because it simultaneously acts as a buffer against food insecurity, whilst helping to lower food miles, which has a positive impact on carbon emissions.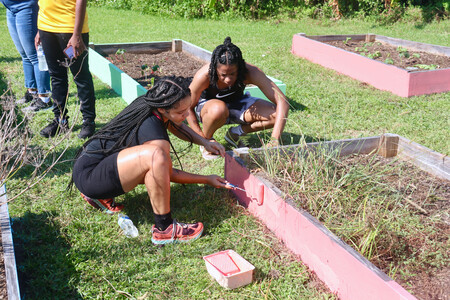 Peace by Piece:
Peace by Piece also focuses on urban gardens. It's an AFSC program in Hollygrove, a predominantly Black neighborhood in the 17th ward of New Orleans, Louisiana. They too spend huge amounts of time organising the permission to grow food on plots of land that otherwise are abandoned and used as dumping sites, or sold to developers who build properties that price people out of the neighborhood. But this work is more than just reclaiming abandoned land — Black people in the U.S. are more likely to live in food insecurity[1] and Hollygrove is often considered a food desert. A food desert is an area which lacks a local food source, such as a supermarket[2]. When fresh produce isn't for sale locally, it is difficult for those who can't drive or don't own a car (a common reality of several neighborhoods in New Orleans) to get fruit and vegetables at all. Unsurprisingly, those on low incomes are more likely to live in food deserts[3]. Peace by Piece's focus on developing community gardens is a way of working to ensure neighbors can have access, not just empty calories, but nutritious food. It's also an opportunity to bring people together with neighbourhood cleanups and community cook-ups. Plus their ongoing efforts to put land back into the ownership of local residents is key to more equal access to land.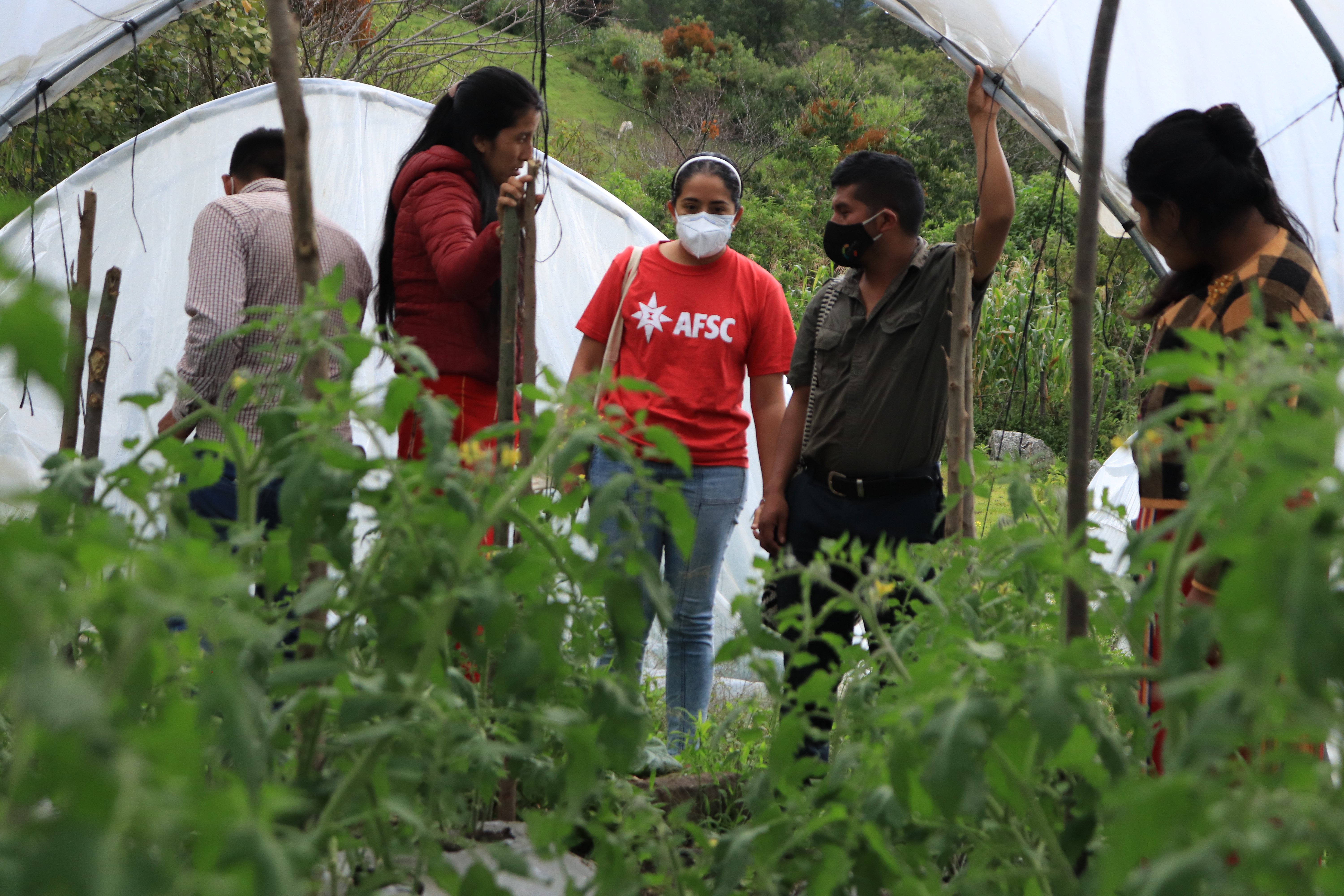 AFSC Guatemala:
AFSC Guatemala also prioritizes the control of local land by local people, with a focus on indigenous land rights, predominantly of the Mayan community. In Guatemala, as in many places, Indigenous people have been forced off their ancestral lands by politically influential corporations. AFSC Guatemala describes this neoliberal, corporate, capitalist model as trying to systemically remove indigenous and Mayan ancestral knowledge and practices, so that others can exploit the natural resources on their land. When this happens, generations of connection to the land and the Earth are lost, with those evicted from their lands, or unable to make a living from their land anymore, often migrating to big cities to work in poorly paid jobs. To AFSC Guatemala, the link between the current food system, capitalism and colonialism is clear. Farming here is political.
AFSC Guatemala's Peace and Social Justice program aims to dismantle this systemic oppression, and put healing at the center of collective and community movements for justice— environmental justice, anti-extractive justice and restorative justice. They do this by contributing to the revitalisation of Mayan identity, accompaniment of communities to strengthen land and identity protection efforts, engaging politically to recover common lands, and providing support with supplies, training, and community organising.
This defence of land and human rights is based on the agency of the people and "El Buen Vivir" (Good Living), in Harmony with Mother Earth. Not only contributing to peace and food sovereignty, this work contributes to climate justice, through indigenous land management and by avoiding corporate agriculture[4]. Because farming everywhere is political.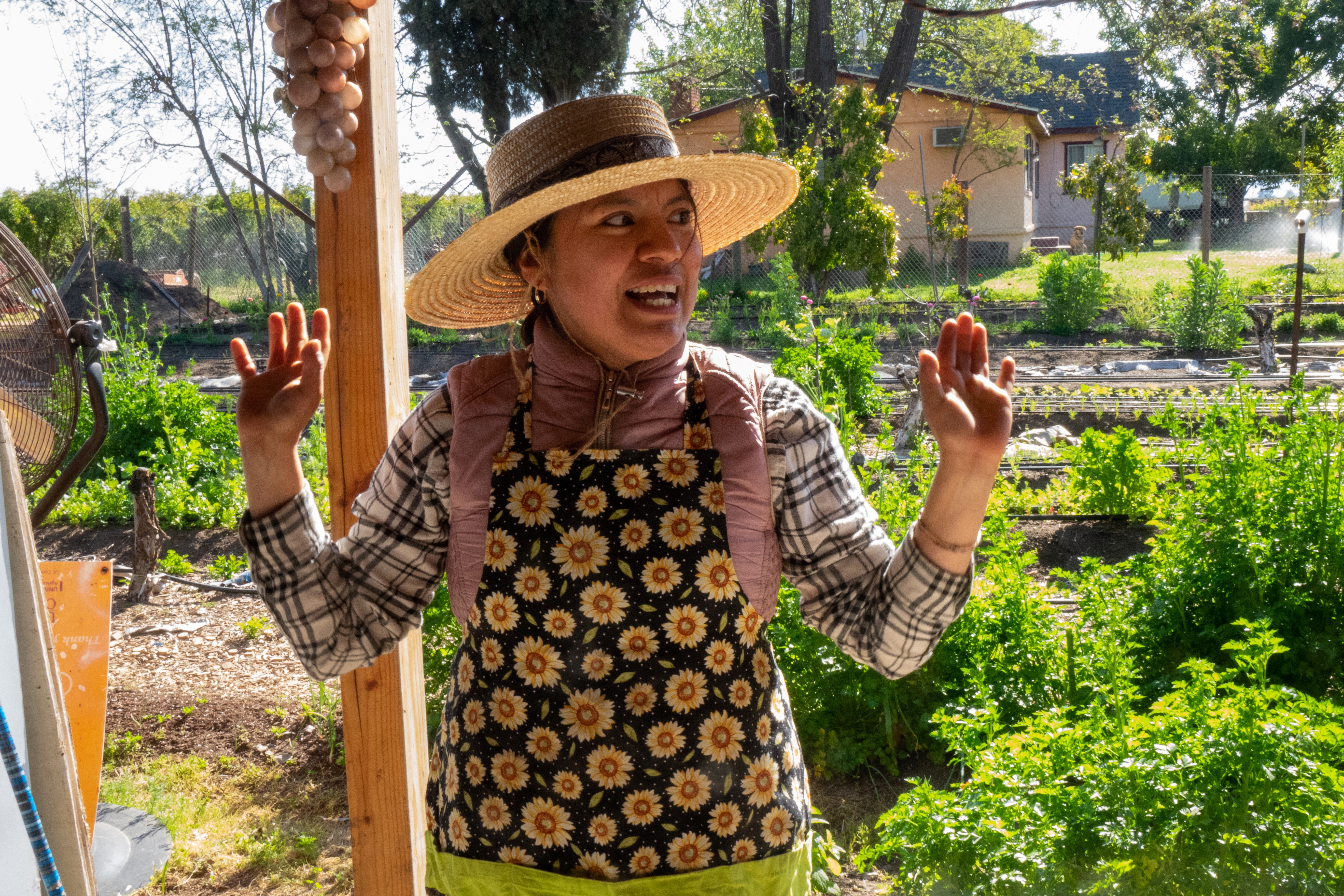 Pan Valley Institute:
The Pan Valley institute takes a different approach to building a more just agricultural system. It supports the migrant workers who perform labor on conventional farms with higher risk of chemical exposure, and often with limited rights and poor pay. The Pan Valley institute works to create spaces for migrant workers to come together, forming networks of solidarity, mutual support and education. It builds their collective leadership, supporting civic engagement so they are able to push for the kinds of political changes they need.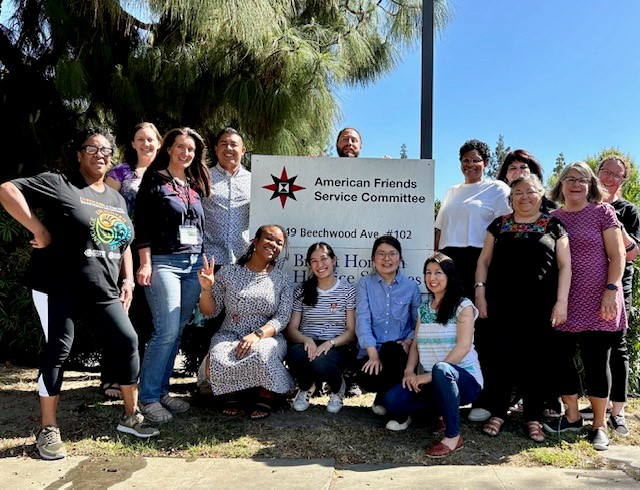 Federal policy:
While all these programs engage in their own advocacy, primarily on local and state issues, AFSC policy staff join the Farming for Social Change network too, sharing their national-level advocacy and drawing from local expertise and experiences to inform their advocacy principles. Current advocacy around the Farm Bill is a good example. The Farm Bill is a huge bill with nearly $1 trillion in spending that is reintroduced every five years. It funds nutrition programs, and has a big influence on what food is grown and how affordable it is. Advocacy on this bill increases the chance of food and farming practices that support the Earth being supported by the government. The policy staff ensure that legislation and other initiatives at the federal level solve local problems and reflect local solutions rather than interfer with them.
None of these programs is world shattering on its own. But then, peace work usually isn't. It is small, but steady. It's persistent, continuing even if it isn't getting the attention that it perhaps deserves. Growing food in a way that recognises connection, our connection to one another and to the Earth, is often an uphill battle. It's political. It involves getting access to land, keeping land rights, and stopping corporate developers. And all of this isn't even considering the effort that goes into actually growing the food and nurturing the Earth. These programs occupy an important space that acts at the crossroads of peace work, food work and climate change work. They advocate for, model, and support better ways for us to live with the Earth and one another
Think Global, Act Local:
When I reflected on the work of the individual programs that make up the network, I realised that their collective scope is phenomenal. Everything, from international relations, to food deserts, subsidies to land rights, traditional growing, indigenous rights, workers rights and urban farming is represented. From soil to plate, from policy to market and across the globe. When understood as a collective, the network's scope integrates the entirety of the food system, all while focusing on local actions of Proactive Peace, food and climate change mitigation. In so doing, they highlight the harms of the current system, and individual programs highlight possible alternatives. These alternatives are based in the knowledge of Indigenous and traditional peoples. They are based in a recognition of our connection to each other and to the Earth.
John Woolman famously said "May we look upon our treasure, the furniture of our houses, and our garments, and try to discover whether the seeds of war have nourishment in these our possessions." What about the food on our tables? Does it nourish the seeds of war, the seeds of dispossession, the seeds of climate change. And if it does, how can we instead nourish peace, land rights and right relationship with the Earth?
Those involved with Farming for Social Change show some of the ways that this is already happening. Those most disposed by the status quo of our food systems are practising the kinds of alternatives that this world so desperately needs. Climate change brings extreme weather events, food shortages and displacement of people[5]. Our conventional food system is a major contributor to climate change[6]; but food and growing is also a major area for opportunity on climate action[7]. Land, water, and food are all resources which, when not accessed equally, are common risk-factors for conflict. Meaningful action on such complex, interacting areas won't come through any single solution. It will take many different approaches, working in cohort with each other.
Proactive Peace emphasises that peace work isn't just enemies talking, it is attending council hearings about water rights allocation and building tunnels for winter seed growth. It's submissions on housing authority regulations. It's planting, weeding, and organising a water supply. The Proactive Peace work of these programs is the myriad of small things they each do, creating a local environment that is more just and which has the space to work through tensions and crisis events as they arise. Ultimately, it's this kind of peace work we need if we want to live in a world that "takes away the occasion for all wars."
References
[1] https://www.ers.usda.gov/topics/food-nutrition-assistance/food-security-in-the-u-s/interactive-charts-and-highlights/#trends
[2] https://moveforhunger.org/harsh-reality-food-deserts-america
[3] ibid.
[4] https://www.drawdown.org/sectors/food-agriculture-land-use
[5] https://www.un.org/en/climatechange/science/causes-effects-climate-change
[6] https://www.un.org/en/climatechange/science/causes-effects-climate-change
[7] https://www.drawdown.org/sectors/food-agriculture-land-use