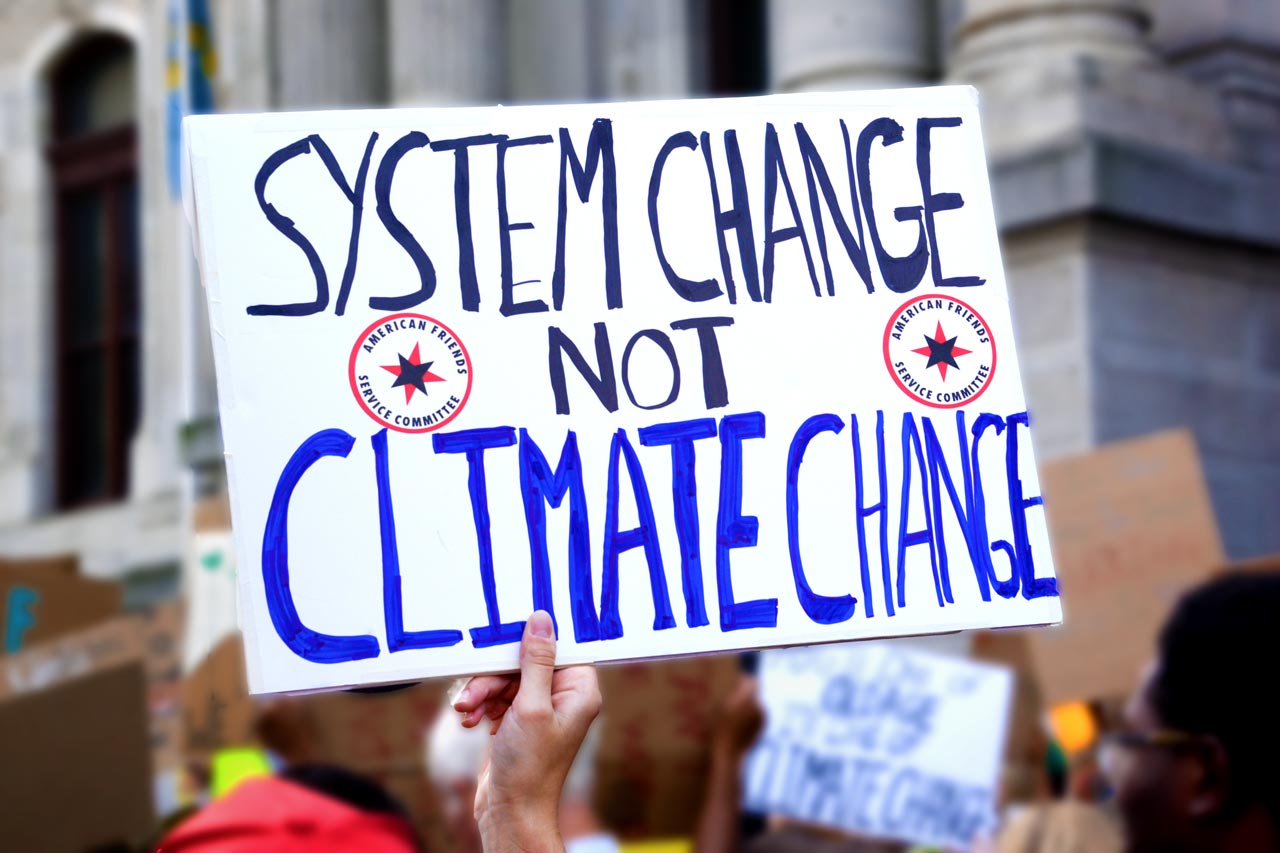 With summers getting hotter and, storms getting stronger, there is no hiding from the fact that the climate crisis is on our doorstep. The environmental consequences of human-driven climate change are becoming evident. So too, are the social effects. The time for action is now. But as Vanessa Nakate, a Ugandan climate youth activist, rightfully said, "not all climate action is climate justice."
Here are four important points to remember in responding to climate change while centering climate justice:
1.) Colonialism is a driver of the climate crisis.
For decades, many Black, Brown, and Indigenous communities in the climate justice movement across the globe have named colonialism and the socio-economic systems born from it as a root cause of climate change. The countries most affected by climate change have made the fewest contributions to greenhouse gases. They also have had the least say in the decision-making process to remedy the situation. This is due to an unequal and unjust political and economic system.
Thirty years after its first report, the Intergovernmental Panel on Climate Change (IPCC) has finally acknowledged colonialsim as a driver of the climate crisis. The IPCC is a United Nations body tasked with assessing the science related to climate change and reporting on it. While this was a milestone, the IPCC only acknowledged what many countried recovering from the legacies of colonization have named: Colonialism is an ongoing issue that worsens the impacts of climate change.
Climate justice acknowledges the West's imposition of capitalist, "bigger, better, faster, more" development ideals in food systems and more as a core driver of global climate change. Thus, the solution must be inherent in turning to the leadership of Indigenous communities and others whose lifeways and systems promoted a more balanced approach to wellbeing. 
Our goal should not only be to reduce carbon emissions or adapt to climate change, but also to create a more just world. That means centering solutions based on equitable distribution of resources,and decentralization of power. This is the antithesis of colonialism. 
2.) Those most affected by the crisis must be centered in decision-making and solutions.
The climate crisis has and will continue to cause the loss of lives, homes, livelihoods, and ecosystems for Indigenous communities and the poorest and most marginalized worldwide. Often communities that experience climate stressors are also affected by conflict situations, political instability, low levels of economic development, and human rights abuses. Across the world, the climate crisis disproportionately impacts Black, Indigenous, and other people of color, especially women in communities subjected to colonial histories. The United Nations estimates that women make up 80% of climate refugees.
Addressing climate change with a justice lens means centering those most affected by the crisis in the decision-making processes for solutions. This emphasis on self-determination and sovereignty allows communities to build out their own future on their own terms.
In Guatemala, AFSC is contributing to food sovereignty and sustainable economy projects led by local partners and indigenous communities. These communities are relying on ancestral knowledge to challenge ongoing systems of oppression with roots in capitalism and colonialism. Projects have included trainings, dialogues, and the construction of community greenhouses. Learn more.
In New Mexico, AFSC advocates alongside land-based people, rebuilding appropriate scaled food systems that are in harmony with nature and feeding local communities - as an alternative to large scale, export based commercial farming. We believe land-based people should be at the forefront, helping leaders make decisions, and not consulted as an afterthought, as has so often happened. Through our work, we have seen how the dominant food system, with its industrial agriculture, mono-cropping, chemicals, and exploitation of farmworkers, is a driver of climate change. To challenge this status quo, we work to protect access to land and water, support small scale, sustainable approaches to growing food, and significantly increase access to healthy food.
By following the leadership of historic, land-based, and marginalized communities, we model the kinds of systemic change we need to see in our world today. 
3.) Climate change and militarism are connected.
Climate change is increasingly a driver of state and inter-communal violence and displacement. With every new climate disaster and resulting resource decline, impacted communities lose a measure of peace and stability. When world leaders rely on militarized responses to climate threats, including climate-related migration, they further undermine peace. 
Militarism also directly contributes to climate change. We cannot call for nations to reduce their carbon emissions without challenging one of the world's leading greenhouse gas polluters, the U.S. military. Climate justice means calling for demilitarization.
When we demilitarize, we also have an opportunity to make different investments. Instead of endless wars, we can fund solutions to climate change as well as systems that enable sustainable peace, open civic space, and prioritize human dignity and rights. This year alone, the U.S. will spend over $768 billion on weapons and war. Imagine how much progress in addressing climate change and other social issues could be made if that money were invested differently.
4.) The global North has a responsibility to adopt policies that promote equity.
Climate justice means looking at our society's past, present, and future with a lens of accountability and responsibility. It means being grounded in a principle of equity as we outline the future we need and how we will get there. 
As the U.S. and other wealthy countries build out elaborate plans to mitigate the harms of climate change, they must address the costs of inaction. That includes the loss and damages that have occurred because of climate disasters to which communities could not adapt.
Less wealthy nations and low-income communities in wealthier nations who also happen to be predominantly Black, Brown, and Indigenous are calling for a collective commitment to reparations for the loss of lives, livelihoods, and ecosystems worldwide. This compensation and distribution of resources must be done by those who have historically profited from the status quo.  
One way AFSC supports this redistribution of resources is through our debt cancellation advocacy for countries like Somalia. A major roadblock to building peace and security in Somalia and other developing countries is crushing national debt owed to wealthier nations. This debt prevents governments from making necessary investments to meet the needs of their people. When major lenders like the U.S. cancel Somalia's and other developing countries' debt, resources can then be invested in critical infrastructure necessary for adapting to climate change. 
Join AFSC in working on climate justice:
At AFSC, multiple programs continue to work towards just and sustainable peace, just economies, and a just responce to forced displacement and migration. In this work, a lense of climate justice informs our efforts. To learn more,
Explore our recent workshops on climate and social justice. Learn how extractive industries are related to forced displacement in Guatemala. Hear from our staff in Jordan about restricted space in climate justice activism. Discover the intersections of climate justice and Quakerism. You can find these recordings and more on our Quaker Action for a Just World page.