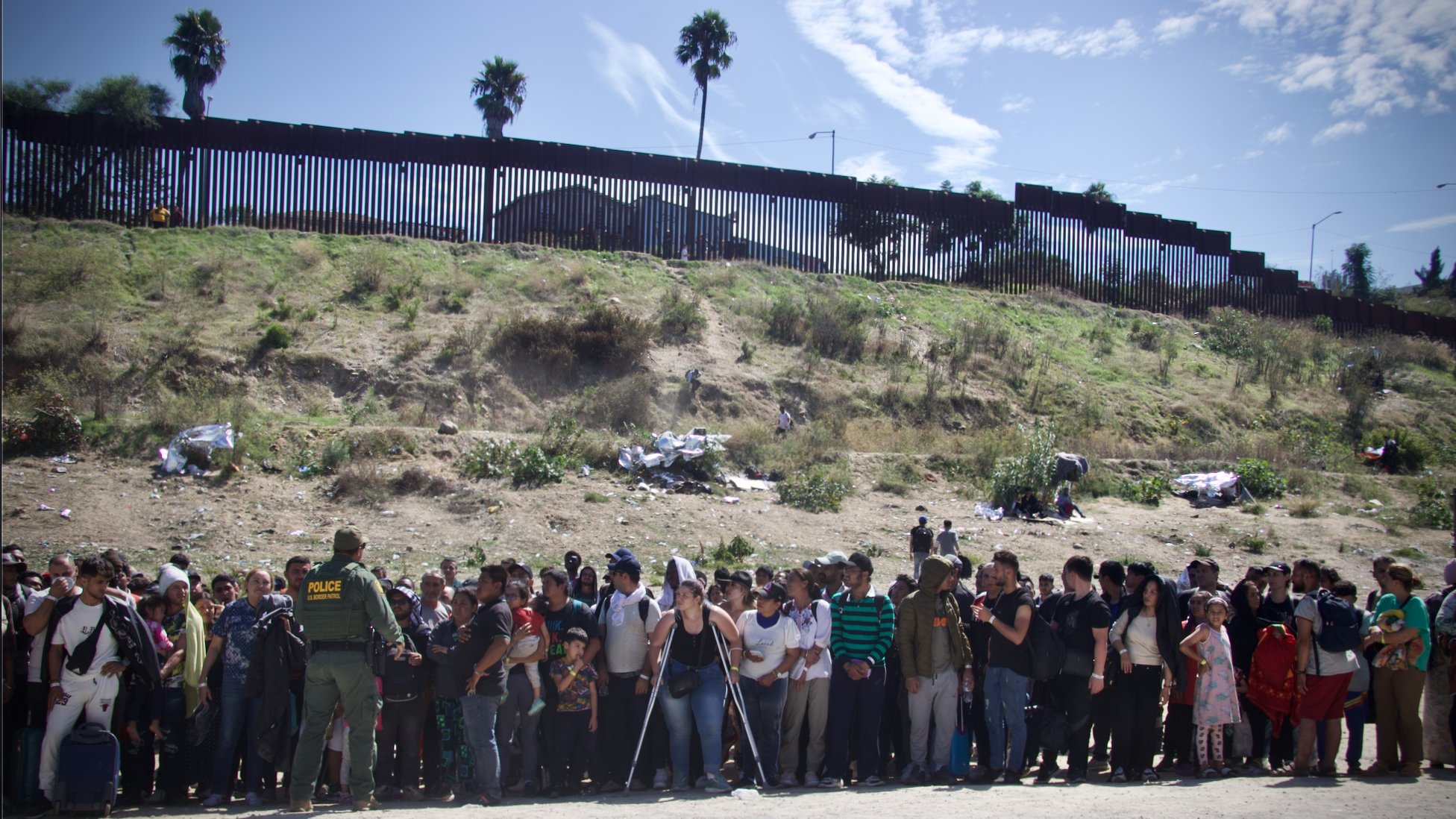 To support the work of the AFSC US-Mexico Border Program, please click here.
To view this webpage as a PDF, please click here.
CBP violates national standards toward immigrants.
The Border Patrol in San Diego, a component of Customs and Border Protection (CBP), is holding asylum-seeking migrants at makeshift open-air detention sites (OADS) for hours, and sometimes days, in at least three areas west of the San Ysidro Port-of-Entry between a set of 30-ft border walls. Migrants are in the United States but are forced to wait for Border Patrol to pick them up for processing in an area where there are no services.
In the remote desert town of Jacumba, CA, migrants have no place to go, and Border Patrol has them waiting under extreme weather conditions, without any resources.
Holding migrants in OADS is in violation of CBP's Transport, Escort, Detention, and Search (TEDS) national standards. These standards include instructions on feeding and providing water to migrants, providing adequate restroom facilities, attending to medical concerns, and requiring shelter from environmental elements.
Violations include:
Failure to provide food at regularly scheduled mealtimes
Failure to always provide water
Failure to provide basic hygiene items
Failure to provide toilet paper and sanitary napkins
Questionable use of restraints on men being transported from Whiskey 8 by a private CBP contractor
Foul language by Border Patrol agents who lack integrity and professionalism when giving instructions to migrants waiting between the border walls
Forcing asylum-seeking migrants to wait for up to 36 hours before Border Patrol transports them to a processing facility
Border Patrol's separating of family members when taking them for processing, creating situations where family members are released at different hours and days, making it difficult for family members to reunite
Violations are widespread and ongoing.
From March to May of this year, the Border Patrol held migrants under similar conditions for days, under a hot sun during the day and cold temperatures at night. Community-based organizations responded by setting up solidarity support stations along the secondary 30-ft border barrier in San Diego. The stations provided migrants with food, water and clothing while addressing basic medical needs and charging mobile phones.
In Jacumba, migrants are not restrained between border walls. Instead, they wait in desert terrain for Border Patrol to pick them up for processing; here, advocates delivered the same humanitarian aid under even more extreme weather conditions. Hunger and dehydration, mixed with an uncertainty of what comes next, takes a physical and emotional toll on all who have already left everything they know to seek asylum.
AFSC staff submitted critical testimony to the Southern Border Communities Coalition's complaint in May alleging cruel and degrading treatment. Consequently, the Office of Field Operations, another CBP component, stepped in and processed hundreds of migrants so that they could be quickly removed from being held out in the open without protection.
Border Patrol alleges migrants are not under their custody and so they are not obligated to follow the TEDS standards until agents are transporting the migrants. However, Border Patrol actions—including placing wrist bands on migrants, directing them where to wait, telling them to remove their shoelaces, and having them wait in rows—all suggest migrants are under custody.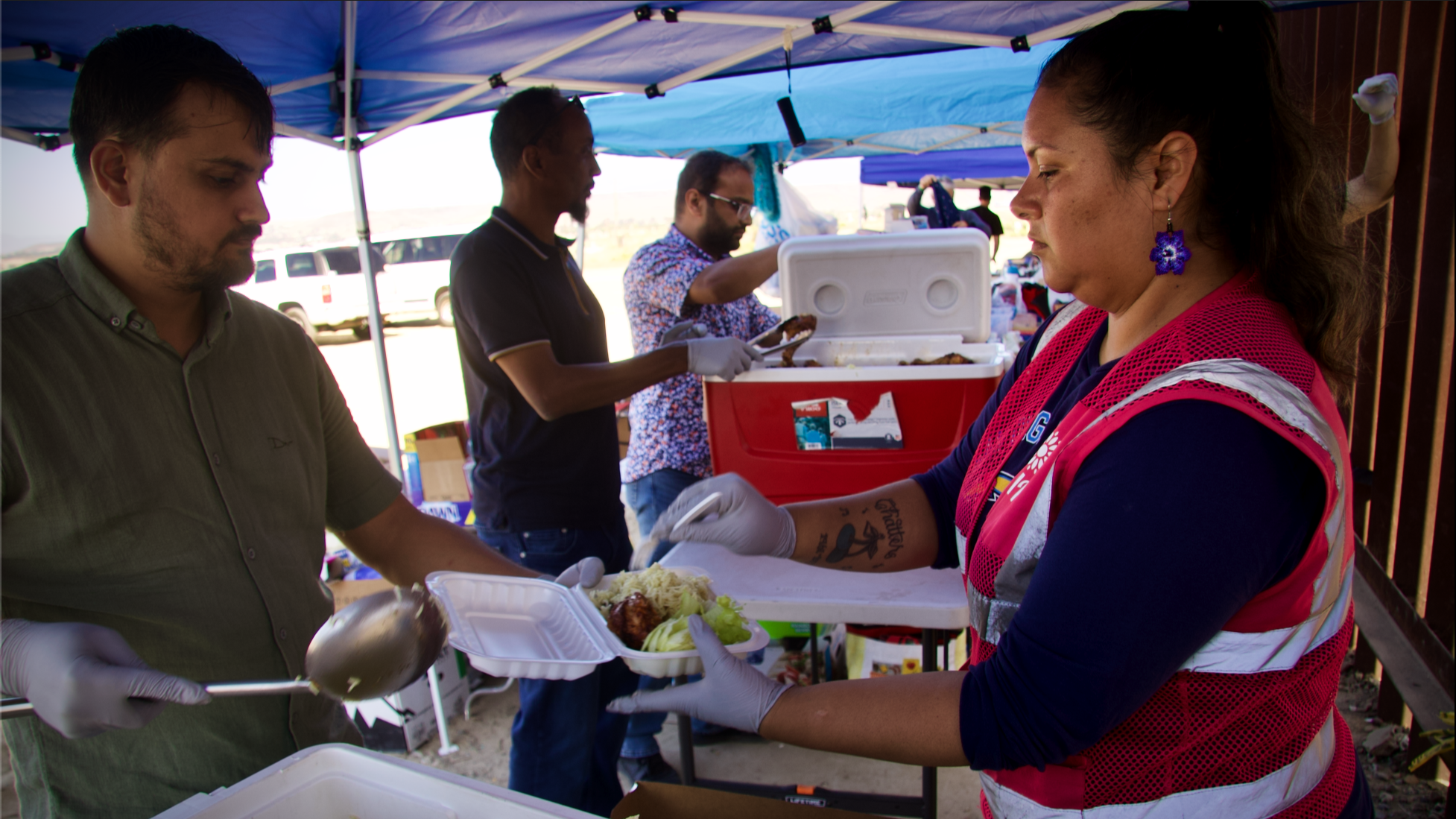 AFSC and partners respond.
In early September, many more migrants seeking asylum crossed into the federal area between the two border barriers monitored by the Border Patrol. AFSC called for an observation post in San Ysidro so community groups could assess the needs that migrants had, document for how long migrants were waiting in the area, and determine whether to re-establish solidarity support stations to meet the humanitarian needs of migrants stuck between the border walls.
AFSC, together with Universidad Popular (UP) and the Friends of Friendship Park, set up four stations that included 24-hour provision of water, a food station, a medical and other needs station, and a phone-charging station. Since then, more volunteers have supported with donations and human resources.
Our commitments
The commitments AFSC made were to offer two warm meals per day and snacks when possible—and that water should always be available. Food distribution is organized with migrants between the border walls who assist with forming lines and keeping order. Other organizations support with blankets, tarps, translation, clothing, and food.
AFSC and partner organizations also advocated to allow food to be taken to two other encampments made up of men at Spooner's Mesa and families at Whiskey 4. On two occasions, AFSC and UP staff delivered food to the men, totaling over 570 meals. At other times, advocates have convinced Border Patrol agents to deliver food we prepared to hundreds of men at Spooner's Mesa and families at Whiskey 4. This is the only substantive food the men receive as Border Patrol only hands out water and granola bars.
AFSC has negotiated with Border Patrol officials to bring in portable restrooms to three locations west of the San Ysidro Port-of-Entry. AFSC also has advocated to top-level Border Patrol officials requesting that field agents stop harassment of AFSC staff and partners running the solidarity stations. Initially, Border Patrol agents threatened AFSC staff and partners with arrest for being too close to the border wall and for giving aid to migrants.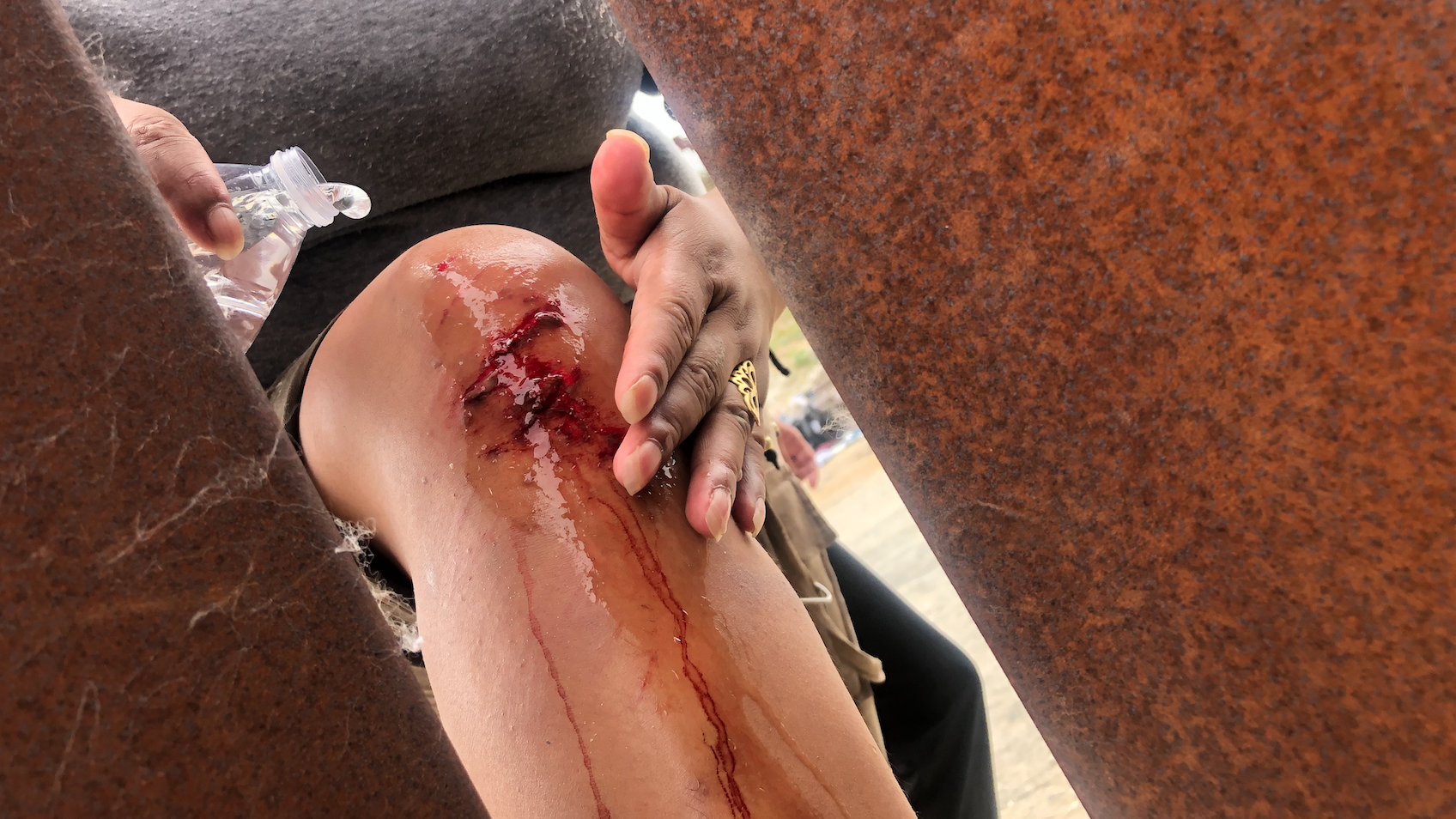 AFSC staff also has identified migrants needing urgent medical attention. This has included a woman eight-months-pregnant experiencing contractions; a man in excruciating pain with a swollen jaw; a man who fainted from heat exhaustion; and others who came to us with scratches, bruises, and rashes needing attention.
A "new normal"
Border Patrol officials have been dropping off hundreds of migrants at four transportation centers in San Diego County. Department of Homeland Security representatives have said that this is the "new normal" going forward. As shelter spaces for migrants have been reduced in San Diego, Border Patrol states they are compelled to release migrants to the streets.
Advocates have reported that migrants are told they are being dropped off close to the airport, when each of the four drop-off locations is at a minimum of 20 miles away. In many cases, migrants do not have their phones charged, are without financial resources, and don't know how to navigate the public transportation system.
AFSC has supported the organizations leading the response at these locations by providing guidance on setting up stations and by supporting migrants traveling to their final destinations.
The nationalities of migrants have included Vietnam, China, Thailand, Uzbekistan, Afghanistan, Iran, Russia, Turkey, India, Senegal, Guinea, Ghana, Iran, Tajikistan, Dominican Republic, Panama, India, Uzbekistan, Mauritania, Bolivia, Brazil, Ecuador, Costa Rica, Colombia, Venezuela, Peru, and Mexico.
These were documented by migrants themselves who were working with our teams on the ground through the border wall to facilitate the information we needed and to organize how to dispense the material aid.
AFSC staff will continue to work with our partners to support asylum-seeking migrants in upholding their right to asylum and in meeting their humanitarian needs. A "new normal" should not mean people seeking asylum should have basic rights denied and be subjected to undignified treatment.
In the news—Drawing attention to injustice
In addition to working on the ground with our partners, AFSC staff has responded to media requests about the situation to draw attention to the human rights violations taking place in the region.