On September 10, 2023, American Friends Service Committee's US-Mexico Border Program staff served the first meal to asylum-seeking migrants at Whiskey-8, one of the four Open Air Detention Sites (OADS) in San Diego, located west of the San Ysidro Port-of-Entry.
The first meal was served that evening to approximately 35 people through the secondary border wall. That same evening, AFSC staff set up a permanent water station so migrants could always have ready access to water.
AFSC staff previously responded to the humanitarian need in April and May, highlighting Customs and Border Protection's lack of compliance with national standards in keeping migrants between border walls in open-air conditions.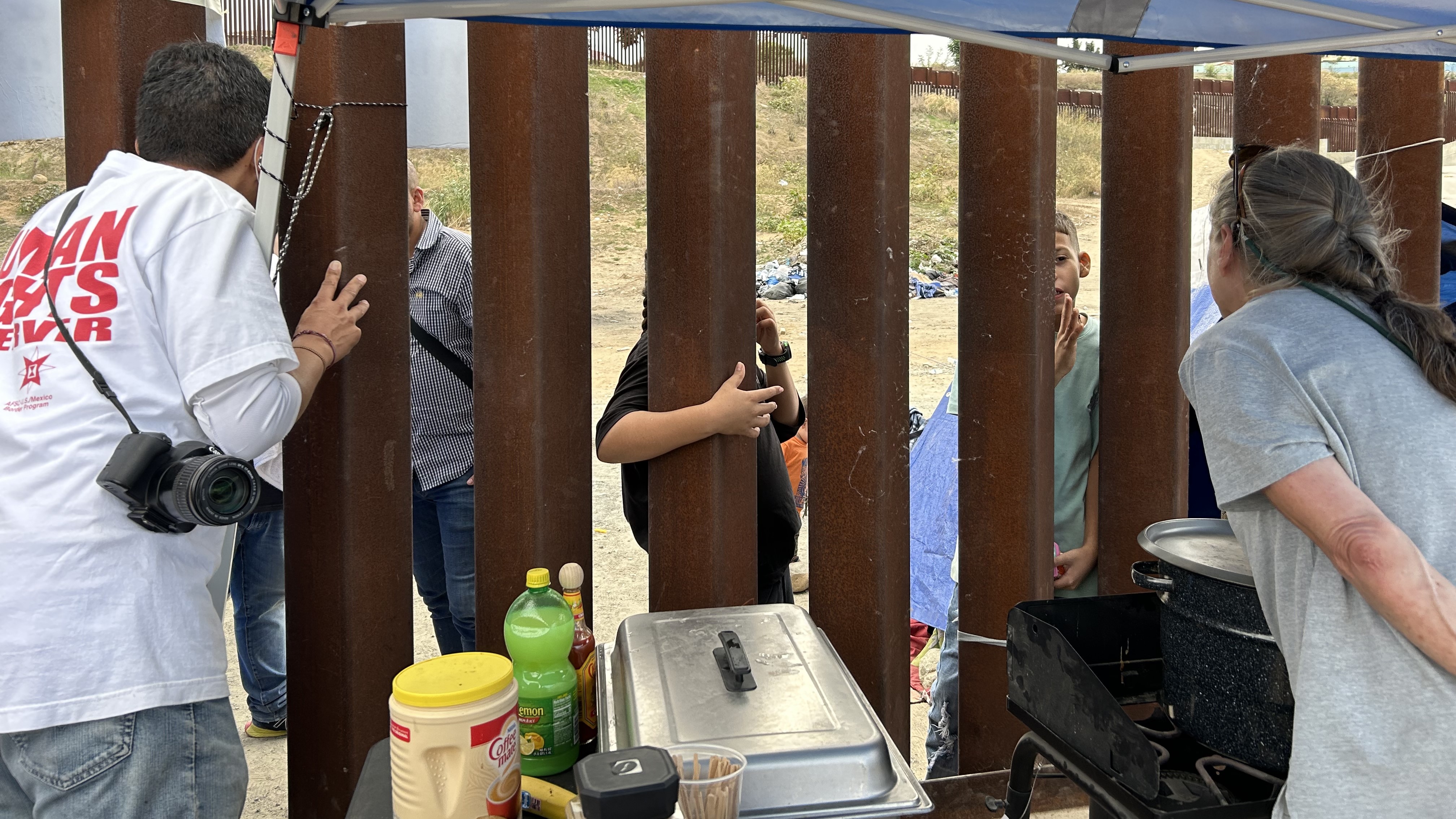 Our work is based on a principle of solidarity
AFSC called other experienced organizations for support - Universidad Popular, Friends of Friendship Park, mutual aid groups, Immigrant Defenders, Al Otro Lado, APALA, Free Shit Collective, SDIRC, and many faith and community volunteers. By September 13, all five solidarity stations were set up and continue to be running today. These include water, food, medical, phone charging, and clothing stations.
Soon after setting up the stations, we learned about the presence of asylum-seeking migrants in at least three more OADS besides those in South San Diego. These are in eastern San Diego County near Jacumba, CA where migrants must wait in more extreme temperatures in the remote desert wilderness.
Border Kindness, key members of mutual aid groups, and Universidad Popular set up a mobile station in Jacumba, CA the second week of September. The documentation from Jacumba indicated higher numbers of migrants than the OADS in San Diego. In response, our groups implemented a coordinated system of sharing supplies from the San Diego OADS with organizations attending to people in those isolated areas.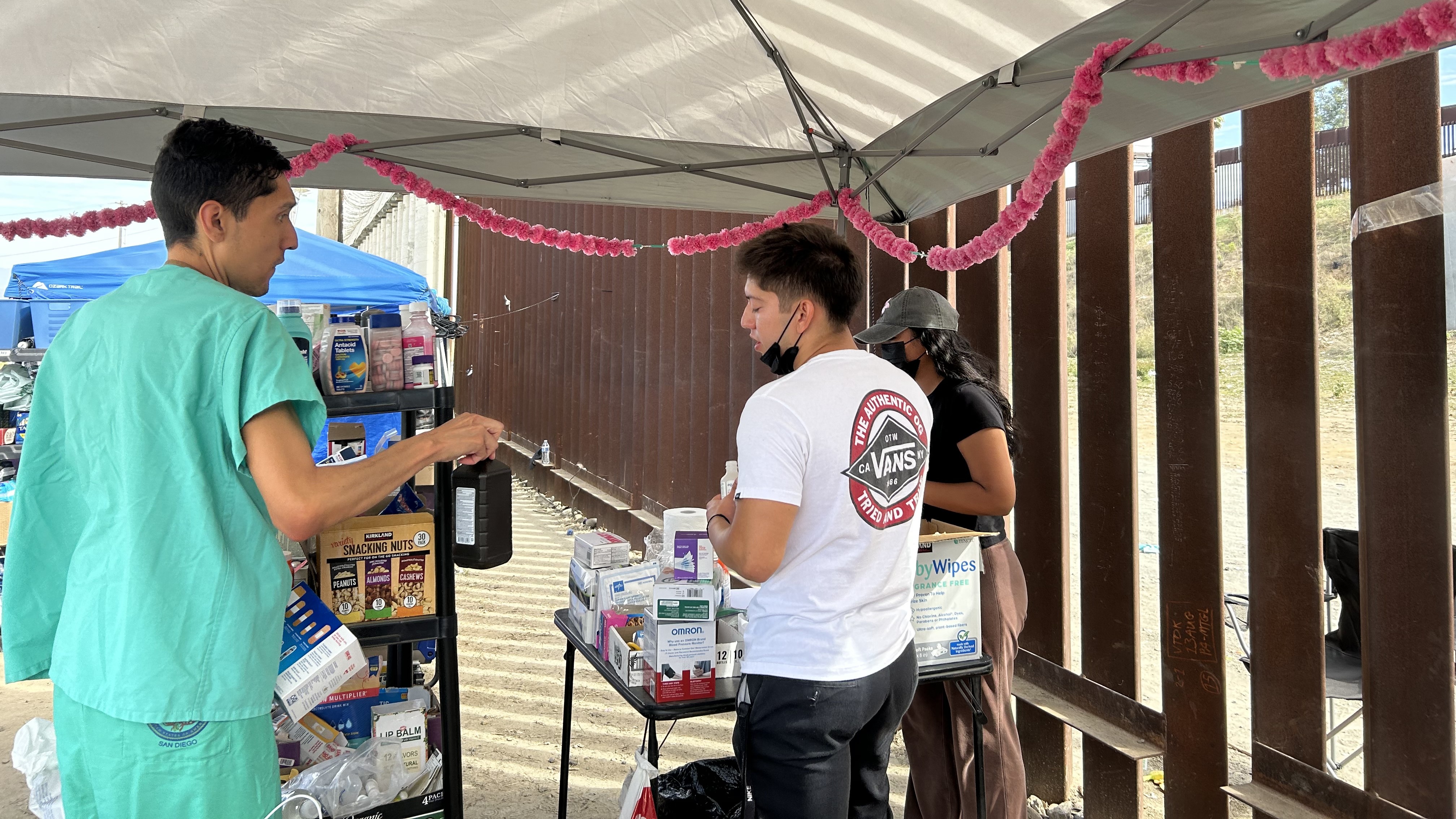 While elected officials hesitate, the community mobilizes
In early October, Nora Vargas, Chair of the San Diego County Board of Supervisors, released a letter requesting additional funding and urgent support from the federal government for the new arrivals. AFSC staff was steadfast in its advocacy, along with other advocates, for County representatives to acknowledge the existence of the seven OADS and to provide the emergency support through to new arrivals at the OADS.
To our dismay, the voices of those working day and night at the OADS were ignored and excluded from any financial resources. The volunteers directing the logistics at the border wall became more creative to communicate out the dire and ongoing need for food, water, medication, and clothes.
Soon, the medical community answered the call. Within days, doctors and nurses were at Whiskey-8 and Jacumba, putting in place a guide to help volunteers with the medical station when no on-site nurse or doctor is immediately present.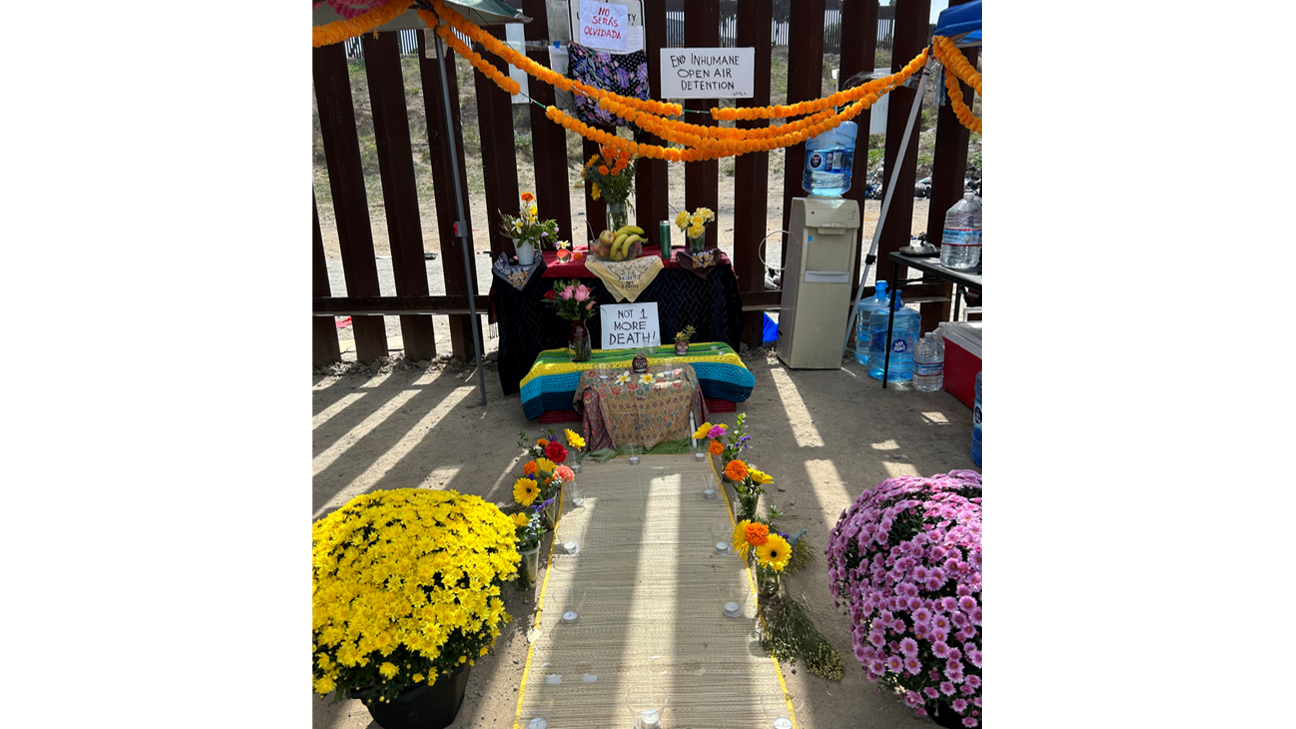 Death and injuries at Open Air Detention Sites
Our greatest fear, however, was realized when we learned that a 29-year-old woman from Guinea died at Whiskey 4, at an OADS west of the San Ysidro Port-of-Entry. Since early Spring we had expressed concern that holding migrants at OADS would eventually cause someone to die. AFSC, together with our partner organizations and community members, held a press conference on October 13 and built two alters at Whiskey 4 and Whiskey 8 in her memory.
According to data from Customs and Border Protection (CBP), over 70,000 migrants and asylum seekers from over 170 countries have arrived in our region since September 13, 2023. From our estimates at any given day, we encounter over 100 people only at Whiskey-8. Hundreds more arrive in Jacumba and at other OADS.
AFSC staff and our partners have served thousands of meals through the border wall, have clothed thousands weekly, and have alleviated the pain, uncertainty, and profound fear for many who have had to seek life-saving medical care by leaving Whiskey-8 in an ambulance.
Just in the last three days, volunteers on the ground supported a 13-year-old boy who fell from the border wall and was under excruciating pain for hours. On day 63, we assisted a woman who also fell from the border wall and had serious complications with her speech, indicating she had likely struck her head during the fall. The number of wounds, tears, and fears expressed to us from the migrants waiting to be processed are too many to list.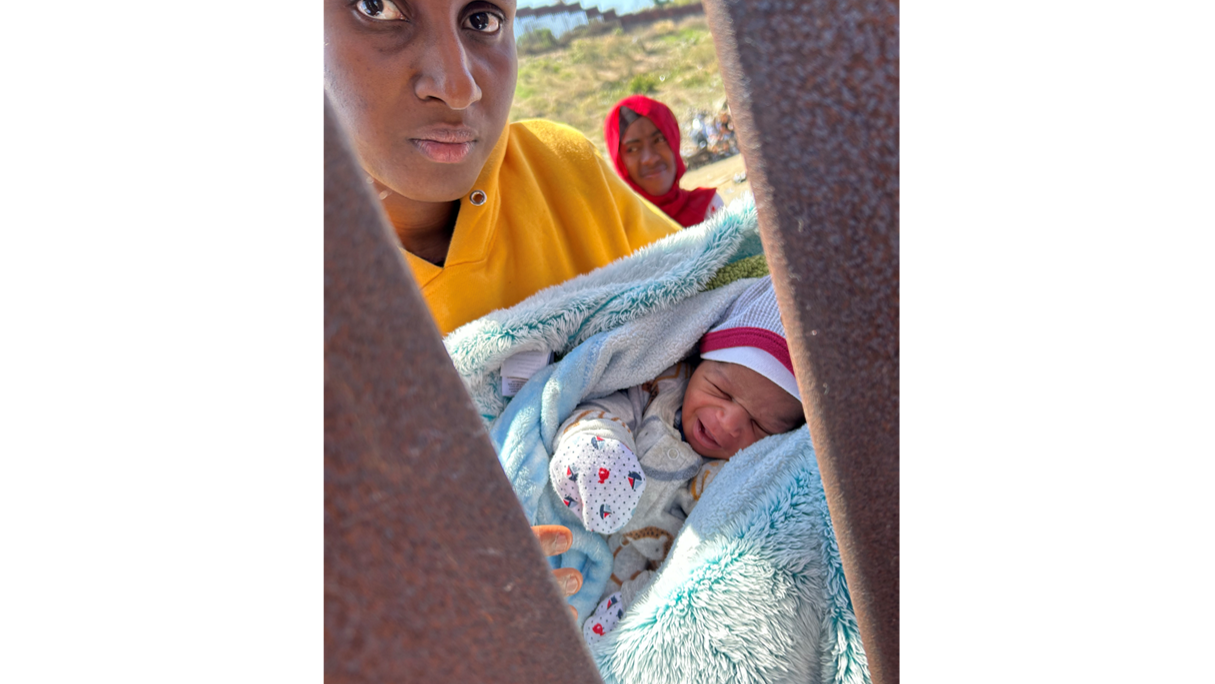 Our commitment to the dignity of asylum-seekers continues
As we reflect on the humanitarian support hundreds of community volunteers have facilitated through the border wall, we express our most profound appreciation to all those who unselfishly did not wait for elected officials to act and provide support to those in need, but instead, mobilized their networks, friends, and families and against all odds continue to act in solidarity with migrants through the border wall or in the remote wilderness. The volunteers expect nothing in return and ensure that we all see the dignity and humanity in those who have arrived in the beloved region we call our home.
For more information, please visit: https://afsc.org/programs/us-mexico-border-program.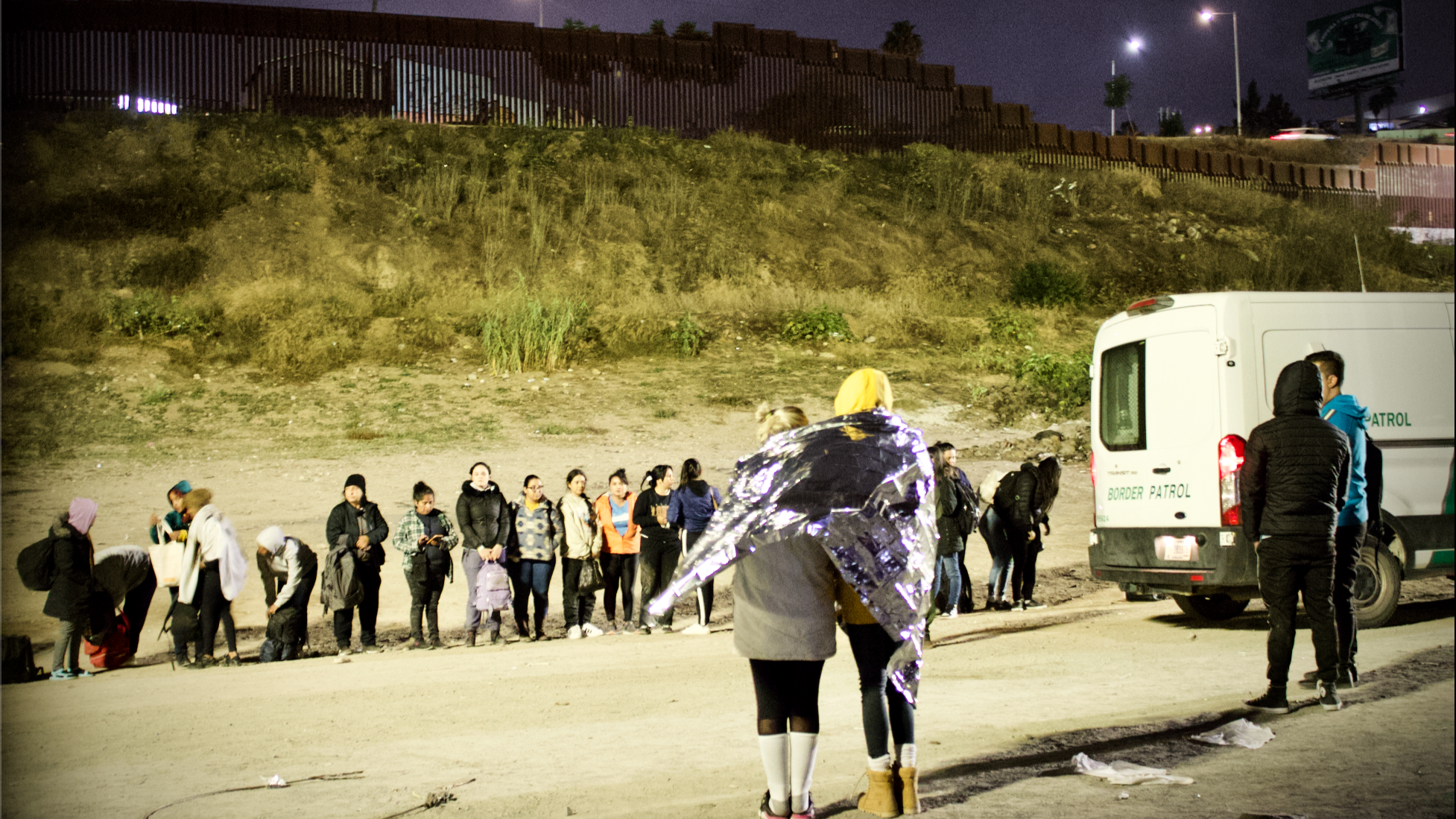 Más de dos meses en el muro…
El 10 de septiembre, el personal del Programa Fronterizo EEUU-México sirvió la primera comida a personas migrantes solicitantes de asilo en Whiskey-8, uno de los cuatro sitios de detención al aire libre (OADS, por sus siglas en inglés) en San Diego, ubicado al oeste de la garita de San Ysidro. Esa noche se sirvió la primera comida para aproximadamente 35 personas a través del muro. Fue también esa noche que el personal de AFSC instaló una estación de agua permanente para que las personas migrantes siempre pudieran tener acceso al agua.
El personal de AFSC había respondido previamente a la necesidad humanitaria durante los meses de abril y mayo, destacando la falta de cumplimiento por parte de Aduanas y Protección Fronteriza a los estándares nacionales por mantener a personas migrantes entre los muros fronterizos expuestos a la intemperie.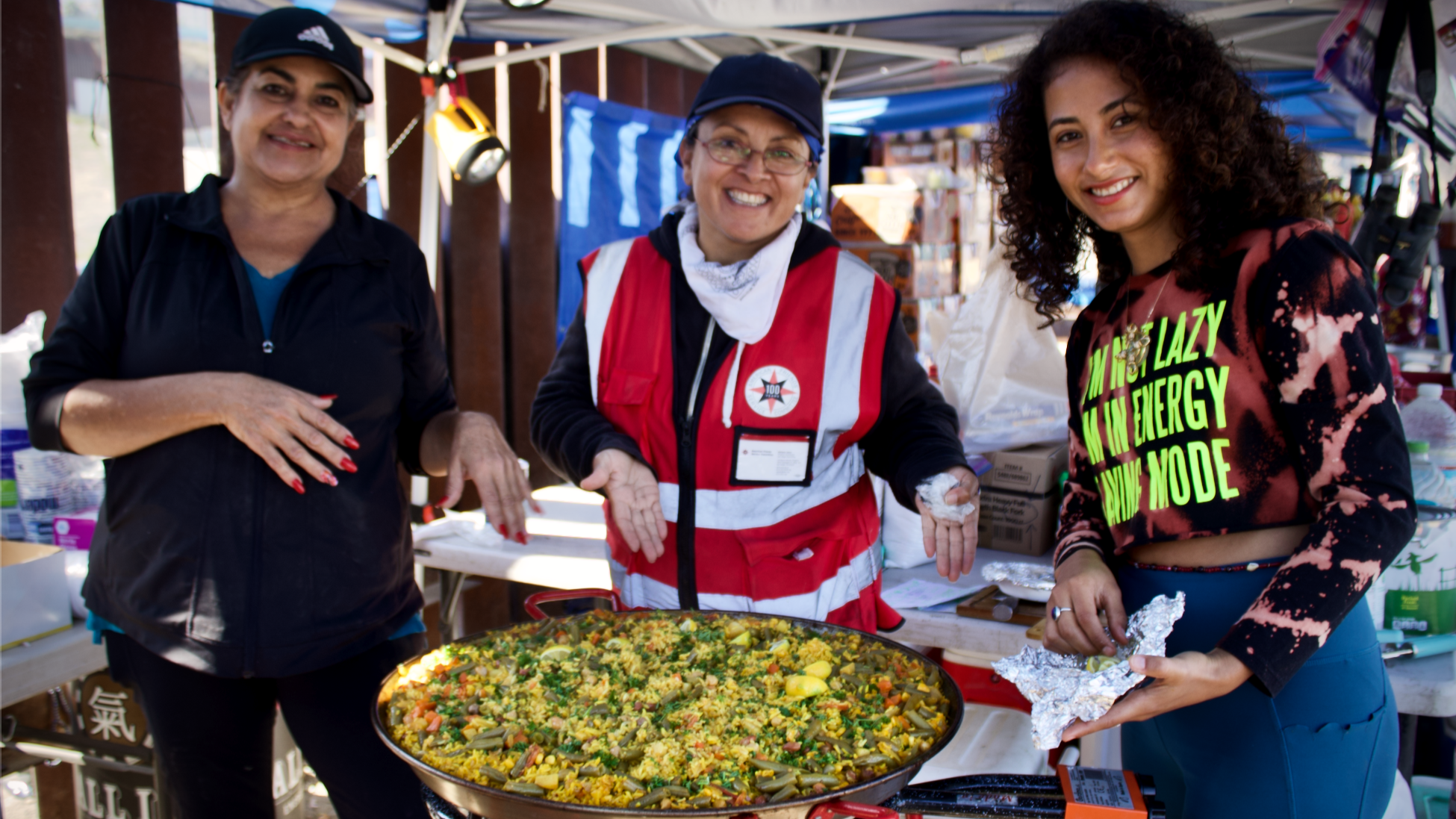 Nuestro trabajo se basa en un principio de solidaridad
AFSC pidió apoyo a otras organizaciones con experiencia en el tema: Universidad Popular, Friends of Friendship Park, grupos de ayuda mutua, Immigrant Defenders, Al Otro Lado, APALA, Free Shit Collective, SDIRC y varios voluntarios religiosos y comunitarios. Para la fecha del 13 de septiembre, las cinco estaciones solidarias estaban instaladas y funcionando. Las estaciones incluyen agua, alimentos, atención médica, carga de teléfonos, y ropa.
Poco después de instalar las estaciones, nos enteramos de la presencia de migrantes solicitantes de asilo en al menos tres OADS más aparte de los del sur de San Diego. Estos se encuentran en el este del condado de San Diego, cerca de Jacumba, California, donde las personas migrantes deben esperar en temperaturas más extremas por ubicarse en áreas remotas del desierto.
Para la segunda semana de septiembre, Border Kindness, miembros claves de grupos de ayuda mutua, y Universidad Popular instalaron una estación móvil en Jacumba, CA. La documentación de Jacumba indicó un mayor número de personas migrantes que las OADS en San Diego. En respuesta, nuestros grupos implementaron un sistema coordinado para compartir suministros de las OADS de San Diego con organizaciones que atienden a personas migrantes en esas áreas hacia el este.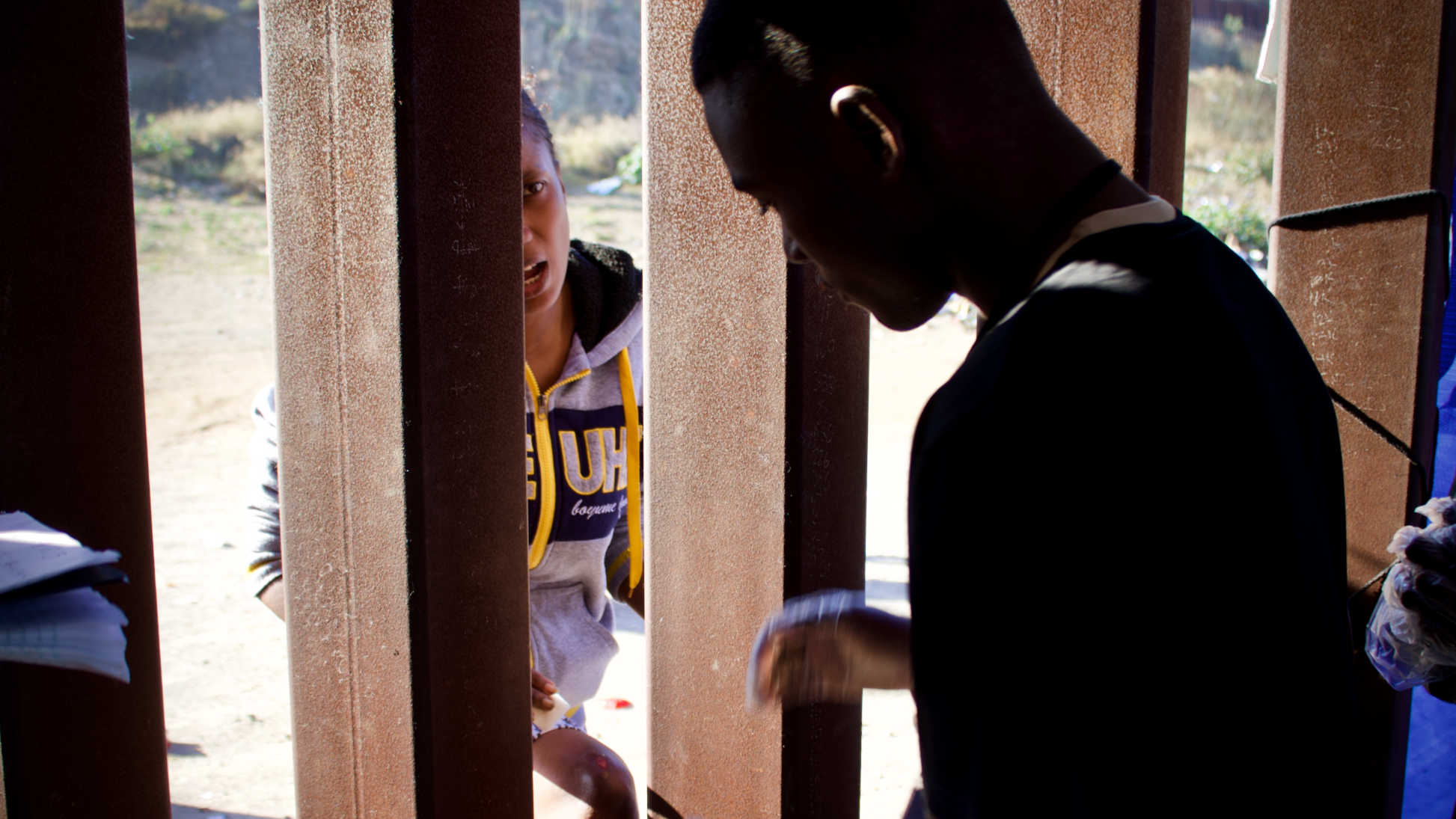 Mientras los funcionarios electos dudan, la comunidad se moviliza
A principios de octubre, Nora Vargas, presidenta de la Junta de Supervisores del Condado de San Diego, publicó una carta solicitando fondos adicionales y apoyo urgente del gobierno federal para las personas recién llegadas a nuestra región. El personal de AFSC se mantuvo firme en su defensa, junto con otras organizaciones, para que los representantes del condado reconocieran la existencia de los siete OADS y brindaran apoyo de emergencia a los sitios.
Para nuestra sorpresa, las voces de quienes trabajan día y noche en la OADS fueron ignoradas y excluidas de cualquier recurso financiero. Pese a esta mala noticia los y las voluntarios/as que dirigían la logística en el muro fronterizo se volvieron más creativos para comunicar la extrema y continua necesidad de alimentos, agua, medicamentos y ropa.
Pronto, la comunidad médica respondió al llamado. En cuestión de días, miembros de la comunidad médica estaban en Whiskey-8 y Jacumba, implementando una guía para ayudar a las y los voluntarios con la estación médica cuando no existe presencia de algún médico.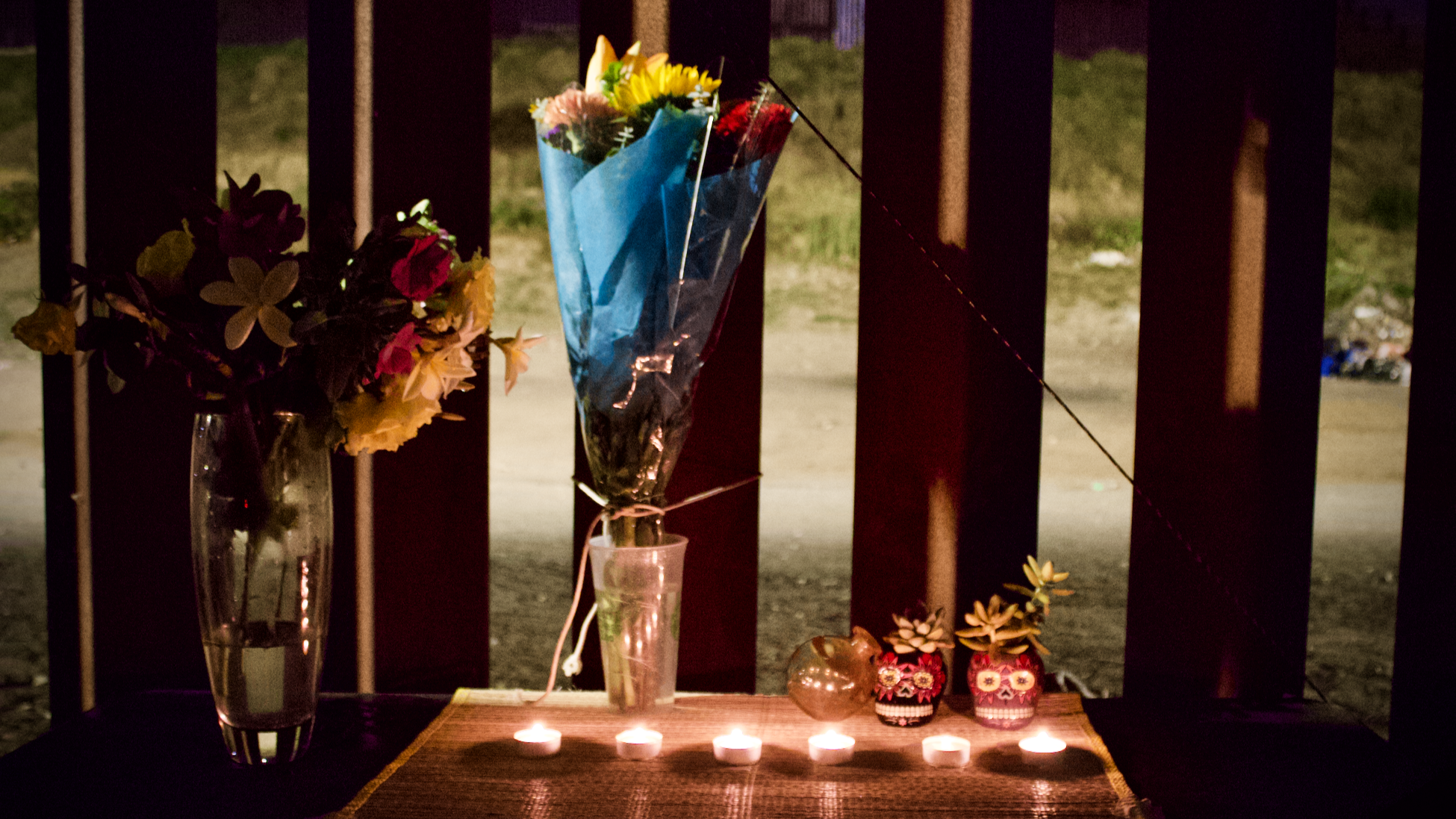 Muerte y lesiones en sitios de detención a la intemperie
Nuestro mayor temor se hizo realidad cuando se nos informó que una mujer guineana de 29 años murió en Whiskey 4, en un sitio de OADS al oeste del puerto de entrada de San Ysidro. Desde principios de la primavera habíamos expresado nuestra preocupación de que retener a migrantes en OADS acabaría provocando la muerte de alguien.
AFSC, junto con nuestras organizaciones asociadas y miembros de la comunidad, llevaron a cabo una conferencia de prensa el 13 de octubre y construyeron dos altares en Whiskey 4 y Whiskey 8 en memoria a la mujer que perdió la vida.
Según datos de Aduanas y Protección Fronteriza (CBP), más de 70.000 migrantes y solicitantes de asilo de más de 170 países han llegado a nuestra región desde el 13 de septiembre de 2023. Según nuestras estimaciones generales, en un día cualquiera, podemos encontrarnos con más de 100 personas solo en Whiskey- 8. Cientos más llegan a Jacumba y a otros OADS.
El personal de AFSC y las organizaciones colaboradoras han brindado comida a miles a través del muro fronterizo, han ofrecido abrigo a miles de personas semanalmente y han aliviado el dolor, la incertidumbre y el miedo profundo de muchos que han tenido que buscar atención médica. Las personas que se retiran de W8 transportadas por ambulancia han sido muchas.
Tan solo en los últimos tres días, los voluntarios apoyaron a un niño de 13 años que se cayó del muro fronterizo y sufrió dolor insoportable durante horas. El día 63, ayudamos a una mujer que también se cayó del muro fronterizo y tuvo graves complicaciones con el habla, lo que indica que probablemente se había golpeado la cabeza durante la caída. La cantidad de heridas, lágrimas y temores que nos expresaron las personas migrantes que esperan ser procesados son demasiadas para enumerarlas.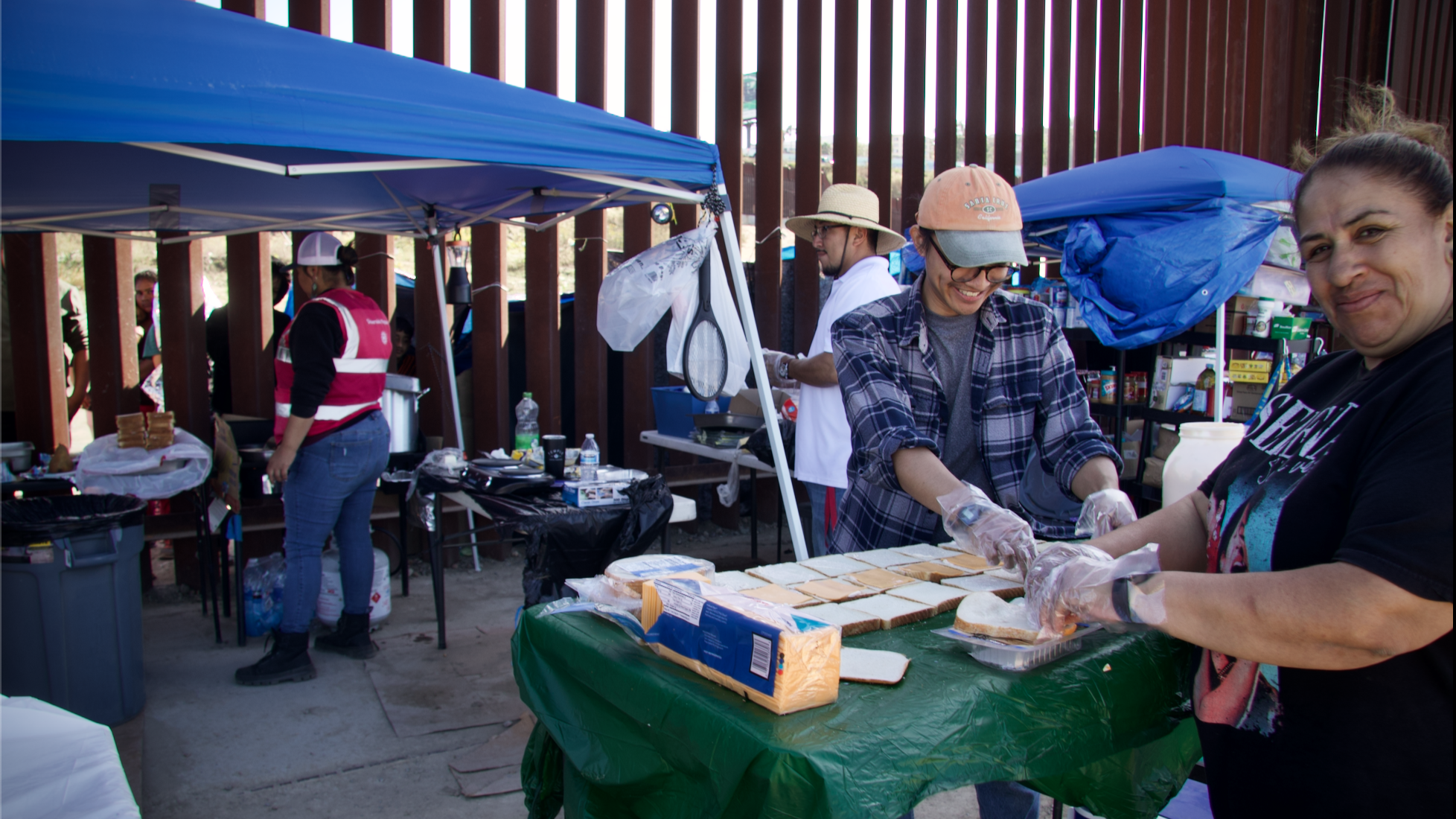 Nuestro compromiso de un trato humano a las personas solicitantes de asilo continua
Mientras reflexionamos sobre el apoyo humanitario que cientos de voluntarios han facilitado a través del muro fronterizo, expresamos nuestro más profundo agradecimiento a todas/os aquellas/os que desinteresadamente no esperaron a que los funcionarios electos actuaran y brindaran apoyo a los necesitados, sino que, movilizaron a sus redes, amigos y familias y contra todo pronóstico continúan actuando en solidaridad con las personas migrantes a través del muro o en zonas remotas.
Las/os voluntarias/os no esperan nada a cambio y con sus actos aseguran de que todos veamos la dignidad y la humanidad de quienes han llegado a la querida región que llamamos nuestro hogar.
Para mayor información, favor de visitar: https://afsc.org/programs/us-mexico-border-program.