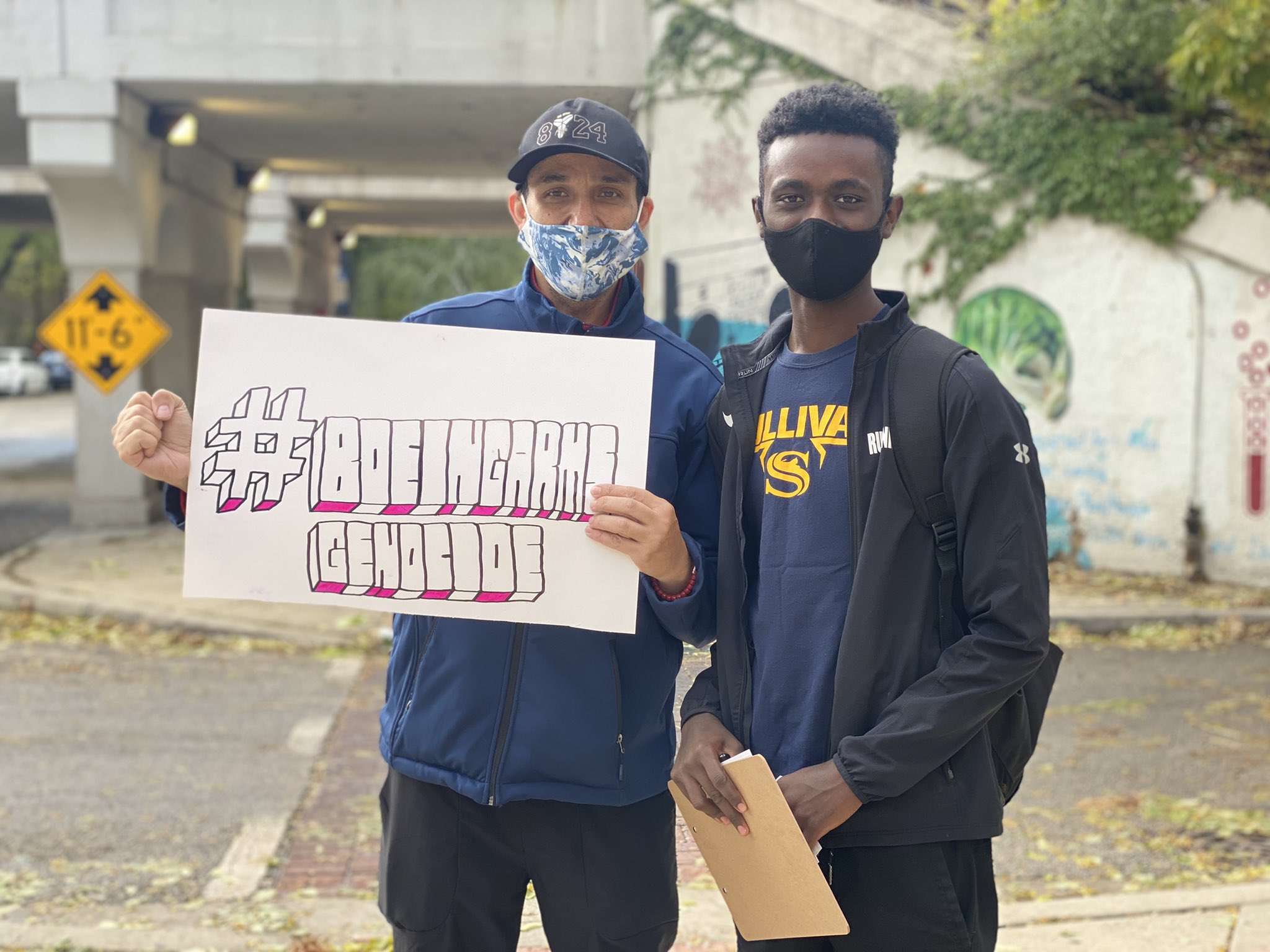 The Boeing Company is widely known for its commercial airplane production, but it's also one of the world's largest war profiteers. Boeing is the second largest defense contractor to the United States, producing military aircrafts and weapon systems, including the "Minuteman" intercontinental ballistic missile, the F-15 fighter jet, and the "Apache" attack helicopter. Boeing's products have enabled deaths and devastation in communities around the globe, including Yemen, Palestine, Kashmir, the Philippines, West Papua, the U.S.-Mexico border, and Syria.
In 2001, Boeing moved its headquarters from Seattle to Chicago. And the people of Chicago have been reckoning with the impacts in our communities since. Over the past 21 years, Boeing has received $60 million dollars in tax subsidies from Chicago and the state of Illinois, primarily through real estate tax reimbursement checks.
That's money that could have been spent on schools, mental health services, and other investments that improve community safety and well-being. For years, the city of Chicago has prioritized tax breaks for Boeing—while, over the past decade, it has shut down half of the city's mental health clinics, closed 50 public schools, and slashed afterschool programs and library hours.
Community members know all too well how elected officials consistently place profit over people's lives and livelihoods, in the name of "safety" and "security." We have also seen this with how much of our tax dollars are now spent on policing. Police spending has risen to over $5 million per day—more than all community services in the city combined—despite rampant racism and violence within the Chicago Police Department.
Organizing against Boeing in Chicago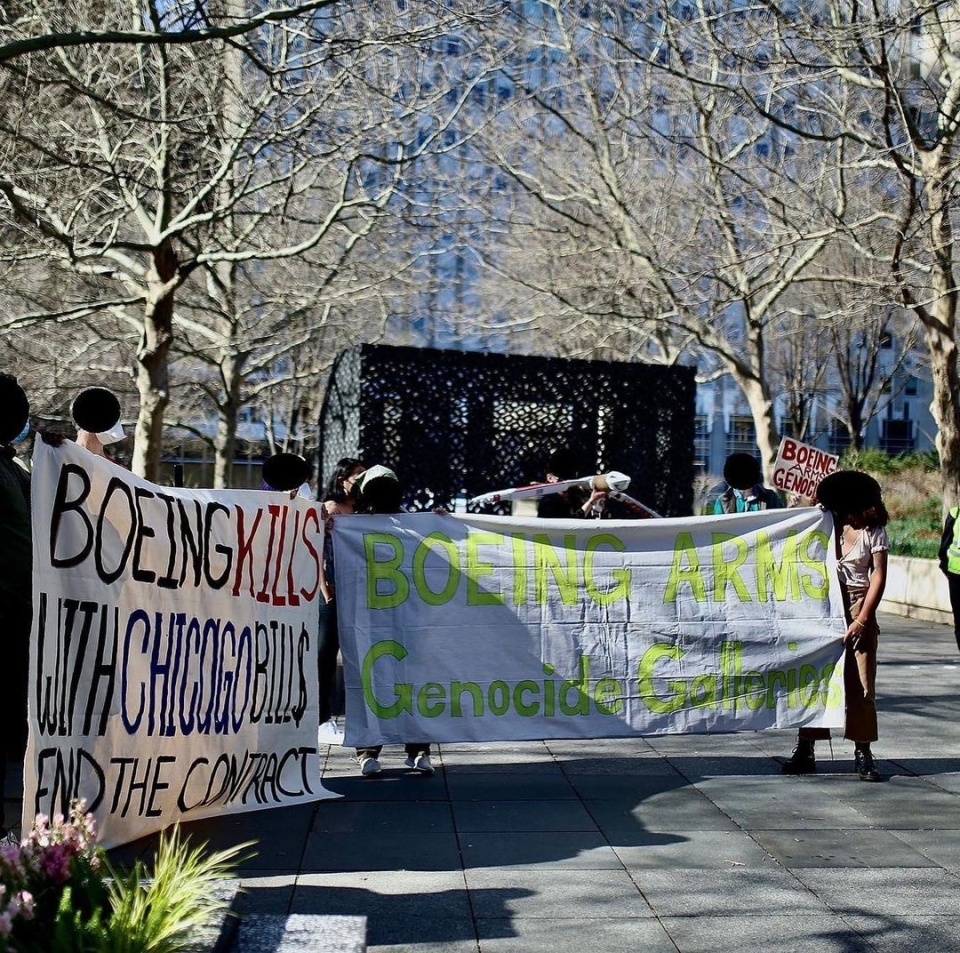 For years, young organizers and other antiwar activists and organizations—including AFSC—have urged the city to stop feeding Boeing's bottom line. We've called on officials to divest from all forms of war and militarism and instead invest in our communities.
In the summer of 2021, the "Boeing Arms Genocide" campaign was launched by Dissenters—a new national, student antiwar movement—in Chicago. The organization makes connections between the global struggles against militarism and imperialism. Dissenters targets corporations that profit from manufacturing wars and weapons used by state powers to kill and repress people around the world.
Since the start of the campaign, we have carried out teach-ins, created literature, zines, and Instagram graphics, dropped banners, canvassed neighborhoods, met with elected officials, and built on college campuses across the city. We also met with the Office of the Inspector General to demand an investigation into Boeing's contract with the city.
And we've already made an impact. After six months of organizing, advocacy, and public pressure, we secured our first major victory: Boeing informed city officials that it would not request its final annual tax reimbursement this year. That's an estimated $1.8 million in taxpayer dollars that will not be going to this war profiteer.
Our campaign discovered this information after filing a Freedom of Information Act request with the Department of Planning and Development. And we are celebrating this victory along with all of the young organizers and activists who made it possible.
Chicago is not alone in making progress to divest from weapons and war. Organizing efforts are rising up all across the U.S. to protest the funneling of resources to militarism, and to shut down the weapons manufacturers fueling and profiting from endless war. During the same month as Boeing Arms Genocide's victory, youth activists succeeded in shutting down the Cambridge, Massachusetts facility of Raytheon, the largest manufacturer of missiles globally.
But we also know that we have a long way to go to divest from our deeply entrenched war economy and culture.
The timing of our campaign victory against Boeing comes as the Biden administration has proposed a 2023 Pentagon budget of $813 billion—an all-time high. At least one half of this budget will likely go to defense contractors, including Boeing. More money for war profiteers while millions of people across the U.S. struggle with student debt, public school students are losing universal access to free school meals, and climate action is critically underfunded.
Recently Boeing announced it would move its headquarters from Chicago to Arlington, Virginia, where executives will be much closer to federal officials in Washington, D.C. We know that the company will be met with community-led resistance wherever they operate.
We hope that our recent victory in Chicago inspires others to be strategic, bold, and creative in their pursuit of abolitionist, divestment campaigns. In our city, we will continue to oppose funding for war and militarism and urge officials to redirect investments toward life-affirming resources and services for our communities. We are the generation that will put Boeing and all weapon manufacturers' plunder and war profiteering to an end.