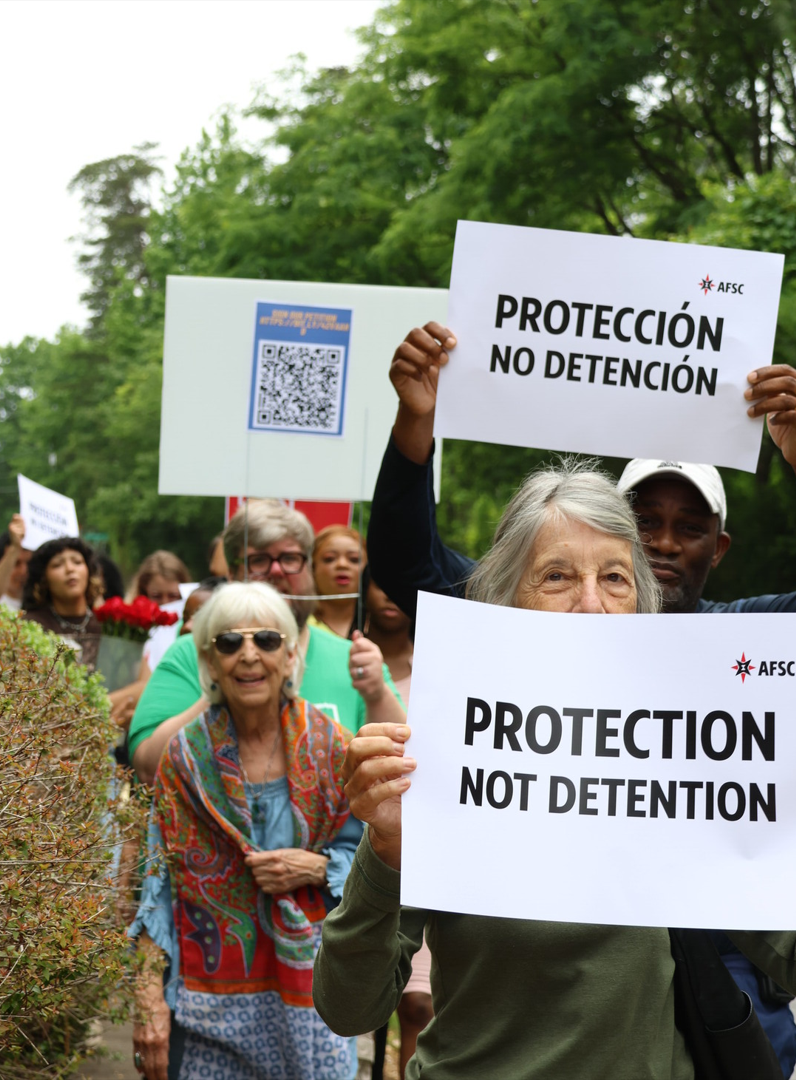 Around the globe, AFSC works for a future where all people have the power to determine where they live and opportunities to thrive. But today, our world is facing the largest displacement crisis since World War II. Over 108 million people have been forced from their homes because of war, poverty, climate-driven catastrophes, and other causes.
Earlier this year, global migration leaders from AFSC convened at the Ford Foundation in New York City. They talked with volunteers, supporters, and funders about the challenges we face and how we're working with communities worldwide to realize our vision.
Here are four objectives, established through our strategic plan, that guide all our migration work.
1. MAKE SYSTEMIC CHANGE TO IMPROVE LIVES.
In many countries, governments treat migrants as threats to be managed or eliminated—instead of welcoming them with dignity and compassion. Restrictive policies force people to return to the dangerous conditions they fled. These policies also separate families and subject migrants to detention and abuse. AFSC works to support people in navigating those realities and shifting those policies.
SPOTLIGHT
In New Jersey, AFSC provides free legal representation to 2,500 immigrants every year. We also organize and advocate alongside community members harmed by unjust policies. Together, we've achieved major milestones to end immigration detention in the state. Our efforts have led to the closure of three immigration detention centers. We've also helped secure public funding for legal representation. This has been life-changing for immigrants facing detention and deportation who otherwise would not have the benefit of an attorney.
"It's important to engage in local, county, and state advocacy, especially when there is federal inaction," says Nicole Miller, associate regional director for AFSC's Northeast Region.
2. DEMILITARIZE BORDER COMMUNITIES.
The United States and other countries continue to expand and militarize their borders. This practice has endangered lives, pushing people toward more treacherous migration routes.
"Militarization along migratory routes is growing dramatically," says Luis Paz Bekker, regional director for AFSC's Latin America and the Caribbean region. "Now there are soldiers on every border—Honduras, Guatemala, El Salvador, Nicaragua, and it's expanding to Panama and even Colombia." In this environment, community organizing serves a vital role in creating greater transparency and accountability—and mitigating harm.
SPOTLIGHT
In Tijuana, Mexico, AFSC joined with the coalition the 1597 Collective to stop local police from arbitrarily stopping and detaining migrants—and turning them into migration authorities for deportation. Our organizing, education, and advocacy efforts led to a judge's ruling to effectively end these practices. Since then, we've seen a significant decrease in the arrests and detention of migrants in Tijuana.
"These accomplishments represent small steps toward a more just and compassionate system," Luis says.
3. ENSURE MIGRANT RIGHTS ARE PROTECTED.
Many migrants face threats to their rights, including in the communities where they resettle. AFSC supports efforts to oppose racism and create more welcoming communities.
SPOTLIGHT
In South Africa and Zimbabwe, violence against migrants has become more common in recent years. Community members are working to counter xenophobia and protect migrant rights, with support from AFSC. We're training migrants to know their rights and responsibilities. We're helping people develop conflict-resolution skills. And we're creating safe spaces to bring together migrants and the communities that host them, focusing on the cultural heritages they share instead of what divides them.
"By focusing on what unites us, we aim to break down barriers and foster acceptance and inclusivity," says AFSC Africa Regional Director Kennedy Akolo.
We do everything from the perspective of Quaker values.
4. SUPPORT MIGRANT-LED EFFORTS TO MAKE POSITIVE CHANGE.
People who have been forcibly displaced are demonstrating great courage, even in the face of assaults on their lives and rights.
They're resisting the victim narrative—and leading efforts to transform conditions during their journeys and in the communities where they resettle. With help from our global community of supporters, AFSC brings vital resources to their efforts.
SPOTLIGHT
In San Diego, California, AFSC's U.S.-Mexico Border Program collaborates with communities to develop neighborhood human rights committees.
These committees determine which actions to take, and AFSC works to ensure they have the tools and resources they need. That includes training community members so that they can monitor the presence of Border Patrol and ICE (Immigration and Customs Enforcement) agents in their neighborhood and prevent family separations.
AFSC is "not there to empower people, because the power already exists within them," says Program Director Pedro Rios. "We accompany people so they recognize their own inherent power. They realize their neighbor has a similar experience, and they begin to collectivize that experience—and the leadership that is already within them."
Migration is caused by many interconnected challenges, including conflict, climate change, and economic injustice. Today, AFSC is working to address the root causes of migration, provide support to migrating people, and advocate for more just, humane migration policies.
"We do everything from the perspective of Quaker values," says Global Migration Director Amy Gottlieb. "What we're doing in Zimbabwe is very much connected to what we're doing in Guatemala, which is very connected to what we're doing at the U.S.-Mexico border and what we're doing in New Jersey."
Together, through collective action and a commitment to justice and compassion, we can create a world where migration is no longer a source of suffering but a beacon of hope and opportunity.