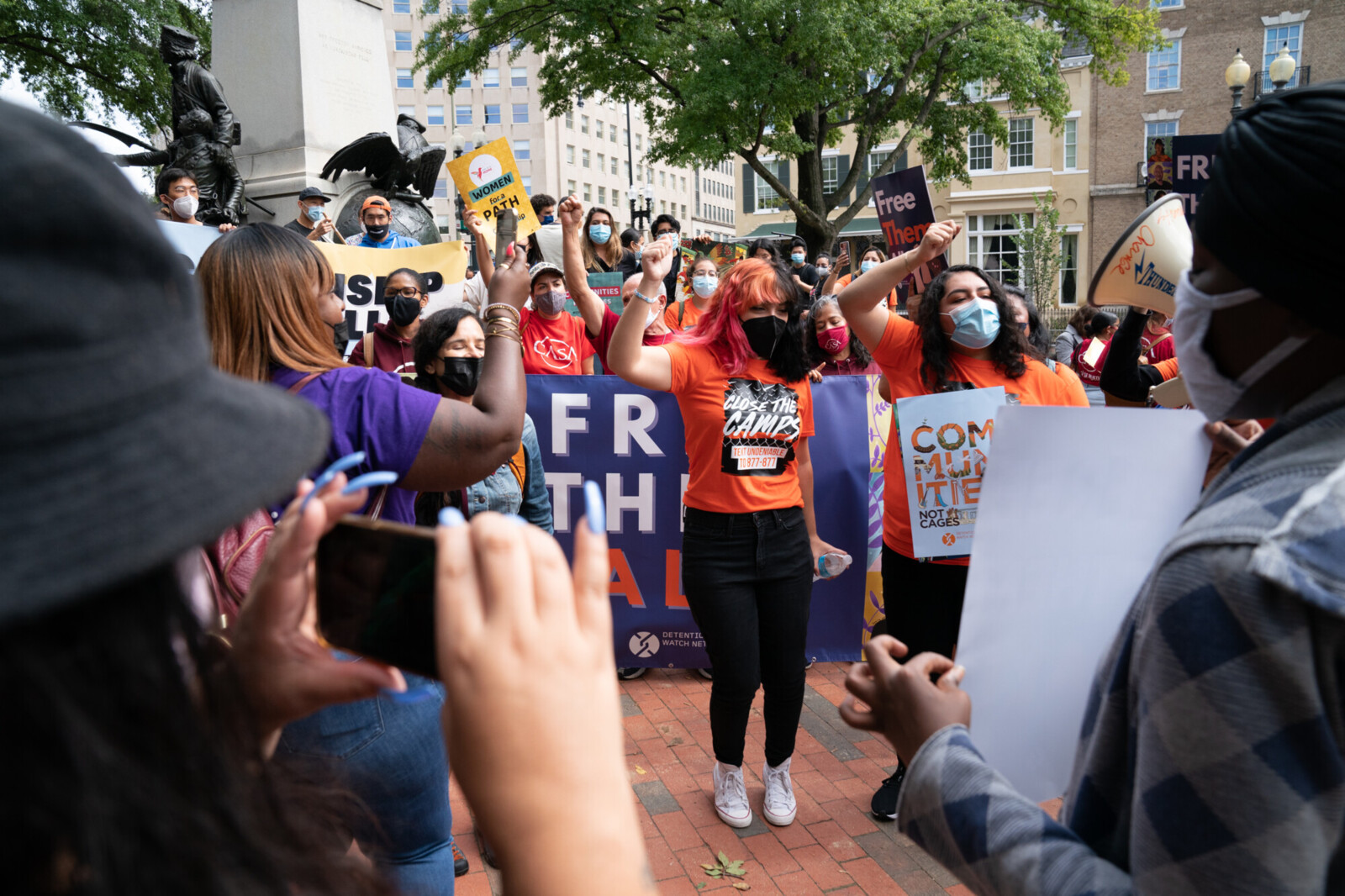 Every day, Immigration and Customs Enforcement (ICE) jails thousands of immigrants in the United States. Those detained face dangerous, unsanitary conditions. They lack access to adequate health care. Since 2004, more than 200 people in ICE custody have died.
For the past 25 years, AFSC has provided free legal representation to immigrants in New Jersey. Our legal services team includes over 40 attorneys and legal staff. In 2021, we represented more than 1,700 immigrants, including people in detention. We helped community members achieve permanent status and safety, reunite with family members, obtain work permits, and more. We also helped win the release of 120 immigrants from detention. The pandemic fueled the urgency to get people out of detention. Many didn't even have soap or masks. They were eating and sleeping in close quarters. Not surprisingly, detention centers became tinderboxes for COVID-19.
Our staff worked round the clock to free people as quickly as possible. But that's a short-term solution. That's why we also ramped up our efforts to end ICE detention altogether.

Communities organize to stop ICE
The U.S. needs a more just, humane approach to immigration that doesn't jail people. In a national poll, AFSC and partners found that most people agree: We should fund community-based alternatives that allow people to stay with family or friends. These programs can also help people access legal representation and vital support services.
"Every single day, the impacts of this cruel system are felt by community members in New Jersey," says AFSC attorney Joelle Lingat. "Any delay in getting people out of detention is another hour, day, month, year that families are separated and people's lives are put to the side."
People affected by ICE detention are at the forefront in working to end it. AFSC supports their efforts in several ways: media trainings, legislative lobby days, and helping them connect with others who share their experiences and are advocating for change.
Just months into the pandemic, we supported several people detained at Elizabeth Detention Center in filing a class-action lawsuit. They demanded the immediate release of all immigrants at the facility. The suit, which is ongoing, was filed by AFSC, the Immigrant Defense Project, and NYU School of Law Immigrant Rights Clinic. In sharing their stories, the plaintiffs helped highlight the dangers of detention.
"These people put their names and faces on the front lines on working to shut down a facility that systematically tries to strip away their humanity," Joelle says. "They emerged with dignity and fighting spirit, not just for themselves but for the entire population of the detention center."
More recently, Black immigrants detained in New Jersey played a key role in organizing a rally in downtown Newark, with assistance from AFSC. From the detention centers where they were held, immigrants called the cell phone of AFSC organizer Serges Demefack, who was at the rally. He held up his phone to a loudspeaker, so everyone in the outdoor crowd could hear them speak. Their purpose? To urge President Biden to stop detaining and deporting immigrants, including Haitian refugees.
"During this time of COVID, even from behind the bars, they were engaged in that rally," Serges says.
"It was moving. For them to have that energy, it reminded us of why we are part of this movement for immigrant justice and why we must keep going."

Throughout the pandemic, community members organized to help expose the inhumanity and injustice of ICE detention. They held car rallies and outdoor protests to attract media attention. They sent countless emails. They made phone calls. They took part in virtual lobby visits to persuade legislators.
And in the end, they accomplished what at one time seemed impossible.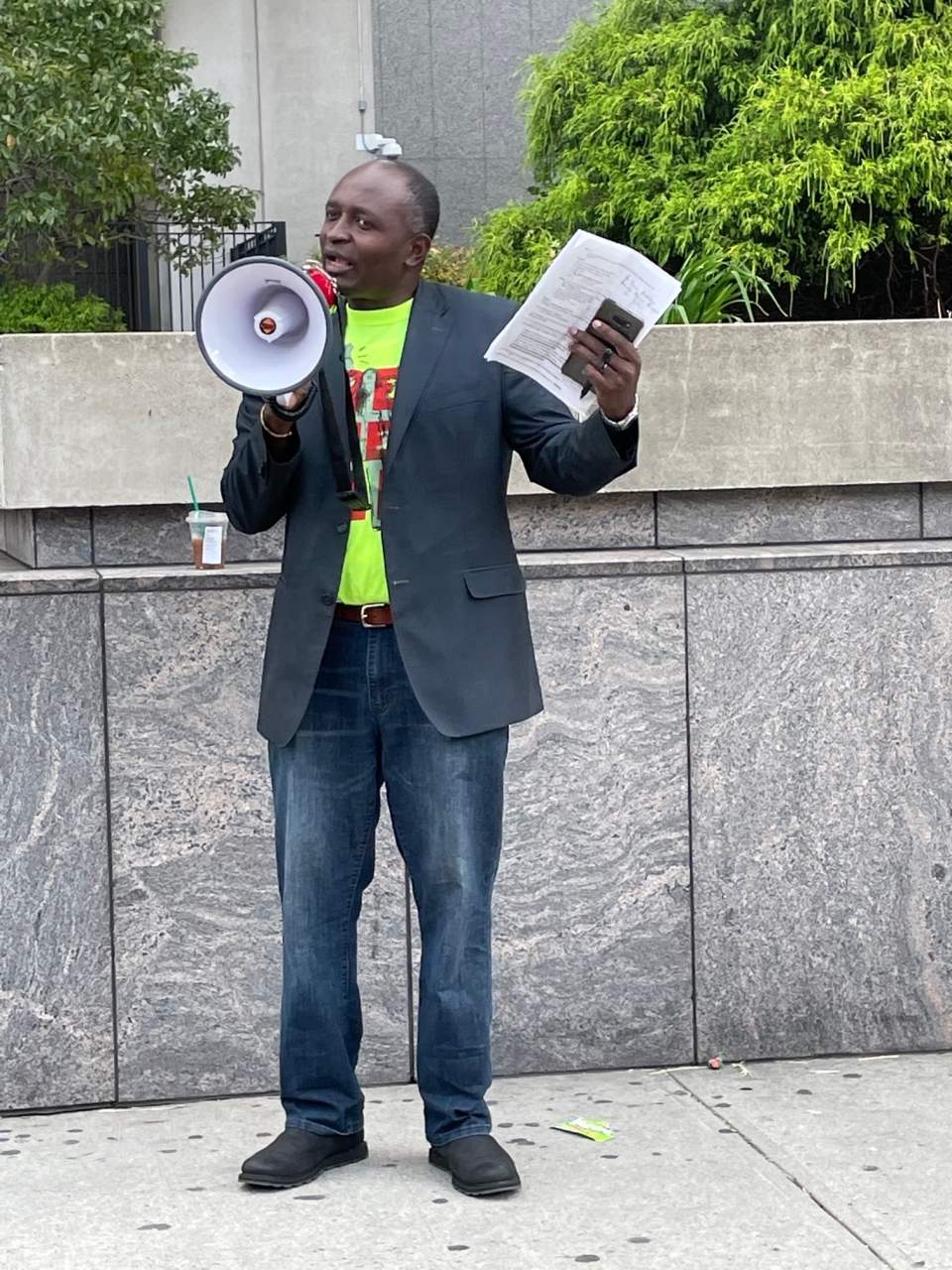 AFSC's Serges Demefack speaks out against immigrant detention and deportation. Photo: Nicole Miller/AFSC

A commitment to end ICE detention in New Jersey
Detainees courageously shared their stories. Community members organized tirelessly. AFSC and coalition partners provided support. And public officials listened.
In 2021, three New Jersey counties announced they would stop detaining immigrants for ICE. What's more, the governor signed a law that bans all future contracts with ICE, including contract renewals. Under the new law, the last remaining ICE detention center in the state—run by for-profit prison corporation CoreCivic—will be forced to shut down next year.
That means that by the end of 2023, New Jersey will have eliminated ICE detention completely.
This is a win for the human rights and dignity of immigrants and all community members. And it's a direct result of years of organizing and advocacy led by people most affected by this injustice.
Noemi Peña was among many excited to hear the news. She's a mother of two who experienced the deportations of both her husband and son. Today she continues to advocate for others. "I wish my husband and son could be with me to rejoice, but I ... am still really happy that I was part of the community that made this happen. I pray that this means only good things are to come for other immigrant families like mine in the state of New Jersey."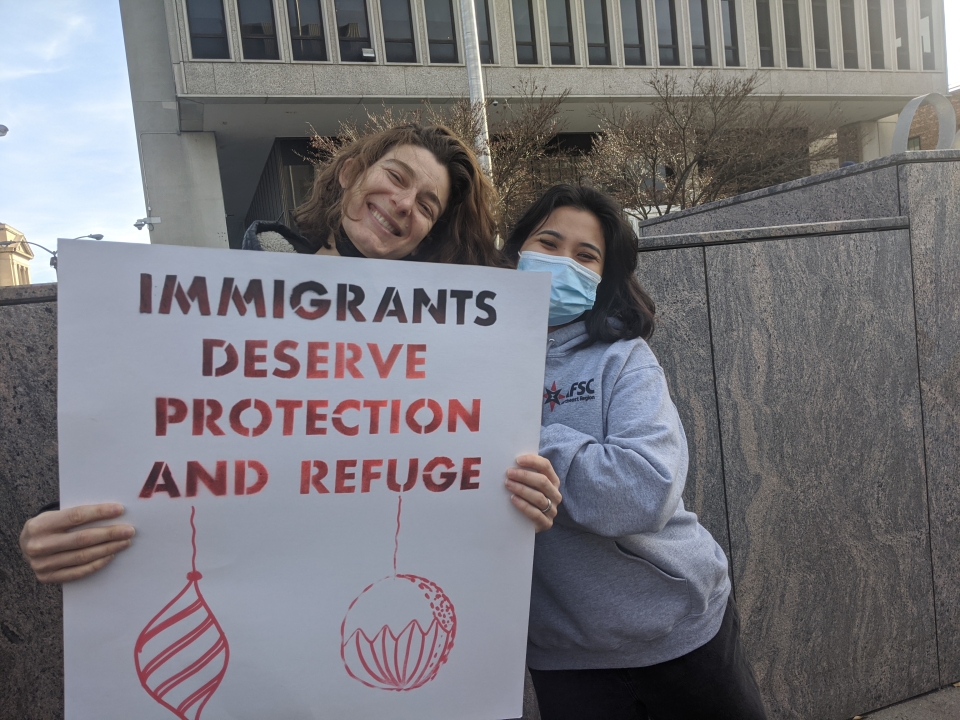 Immigrants, families, and community members have organized actions in front of ICE offices and dention centers. Photo: Chia-Chia Wang/AFSC

The challenges ahead
But the victory has not meant only good things. When ICE detention ends, immigrants should be released to their families and communities. Instead, many people in New Jersey have been transferred out of state as far Florida, Louisiana, and Nevada—often with little or no warning. ICE also continues to arrest immigrants and transfer them out of state for detention. Today our attorneys are helping families locate their loved ones and bring them back home.
These challenges remind us that immigrant detention won't end until we stop ICE in every state. But we know it is possible. The past year has shown us the power of communities coming together to protect the rights and dignity of all. Our office has already heard from organizations in other states that want to replicate the success we've had in New Jersey.
We're looking forward to helping them make that happen.