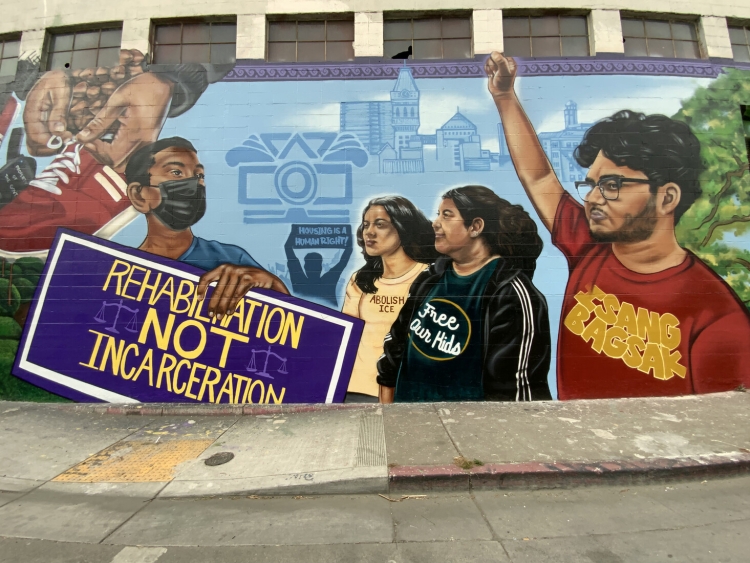 Founded in 2010, 67 Sueños is a youth organizing program for undocumented youth and youth from mixed-status families living in Oakland, California. Using political education, trauma healing, and artivism, 67 Sueños helps young people develop leadership skills and organize campaigns to end youth incarceration and militarized policing.
This summer, the youth of 67 Sueños created their latest public mural, "Soñando y Cambiando: A vision to heal our communities."
This mural was inspired by the Youth Justice 10-Point Plan led by young people from 67 Sueños and other youth organizations in the Free Our Kids (FOK) Coalition in Alameda County. The plan presents a vision to change the way we approach juvenile justice in Alameda County. It recognizes that the current system is not working and, as young people, we have alternatives and solutions for these issues we see on the daily in our communities. Read the Youth Justice 10-Point Plan on Instagram.
Through images and words below, 67 Sueños youth and staff talk about the significance of these images and their experiences bringing the mural to life.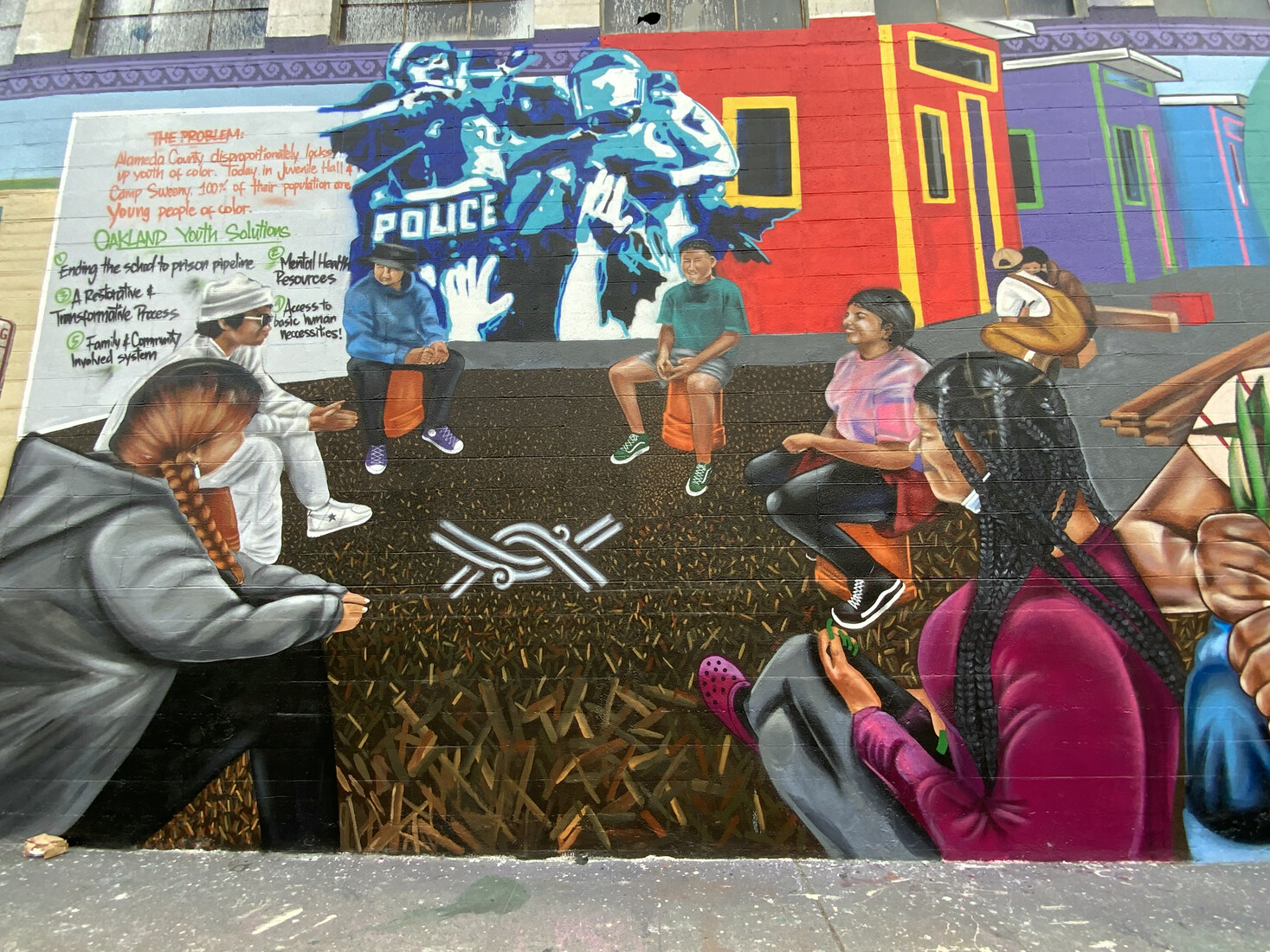 "Murals are important for our community because they bring a lot of awareness. Words don't always reach people, but pictures really can." - Yajaira, youth artist
This image honors the restorative justice model that gives victims a voice in deciding how the harms caused by crime will be redressed. In a grounding circle, it gives space for the person harmed as well as the harmer to have a support system made of family and community that can acknowledge the injustices and oppressive systems around us that pushes youth to cause harm.
In our current system, we are trained to call upon police that many times aggravates a situation instead of helping. In the image, the police are pixelated to show how the power of restorative justice circles can truly heal our communities, instead of relying on the police that only drain our resources and money. The support gained from peers and community will help create systems that support progressive solutions to these injustices. To be together and hold each other accountable takes a lot of vulnerability, persistence, sympathy, and love.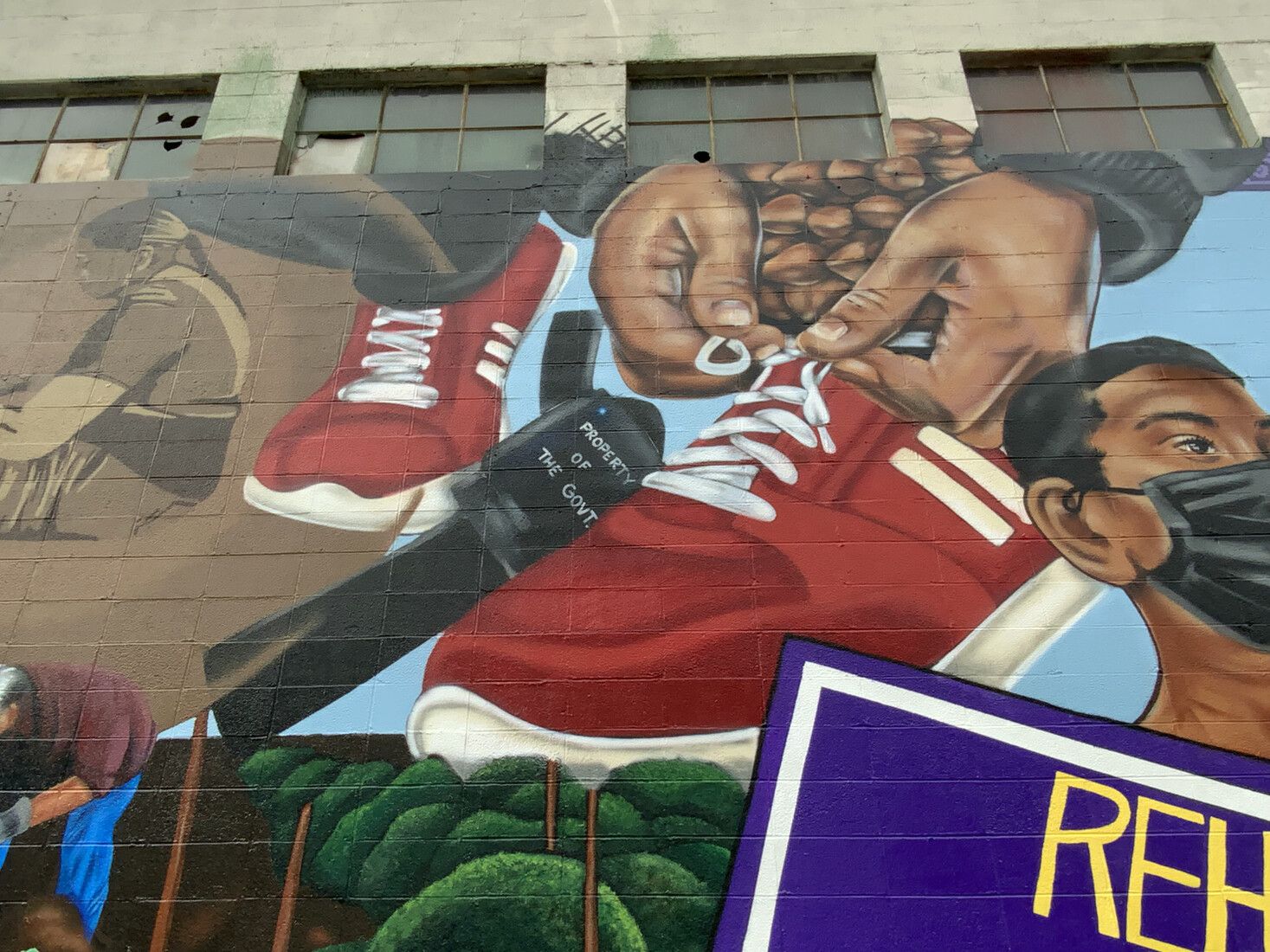 This image shows a young person taking off their ankle monitor to put on "chachayotes," a sacred Indigenous tool used for prayer in Danza Azteca. It shows youth taking off a government policing monitor and putting on their culture to show how youth need more connections to their history and traditions, which can support them in staying out of the systems of incarceration.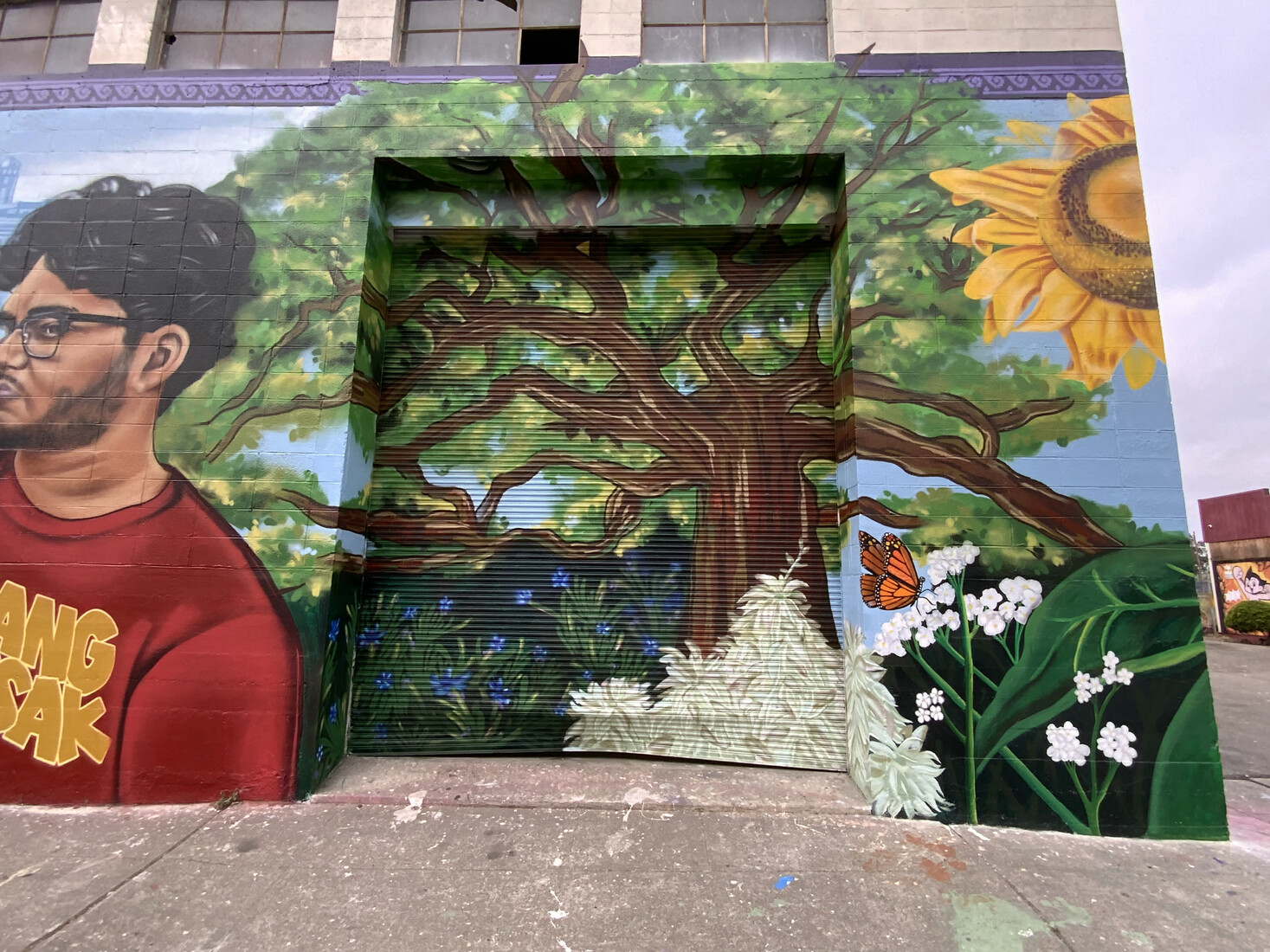 "If this mural wasn't here, this wall would just be plain and ugly, with nothing on it. But now we've livened it up with some beautiful painting. And not only will it look beautiful, but we're also building community, making friends and getting new people involved." - Ime, youth artist
This tree highlights the deep roots of the people living in Oakland and their ability to grow and persevere even through the harsh realities that come with growing in Oakland. The plants and herbs around it were also added by youth to signify the importance of being connected to Mother Earth. They reference the medicinal values of plants that help our communities naturally take care of themselves and their bodies beyond western medicine.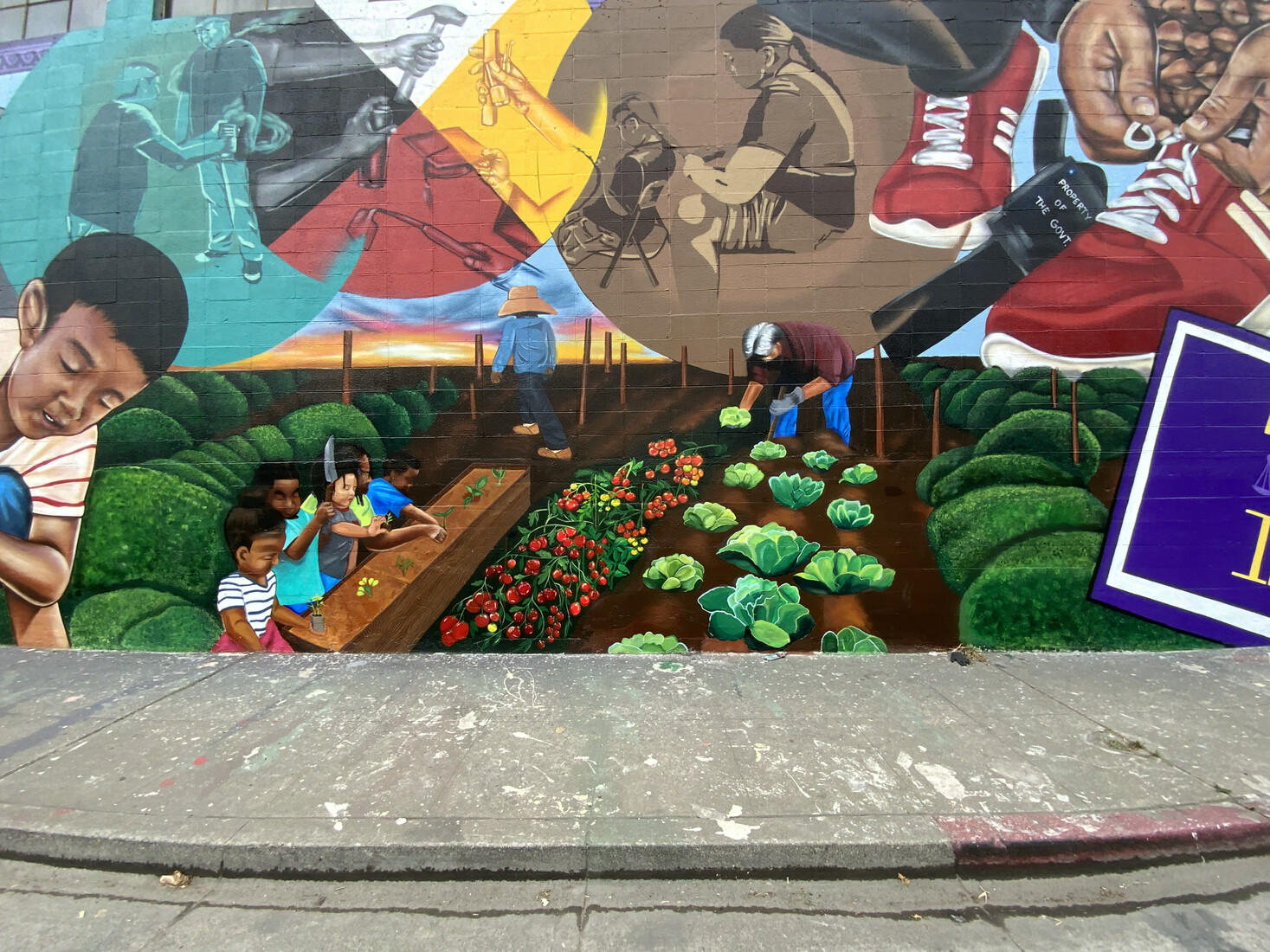 The three monochromatic circles represent the restorative justice model that highlights nurturing healthy relationships, creating just and equal learning environments, and repairing harm to transform conflict. These circles highlight the transmutation from hurt to healed, from impared to repaired, from having holes to being whole.
In the brown circle, we have a father braiding his son's hair representing the need of a present adult to help mentor & guide our journey. His son is braiding sweetgrass, a grass used traditionally for making baskets and bowls.
The medicine wheel in the middle portrays the vital importance of creating just and equitable learning experiences for all youth. It reminds us about the different cycles of our lives and emphasize that it takes a village to help us grow through these different stages of our lives.
Finally, we have the circle of transformation. In the picture you will see a young man being honored by another young man with the help of copal, a medicine traditionally burned as smoke, which has been proven to have many health benefits and is used in other traditional ways for clearing, calming, and praying. This circle in particular is very powerful as all the circles involve us reexamining our traditional ways to help us decide how to influence our new grounding ways.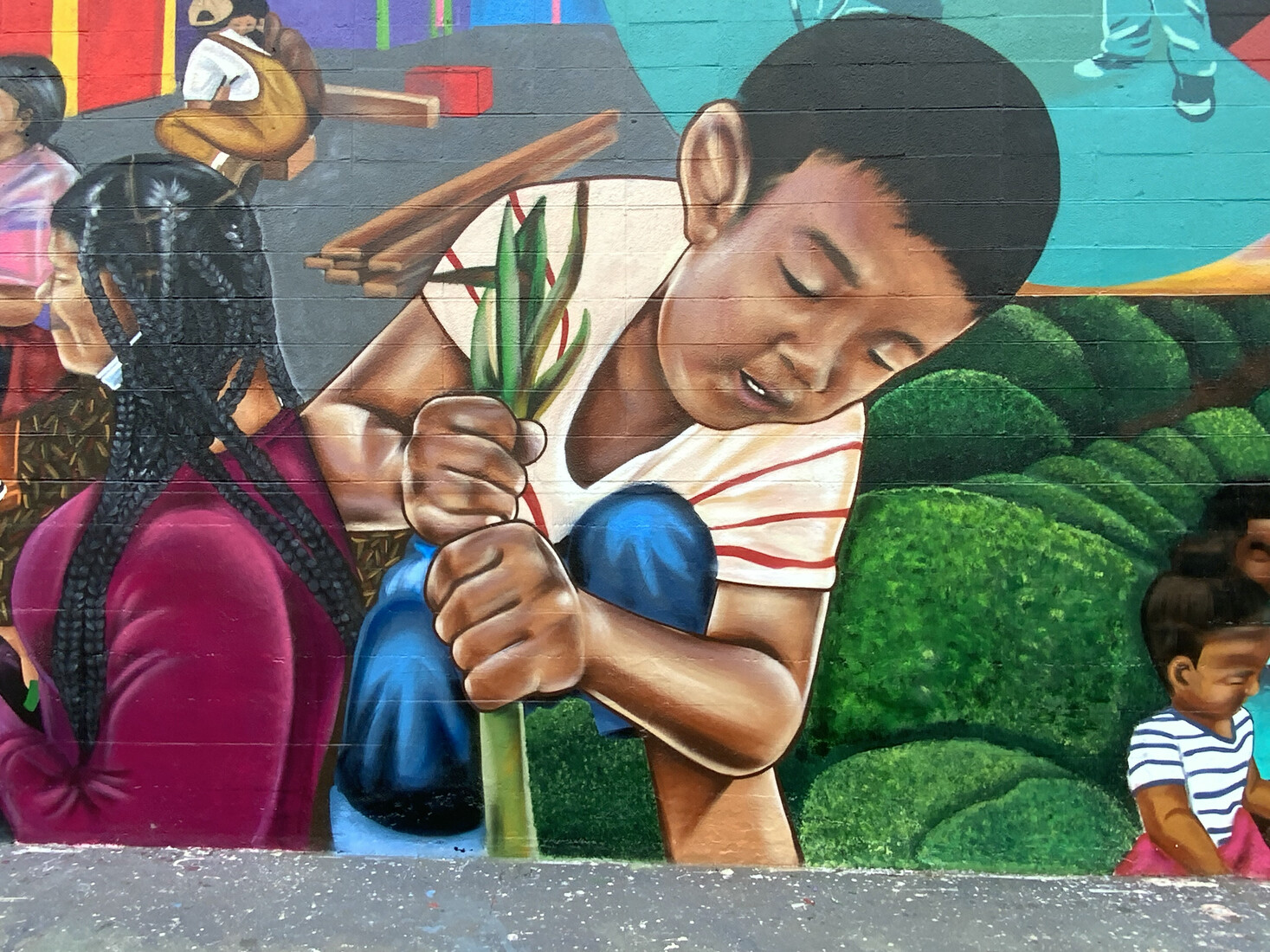 "The murals tell a story. They bring representation to those who don't feel seen. People can see themselves within murals. They make the town beautiful and colorful." - Jessica, youth artist
This image highlights the sixth point of the 10-Point Youth Justice Plan. It highlights how everyone should have access to healthy foods. The youth thought to represent this by painting children working with the land, gardening, planting food and how this should be part of their education as children and having access to spaces like this or turning empty lots into places where we can grow food for our communities. And being connected in that way with the land at an early age.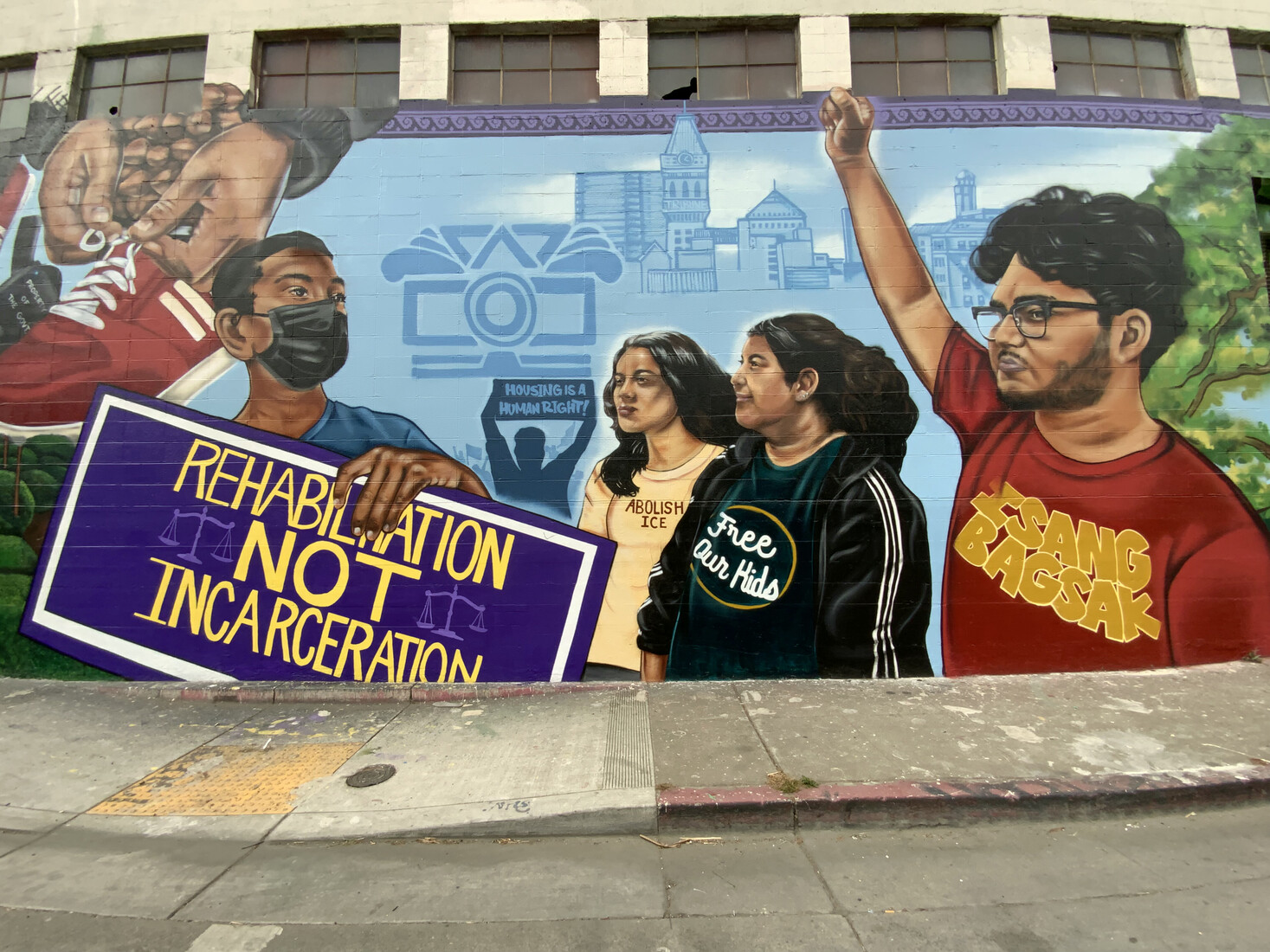 Youth artist Genesis says that the message "Rehabilitation Not Incarceration" emphasizes that "youth should not be incarcerated for their mistakes. Instead they should be given rehabilitation, to have someone to guide them and to help their growth while giving back to their community. ... We also included 'Abolish ICE' on another youth shirt because we deserve respect and rights as human beings. ICE has violated our rights, separating families based on their immigration status. Our communities need protection without our rights being abused and for us to not being incarcerated."
Another youth artist, Angel, talks about the meaning of "Isang Bagsak." In Tagalog, this quote translates to "One down" or "We rise and fall together." This quote was introduced by Larry Itliong, one of the Filipino leaders during the 1960s United Farm Workers Movement. It was then used to create the unity clap a practice that would join both Filipino and Latino migrant workers together after a long day in the fields communicating across language barriers to further their cross-cultural fight for farmworkers rights. We chose to include this piece into the mural because it's a huge representation of unity and togetherness, which is important for our community."
Watch this TikTok video to learn more about the project.
MURAL CREDITS:
Located: Today Home Furnishings: 2121 East 12th St. Oakland, CA 94606
Lead Artist: Francisco "AMEND" Sanchez
Assistant Artist: James "POPS" Delgado
Youth Artists: Alan, Alina, Angel, Areyto, Ayshah, Camila, Cassandra, Daniel, Evelyn, Genesis, Ime, Jade, Jessica, Jesus, Karla, Lili, Luna, Lyna, Mikayla, and Yajaira.
67 Staff Leads: Jacqueline Garcia-Martinez, Ericson Amaya, Guisela Ramos, Edith Cercado, Daniel Lopez, and Felix Amaya.