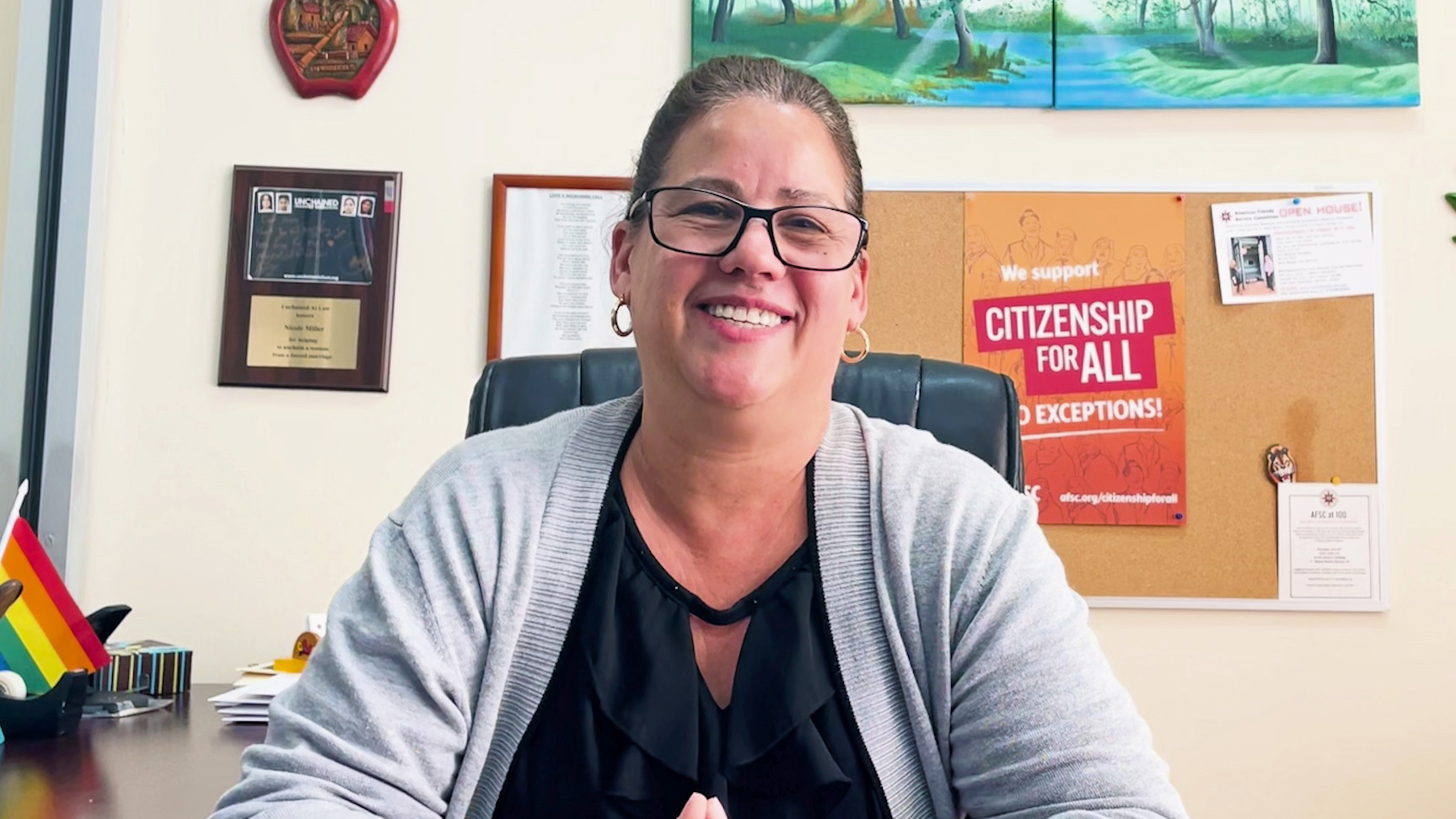 Myrna Hernandez joined the staff of the AFSC in Newark, New Jersey, on February 8, 1998. The office was a bustling one, with four thriving programs that worked with young people, immigrants, and people returning home from prison. Myrna joined as the office's receptionist, answering phone calls, welcoming visitors, and maintaining the space.
After 24 years with AFSC, Myrna continues in the same role. Today the office still brims with energy—clients of the legal services project of the New Jersey Immigrant Rights Program, and regular interns and volunteers with the Prison Watch Program are regularly in the office, and Myrna greets everyone who enters with a smile. While many organizations have become automated, and it can be rare to reach a human being when you make a phone call, Myrna answers as many calls as she can, her warm voice saying, "American Friends Service Committee" to the person on the other end of the line.
I have had the privilege of working closely with Myrna for all of these 24 years. Her role has been vital to the success of AFSC's work in New Jersey, and in particular, to the success of the Immigrant Rights Program and the Prison Watch Program. Myrna, who is bilingual in English and Spanish, is often the first voice encountered by immigrants who have newly arrived in New Jersey and are seeking help with their immigration cases. At the same time, AFSC staff turn to Myrna on a regular basis for her vast knowledge of the Immigrant Rights Program and the many clients the program has served over the years. She is well-known and respected by community members who have worked with AFSC for many years—she knows their families, has followed their immigration journeys, and has heard from people directly what it is like to be undocumented in the U.S.
Myrna is also responsible for sending materials that have been requested by people in prison, ensuring that AFSC maintains its commitment to responding to those requests. Myrna's contributions to Prison Watch far exceed her important mailing of materials. She is the enabler upon which Prison Watch functions, often providing services to distraught callers including family members of people in prison. Her loving willingness to help enhances the ability of Prison Watch to be present in important ways to the wider community. The gratitude of Prison Watch is expressed daily with love and care.
In her role as primary phone answerer at AFSC, Myrna not only provides a reassuring voice to people who may be facing trauma or fear of deportation, she also shares her wealth of knowledge about how U.S. immigration policies impact individuals and families.
The number of phone calls from people seeking help in deportation proceedings has dramatically increased in recent months, says Myrna, with the phone ringing relentlessly almost every day. She listens patiently to each caller, many of whom have tried to get help from other organizations but have not been able to speak to a person. In many cases, Myrna provides guidance to callers who are overwhelmed and don't know where to begin.
According to Myrna, she does this work because even though it is stressful, she loves the combination of issues she is able to contribute to, the support from coworkers, and being part of the larger AFSC.
On International Women's Day, we recognize Myrna and the achievements of women around the world. Watch this video to learn more about Myrna and the work she does to support immigrant communities in New Jersey.
Amy Gottlieb
AFSC Northeast Associate Regional Director