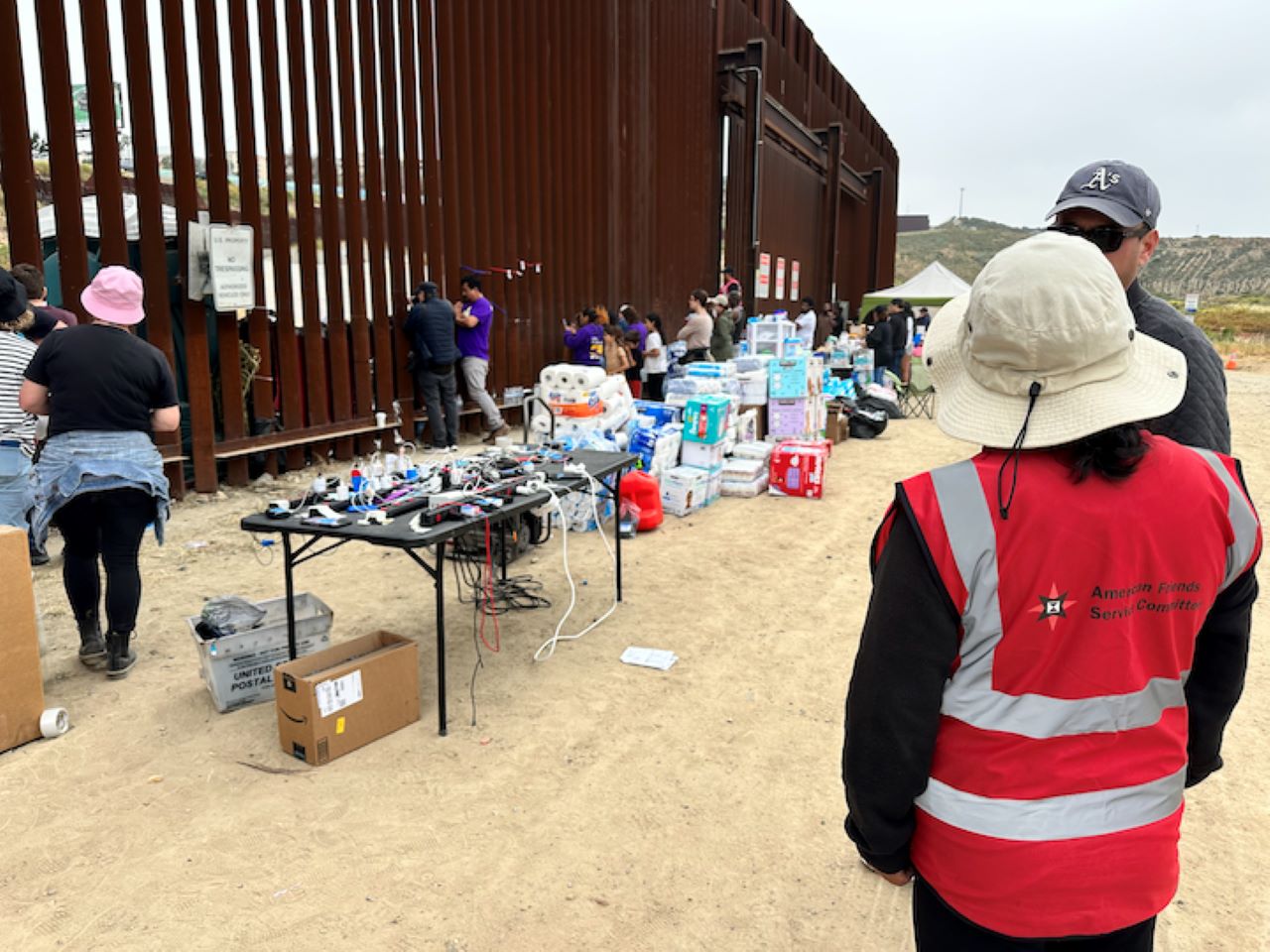 WASHINGTON, DC (October 6, 2023) – Yesterday the Biden administration announced that they were waiving a series of laws to build additional border walls in the Rio Grande Valley. The administration also announced that they would soon resume deportations to Venezuela, despite their recent acknowledgement that it was not safe to do so. The American Friends Service Committee – a Quaker organization that has long advocated for an end to deportations and border expansion – spoke out against the decision.
"AFSC and our partners are at the border providing food and water to migrants and monitoring human rights abuses committed by Customs and Border Protection (CBP)," said Pedro Rios, Director of AFSC's U.S.-Mexico Border Program. "The last thing border communities need are more walls that endanger the lives of migrants and destroy pristine habitats. President Biden needs to center the humanitarian needs of asylum seekers and Congress must create fair and humane processes to welcome people safely in the United States."
The Biden Administration is waiving more than 20 laws – including the Clean Air Act, Safe Drinking Water Act and the Endangered Species Act – and trampling on the objections of border communities in order to expand the border wall. The wall will have devastating environmental and human rights consequences but will do nothing to address the humanitarian needs of people who are migrating.
The same day, the Biden Administration announced that they will resume deportation flights to Venezuela. This announcement comes only two weeks after the administration extended Temporary Protected Status to some Venezuelans already in the U.S. because of the danger and hardship they would likely face if they returned.
"The Biden Administration's actions are deeply cruel and deadly," said Jennifer Piper, Program Director for AFSC's Colorado program. "We call on the Administration to end deportations to dangerous locations immediately, to stop circumventing environmental laws to build walls, and to direct foreign aid to address the root causes of migration."
Thousands of migrants come to the U.S. every year, fleeing violence, disasters brought on by climate change, and economic instability. Often the factors that cause people to leave their homes are directly related to U.S. policies.
"U.S. immigration policies are a mass of contradictions that neither ensure the safety of migrants nor support communities in the U.S.," said Amy Gottlieb, U.S. Director of Migration for AFSC. "People seeking protection are forced to endure brutal conditions and long waits, and many others are turned away and deported immediately. We continue to demand immigration policies that respect human rights, recognize the right to migrate, and ensure that basic needs are met for all people, regardless of where they were born."
###
The American Friends Service Committee (AFSC) promotes a world free of violence, inequality, and oppression. Guided by the Quaker belief in the divine light within each person, we nurture the seeds of change and the respect for human life to fundamentally transform our societies and institutions. We work with people and partners worldwide, of all faiths and backgrounds, to meet urgent community needs, challenge injustice, and build peace.