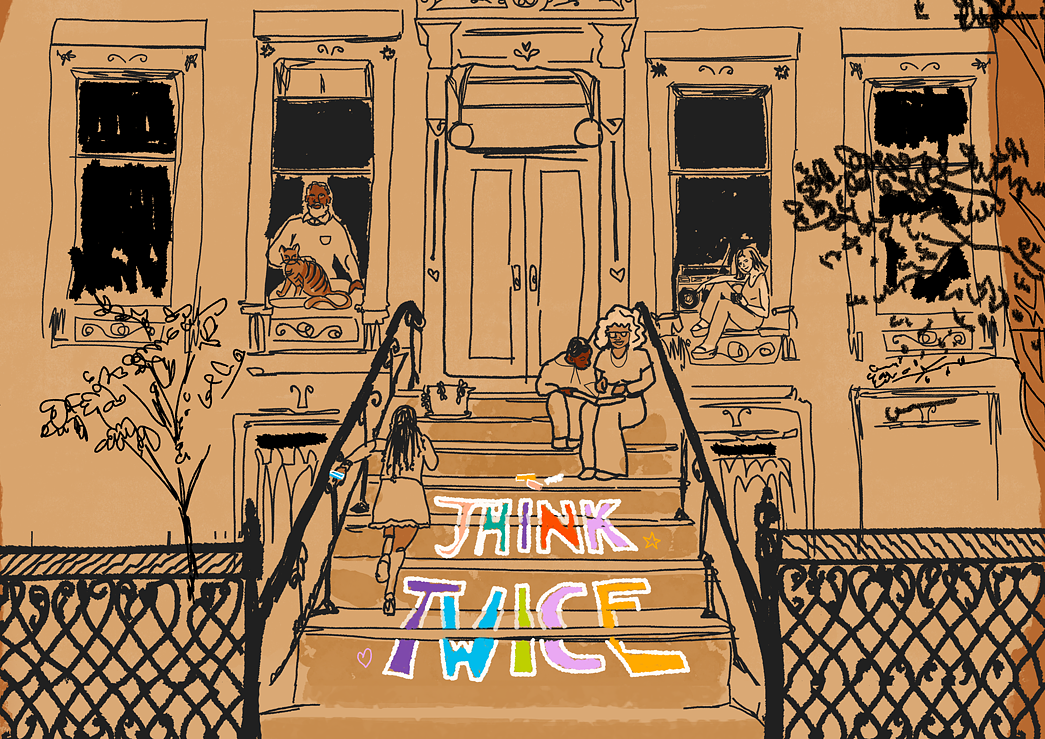 Many of us deepened our commitment to racial justice in the wake of the 2020 killing of George Floyd, grappling with the knowledge that police disproportionately target people of color for violence, imprisonment, and death.
But today we are experiencing a backlash to the largest social justice movement in U.S. history. We're seeing a backward slide toward law-and-order policies and rhetoric that threatens to set back our work toward community safety beyond prisons and policing.
In this moment, one of the most powerful things we can do is build community alternatives to police response. Few alternatives to 911 currently exist—and even if you call for a medical emergency, police usually show up, as well.
We need to shift away from the idea that we must fund lethally armed police to respond to everything from mental health crisis to noise complaints, to traffic incidents—while many human needs go unfunded. And to shift that thinking, we need to experiment and get creative.
Many communities around the U.S. are already building alternative models that are centered in community and address the root causes of harm (see some examples here). But all of us—no matter where we live—can use simple strategies as alternatives to calling the police.
Check out these strategies to help you think twice before calling law enforcement—and then sign our Think Twice Pledge.
1. ASK yourself whether the police would help the problem or create more harm.
Does lethally armed law enforcement need to be called in response to this incident? Are there people involved who are disproportionately impacted by police violence and criminalization, including Black, Indigenous, people of color, immigrants, youth, poor or working-class people? If so, is it worth it to put them in jeopardy?
2. ASSESS whether the situation is merely an inconvenience (like someone playing loud music).
If so, try to talk it out with the person. You can use verbal de-escalation strategies to help if necessary:
DISTRACT the person by being kind and respectful, telling a joke, expressing empathy, or asking a question.
DIRECT the person in a calm, confident and assertive manner and be clear about what needs to happen to address the situation.
DELEGATE by involving a third party in the discussion if you find that your one-on-one discussion keeps escalating.
If the situation has not improved...
3. ASSEMBLE others in your community for back-up.
This part takes a little bit of pre-planning. Consider these strategies ahead of time to be prepared:
FORM A COMMUNITY SAFETY TEXT THREAD: Are there trusted family, friends or neighbors who would also like to avoid calling police unless absolutely necessary? If so, invite them to be part of a community safety emergency text thread so that anyone on the thread can text in a situation when they could use some other people present in a situation to avoid having to call the police. That way, you reach many people quickly, and hopefully there will be one or more who can come to the scene quickly to support.
In Rogers Park, Chicago, my neighbors and I have a community safety thread that has helped people deal with threats of physical violence, opioid overdose, and racist graffiti. In one case, a potentially violent situation was diffused just by having other people show up without even saying anything. Once other people were present, the aggressive person left.
STORE NUMBERS TO COMMUNITY ALTERNATIVES IN YOUR PHONE: Do a little research and find out if there are alternatives in your community that offer immediate assistance through emergency or crisis services and store them in your contacts so that you can reach them quickly when needed. Visit dontcallthepolice.com to start building your list, and you can also search to see what crisis services exist in your community and then give them a call to find out if they also try to avoid calling the police on those seeking help.
An exciting development nationwide is that you can now call or text 988 for mental health crisis situations and immediately get connected with support. In many communities, there will even be a crisis response team staffed with a mental health professional and a peer responder that will come to you. Currently, these crisis-care mobile response services do not exist in all areas of the country, but with sustained support from the federal and state governments and local communities it will hopefully expand over time. One thing to note is that any of these resources may be obligated to call the police in the case of immediate risk to the caller or someone else, child abuse, or abuse of a vulnerable adult.
Ultimately, in a life-threatening emergency or other dire circumstances you may need to call law enforcement. If so, please...
4. ACKNOWLEDGE your identity and the identities of those around you, in order to make any contact with police as safe as possible.
Black people and other marginalized identities are disproportionately targeted by police violence, so make sure that everyone within the vicinity of the incident knows that law enforcement has been called in case they want to leave the scene.
If possible, have someone who is less likely to face police violence or criminalization communicate with law enforcement once they arrive.
We hope you'll consider using these strategies and encourage you to sign our "Think Twice" Pledge to avoid calling the police.
We also keep you up to date on AFSC's upcoming Community Safety Beyond Policing webinars and other opportunities to deepen your skills around mental health crisis response, de-escalation, and other more to keep all of our community members safe.