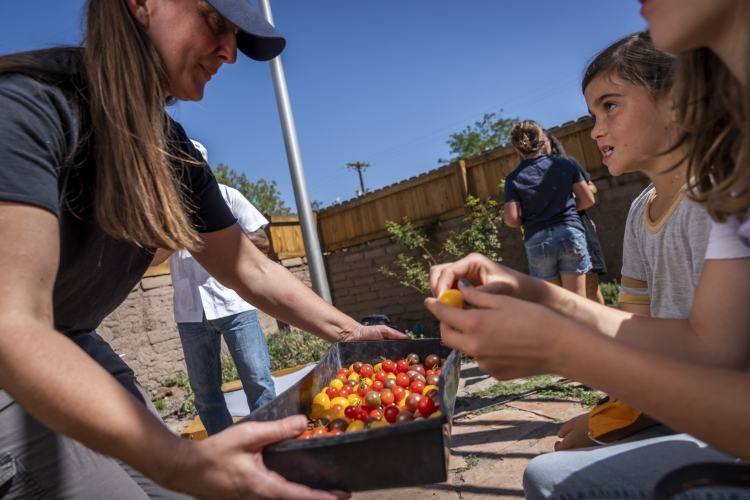 In the United States, nearly 38 million people—including 12 million children—are food insecure. Climate change further threatens our ability to feed people in the U.S. and around the globe.
Communities worldwide are facing extreme weather events—wildfires in California and New Mexico, heatwaves in Europe, hurricanes in Central America and the U.S. Gulf South, and floods and drought in the Horn of Africa. These climate change-driven events jeopardize the viability of farmland, harvests of staple crops, and the food supply chain.
Climate change is a hunger multiplier, and we need urgent action to stop it. Any policies to end hunger or regulate agriculture in the U.S. must align with our goals to address climate change.
That's why we all have a stake in the next Farm Bill. This massive piece of legislation is worth half a trillion dollars in spending and is authorized by Congress every five years. It governs farm subsidies, food assistance programs, and efforts to improve climate resilience.
Here's what you should know about the Farm Bill:
The Farm Bill shapes U.S. agricultural policy. It also plays a significant role in how the country addresses hunger and climate change.
The Farm Bill has a long history. In the 1930s, President Franklin D. Roosevelt passed the original farm bills in response to the economic and environmental crises of the Great Depression and the Dust Bowl. The aim was to keep food prices fair for farmers and consumers, ensure an adequate food supply, and protect and sustain the country's vital natural resources.
The Farm Bill contains 12 chapters or "titles." Just four of them account for 99% of its funding, including:
Nutrition: The Farm Bill helps low-income people in the U.S. afford food through various nutrition programs. That includes the Supplemental Nutrition Assistance Program (SNAP) or food stamps. About 80% of Farm Bill funding is spent on nutrition assistance. 
Crop Insurance: This title provides premium subsidies to farmers and private crop insurance companies that cover farmers to protect against loss in yield, crop, and other farm revenue. This accounts for almost 10% of the allocated funding. 
Commodity Programs: The Farm Bill provides agricultural disaster assistance as well as price and income support for farmers who grow widely produced and traded nonperishable crops. 
Conservation: This title supports farmers in implementing natural resource conservation efforts on their land. This is a key avenue to addressing climate change.
Other titles cover a wide range. That includes food export subsidies and international food aid; loan programs for farmers; investment in rural economic growth; conservation for forest stewardship; development of alternative forms of energy; and funding for farmers' markets, organic farming, and local food programs.
U.S. agricultural policy has exacerbated climate change. The Farm Bill can change that.
While our current food system is vulnerable to climate change, it is also a leading contributor to the climate crisis.
The agriculture industry contributes almost 30% of all human-caused greenhouse gas emissions in the world. It also contributes to climate change through its reliance on large scale, intensive and high-density industrial agriculture especially harmful Concentrated Animal Feeding Operations, mono-cropping, and chemicals — benefiting corporations more than people.
Our food system is also failing to address hunger. Congress disproportionately funds corn and soybeans, and other crops with billions of dollars. But instead of filling our dinner plates, about one-third of corn and 70% of soybeans go to animal feed in environmentally harmful livestock and poultry production. Subsidized corn and soy are also traded and turned into biofuels that may be worse for the climate than the gasoline it replaces. What's more, food produced with subsidized corn and soy is often lower-cost fast food and junk food, depriving lower-income communities of nutrition.
The Farm Bill as we know it needs an overhaul. It should address climate change by:
Investing in sustainable urban agriculture and other efforts to connect communities to local food systems while providing other social, economic, and environmental benefits.

Increasing funding for programs that enhance climate-friendly agricultural practices, from planting and packaging to delivery.

Creating more conservation programs and strengthening them through funding for research and implementation, adequate staffing, and enhancing existing programs like the Environmental Quality Incentives Program.

Adequately funding farmers—especially small-scale farms—to operate in ways that protect air and soil quality and disincentivizing the use of fossil fuels and chemical fertilizers that harm the environment.
Maintaining funding increases for regenerative agriculture (an Indigenous farming practice that champions holistic and rehabilitative cultivating of resources), improving access to markets for local and small-scale regenerative farmers, and supporting the sourcing of their produce for federal nutrition programs to make meals healthier for all.
Eliminating food waste and its resulting greenhouse gas emissions by connecting nutritious food to communities in need. That could be done by establishing new positions and programs at the USDA (United States Department of Agriculture), updating food donation rules, and funding community waste-reduction efforts.
The Farm Bill must be strengthened to prevent hunger and malnutrition in the U.S. and around the globe.
SNAP, which is authorized through the Farm Bill, is the most important anti-hunger program in the U.S. In 2021, SNAP ensured 41 million low-income individuals—half of whom were children—had food on their table.
After COVID-19 was declared a public health emergency in 2020, Congress temporarily expanded eligibility for SNAP and increased benefits to meet growing need. But these expanded benefits are set to expire when the emergency order ceases, ending SNAP assistance for millions of people. The increased need would further strain emergency food providers like food banks and pantries.
Congress must make these COVID-era changes permanent—and strengthen other nutrition assistance programs like the Emergency Food Program (which distributes food to food banks, food pantries, and soup kitchens) and the Gus Schumacher Nutrition Incentive Program (which incentivizes households to purchase more fruits and vegetables). We must also expand programs to more people. That includes low-income college students, immigrants, people with criminal legal records, and others who are currently ineligible.
In addition, the Farm Bill plays a role in responding to hunger abroad. The U.S. is the third largest producer of agricultural commodities globally and a significant importer. That means that U.S. agricultural policies impact global markets, especially in developing countries.
The Farm Bill also reauthorizes international aid programs. That means this legislation will have to respond to the increased food insecurity driven by the war in Ukraine, among other major world events.
More communities should have a say in the next Farm Bill.
From New Mexico to New Orleans to Los Angeles, AFSC accompanies community members who grow nourishing food through traditional, sustainable, and regenerative farming ways. Our work with farmers and supporting urban agriculture enables us to deliver nutritious food to those in our community who face food insecurity.
These examples demonstrate that the impacts of our food system go beyond environmental consequences. They are issues of democracy and social justice, revealing the systemic resource distribution problems in our society. Recent research co-authored by a Quaker academic activist, Daniel O'Connell, shows that corporations consolidate land under fewer owners. That leads to disenfranchised communities, wage decreases, waning civic participation, and fraying of the local and national social fabric. 
We must call for policies to build a more economically, racially, and ecologically just food system. Only then can we build economic and environmental justice while promoting the well-being of our neighborhoods and fostering food sovereignty. 
The Farm Bill can potentially reduce hunger and poverty in the U.S. and worldwide—and help address the climate crisis. Together, we must urge Congress to maximize the opportunity before us. Let's ensure that our agriculture system, economy, and environment work for all people for generations to come.
Tell Congress: Pass a Farm Bill that feeds people and supports climate justice!