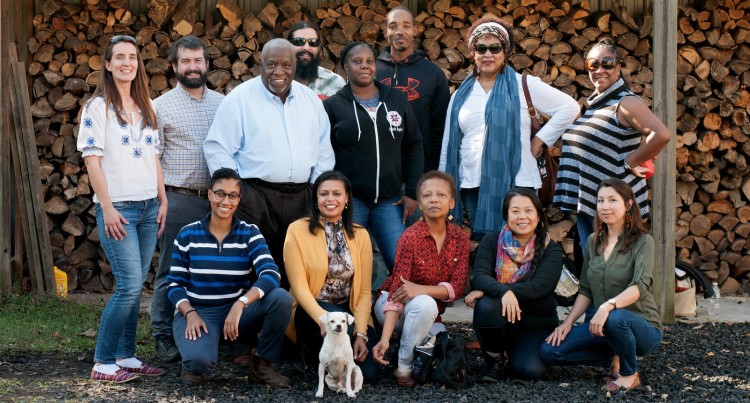 For 45 years, AFSC has had international and U.S.-based programs that support farming to bring peace and economic, social, and environmental justice. Growing food is a practice that land-based people knew how to do before and after imperialism and white supremacy created forced migration and environmental destruction across the globe.
Today, AFSC is accompanying community members as they (re)learn traditional and sustainable farming ways, building economic and environmental justice while increasing the wellbeing of their neighborhoods.
Our programs support the leadership of oppressed people to create spaces that support livelihood and self-determination. Our work towards justice is shaped by the places and people with whom we work, and so our programs are diverse from New Mexico to New Orleans to Los Angeles to North Korea. Through this work, communities are building neighborhood resiliency in the presence of increasing climate change.
Recognizing our similar visions towards justice, the rise in state violence, and limited access to land and water, AFSC's programs working towards food justice have often come together.
In 2012, New Mexico staff met with the North Korea program in China. We learned that AFSC was one of the first NGOs allowed to work directly with cooperative farms in North Korea. Currently AFSC works in North Korea to address problems of low productivity and unsustainable agricultural practices through practical approaches that are field-tested on partner co-operative farms.
In 2017, AFSC programs from New Mexico, New Orleans, Los Angeles and Baltimore gathered for two days to build an understanding of our respective work, support each other and collaborate. From this gathering, AFSC created a collective vision of "Farming for Social Change" that would help us build together and be in solidarity in the U.S. and transnationally.
The "Farming for Social Change" collaborative believes in the need to farm with and for communities most impacted by historical injustice in order to increase health, self-determination, environmental justice, and economic justice. Our methodologies include popular education, community organizing, leadership development, and building farms and community gardens to create these sustainable and just changes.
On January 28, 2021, AFSC staff from New Mexico, New Orleans and North Korea shared during this Facebook Live, viewed by over 700 people. Looking at farming efforts in several locations across the U.S. and internationally, staff explained how AFSC is working to combat climate change and build peace through food security.