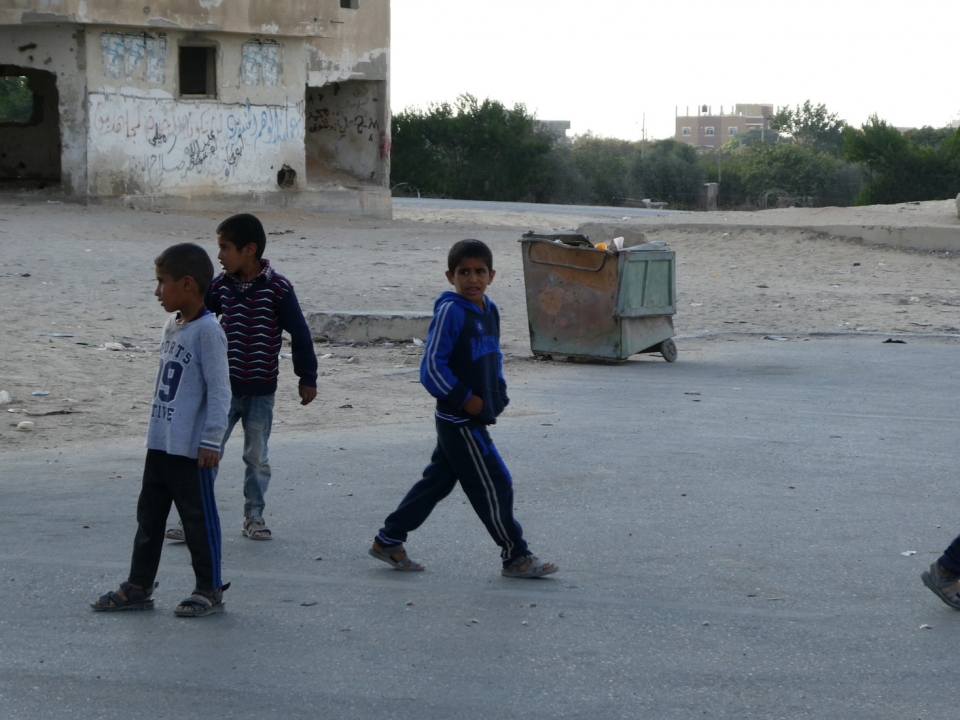 UPDATE: On Aug. 6, 2022, Israel launched three days of attacks on Gaza. At least 47 people—including 16 children—were killed and hundreds more wounded. The military assault came just over a year after Israel's last major attack on Gaza in May 2021 (when this blog post was written).
To learn more, read "5 ways you can support Palestinians in Gaza."
Following weeks of increasing tensions and violence in Palestine and Israel, the Israeli military launched new attacks on Gaza on Monday, May 10. Since then, at least 227 Palestinians have been killed, including 64 children. More than 58,000 Palestinians have fled their homes.Rocket fire from Gaza has killed 12 people in Israel, including two children.
Political action is needed now in the U.S. to bring these attacks to an end. But simply ending violence is not enough—there must be an end to the 14-year blockade of Gaza, the systematic inequality and human rights abuses faced by Palestinians, and Israel's occupation of the West Bank and Gaza.
Take action by contacting Congress today!
Here's what you need to know about the recent bombings:
The bombing of Gaza followed weeks of increasing violence and tension in Jerusalem, the West Bank, and Gaza.
In the weeks before the attacks on Gaza, the Jerusalem District Courts authorized the displacement of Palestinian families in the Jerusalem neighborhood of Sheikh Jarrah. This decision is the culmination of a decades long legal battle that will turn Palestinian homes over to Jewish Israeli settlers. If these actions go forward, 169 Palestinians, including 46 children, will be displaced. The Jerusalem municipality also plans to destroy 100 Palestinian-owned buildings, which are home to more than 1,500 Palestinians, to build a biblical theme park in the Al-Bustan neighborhood.
Palestinians and solidarity activists in Jerusalem protested the impending displacements and were met with escalating violence from the Israeli police.
Israeli authorities in Jerusalem also took a variety of steps to limit Palestinian freedoms and access to Al-Aqsa mosque for worship during the Muslim holy month of Ramadan. Public spaces where Palestinians gather to celebrate during Ramadan were closed by the police and access to the Old City was restricted. Access to the Al-Aqsa Mosque was restricted for Friday prayers, and security forces and police were deployed throughout Palestinian neighborhoods.
On Saturday, May 8, as Palestinians tried to access Jerusalem to pray at Al-Aqsa Mosque on the evening of Laylat al-Qadr, the Israeli police set up checkpoints on the main roads into Jerusalem to block access to the city for Palestinian citizens of Israel. These and other actions resulted in clashes between Palestinians and Israeli police and security forces in Jerusalem.
On Monday, May 10, as right wing Israeli settlers prepared to march to celebrate the Israeli occupation of East Jerusalem, Israeli police forces used rubber bullets, stun grenades, and tear gas canisters against Muslim worshipers at Al-Aqsa, injuring over 300 Palestinians. It was after this attack on worshipers at Al-Aqsa that rockets were first fired from Gaza.
These actions follow months of increased home demolitions, force displacements, and violence against Palestinians.
From the start of 2021 through May 10, a total of 322 Palestinian-owned structures were demolished in the West Bank and Gaza, resulting in the forced displacement of 468 people. The escalation of demolitions is part of a larger pattern. According to the UN Office for the Coordination of Humanitarian Affairs, 6,825 Palestinian owned structures were demolished because of a lack of permits over the course of the last decade. As a result, 9,662 people, including thousands of children, were forcibly displaced. The threatened displacements in Sheikh Jarrah, Al-Bustan, and other Jerusalem neighborhoods is not an anomaly, but part of this larger process of Palestinian dispossession.
Every two weeks the UN Office for the Coordination of Humanitarian Affairs in Palestine puts out a Protection of Civilians report that details acts of violence that occur as a result of apartheid and occupation in Palestine. For the period between March 16 and March 29, prior to the most recent bombings, here is what they report:
A 45 year old Palestinian was killed by Israeli soldiers while participating in a protest in his village.
53 Palestinians were injured by Israeli soldiers during protests in the West Bank.
Israeli military forces carried out 128 search and arrest operations in Palestinian communities across the West Bank.
Israel destroyed or seized 26 Palestinian owned structures in Area C and East Jerusalem, displacing 34 people including 15 children and impacting 40 others.
Settlers attacked and injured two Palestinians and burned several hundred Palestinian owned trees.
Israeli forces opened fire into Gaza on 17 separate occasions.
Israeli forces carried out two land clearing operations inside Gaza.
One rocket was fired from Gaza, landing in an empty field.
Palestinians threw rocks towards Israeli plated cars in the West Bank on one occasion damaging several cars.
This was not an extraordinary period. This is the daily violence of occupation that defines life for Palestinians. But this reality of daily violence is largely absent from the narratives that are already developing about what is happening in Palestine, and it is critical that this context—and Israel's ongoing blockade on Gaza and occupation of the Palestinian territory—be placed front and center when considering developments over the coming days or weeks.
Israel has indicated that new military actions in Gaza could last days or even weeks.
The last large Israeli attack on Gaza was in 2014. During that attack, more than 2,250 Palestinians, including over 500 children, were killed. More than 11,000 people were injured and over 160,000 were displaced. And Gaza has yet to recover from the destruction and damage of homes, schools, and infrastructure.
If these attacks are allowed to continue, many more people could lose their lives, homes, and livelihoods.
Even without an attack, Gaza is on the verge of complete collapse.
Over 80% of the population in Gaza relies on international assistance to survive, and cases of disease (particularly COVID-19) and malnutrition are on the rise. More than 50% of the population is unemployed, and 90% of businesses closed as a result of the blockade. Hospitals are out of up to 40% of needed supplies and medicine. Approximately 96% of water is undrinkable. And electricity is only available for approximately four hours per day.
The U.S. and the rest of the international community must take action to stop Israel from escalating the violence against Gaza—and call for a just and lasting peace for Palestinians and Israelis.
However, simply stopping this attack on Gaza is not enough. Past attacks ended with promises by Israel that it would ease restrictions on Gaza. That never happened.
To bring change in Gaza and in all of Palestine, there must be significant change in policy. Israel's blockade on Gaza must end, and Gaza must be allowed to reconnect to the West Bank. That in turn must be linked to an end to Israel's occupation of Palestinian territory, systematic discrimination against Palestinians, and ongoing violations of Palestinian's human rights.
AFSC stands with Palestinians in calling for action to stop the violence against Gaza and to change other policies that have led to this crisis.