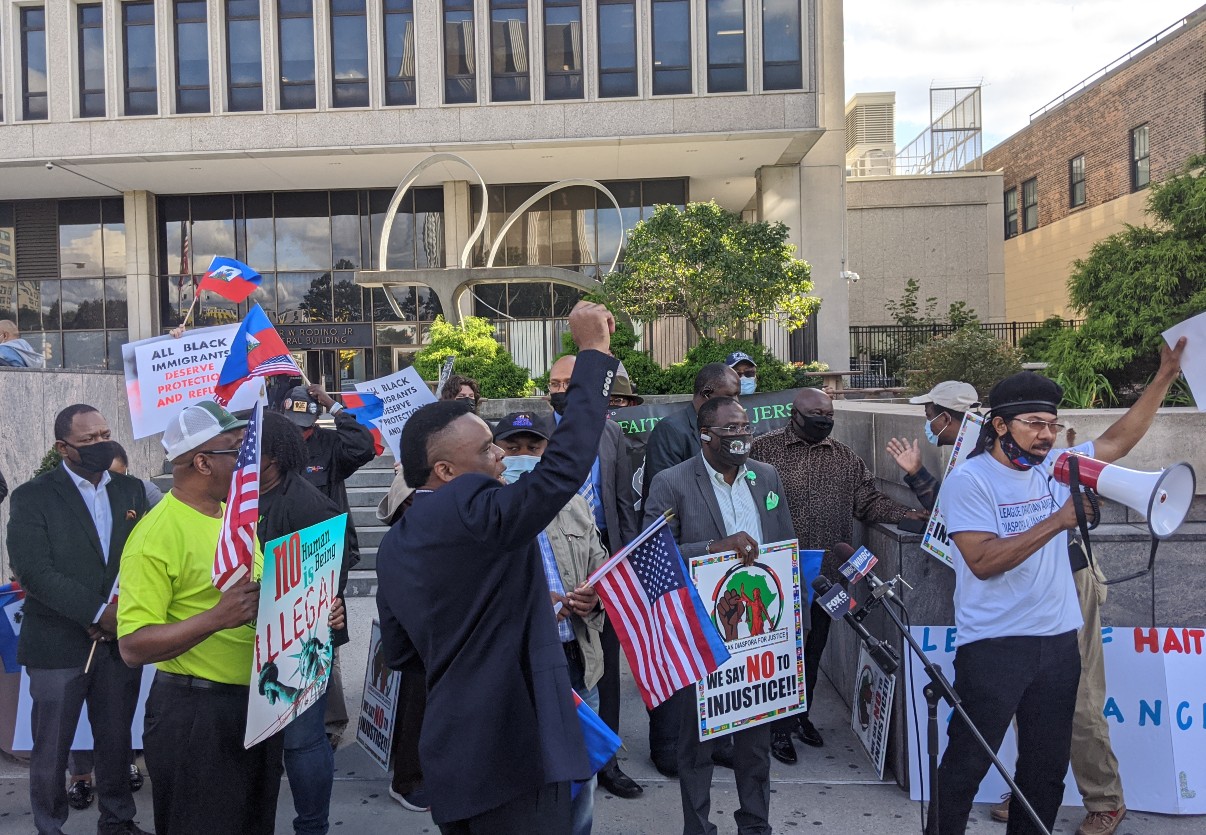 This year has been a historic one in New Jersey where we have seen an astonishing reduction in immigration detention. The three counties that have detained thousands of immigrants for Immigration and Customs Enforcement (ICE) decided to end those relationships. Immigration enforcement is down 70% in the state. In addition, the state passed a strong anti-detention law. And by 2023, New Jersey will have ended ICE detention completely. 
This tremendous shift is a win for the human rights and dignity of immigrants and all community members. It is the result of years of organizing and advocacy by a coalition of immigrants, their families, and organizations, including AFSC. 
"This is such wonderful news," said Noemi Peña, a mother of two who has experienced the deportations of both her husband and son. She's also a member of AFSC-Immigrant Rights Program in Newark who has worked to advocate for these changes. "I wish my husband and son could be with me to rejoice, but I ... am still really happy that I was part of the community that made this happen. And I pray that this means only good things are to come for other immigrant families like mine in the state of New Jersey."
ICE has a long history of abusing and neglecting immigrants, even resulting in deaths. Yet since its inception, the agency has consistently rejected oversight and accountability. ICE jails people in unsanitary, often overcrowded facilities and suffers no consequences for endangering the health and safety of hundreds of thousands of people. 
In this pandemic, our work to end ICE detention felt as urgent as ever. Detention facilities in New Jersey and across the country became tinderboxes for COVID-19—leading to more than 31,000 cases.
AFSC attorneys and staff worked round the clock to get people out of detention as quickly as possible. In fiscal year 2021, we helped 89 individuals get released and return home to their families and communities. That includes people like A.G. He had been jailed by ICE for four years, nine months, and 16 days. The experience left him traumatized, exacerbating his existing mental health issues.  
"Freedom is priceless," A.G. says today. "Before, I had no hope in life, the only thing that kept me going was my faith, but sometimes people come to point where you lose even that. Detention is the closest to death you can get. Now I feel happier. I have hope, goals, plans for my family and future." 
No one should ever be detained. We need a more humane and just approach to immigration that does not jail people. We need community-based alternatives that allow people to stay with family or friends and provide them with access to case management and support services. While ICE detention continues to exist, jurisdictions must provide funding for universal representation—a public defender model of legal representation—so that all immigrants have an attorney by their side to ensure they are afforded due process and treated with dignity and respect. 
For years, AFSC has organized and advocated with communities to end ICE detention. Our coalition in New Jersey has coordinated protests and actions in front of detention centers and ICE offices. We sent countless emails and made numerous phone calls and lobby visits to public officials. We worked to expose the inhumanity and injustice of ICE detention in the media and public forums. And we ensured that the voices of immigrants who experienced detention and their loved ones were at the forefront of all our efforts.  
Our work culminated this year with a watershed moment in ending ICE detention. Three of the four New Jersey detention centers that detained immigrants for ICE announced they would stop doing so. The fourth and last, a private detention center, will end its contract in 2023 thanks to a new state law that bars future—or renewed—contracts with ICE.  
These are hard-won victories for our coalition efforts. They are a response to the growing movement in New Jersey and across the country to abolish ICE and build a more just and humane immigration system. 
But this progress has also come with tremendous challenges. When ICE detention ends, immigrants should be released to their families and communities. Instead, in New Jersey many were transferred out of state as far Florida, Louisiana, and Nevada—with often little or no warning. In addition, local community members who are now arrested by ICE are also being transferred out of state. Our attorneys have worked nonstop to help families locate their loved ones and bring them back to New Jersey. 
These challenges remind us that ICE detention won't end until we stop this federal agency from operating in every state. But we know it is possible. The past year has shown how powerful it can be when communities come together to protect all our members and ensure the rights and dignity of all. We have already heard from people and organizations in other states that want to replicate the success we've had in New Jersey. And we're looking forward to supporting them in making that happen.