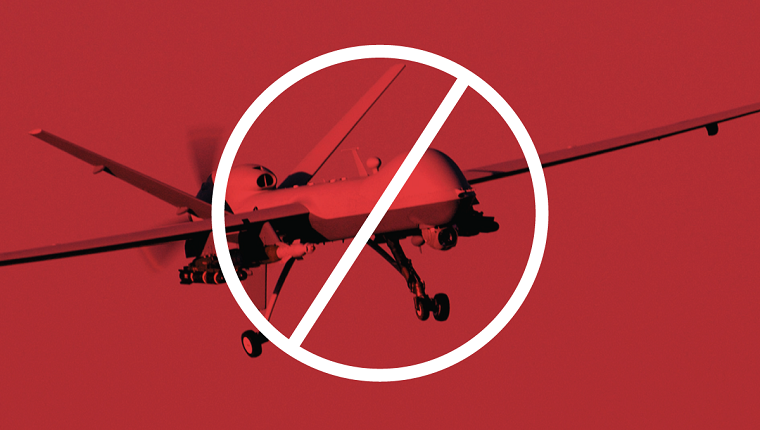 For years, the American Friends Service Committee has joined other organizations in calling for a ban on drone warfare. The United States' use of lethal drones has killed thousands of people – including hundreds of children – and displaced countless others. Instead of making the U.S. safer, drones have undermined efforts to end conflict and build stability and viable economies in countries around the world.
Since the start of the U.S. "war on terror" in 2001, drone warfare has grown as U.S. military operations have expanded beyond Afghanistan and Iraq. A significant portion of U.S. military actions outside of Afghanistan and Iraq – including Pakistan, Yemen, Somalia, and Libya – are carried out with drones.
But the government's secrecy around its use of lethal drones has concealed the real human toll of these attacks. According to the Bureau of Investigative Journalism, drone attacks in Afghanistan, Pakistan, Somalia, and Yemen have killed between 8,500 and 12,000 people, including as many as 1,700 civilians – 400 of whom were children. This is a conservative estimate of how many civilians have been killed, especially since who qualifies as a "combatant" is widely disputed. These figures also don't include killings in Iraq, Libya, and other countries.
In Somalia, AFSC staff have seen the devastation causes by drones firsthand. The U.S. conducted its first drone strike in the country in 2011, targeting members of the armed group Al-Shabaab. In 2017, the Trump administration lifted some restrictions on U.S. military action when it designated Somalia an "area of active hostilities." Drone strikes in Somalia have since tripled.
Between January 2018 and April 20, 2019, the United States carried out at least 149 air and drone strikes in Somalia, killing up to 1,333 people. Although the U.S. military claims that no civilians were killed in these strikes, Amnesty International identified 14 civilians who were killed in just five of those attacks.
Our staff have documented how these attacks have displaced communities – as people flee after strikes – and caused immense human suffering in a country that already faces one of the worst humanitarian crises in the world. And while the U.S. justifies drone strikes as a response to Al-Shabaab, these actions often have the opposite effect – driving affected community members to support the very groups the U.S. is targeting.
Despite its incalculable costs, there is no independent oversight or accountability for drone warfare. President Trump – and the two previous administrations – have claimed executive power to order drone killings without providing explanation to the public, courts, and even most members of Congress. This includes killings of U.S. citizens, such as Kamal Darwish, Abdulrahman Awlaki, and Jude Kennan Mohammed.
The Trump administration has worked to eliminate what little restrictions there are – increasing drone strikes, broadening the geographic area where strikes occur, lowering the decision-making threshold for lethal violence, and delegating more authority on drone policy to the military and CIA.
Today, AFSC and other faith groups continue to bring attention to why drone warfare is immoral, ineffective, and often illegal – and urge Congress to do all it can end the U.S.'s use of lethal drones.
A key part of ending drone warfare is addressing the Authorization for the Use of Military Force (AUMF), the post-9/11 congressional act that has been used to justify drone strikes. Congress should immediately rescind the sections of the act that allow for the use of violence without geographic or temporal boundaries and the use of deadly violence outside of declared war. Congress should also move to repeal the AUMF in its entirety, as it has undermined international human rights laws and pushed the U.S. farther down the path to endless war.
In the months ahead, we will bring you more ways to call for an end to drone warfare – and support our work for policies that respect the humanity of all people.
Pauline Muchina is AFSC's public education and advocacy coordinator for the Africa Region. Michael Merryman-Lotze is AFSC's Palestine-Israel Program director.