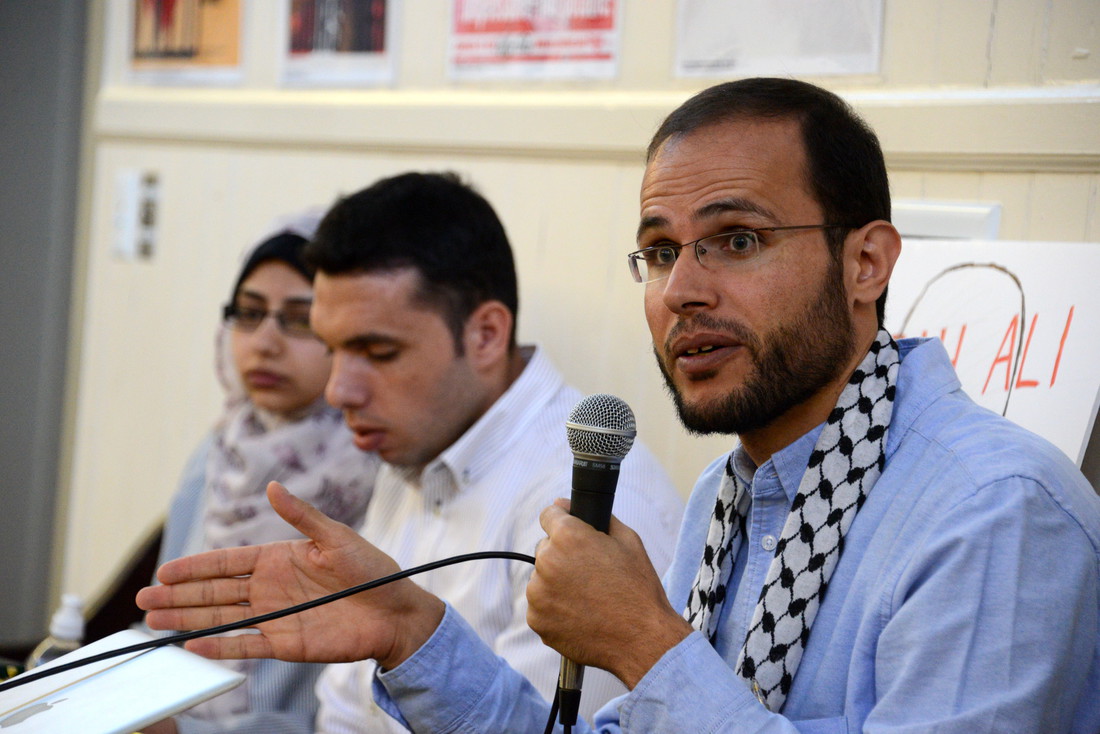 Last year, AFSC brought together perspectives from Palestinian writers from Gaza in the book, "Light in Gaza: Writings Born of Fire." The anthology features essays and poems of 11 Palestinian writers from Gaza to people around the world.
In this interview, we hear more from contributor Refaat Alareer, who is a professor of English at the Islamic University of Gaza. He also co-edited "Gaza Unsilenced" and edited and contributed to "Gaza Writes Back."
Shireen: Can you tell us about the process of writing these pieces for "Light in Gaza?"
Refaat: I like storytelling. I learned this from my mother, from my parents, my grandparents, and now I teach literature, short stories, and poetry. The moment I was told to tell my story for the book, something clicked. A couple of stories rushed into my mind about my earliest memories, how every single memory we have is tarnished by the occupation. Everything is directly impacted negatively by the occupation; we are ruled by a military occupation that wants to make our lives horrible at every turn.
At the time the war was raging, Israel was massacring Gazans. I think I was asked to write this chapter on the same day or the day after the massacre that killed 45 Palestinians on Al Jalaa Street.
It isn't difficult to write a story. Our lives consist of stories. We are made out of stories, especially as Palestinians, we are a highly narrative society, we cherish stories. We love stories. We learn from stories. We are shaped by stories. We protect them like we protect our memories and ourselves.
The difficulty was in how to thread the stories together in a way that can easily reach, can be read, can be understood by people who don't know specifics about Gazan society and Palestinian society. To address people's minds as well as their hearts.
There is always this burden for us as Palestinians to tell the story. I usually say this to my students: The moment you hear a story, you need to at least tell it to other people, if not document it. A story is meant to be told.
Israel controls the narrative, controls the discourse, and partly influences Western media. I think it was two years ago that the BBC was like, "Israeli missiles kill pregnant mother," and then Israeli officials all over Twitter were outraged and demanding the BBC change the headline and within minutes they changed it to "Palestinian mother dies in Gaza raids" where Israel is nowhere to be seen. Israel is not to blame for anything, it's kept hidden. ... It is not only a dominant narrative, it is racist. We are dehumanized in unprecedented ways.
Telling stories is a human act. It's an act of life, of insisting on living. But it's also a political act. It's part of the intellectual resistance we must engage in.
Shireen: The story you wrote for "Light in Gaza" expands on a New York Times article you wrote during Israel's attack on Gaza. Could you speak about how that story came about?
Refaat: During the war in 2008 and '9, my kids were completely terrorized by the bombings. We were living in Shuja'iyya until our house was destroyed and we were forced to move to Gaza City. Shuja'iyya is a neighborhood that was heavily bombed. So I was distracting my kids with stories. And, you know, kids always want more. You run out of stories, and then you start digging in your memory, digging in your past, and you make up stories, you invent stories. You create characters with names similar to the names of your little ones, and then you start bringing stories from the past.
Again in 2021, the story presented itself to me. We were sitting, we were watching TV live streaming Al Jazeera. They were planning to bomb a building. The power went out and my little daughter Lena asked if they can bomb the house in the dark. It's a question that you can't answer. And then you want to lie. That's the only thing, you want to lie to the little kids. So I said I have to tell this story. And that's where The New York Times story comes from.
Shireen: I remembered Shuja'iyya from Israel's horrific attacks in its 2014 assault on Gaza. The name Shuja'iyya also means "courageous" in Arabic. Could you tell us more about this neighborhood?
Refaat: Shuja'iyya is adjacent to the eastern edge of Gaza. This means that there is usually a lot of friction, there are a lot of Israeli incursions, and there is a lot of resistance. In Shuja'iyya, because of the name, the symbolic name, the iconic name, we grow up with this pride because we are from Shuja'iyya. When a war starts, Israel shells Shuja'iyya heavily and this is what they did in 2014. Thousands of shells were dropped on houses in Shuja'iyya and people were trying to hide.
And I remember people from outside Palestine saying, "Why didn't you evacuate?" Where? Where should we go? Gaza is tiny. And sometimes I take the time to explain to people what a house means. Where I live, my house is actually originally my grandparents' house, and then my grandfather had four boys. One was killed in prison. And then the land was divided among the three that remained. There is the first floor and then the second floor. And then we built another floor, and then our two younger brothers, they got married and they built on top of it, and so on. So when we talk about a house, we talk about 70 people living in this structure. You have all your money, all your papers, all your certificates, all your memories, all your photo albums--even your cradle. And this is the cradle when you are born. It keeps moving from one person to another and then it's all gone with just one click on a button. And this is why, my brother Hamada was like, OK, I'll stay behind. And my brother, he's a civilian, he was inside the home, our home, when they destroyed the whole block. Each house with four floors was destroyed and my brother was killed.
Shireen: What else would you like people to know, about you, and about storytelling?
Refaat: One of my earliest memories is when Israeli soldiers shot at my father's car and injured him. It still haunts me. But we need people to understand that we're not doing this for fun. This is a matter of life or death. These stories are meant to bring life to stop death, to end aggression, to end Israeli barbarity, occupation, and siege. And we want people to take action. If your first impulse is to sigh and go on with your life, that's not enough. Twenty years ago, we wanted people to listen. We wanted people to shed a tear.
But now? Organizing is significant. Mobilizing is significant. Joining all these amazing chapters, societies across campus organizations, [boycott, divestment, and sanctions] (BDS), being out there on social media. And it's happening. There are more and more people doing this.
We want people to act and take action.