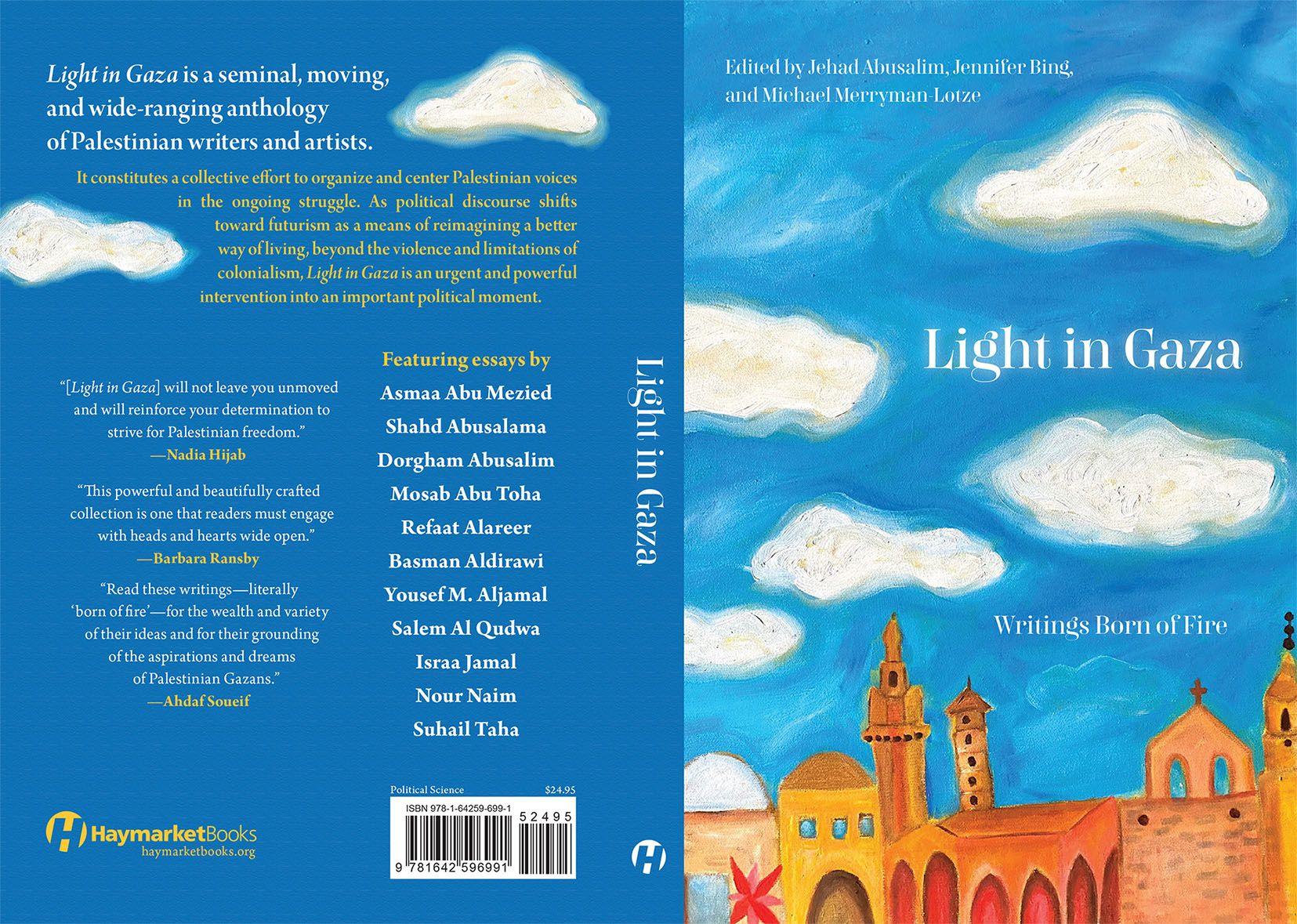 Philadelphia (August 17, 2022) On Aug. 6, 2022, Israel launched three days of attacks on Gaza. At least 47 people—including 16 children—were killed and hundreds more wounded. This is just the latest of many atrocities that have been committed in Gaza. Light in Gaza: Writings Born of Fire brings together sixteen essays and poems by twelve Palestinian writers. The book includes political essays, personal narratives, economic analysis, and poetry. The book is edited by American Friends Service Committee staff Jehad Abusalim, Jennifer Bing, and Mike Merryman-Lotze and published by Haymarket Books.
Gaza is home to two million people, and it continues to face suffocating conditions imposed by Israel. For sixteen years, Palestinians in Gaza have lived under a brutal blockade, isolated from the rest of Palestine and the world. This distinctive anthology imagines what the future of Gaza could be, while reaffirming the critical role of Gaza in Palestinian identity, history, and struggle for liberation. The New York Times describes it as a "searing collection anthologizes works by Palestinians from Gaza — some residents, some refugees — describing their lives under occupation and amid the ongoing struggle for freedom."
"This book is rich in insights from Gazans living under Israel's brutal siege as well as those living abroad," writes Nadia Hijab, co-founder and honorary president of Al-Shabaka: the Palestinian Policy Network. "The editors and authors are determined to start a conversation about Gaza and to break 'the intellectual blockade' imposed on it. From Jehad Abusalim's introduction to the last word, these compelling works move from personal reflections to political and economic analysis. They capture the reader and pull them through a journey that is as uplifting as it is heartbreaking that it should have to be lived at all. It will not leave you unmoved and will reinforce your determination to strive for Palestinian freedom."
The book is an urgent and powerful intervention into an important political moment and movement. In her review of Light in Gaza, historian, author, and activist Barbara Ransby writes, "Gaza is often referred to as an 'open-air prison,' because it is so hard for messages, images or bodies to get out, or for resources to get in. Light in Gaza breaks through the prison walls and gives us a unique opportunity to hear and learn from those living under Israeli occupation in Gaza. Their voices are filled with pain, loss, frustration, anger, but most of all, hope. This powerful and beautifully crafted collection is one that readers must engage with heads and hearts wide open."
Since 1948, AFSC has worked in the United States, Israel, and the occupied Palestinian territory with Palestinians, Israelis, and other committed activists to support nonviolence, challenge oppression, and—since 1970—to end Israel's occupation of the Palestinian territory. This work is guided by AFSC's "Principles for a Just and Lasting Peace in Palestine and Israel," which support the implementation of international human rights and humanitarian law and call for an end to Israel's occupation of the Palestinian territory, implementation of refugees' right of return, and equality and justice for Palestinians and Israelis.
Light in Gaza is available for purchase from Haymarket Books. Plans are underway to bring Palestinian writers from Gaza to the U.S. this fall to meet U.S. audiences. For more information and ways to connect, email gazaunlocked@afsc.org.
###
The American Friends Service Committee is a Quaker organization that includes people of various faiths who are committed to social justice, peace, and humanitarian service. Its work is based on the belief in the worth of every person and faith in the power of love to overcome violence and injustice.