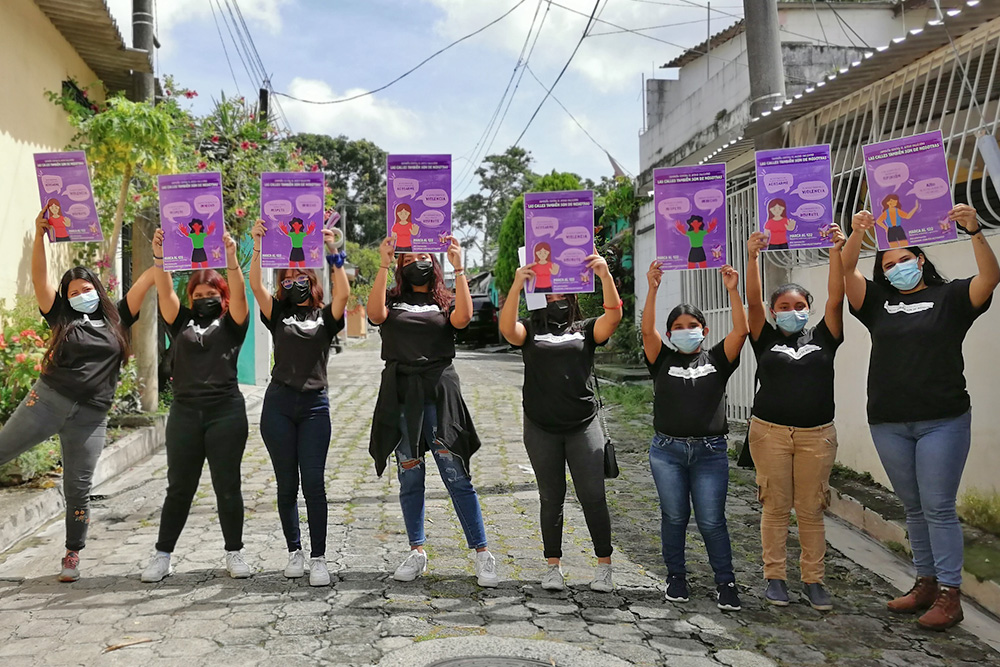 Street harassment is prevalent in communities around the world. Every day, people face unwanted comments, gestures, and even physical harm in public spaces.
In El Salvador, a group of girls and young women are working to stop street harassment in their community. They are part of Colectiva Pioneras de la Paz. And their mission is to fulfill their human rights as part of building peace in their community of San Ramón.
San Ramón is in the municipality of Mejicanos, an area with high levels of violence and poverty. Like other communities, San Ramón has been classified by the government as "zona roja" (red zone) because of ongoing gang violence.
Pioneras participants are working to build a culture of peace. Since 2019, AFSC and local partner ANADES have supported the efforts of these young people, ages 12-16. We provide them with workshops on human rights issues, particularly the rights of women and children. We examine what those rights mean in their community and in their everyday lives. And through ongoing analysis, these young people determine what actions they can take to uphold those rights.
Together they identified street harassment as one of the most pressing problems affecting them in their community. For many of them, street harassment is something they experience walking to school, taking the bus, or in other parts of their daily lives. And they want to stop it.
That's why they created the campaign "Las calles también son de nosotras" ("The streets are also ours") in 2020. They designed graphics and posters to speak out against harassment and promote respect for women and girls. They took part in marches and protests. And they produced videos and messages for social media to highlight their demands nationwide.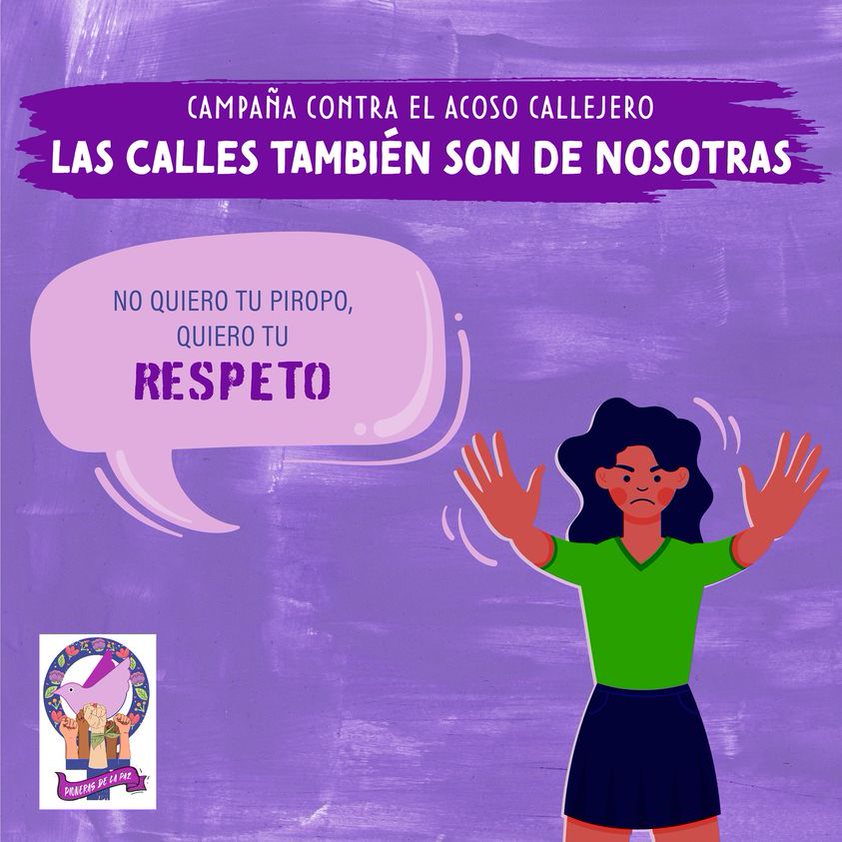 On the International Day for the Elimination of Violence Against Women (Nov. 25), Pioneras posted this message on Facebook:
"La violencia contra las mujeres y niñas es una de las violaciones de los derechos humanos mas extendidas y persistentes del mundo. … Es el resultado de una sociedad patriarcal que no respeta la dignidad y los derechos de las mujeres. Como colectivo, en el 25N buscamos visibilizar que el acoso callejero es violencia, la cual vivimos diariamente las adolescentes. El acoso no es normal y no es nuestra culpa.
Queremos caminar seguras en las calles."
"Violence against women and girls is one of the most widespread and persistent violations of human rights in the world.. It is the result of a patriarchal society that does not respect the dignity and rights of women. As a collective, in 25N we seek to make visible that street harassment is violence, which adolescents experience daily. Harassment is not normal and it is not our fault.
We want to walk safely on the streets."
Since starting the campaign, participants have faced challenges. On the first day they marched in the street, a few spectators told them they were wasting their time. Some of the girls doubted themselves. But they refused to back down. The criticism only made them want to do more to change the minds of people who think street harassment is normal.
As AFSC peace program officer in El Salvador, I have been inspired by these girls and young women. They are working hard to promote human rights. They are understanding their power to overcome barriers to peace. And they are being recognized as leaders in their homes, schools, and community. Several of their family members, particularly women, are joining the campaign.
Participants are also bringing their advocacy to the national level. Pioneras de la Paz is part of the RENAES-Network of Children and Adolescents of El Salvador. As part of the network, participants connect with other young people and groups working on children's rights around the country.
When we surveyed participants about what they have learned in the past year, here's what a few of them had to say:
"That we can also exercise liberal and fair decision-making for women."
"Organize spaces where women's problems are taken into account day by day."
"Create systems that do not impede women's rights and decision-making."
These young women are pushing forward to fulfill their human rights to build peace in their community. I am looking forward to seeing what more they will accomplish in the year ahead—and continuing to support their work to dismantle patriarchy and systems of oppression.