During the week of Valentine's Day, AFSC joined people online and in communities around the U.S. to declare "Love Knows No Borders, No Walls, No Cages." These actions were part of our ongoing call for an end to policies that criminalize and incarcerate migrants. That includes ending Title 42 and any policy that prevents people from exercising their legal and moral right to seek asylum.
"This Valentine's Day, we wanted to show our love and solidarity with everyone who has been separated from their loved ones by this cruel immigration system," said AFSC's Kristin Kumpf. "We will keep up our demand for the right to asylum, an end to the militarization of border communities, cuts in the federal budget for immigration enforcement, and meaningful investment in all our communities."
Here are some highlights from the week: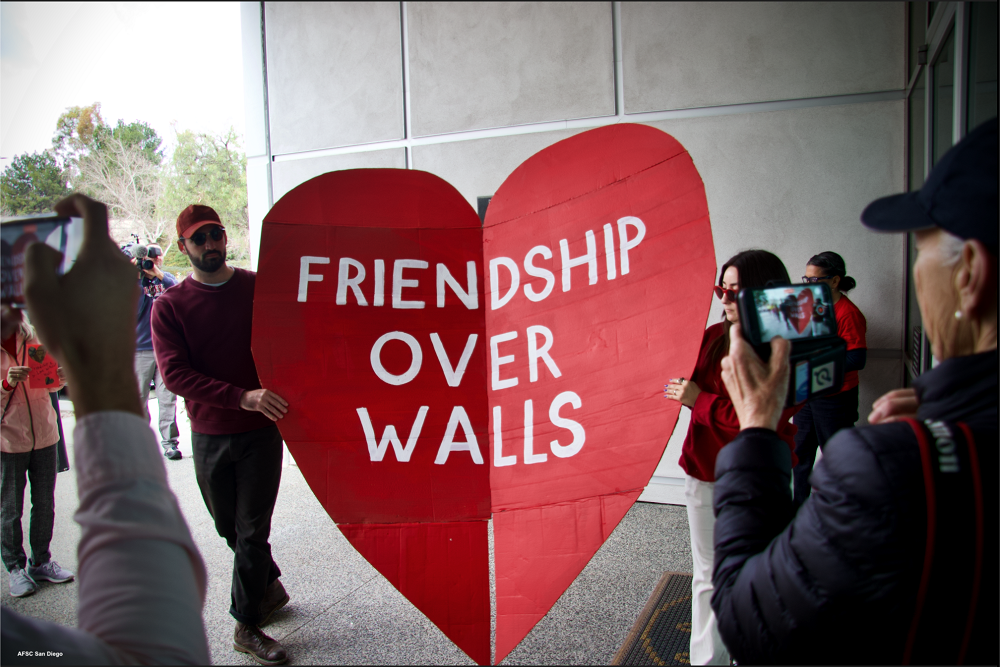 California
The Friends of Friendship Park coalition delivered a six-foot-tall heart and dozens of Valentine's Day cards to Border Patrol headquarters in San Diego—in protest of the construction of a bigger border wall at the park.
Last month, the Biden administration announced it would move forward with building two 30-foot border walls through Friendship Park, a historic binational meeting place at the U.S.-Mexico border. The decision came despite public outcry and recent deaths and injuries from border wall falls.
"The threat to replace and further elevate the wall at Friendship Park will bring even more death and disgrace to our region," said AFSC's Adriana Jasso.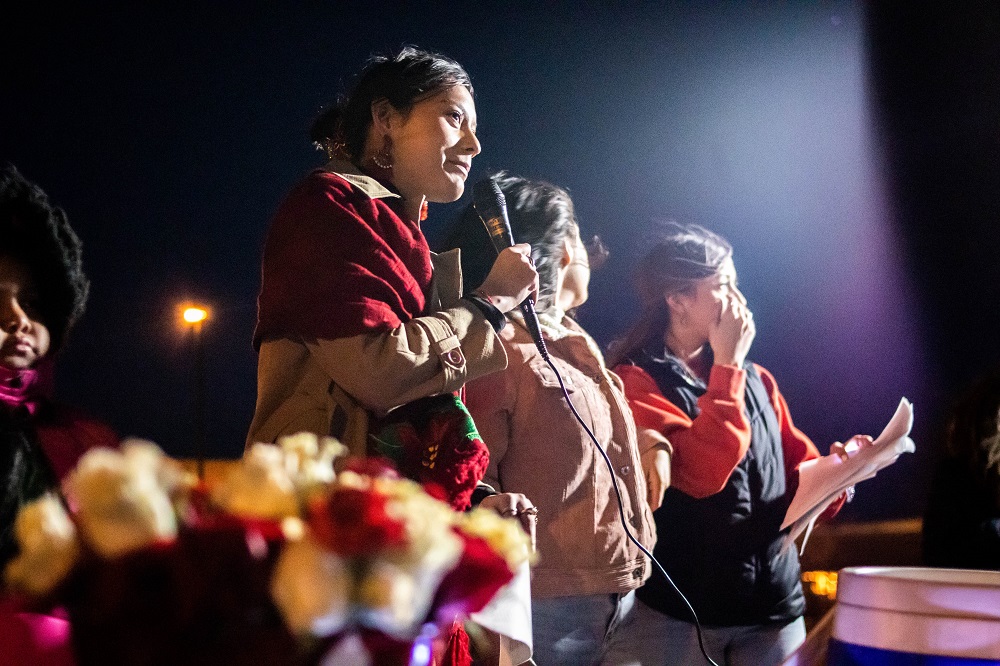 Colorado
More than 100 people gathered for a vigil in front of the for-profit GEO detention center in Aurora, Colorado. Just a few days earlier, AFSC had delivered handmade Valentine's Day cards to people detained in the facility—just as we have done every February for the past 13 years.
During the vigil, Maria Jimenez, a member of AFSC's Not1More Deportation table, spoke to the crowd. She showed us the homemade valentine she had received in 2013 while she was detained at the facility. She had held on to it in all the years since. It was a touching moment that reminded us of the impact of the love and hard work that goes into making, collecting, and delivering these cards.
Maria also read aloud a letter from Melvin Calero Mendoza, who died due to medical negligence by ICE on Oct. 13. Together we called for justice for Melvin and all people harmed by our inhumane inhumane system.
Watch a video of the vigil on Facebook.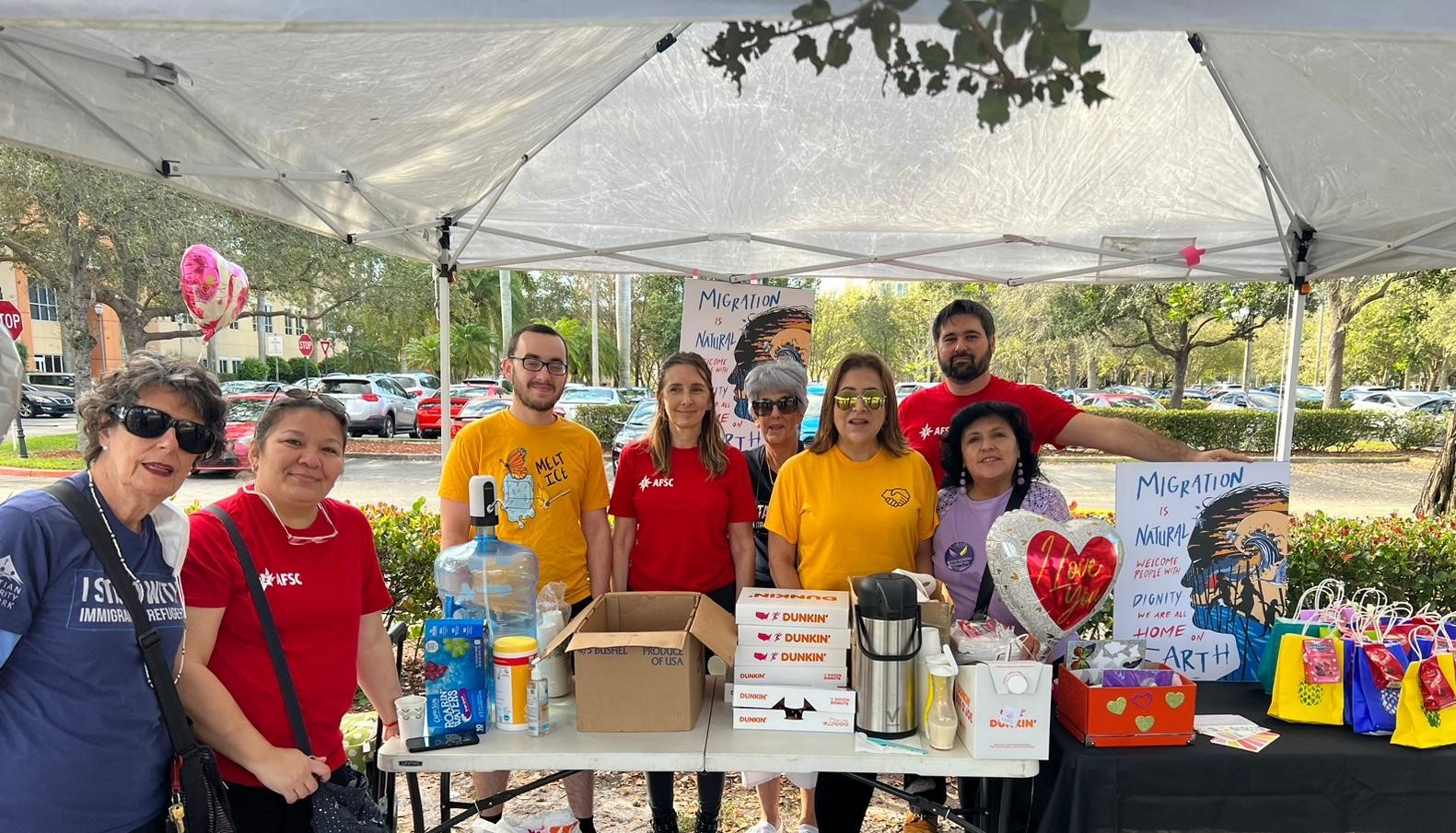 Florida
In South Florida, the Miramar Circle of Protection—a coalition coordinated by AFSC—joined with community members to write Valentine's postcards to immigrants in detention.
Every Wednesday, the Circle of Protection gathers in front of the Miramar ICE office to accompany and provide resources to immigrants meeting with ICE officials. This weekly gathering started in 2017 as a response to the mistreatment and abuse by staff faced by immigrants—and the inhumane conditions while waiting outside for their appointments. Now our coalition provides opportunities for immigrants to engage in advocacy for more just, humane immigration policies.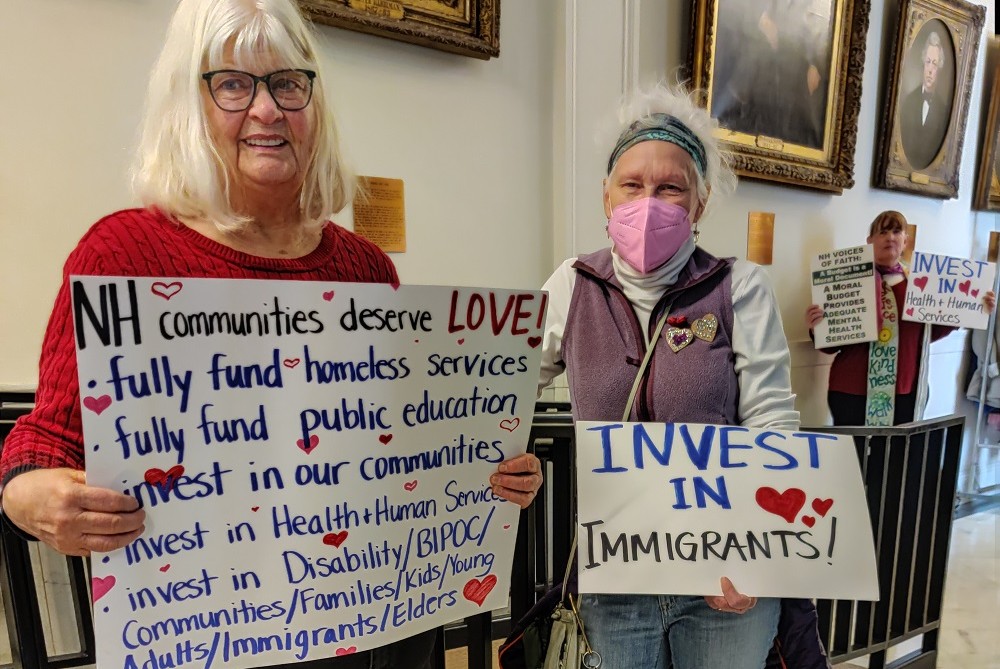 New Hampshire
AFSC joined with partners and community members at the New Hampshire state Capitol as Gov. Sununu was about to deliver his budget address. We held signs and distributed valentines to lawmakers, urging them to pass a People's Budget that invests in communities' health, education, and other programs that ensure all people can thrive.
"Today is a day to recognize the love people have for family members, friends, neighbors, and communities," said AFSC's Grace Kindeke. "As a state, we show our love and care for each other in the form of policies and programs that protect each other's health and well-being, supporting each other's ability to achieve economic security and reach their fullest potential."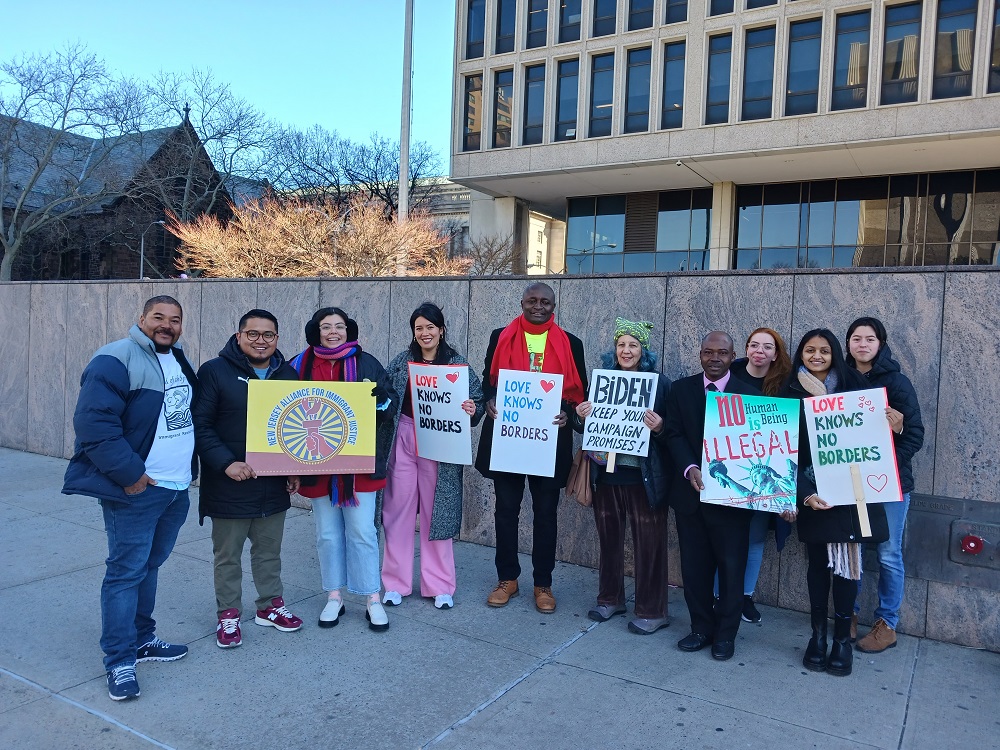 New Jersey
On Valentine's Day, advocates and community members demonstrated in front of the federal building in Newark, New Jersey. We rallied to express our love and solidarity with asylum seekers and demand justice for immigrants seeking safety at the southern border. We also spoke out against the Biden's administration's plans to impose more restrictions and hardship on asylum seekers—and further militarize our borders.
"The U.S. must not run away from its humanitarian obligations," says AFSC's Serges Demefack. "It must work with state and local governments, nonprofit organizations and private entities to address the immigration crisis, not just at the border, but throughout the U.S. and into Mexico and other Latin American and Caribbean countries. U.S. leadership must address the root causes of forced migration by ensuring better economic opportunities, community stability and freedom from violence exists everywhere."