Note: AFSC's Not1More Deportation table works to keep families together. It's comprised of families and individuals fighting deportation--their own or their loved ones. It is a supportive space for creative methods to keep the impacts of deportation in the public eye and build leadership in the immigrant rights movement. At the Not1More table, those confronting deportation learn from each other. As we fight our own cases, we share strategies, methods and support while working together to change local, state and federal policies to support immigrants instead of tearing families apart.
January and February have been very busy months for Not1More. We're pleased to share this update on our work to keep families together.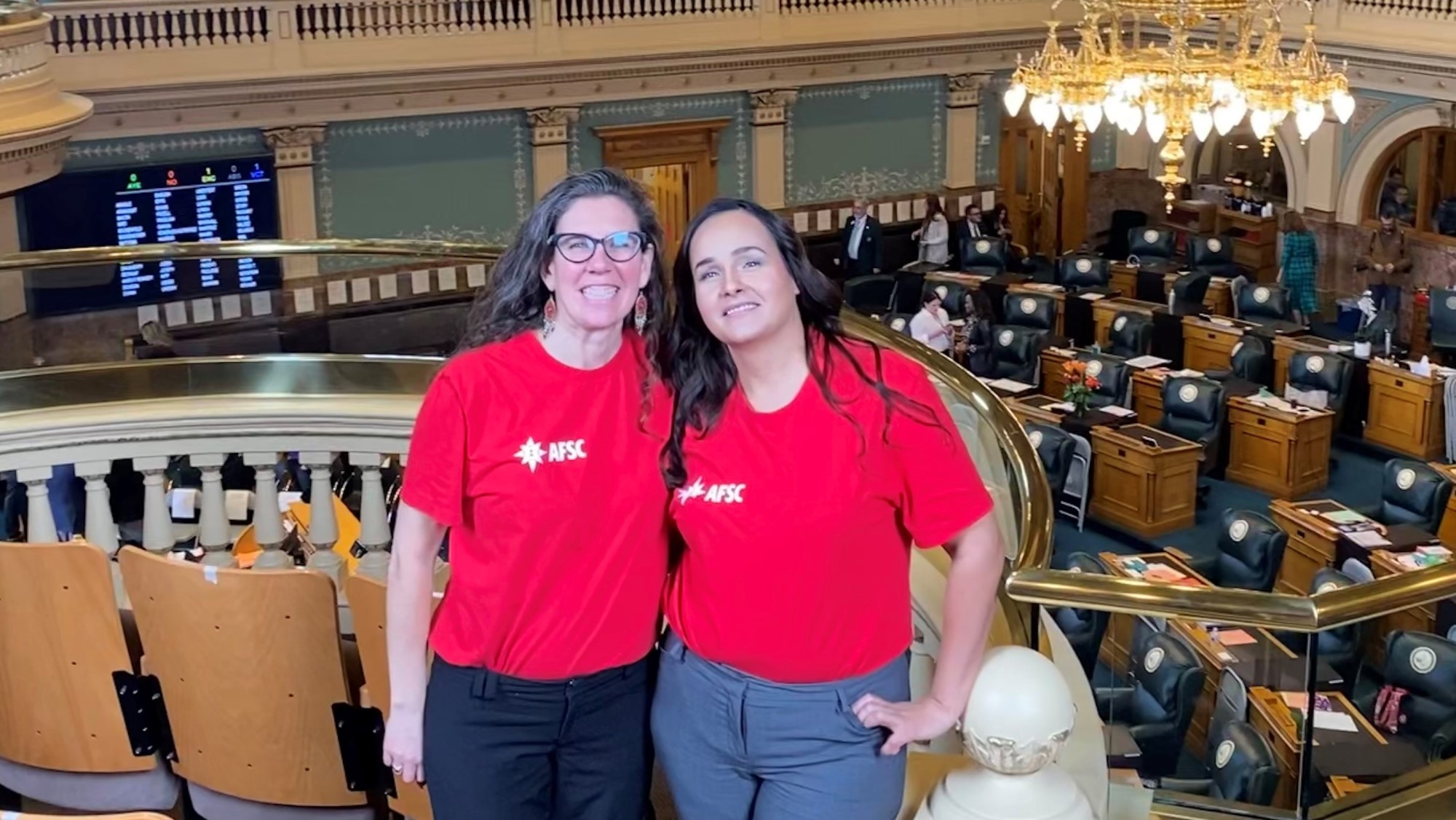 In his January State of the State address, Gov. Polis recognized AFSC for our work welcoming recent migrants. My colleague, Jennifer Piper, worked hard to share systems for the community to support recent arrivals to Denver. This coordination with the city and state has led to more humane treatment. Pabiola and I represented AFSC and, as VIPs, had a private meeting with the Governor, Chief of Staff, Lt. Governor and First Gentleman.
We thanked Gov. Polis for his support of recent arrivals and highlighted the need for more counties to help in these efforts. We emphasized that when he's calling for change at the federal level, he needs to focus on a change to the registry bill and support for asylum rather than more border security.
At the beginning of February, AFSC was invited by U.S. Rep. Diana DeGette to be part of a meeting on immigration issues in Colorado. I was joined by Not1More members Christina Zaldivar and Hilda Martinez. We also obtained invitations to the meeting for the directors of Papagayo and Vive Wellness, with whom we have been working to welcome recent migrants. We all shared the impacts on the ground of the Biden administration's continuation of policies against asylum seekers and the horrific realities of continued funding of detention and deportation.
We followed up from the meeting calling on the Congresswoman to stand up against the administration's transit-ban, the federal government's most recent policy to dismantle our international commitment to asylum. Homero Ocon, a Colorado Immigrant Rights Coalition (CIRC) federal steering committee member, highlighted the need for the Congresswoman to fight for reintroduction of the registry bill she had signed onto earlier. We also requested cuts to the ICE and CBP budgets.
On February 10, Pabiola Aguilar attended the University of Denver Center for Immigration Policy and Research community breakfast. Joined by our intern Joys Rosales, Lily and me, Pabiola brought to life the priorities for the Not1More table and the realities of long time immigrants in Colorado.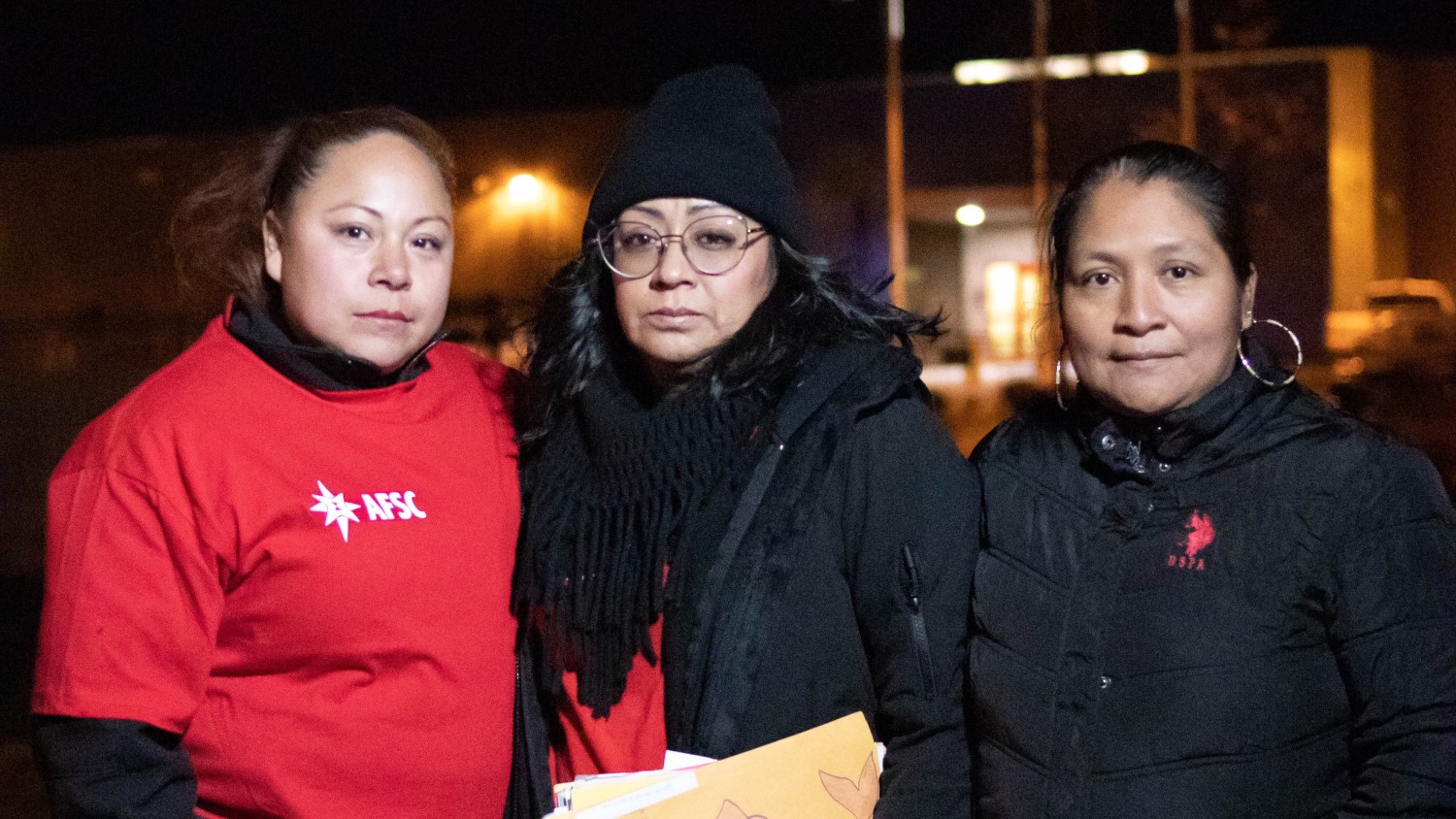 On February 13, 100 people gathered for AFSC CO's Love Knows No Borders, No Walls, No Cages February vigil in front of the for profit-GEO detention center in Aurora, Colorado. They demanded an end to detention and deportation and called on the Colorado delegation to Defund Hate and cut funds to ICE and CBP.
AFSC's Not1More member Maria Jimenez shared homemade Valentines she had received while in GEO in 2013. The Valentine she has kept for all these years was handmade by AFSC volunteers! This was a touching moment of the impact of the love and hard work that goes into making, collecting and delivery Valentines to those our government inhumanly detains inside GEO. Thank you to Jordan Garcia, my colleague at AFSC, for coordinating this for the past 14 years and to the over 20 groups that made Valentines this year! (Click here to see video on delivery of 800 Valentines to GEO.)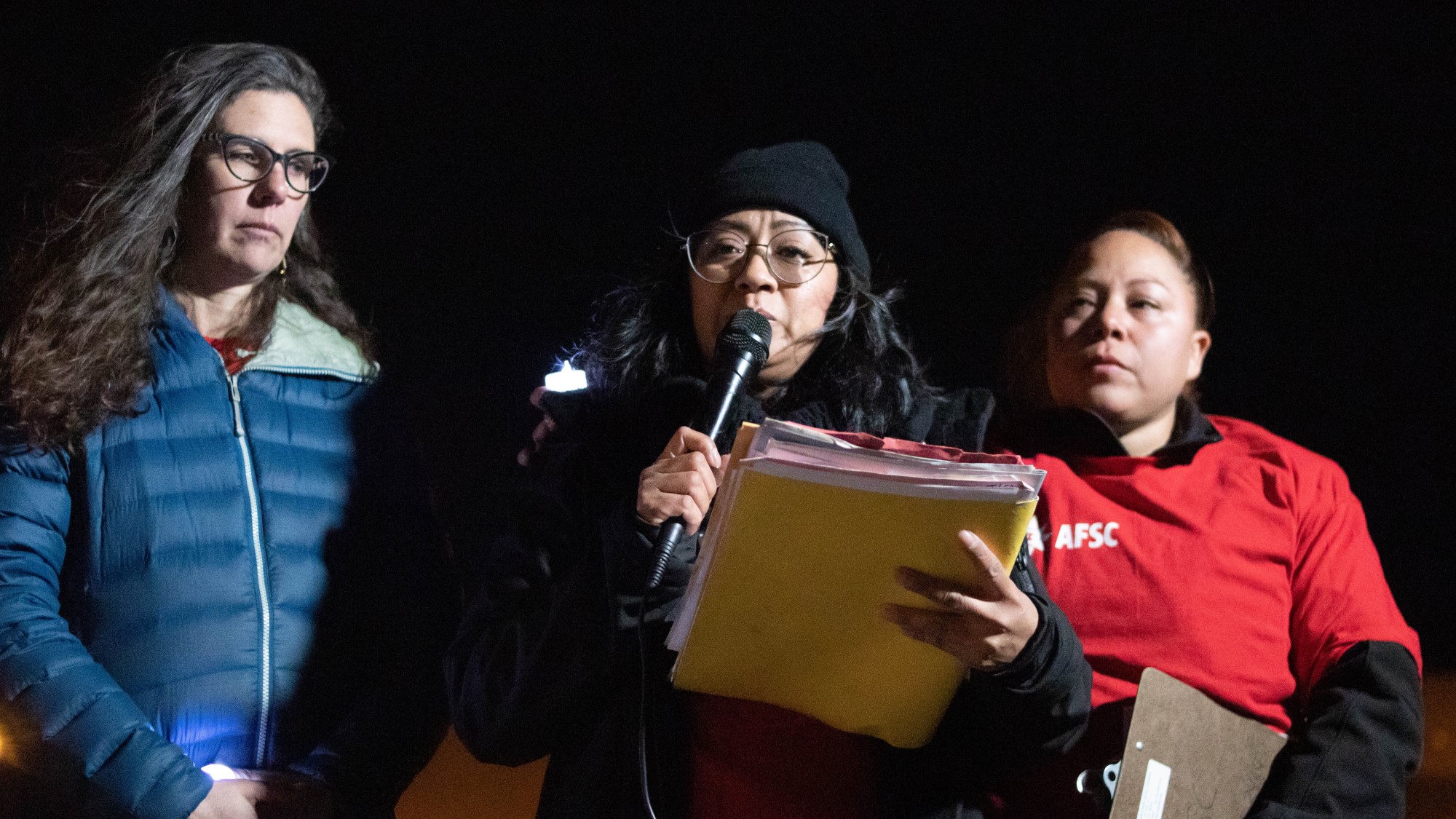 Maria read the following letter from the family of Melvin Calero Mendoza, who died on Oct. 13, 2022 due to medical negligence inside ICE's for-profit detention center, run by the GEO Group:
My name is Adilia Calero Mendoza. I am Melvin Calero Mendoza's sister. After their autopsy report, I want more answers from the Aurora ICE detention facility. How could they have ignored pain in a swollen leg and clear signs of a blood clot for weeks, which the autopsy says ultimately killed him? My family wants to know how the signs of a blood clot were ignored by medical professionals within the detention facility despite his leg worsening and his multiple visits to the medical clinic. Early detection and prompt and adequate medical care could have saved my brother, an otherwise healthy and active father of two. We are so devastated.
Not1More member Hilda Martinez embodied the call to #FreeThemAll by sharing the impact of her husband's detention in GEO and subsequent deportation on her whole family. If you weren't able to be there, you can watch the vigil here. The rendition of La Llorona at the end is exquisite. (Click here to read about AFSC actions in other cities.)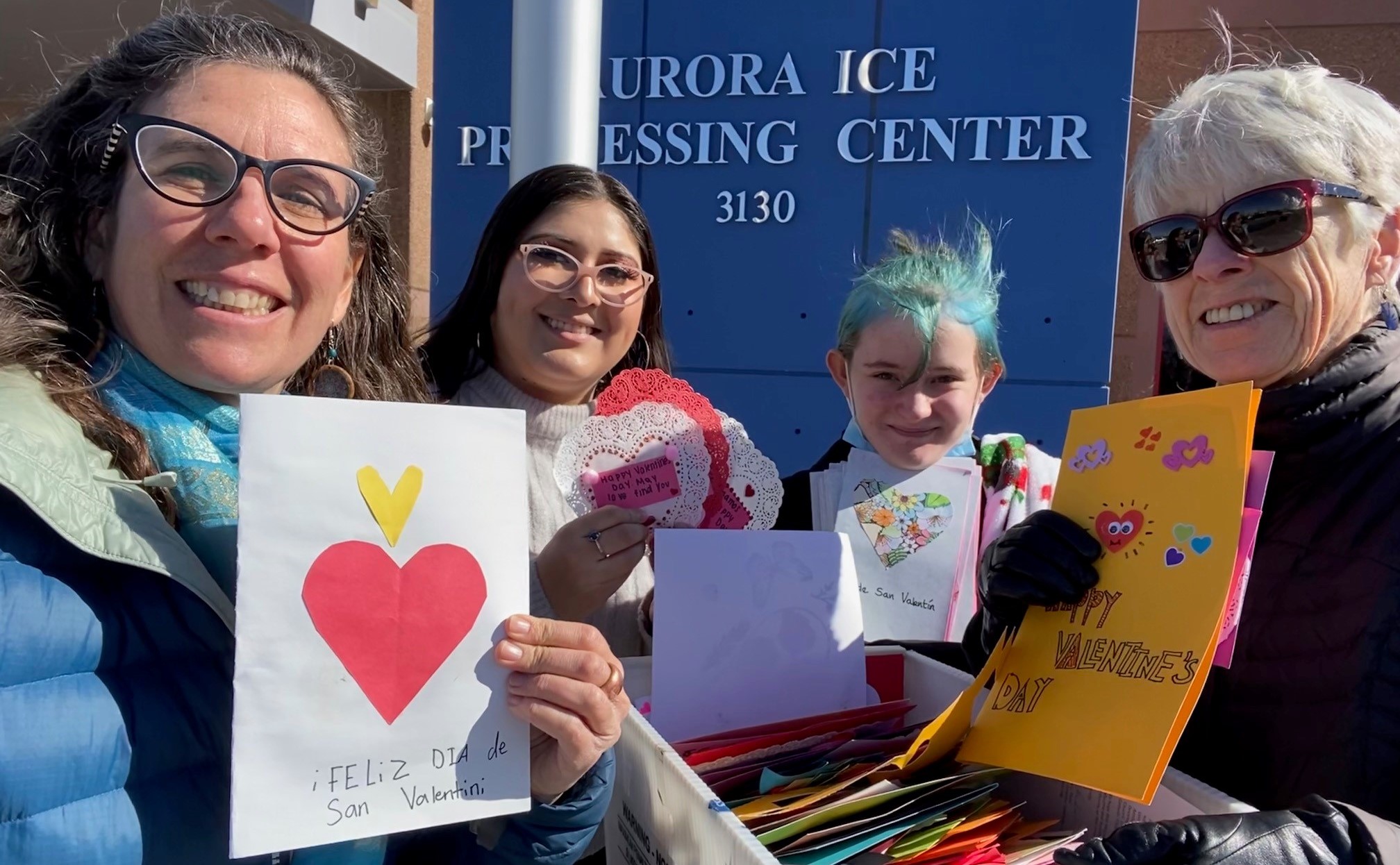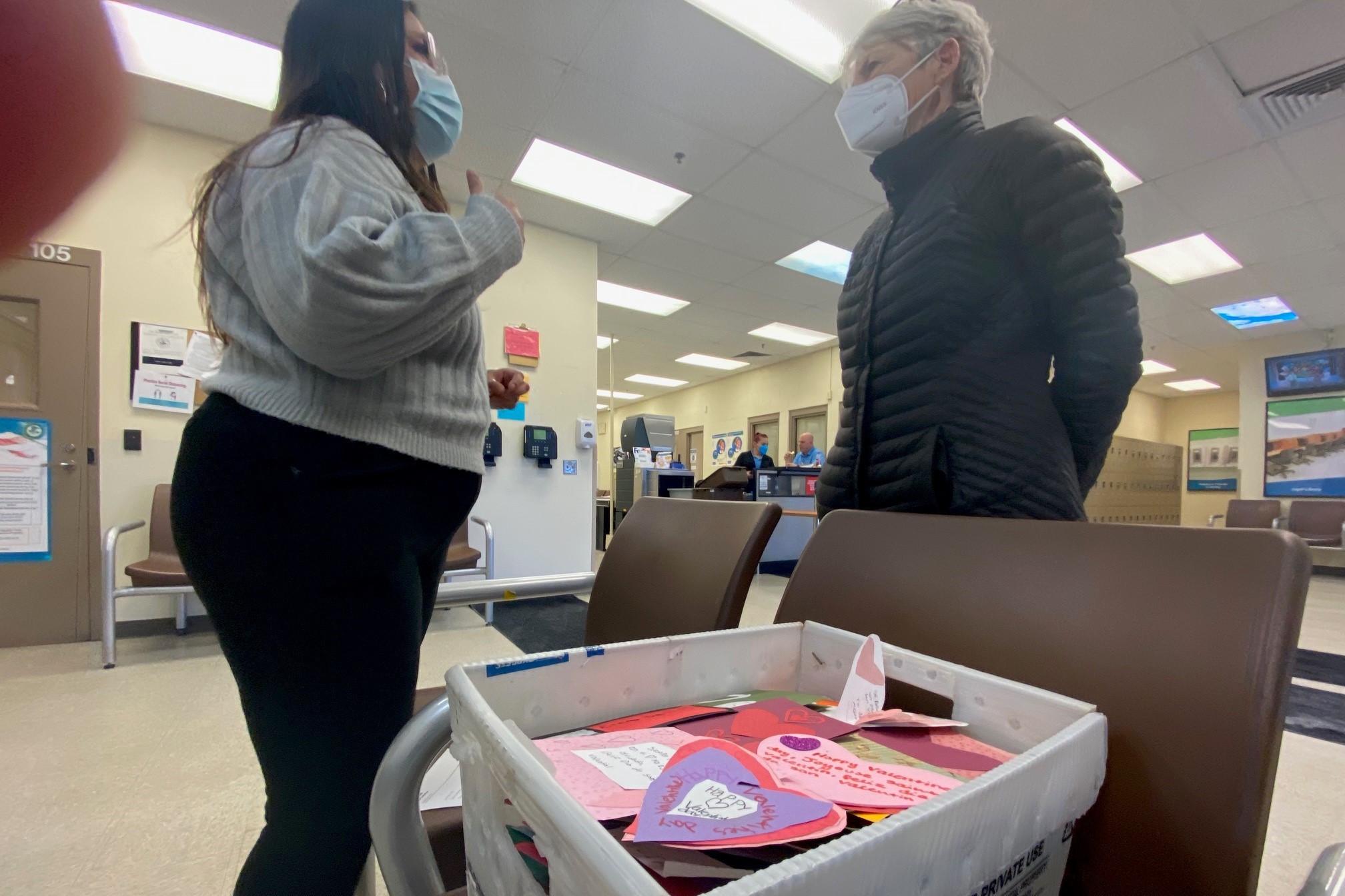 Later at the Capitol, Not1More members Juana Armijo and Maria Jimenez had their testimonies read to support the bill to end contracts between ICE and local governments to house detained immigrants. This would be a further step in Colorado to dismantle the detention/deportation industrial complex.

On February 15, Not1More members Gabriela Medina and Hilda Martinez went to the state Capitol to give their testimonies in support of a bill to allow rent control in Colorado. Rising rents have severely impacted almost every Not1More member.
On February 16, Hilda Martinez spoke on a panel after the showing of The Facility, a documentary in which she is featured. The event was hosted by Together Colorado.
Stay tuned for more good work in the months to come!