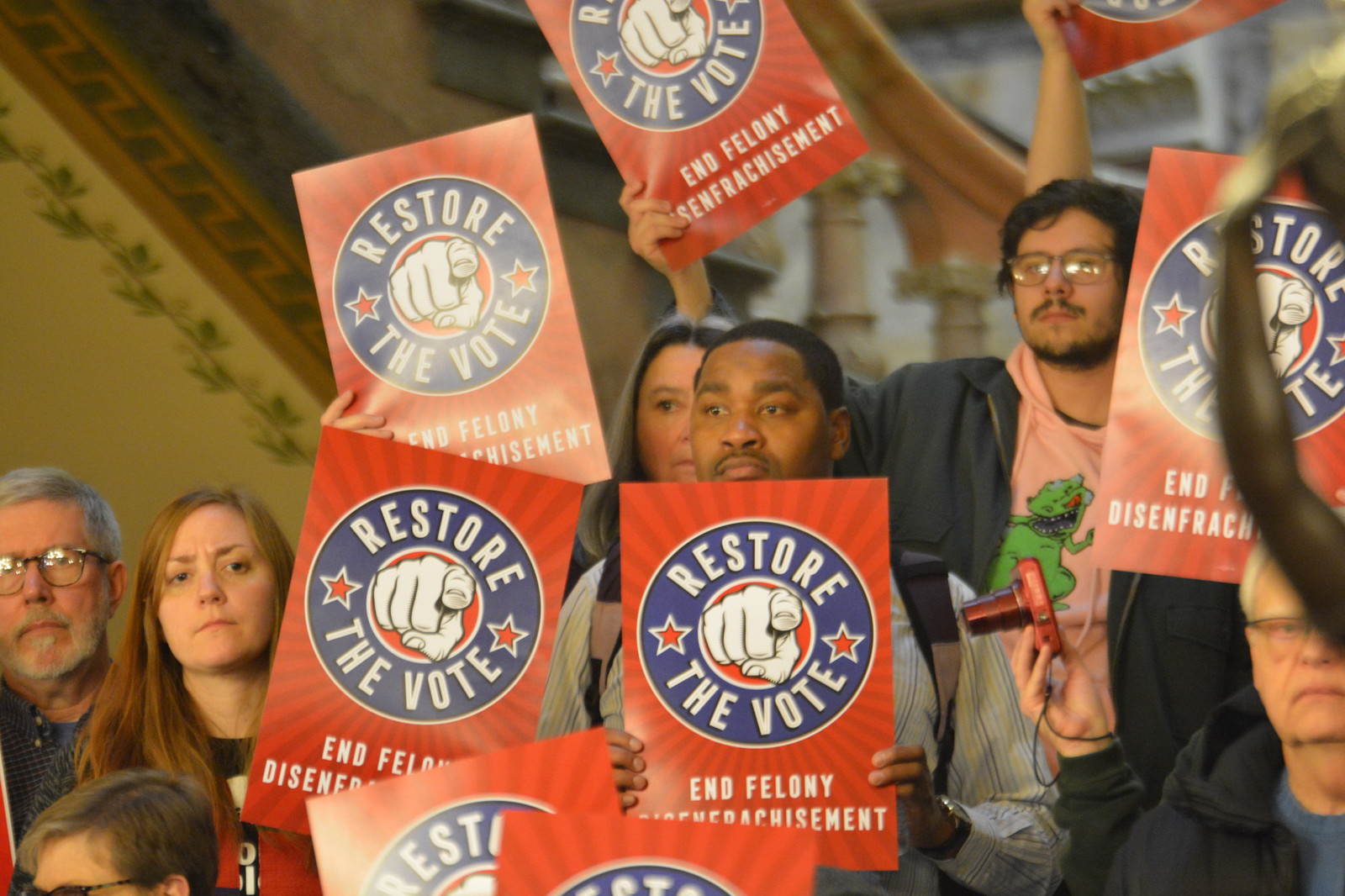 Voting is fundamental to our democracy and is a right that should never be taken away. But in November, as many of us cast the most important votes of our lives, millions of Americans will once again be denied that right. Today nearly 5.2 million Americans are barred from exercising their right to vote because they have felony convictions. Most are Black and living in poverty.
Felony disenfranchisement remains the longest-standing form of voter suppression in the U.S.—and it's past time for us to end it once and for all.
Make no mistake: Felony disenfranchisement is a policy of white supremacy. Coupled with more than 40 years of mass incarceration, felony disenfranchisement has silenced the African American's political voice in ways that echo the "Black codes" of the 1860s and the Jim Crow laws of the 1950s. Today, one in 16 African American adults have lost their right to vote because of a felony conviction (a disenfranchisement rate that's nearly four times greater than that of all other Americans), according to The Sentencing Project.
The injustice of felony disenfranchisement has penetrated the electoral process in all but two states in the U.S. Outside of Maine and Vermont and the District of Columbia, where people can vote from their prison cells, the denial of this fundamental right is devastating and far reaching. Political engagement is quashed, and political strength is decimated—resulting in intentional and perpetual powerlessness of people of color and the poor. This strategic incapacitation of people is driven by system racism, fuels continued poverty, and stymies notions of equal and human rights.
Not only does felony disenfranchisement contribute to the class and race bias in the electorate, it has generational impacts. As more and more African Americans and other people of color are disenfranchised, their children and grandchildren become less politically engaged and don't vote—and their communities continue to lose out on needed resources.
Until we restore the right to vote to all, our elections will be undemocratic—and the results illegitimate.
Over the past two years, several states have made progressive reforms to address felony disenfranchisement—the direct result of organizing and advocacy by people who have experienced incarceration, their families, advocates, and community organizations. That includes:
In August of this year, Iowa Gov. Kim Reynolds signed an executive order restoring voting rights to tens of thousands of people who had completed felony sentences—ending Iowa's distinction as the last remaining state to bar people convicted of felonies from ever voting again.
Kentucky Gov. Andy Behear signed an executive order in December 2019 that could restore voting rights to upward of 140,000 people with felony convictions. The order also allows them to hold public office.
In Virginia, Gov. Ralph Northam is also using his executive powers to restore the right to vote to many Virginians.
These are important steps in the right direction. But we must keep working to restore voting rights for all—and ensure that no one is ever disenfranchised, regardless of their involvement with the criminal legal system.
We must also hold government accountable for implementing these reforms as intended. In Florida, for example, public officials continue to suppress the vote, despite the fact that voters approved a constitutional amendment in 2018 to restore voting rights to over a million people with felony convictions who had been subject to lifetime disenfranchisement. In 2019, Florida's governor signed into law the equivalent of a poll tax to disenfranchise them again, and legal challenges to the law hit a roadblock in July of this year when the Supreme Court refused to intervene.
Here in New York City, more than a dozen young people have joined efforts to end felony disenfranchisement by taking part in AFSC's Liberation Academy. In partnership with Let NY Vote and Justice Aid, these young leaders are learning how to advocate against felony disenfranchisement and developing a social media campaign to register formerly incarcerated people to vote. They are also working on a short film for the Democracy 2020 Youth Film Challenge to encourage young people to vote.
As millions of people across this country continue their struggle to be recognized, I'm reminded of the words of my friend Larry White, who is formerly incarcerated and now works with AFSC's Healing Justice Program. At the age of 77, Larry voted for the first time--after more than 40 years of being disenfranchised. He told me, "I now matter, my opinion counts."
Let's end this injustice now.
Here's what you can do today:
1.  Tell your governor: Restore voting rights to all!
Take action and tell your governor: The right to vote should never be taken away! Spread the word by sharing our action on social media.
2. Ask candidates if they support ending felony disenfranchisement.
During election season, you have a unique opportunity to get candidates on the record about issues that are important to you—and to influence their opinions. You can do this by seeking out a candidate for any public office; asking them where they stand on issues you care about, including ending felony disenfranchisement; and documenting their responses to share with the public.
Here's a sample script you can use:
"Here in [your state], many people are barred from exercising their right to vote because of involvement in the criminal legal system. I believe the right to vote should never be taken away. Will you protect our right to vote by working to end felony disenfranchisement?"
Visit afsc.org/birddogging for resources.