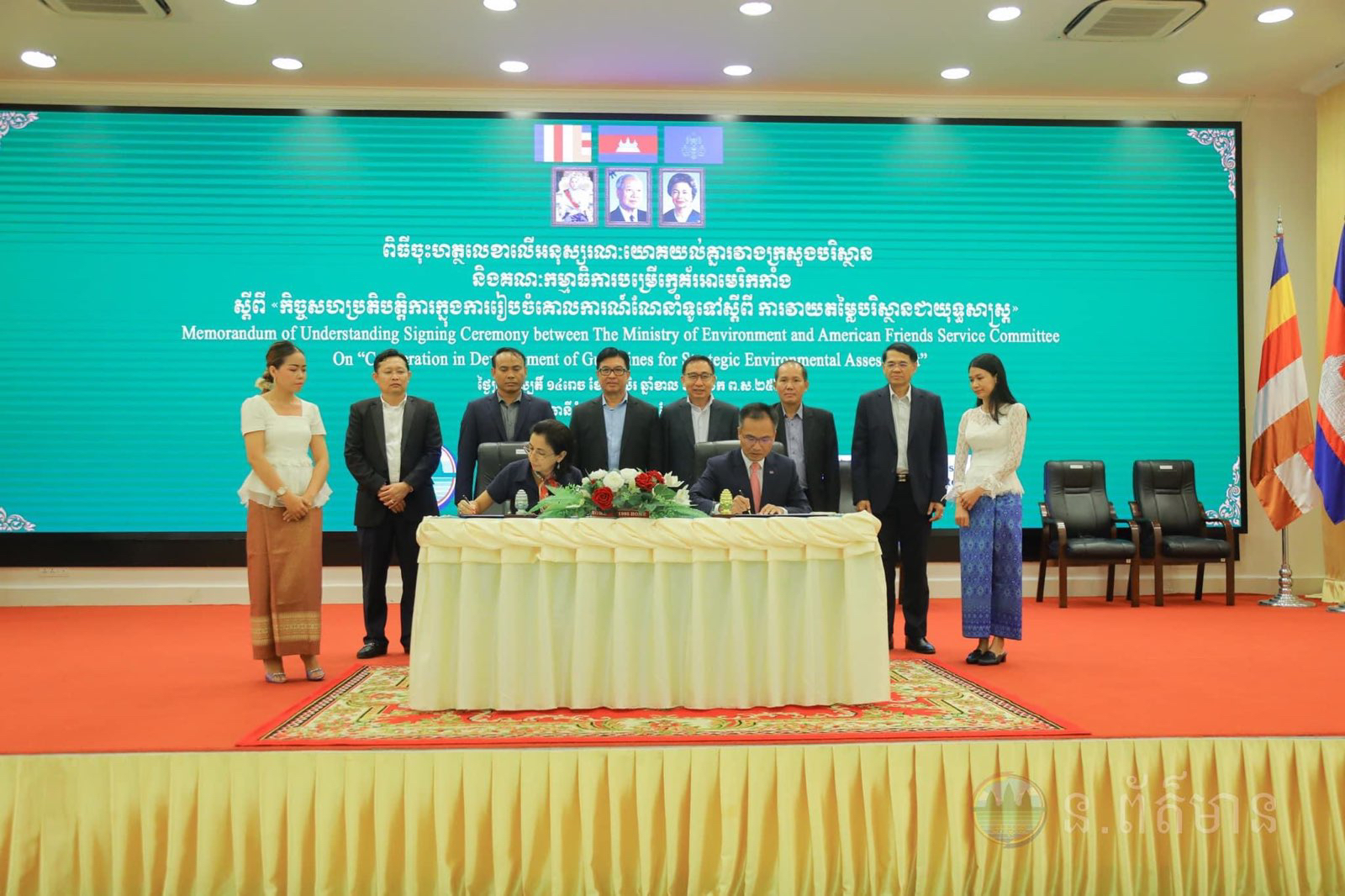 Cambodia's economy has grown rapidly in recent years, attracting more foreign investment projects. These projects can benefit local communities. But they can also displace residents, harm the environment, and exploit precious natural resources.
For over a decade, AFSC has partnered with Cambodia's Ministry of Environment (MoE) to promote responsible development practices while prioritizing the well-being of communities. When we started our collaboration, there was no guidance for companies to work with residents to ensure their well-being and minimize impacts on their communities and livelihoods. There were also no specific requirements on resettlement and compensation for communities affected by private investment projects.
Since then, the government of Cambodia has made progress toward changing that, with support from AFSC. At the beginning of our partnership, we assisted the MoE in its efforts to learn about regulations around environmental impact assessments and how they're implemented in other countries. We coordinated a visit by Cambodian officials to the Ministry of Environmental Protection of China and brought Chinese experts on the subject to Cambodia to provide training courses locally.
Over three years, we worked closely with the MoE to create a guidebook addressing the challenges of involuntary resettlement for private investment projects in the country. The guidebook provides project owners with critical information on the regulations and procedures already required with public projects, including compensating affected communities. It also provides community members and organizations with resources to advocate for themselves as soon as they hear about planned projects that may affect them.
Since the guidebook's publication in 2021, the MoE has urged companies to adopt its guidance. Our local partners have also facilitated workshops on the guidebook for government officials, community-based organizations, company representatives, and community members.
Today, the MoE is committed to making the guidebook a prokas—or law. That would require all private investment projects to follow these guidelines. Although the change will take time, it is critical to ensure accountability by project owners in respecting the rights of community members.
Our partnership with the Cambodian government continues to expand. Earlier this year, we started a new phase in our collaborative work. We are now helping the MoE:
Develop a strategic environmental assessment tool for foreign investment projects.
Create environmental guidelines for sand mining along the Mekong River, which has impacted many community members who live and work along its riverbanks.
AFSC envisions a future where all parties—communities, government, and companies—are deeply committed to close collaboration and inclusiveness on responses to climate change. As part of our work, we're mapping foreign investment projects and affected communities across Cambodia. Our findings will inform the development of policies, plans, and programs across a range of sectors, including mining, energy, agriculture, tourism, infrastructure, and telecommunications systems.
I am excited about the opportunities presented by AFSC's ongoing collaboration with the MoE. Through these efforts, we're having a positive impact on environmental conservation and sustainable development in Cambodia—while protecting the health, rights, and livelihoods of our communities.