On Monday, Nov. 13, hundreds of people took part in AFSC's "NO Tax Dollars for War Crimes" day of action. In more than 20 communities around the U.S., we demonstrated in front of our senators' and representatives' offices, built memorials for all who have died, and demanded a cease-fire for Gaza and an end to U.S. military aid for Israel.
Actions like these are critical to keep up the pressure on elected officials. Thank you to everyone who joined us!
Here are some photos from events around the country.

Philadelphia
Over 200 people took part in AFSC's "No Tax Dollars for War Crimes" action in front of Sen. John Fetterman's office in Old City. The interfaith program, which included AFSC staff and local activists, concluded as attendees built a memorial to all who have died in recent weeks.
Indianapolis
Sixty activists in Indianapolis staged a "die-in" in front of Sen. Todd Young's office, memorializing the more than 11,000 people killed in Gaza since Oct. 7. This powerful action was hosted by Butler University Students for Justice in Palestine, Jewish Voice for Peace Indiana, and AFSC. The senator's office shut down early that day after learning about the protest.
Fort Lauderdale, Florida
More than 50 people gathered in front of the office of Rep. Jared Moskowitz, where they assembled a memorial with candles, flowers, and posters with the faces of the dead. A group of five community members, four of whom were Palestinian, delivered a list of demands to the congressman's office.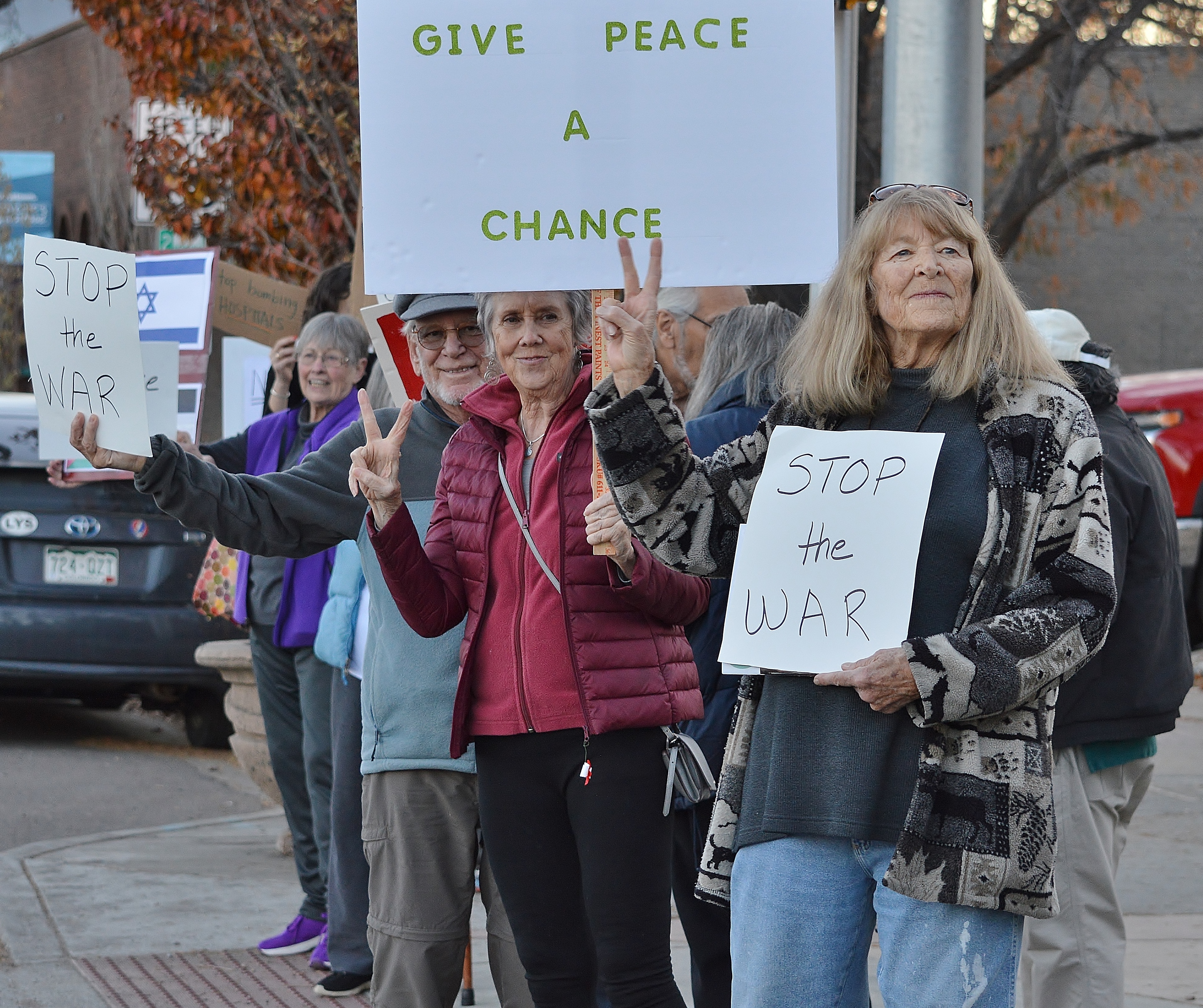 Longmont, Colorado
Community members held a peaceful vigil to honor the dead in Israel and Palestine and to call for an end of mass killing of people in Gaza. They handmade signs with messages of solidarity, peace, and justice and created a group letter to Rep. Joe Neguse. Coverage of the event made it to the front page of their local newspaper, the Longmont Times-Call.
"We were a diverse group of many faiths and secular folks who joined together in a unified voice, waving to passing cars and talking with passersby to let them know our message of peace and justice," said organizer Kathy Partridge. "We hope that our Congressman Joe Neguse hears us and signs on to the call for ceasefire."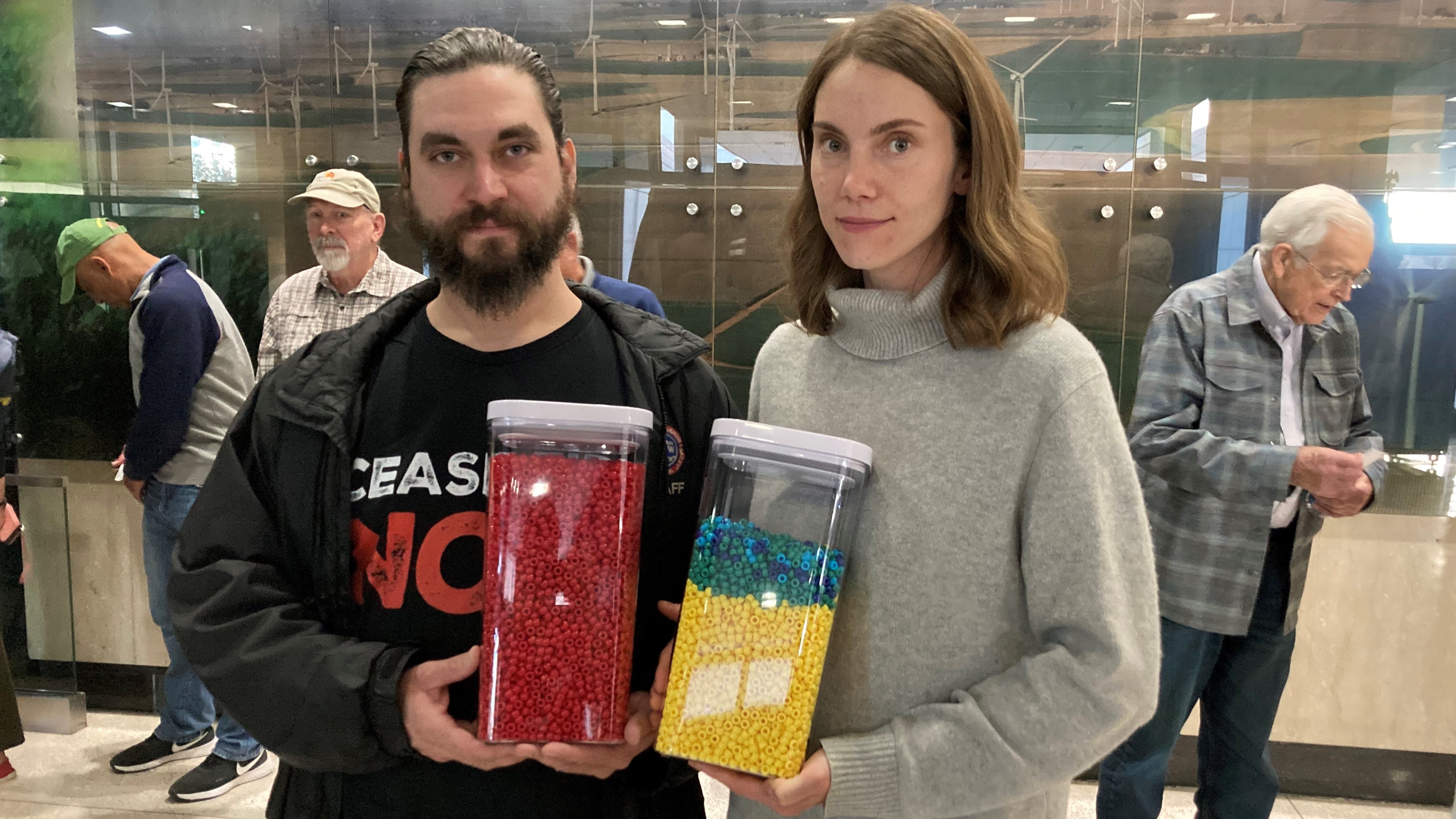 Des Moines, Iowa
Twenty people from across Iowa met with Senate staff in Des Moines to call for an immediate cease-fire, no new military aid for Israel, and humanitarian assistance to Gaza. The event included a dozen Friends and others who traveled from Iowa City, Ames, Boone, New Providence, and the Des Moines metro. Each shared their personal experience and reasons for speaking out against U.S. funding for these war crimes.
New York City
To prepare for the day of action, Quakers for Peace collected children's shoes at Sunday's meetings for worship. These shoes became part of a memorial to the dead and demonstration in front of Sen. Chuck Schumer's office. Unfortunately, the congressman's staff refused to meet with protesters.
United Nations, New York City
AFSC's Northeast Regional Executive Committee led a Quaker silent witness for peace in front of the United Nations. The demonstration included current and past Executive Committee members, AFSC staff, and other Friends.
Hyannis, Massachusetts
Cape Codders for Peace and Justice demonstrated in front of the office of U.S. Rep. William Keatings. They created a small memorial and read aloud their statement calling for a cease-fire and ending U.S. funding for war crimes.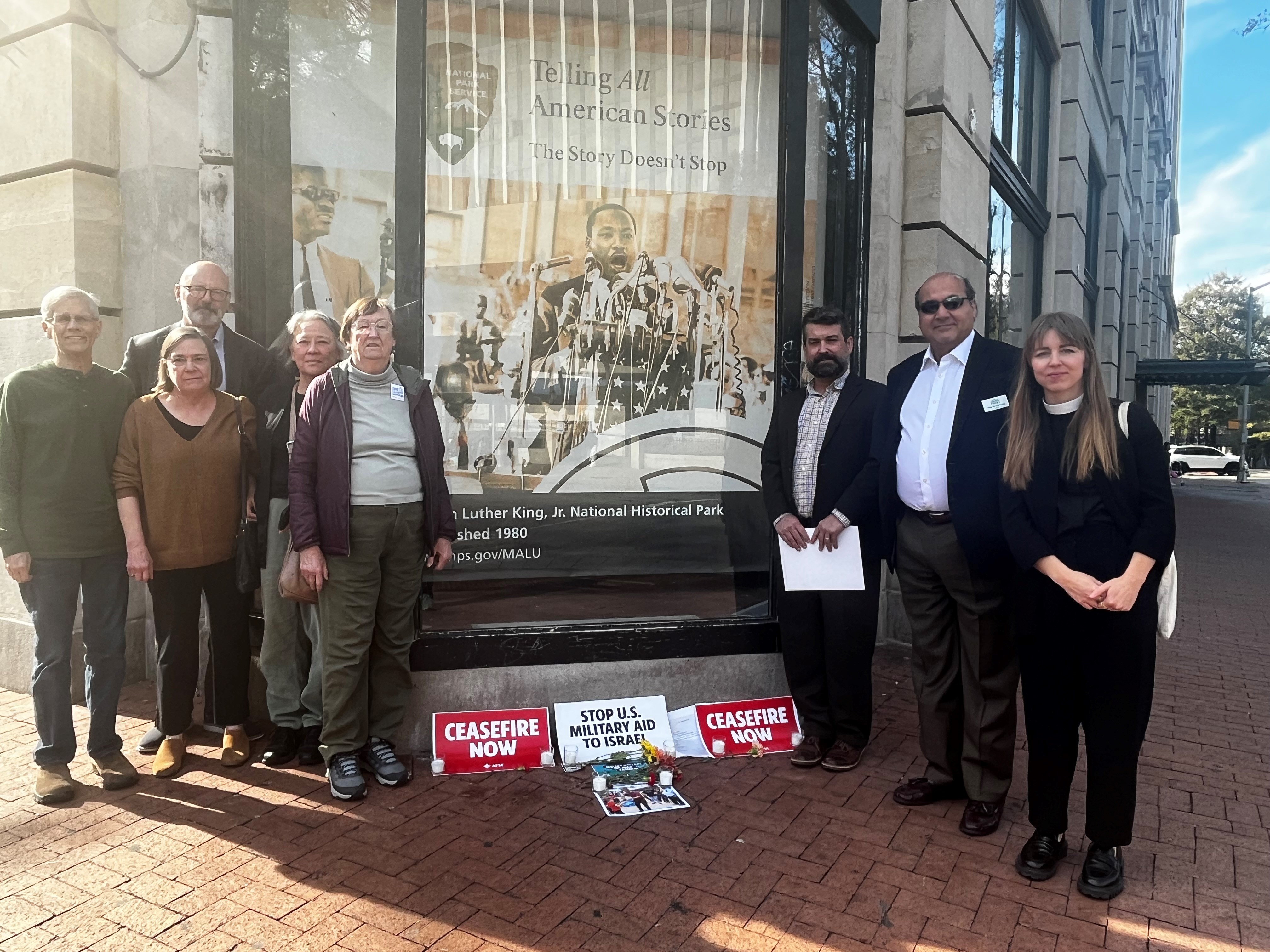 Atlanta
AFSC joined with the Atlanta Interfaith Coalition for Palestine, Jewish Voices for Peace, and Concerned Black Clergy to meet with the staff of Sen. Raphael Warnock. Before the meeting, the group gathered outside in prayer around a memorial for peace. They expressed disappointment there was no commitment from Sen. Warnock to call for a cease-fire and that he had signed on to a letter calling for continued military aid to Israel, among other things. The group committed to follow up with the senator, including meeting with the senator himself soon.
The group also met virtually with the staff of Rep. Nikema Williams. They reiterated their calls for a cease-fire, full humanitarian access, and an end to military funding for Israel. Rep. Williams refuses to sign current cease-fire resolutions because they do not call for the release of Israeli hostages. We have since followed up to ask that she join letters that exist that do call for the release of the hostages.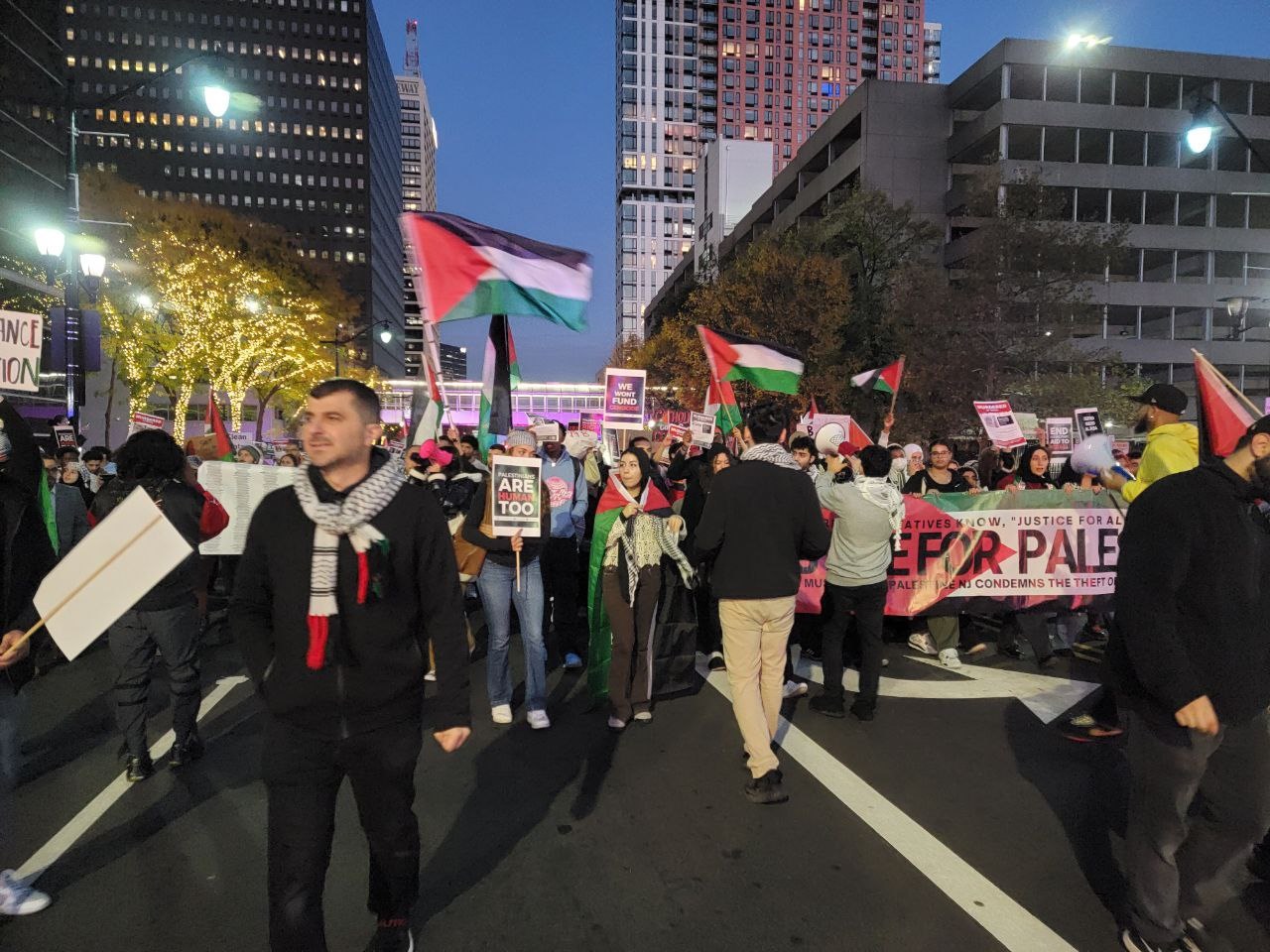 Newark, New Jersey
On Nov. 9, AFSC co-sponsored the action "Shut it down for Palestine," hosted by American Muslims for Palestine. Participants marched and protested in front of Sen. Cory's Booker's office to tell him and all members of Congress: "No war crimes on our dime!"
Phoenix, Arizona
Arizonans gathered at the State Capitol to honor the dead and call for a halt to the killing. Protest organizer Liz Hourican told Public News Service, "The 'security state' that we the taxpayer have long been paying for—and they have a special exemption, with regards to weapons and military funding, etc.—we have to take a look at this. … We are all with blood on our hands as taxpayers." Read more from Public News Service
Eugene, Oregon
The grassroots group Planet vs. Pentagon organized about two dozen people for Monday's action in front of Rep. Val Hoyle's downtown Eugene office. They brought a banner that read "Taxes for Peace, not War" and set up a small memorial outside with the names of some of the thousands who have died. Read more from KTVL.