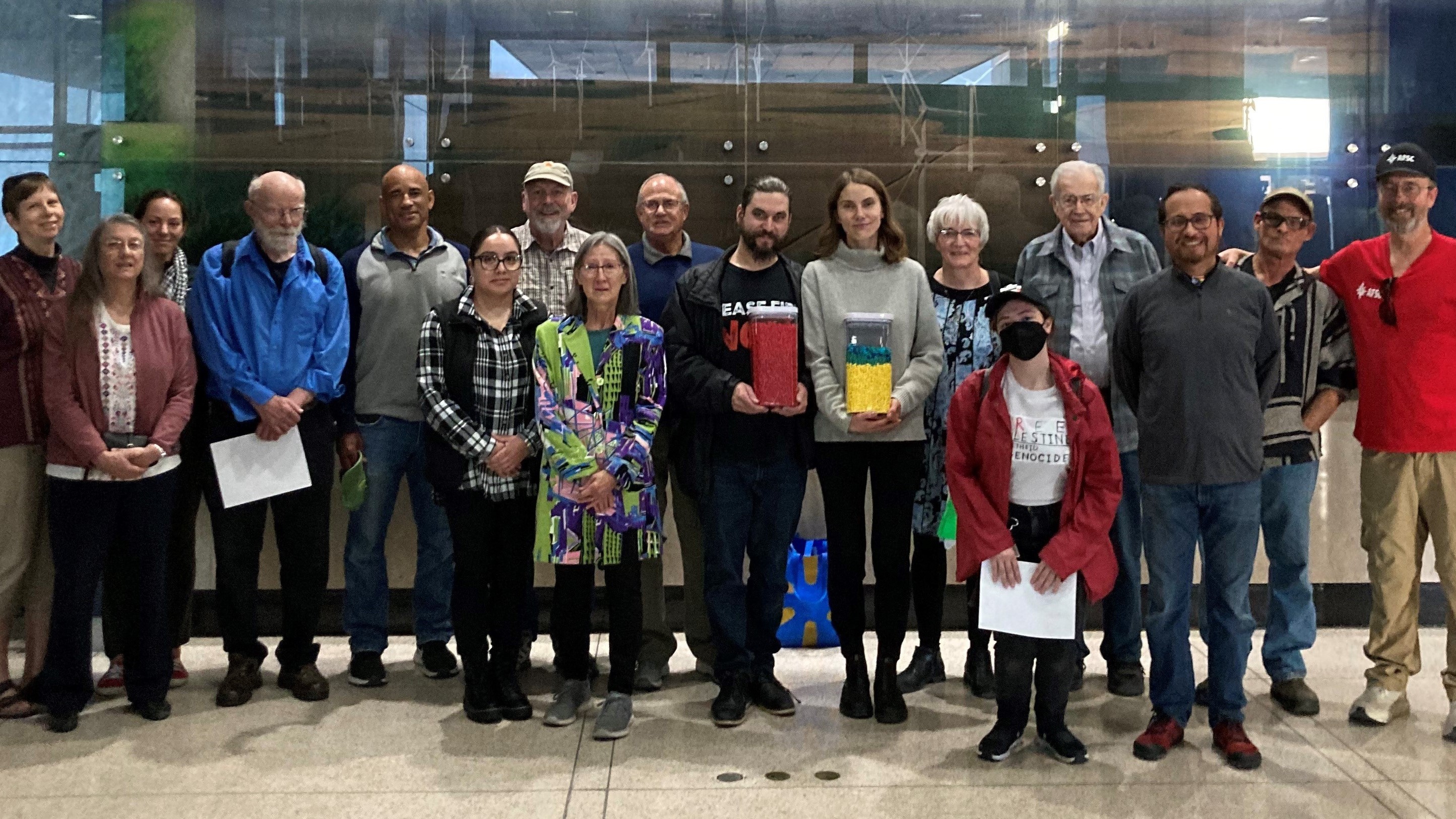 Twenty people from across Iowa met with U.S. Senate staff in Des Moines on November 13 to call for an immediate ceasefire in Gaza, no new military aid for Israel, and full and uninterrupted humanitarian assistance to Gaza. The meeting was part of AFSC's "No Tax Dollars for War Crimes" Day of Action with events in two dozen communities across the U.S.
The Des Moines event included a dozen Friends and others who travelled from Iowa City, Ames, Boone, New Providence, and the Des Moines metro. Prior to meeting with Senate staff, people introduced themselves and shared a time of centering silence.
They then passed through a lengthy security screening process to enter the lobby of the Federal Building, where they met with Laney Feight, Regional Director for Sen. Chuck Grassley, and Clarke Scanlon, State Director for Sen. Joni Ernst. Both Laney Feight and Clarke Scanlon listened intently and took extensive notes.
I began the meeting by sharing AFSC's statement calling for an end to U.S. funding for mass killings and war crimes. I added this new information shared by AFSC colleagues:
Unfortunately, conditions are rapidly deteriorating in Gaza. The United Nations Relief and Works Agency (UNRWA) and the Office for the Coordination of Humanitarian Affairs (OCHA) have announced that their last fuel reserves have been depleted. AFSC joined the Association of International Development Agencies (AIDA) in issuing an urgent statement warning that this will render aid impossible to deliver.
It will also accelerate the current humanitarian catastrophe to unimaginable proportions, including through the stoppage of water distribution plants and waste and sewage removal. These alone will leave 2.2 million people without potable water and subject to outbreaks of disease.
Others at the Des Moines gathering then shared their many reasons for joining in this effort. One person said she's afraid of new atrocities in Gaza once communications are severed again. It's like a person being put into prison with no line of communication with family and friends. Anything can happen there with no accountability for the unfolding horrors.
One person with a Palestinian "soul sister" described her harrowing visit to the West Bank several years ago in which Israeli authorities mistreated an elderly and disabled Palestinian man. One Friend talked about his experience in Rwanda before and after the genocide there – and how reconciliation is possible.
Another Friend, who is indigenous, talked about intergenerational trauma and how the atrocities committed against Native Americans resonate to this day. So too will the violence Israel is unleashing on Gaza reverberate long into the future.
A student at the University of Iowa drove two hours to this meeting so they could express their concerns with the senators. Their family is Jewish. They and others pointed out that giving billions of dollars in military aid to the right-wing government of Israel is not in the best interests of Israelis, either.
One Friend compared Israel's indiscriminate bombing of Gaza in pursuit of Hamas to the horrific idea of destroying an entire school because a shooter had entered it.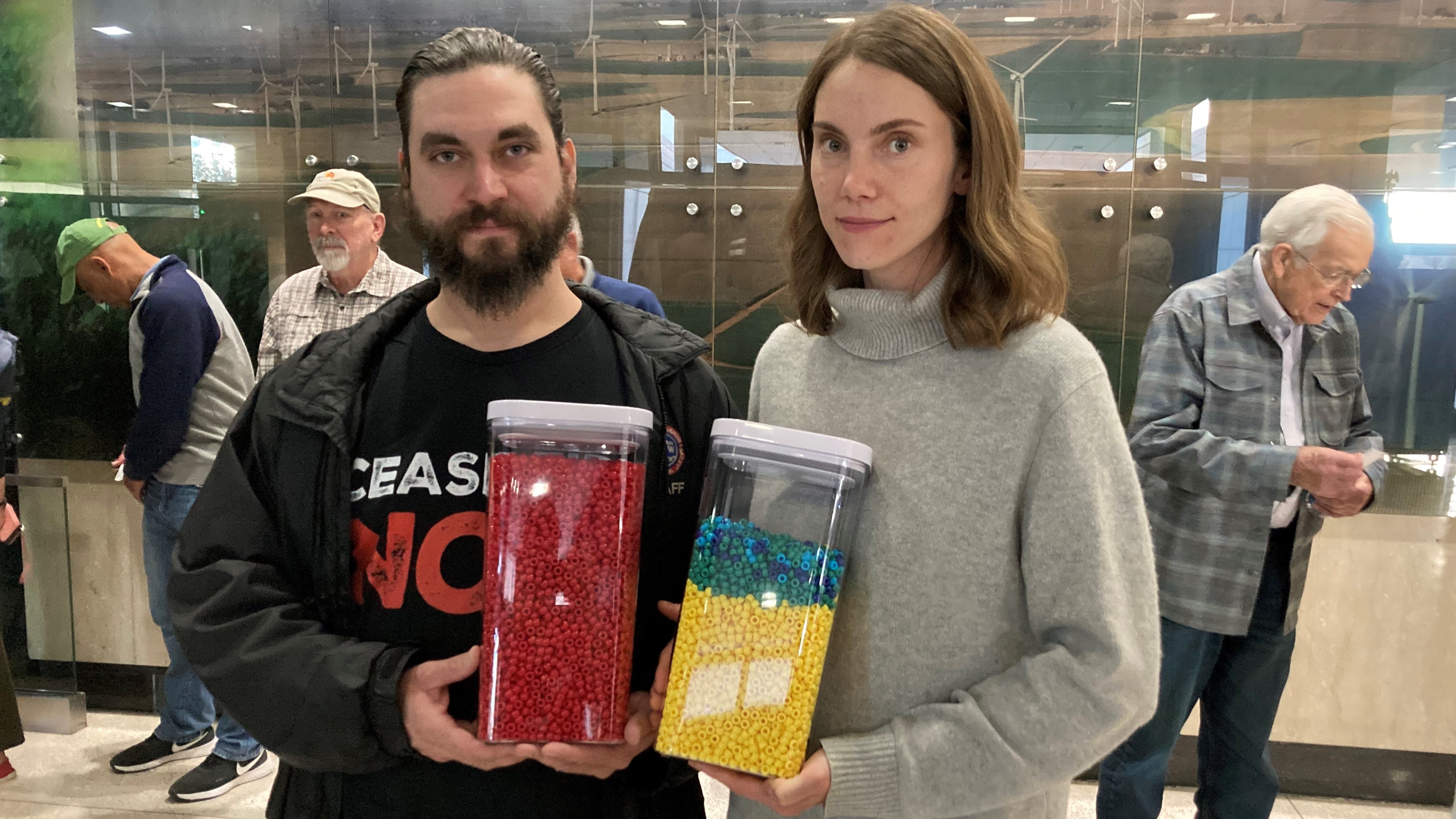 Everyone was insistent on the senators recognizing that the blood of Gazans is on our hands. It's our tax dollars that are paying for these bombs. When Clarke Scanlon of Sen. Ernst's staff said that the senator believes Israel should go after Hamas "however it wants to," the group bristled at this blank check for genocide. People were moved to tears at what can feel like our inability to touch the hearts of our members of Congress.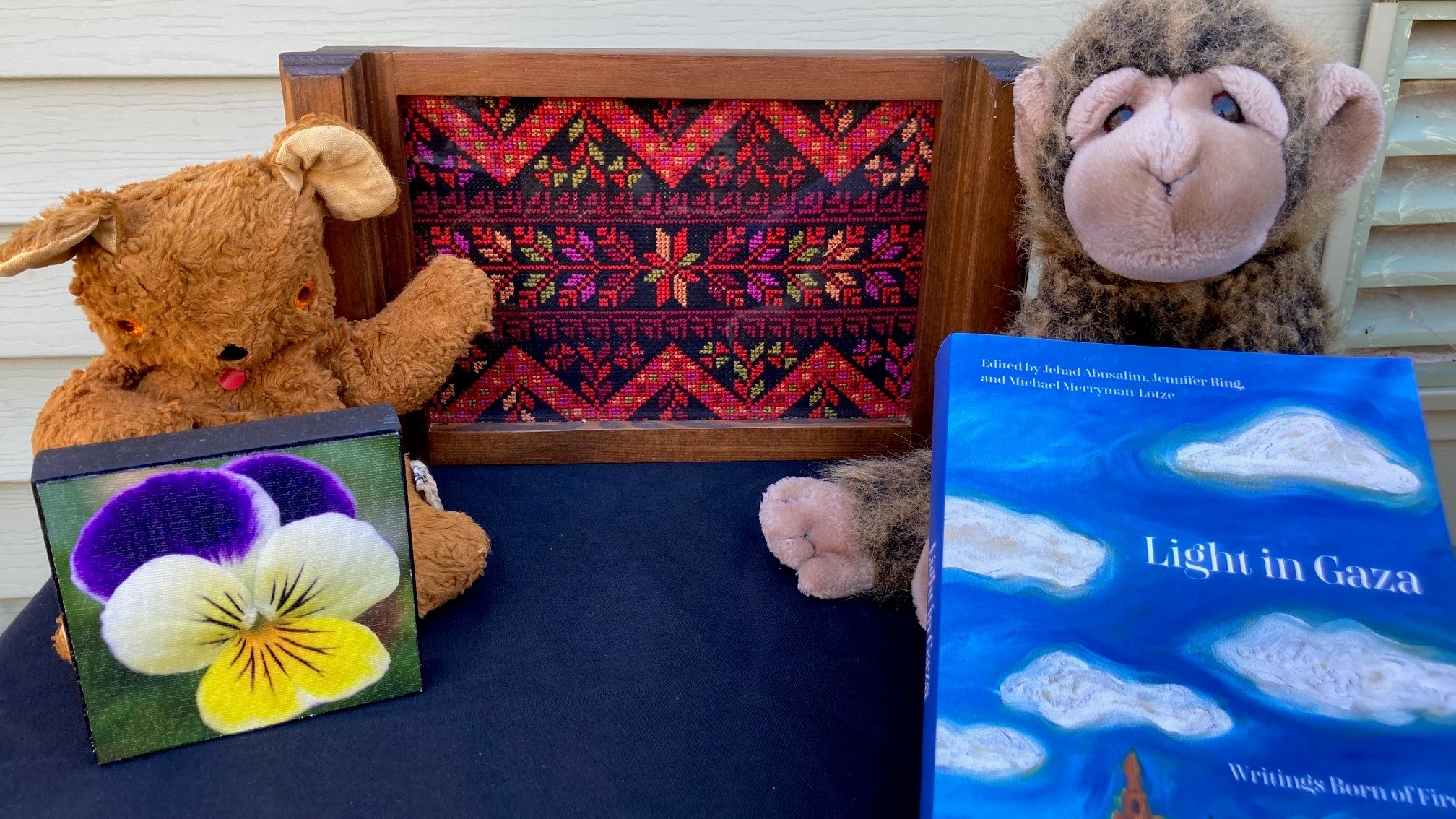 Participants said they were grateful for this time together. "I thought today's meeting at the Federal Building was about the most meaningful and perhaps the most effective issue rally I've been to," said one person. Another added, "I believe our gathering today was meaningful in communicating our deep desire for a ceasefire. I'm grateful for everyone's words and breaking hearts. With all our comments, we communicated that Iowans care and are paying attention."
A third observed that the Senate staffers "got a very pointed sense of our concern and our outrage at how our tax dollars are being spent. It was really a powerful, diverse and passionate gathering that I was proud to be part of!"
At a large rally for Gaza in Des Moines on November 5, people donated $1700 to AFSC's Gaza Emergency Relief Fund. In addition, the Peace and Social Concerns Committee of the Iowa Yearly Meeting-Conservative is offering a $100 match for local meetings which contribute to this fund.
It's always good to be in community, especially in times of crisis. Our actions, however small they might feel, do make a difference.