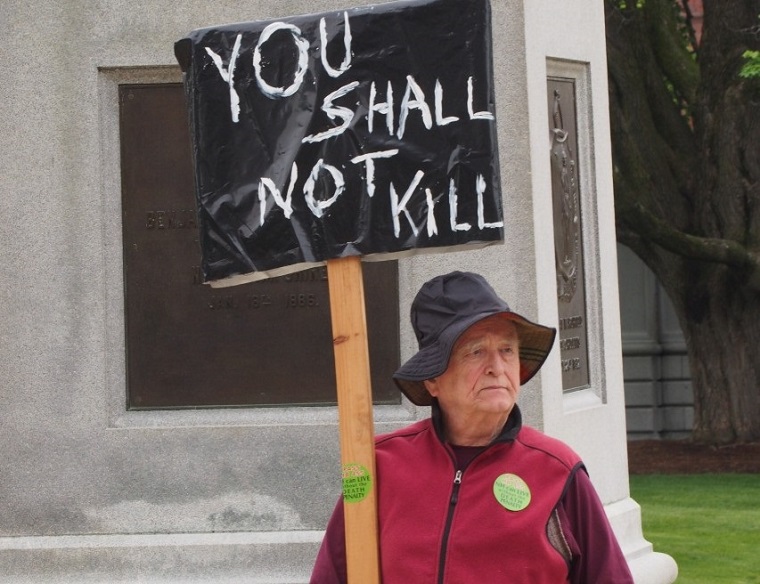 For decades, AFSC has worked to end the use of the death penalty as well as life and long-term sentences.
The death penalty flies in the face of moral values, common sense, and history. Death sentences do not deter crime. They are disproportionately handed to people of color, and have been given to numerous individuals who were later exonerated.
Soon after taking office, President Biden reinstated the moratorium on federal executions. Now, we need Congress and the president to end capital punishment for good to prevent any future administration from resuming these killings, as the Trump administration did.
Over the years, the country has moved steadily away from the death penalty. Most recently, New Hampshire, Colorado, and Virginia became the latest states to abolish the practice (read AFSC's Arnie Alpert's essay on ending the death penalty in New Hampshire).
Now it's time for the federal government to follow suit.
Here's why we should all support abolishing the death penalty.
1. Death penalty sentences are rife with racial discrimination and sentencing disparities between white people and people of color.
As with anything that is a consequence of an individual's interaction with a criminal legal system rooted in white supremacy, race plays a major role in determining who receives the death penalty and who does not. In short, those who kill white people are more likely to get a death sentence than those who kill people of color. And of those who are convicted of murder, people of color are more likely to get death sentences than white people.
In a 2020 report, the Death Penalty Information Center noted that there were 56 people on federal death row at the time. Twenty-six—or nearly 50%—were Black (although Black people make up only about 13% of the U.S. population). Twenty of those 56 individuals (nearly 40%) were white, seven (around 12%) were Latino, and one individual was Asian. The report also found that some of these individuals were convicted by all-white juries.
In the three districts (Virginia, Texas, and eastern Missouri) that accounted for the bulk of the federal death sentences at the time, most of the people on death row were people of color.
The death penalty is arbitrarily sought by prosecutors who are often white themselves. They have the sole discretion to seek the death sentence for an accused individual.
2. Individuals have been wrongfully sentenced to death.
Since the 1970s, at least 160 individuals who were initially sentenced to death were exonerated. That is, they were found to be innocent and released. And others have been executed despite compelling evidence that they may have been wrongfully convicted.
Death penalty sentences are not exempt from the grave mistakes that plague our criminal legal system. Wrongful convictions occur for a multitude of reasons, including racial bias, false and/or coerced confessions, police or prosecutorial misconduct, and faulty forensic evidence. The release of people on death row over the decades—based on evidence that they did not commit the acts for which they were sentenced—is yet another example of the deep and deadly flaws in the criminal legal system.
3. There is no evidence that death sentences or executions do anything to protect public safety.
For years, criminologists have studied whether the death penalty deters crime. Their research has demonstrated that we need to look elsewhere to reduce the level of homicide.
As a society, we cannot continue to allow state-sanctioned murder. We must stop responding to harms committed with punishment and retribution—and instead center restorative justice and healing. That means focusing on the needs of victims of violence and their loved ones as they rebuild their lives. It also means fostering reparations and reconciliatory processes within the community at large.
4. Over the past 25 years, the use of the death penalty has declined sharply, with more states abolishing the practice altogether.
"New death sentences have fallen more than 85% since peaking at more than 300 death sentences per year in the mid-1990s. Executions have declined by 75% since peaking at 98 in 1999," according to the Death Penalty Information Center.
Twenty-three states and the District of Columbia now ban the practice. In most remaining states, it is rarely used. This decline signals a change in attitudes based on years of evidence and experience—among prosecutors, jury members, judges, lawmakers, and members of the public. That includes family members of people who have been victims of fatal violence.
Now the federal government must follow the lead of these states.
5. Black organizers and allies are calling for an end to the death penalty—as well as life without the possibility of parole, also known as death by incarceration.
The Movement for Black Lives calls for an abolition of the death penalty, saying it is morally repugnant, [representative] of legal lynching which has targeted Black and other people of color, disabled people, LGBTQ people, and low- and no-income people throughout its history in the United States."
And there is a growing movement to abolish another form of punishment that sentences people to death—life sentences.
Around 206,000 people are serving life or "virtual life" (a sentence of 50 years or more) in the United States. More than 50,000 of those are serving life without the possibility of parole. These are sentences that condemn people to die behind bars. That is why many are now calling these sentences "death by incarceration." Learn more about the call to end death by incarceration.
What we can do to stop federal executions
While the courts have failed to stop federal executions, Congress can still take action to stop federal executions and abolish the death penalty. That includes:
Supporting legislation like the People's Justice Guarantee, which would eliminate the death penalty for all federal crimes.
Repealing the Violent Crime Control and Law Enforcement Act ('94 Crime Bill) provisions, which made an additional 60 offenses eligible for the death penalty.
Repealing the Antiterrorism and Effective Death Penalty Act, which dramatically curtailed people's ability to challenge their criminal convictions.
The death penalty violates the basic tenets of all religions and the inherent worth of all human lives. It is for reasons like these that religious leaders from many traditions have spoken out for the death penalty to be abolished. More than 40 years ago, the AFSC Board issued a statement that read: "The death penalty restores no victim to life and only compounds the wrong committed in the first place."
We hope you join us in calling on the U.S. to stop executing people and abolish capital punishment—and working for a world that values the lives, rights, and dignity of all people.