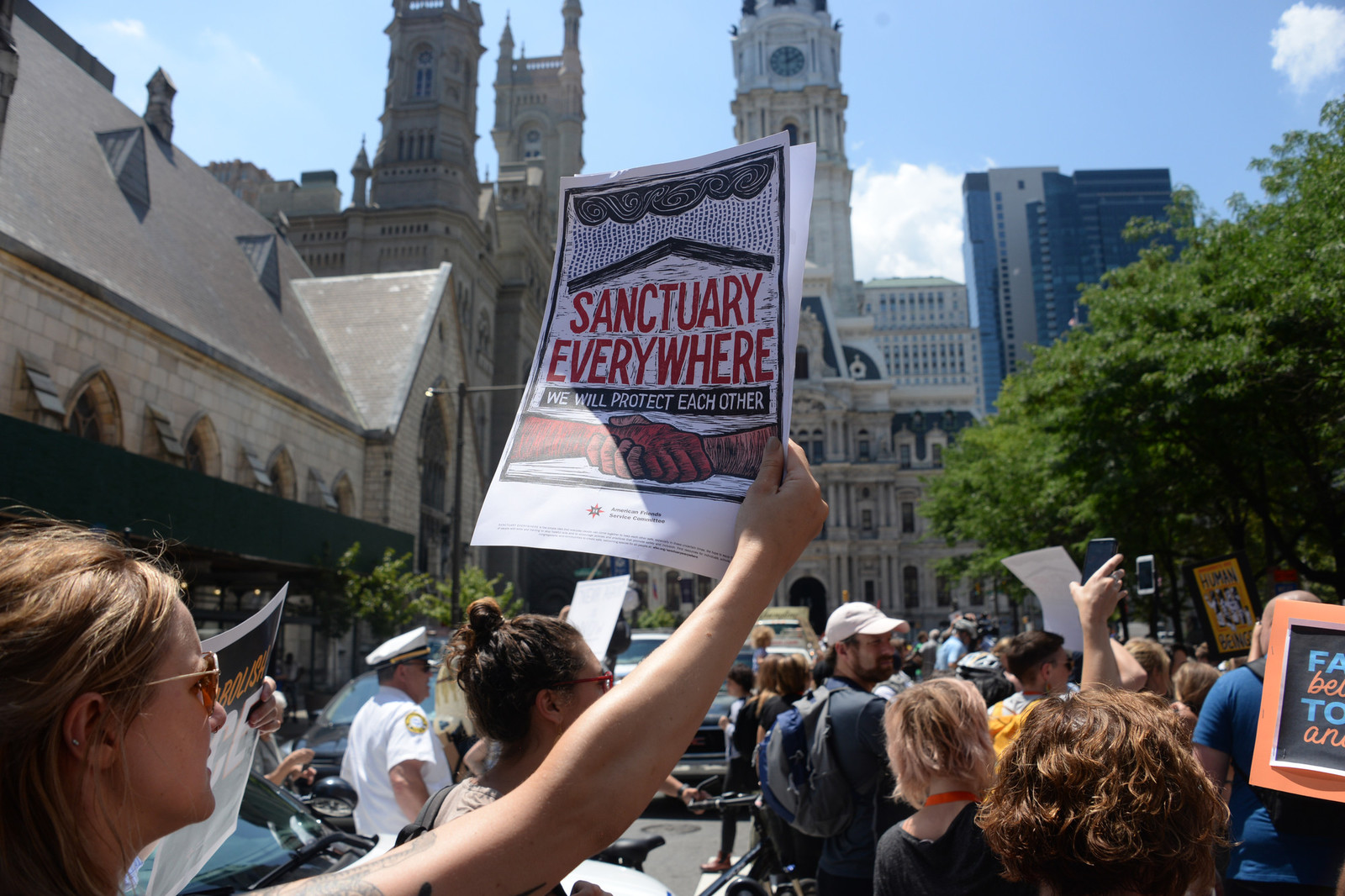 On Feb. 26, a federal appeals court ruled that the Trump administration can withhold millions of dollars from cities and states that do not cooperate with U.S. immigration authorities—another part of the administration's larger effort to punish sanctuary cities and states that refuse to carry out its anti-immigrant agenda.
The court decision came less than a week after news broke that the Trump administration will deploy tactical units from Customs and Border Protection (CBP) to sanctuary cities to aid local Immigration and Customs Enforcement (ICE) officers in terrorizing immigrant communities. Earlier this month, the Trump administration also suspended Global Entry and several other Trusted Traveler Programs for all New York state residents—in retaliation for the state's recent passage of a sanctuary law. And during President Trump's 2020 State of the Union address, he called on Congress to pass a law establishing civil liability for sanctuary cities.
Despite these ongoing attacks, multiple U.S. cities have enacted—and stood by—a range of "sanctuary" policies that help protect members of our communities from detention and deportation by limiting the cooperation of local law enforcement with federal immigration agents.
You can speak out in support of sanctuary cities—and help build support for humane and inclusive immigration policies—by using our messaging tips to talk about sanctuary cities in positive, affirmative terms:
Tip #1: Highlight that sanctuary is about creating inclusive communities where everybody can feel safe.
Unfortunately, much of the media coverage on this subject still portrays sanctuary cities negatively. AFSC conducted an analysis of national media coverage of sanctuary cities, analyzing over 100 articles from July 2017 to January 2018. Most commonly, news stories portray sanctuary cities as "protecting dangerous immigrants," echoing the Trump administration's vilification of immigrants. The second most common frame focuses on sanctuary cities as "resisting the administration's migration policies." Both top frames focus on conflict and negativity rather than showing how communities are working to create safe spaces for all.
One way to emphasize the positive work of sanctuary jurisdictions is to highlight the connections between today's sanctuary city policies and the Sanctuary Movement, context that the media rarely provides. Rooted in deeply held beliefs about the dignity of all people, in the 1980s the Sanctuary Movement drew people of many faiths together to offer sanctuary – often literally in church spaces – to immigrants facing deportation from their home and family here, sometimes to violence and oppression in their countries of origin. Today, the Sanctuary Movement is organizing again and many courageous immigrants are claiming sanctuary in churches and faith communities to avoid being wrested away from their families and communities.
Although sanctuary city policies are distinct from congregational sanctuary, they invoke the Sanctuary Movement in their name because they share the premise that there should be places where everybody can feel safe. When we talk about sanctuary cities, we should focus on the positive values that drive these policies.
Tip #2: Avoid myth-busting, and connect sanctuary policies to common-sense policies and values that people already support.
The Opportunity Agenda has conducted an excellent study that shows that misinformation and fearmongering have dominated how the public understands sanctuary. Unfortunately repeating false information – even to debunk it – can reinforce negative impressions about sanctuary, further associating sanctuary cities with crime and danger. Instead of myth-busting, talk about sanctuary cities as efforts by communities to create safety for everybody.
You can also reframe the discussion to focus on what happens when immigrants can fully participate and belong in our communities: we all benefit.
The public already supports policies like keeping families together, and creating a roadmap to citizenship for longtime residents of our communities. When talking about sanctuary policies, connect the issue to other pro-immigrant policies that many people already support.
Research shows that it can help to emphasize that immigration enforcement is closely connected to racial profiling – which harms our communities, violates our values, and can ruin people's lives.
Tip #3: Learn how you can create sanctuary in your community.
Take action to defund hate. Immigration enforcement measures are tearing families apart, violating our core values, and harming our communities. Tell Congress to stop funding CBP and ICE!
Watch this AFSC webinar to learn about successful efforts to establish sanctuary policies in cities and schools. Hear from folks who have run successful campaigns to make more welcoming spaces in schools, both for immigrants targeted by ICE and those targeted by other law enforcement, and in cities.
By emphasizing the positive ways that sanctuary policies can help create safer and more inclusive communities, you can reframe the debate and build support for immigrants and other targeted groups in our communities.