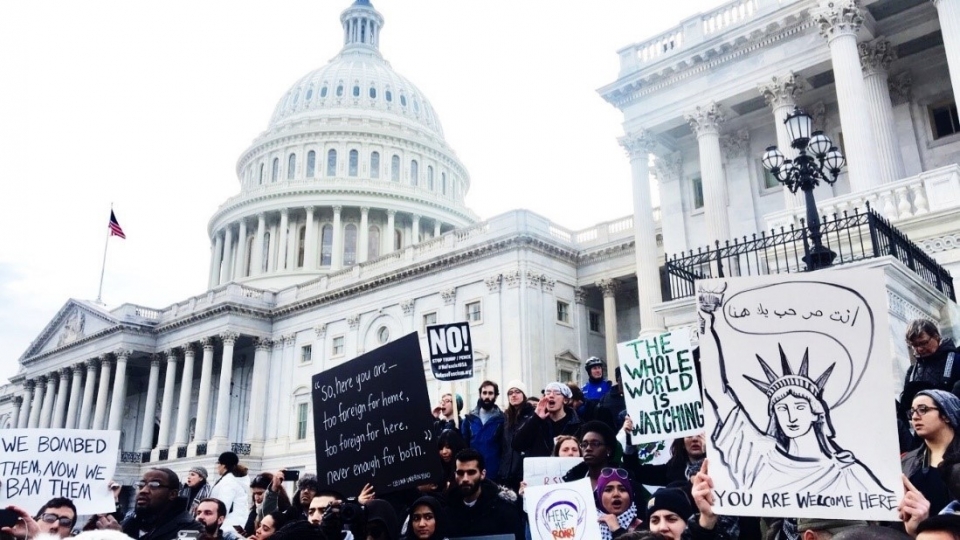 Note: This post was updated in June 2018 to reflect recent events.
The U.S. Supreme Court has upheld the third version of the Muslim ban. Under the ban prospective travelers from six Muslim-majority countries and two other countries can be refused visas. Including non-Muslim-majority countries on the list does not change the fundamental purpose of the ban, which still targets Muslims.
That's why it is important for activists to continue to rally together to amplify resistance to the Muslim ban, using the hashtag #NoMuslimBanEver. Here are some tips to keep in mind.
Here are some tips for how to talk about the ban without contributing to Islamophobia.
Tip #1: Explicitly call this what it is: a Muslim ban.
Though the executive order does not use these words, this is no doubt a Muslim ban. Six of the prohibited countries are Muslim-majority.
In your resistance to the Muslim ban, be explicit in denouncing the deliberate targeting of Muslims under the guise of national security.
Tip #2: Talk about the human cost and tell stories.
This is simple. Refugees, immigrants, Muslims, are people–regardless of age, regardless of whether they're coming by themselves or with family, regardless of skills or education. The stories of people suffering because of the ban are heartbreaking. By focusing on their stories, we can emphasize the human costs of a horrible policy. 
You do not have to understand Islam in and out to protect humanity and protect the civil liberties of Muslims. This third version of the ban is an attempt to re-package and legalize something that, at its core and in its function, is racist and unconstitutional.
Tip #3: Don't perpetuate Islamophobia by focusing on violent extremism.
Some people have suggested that admitting more Muslim refugees and immigrants would "strengthen national security," saying that they could act as informants and contribute to military strength. Saying this reinforces the false perception that there is an inherent link between Islam and violence and that Muslims are aware of terrorist plots.
Also if you oppose the Muslim ban, don't suggest other countries that should be included on the list. While there is value in pointing out that Islamophobia and Trump's conflicts of interest may have shaped the list, the point is that there shouldn't be a list like this at all. Suggesting other countries insinuates that immigrants from any country should be feared because they are inherently violent , which only furthers xenophobia. Furthermore, listing countries to be added only encourages broadening the Muslim ban, not ending it.  
Tip #4: Do everything you can to create inclusive communities.
Trump's Muslim bans have had an immediate impact on thousands of individuals and families throughout the United States and the world. Whether or not the ban affects you, you can refuse to accept it and instead offer messages of welcome and inclusion.
Support the efforts of local organizations that support immigrants, refugees, and Muslims.
Reach out to Muslim friends, organizers, activists, and journalists and offer your support.
Reach out to your elected officials at the local, state, and national level and tell them to speak out against the Muslim ban. Thank those that do.
Show up at local marches and rallies in support of immigrants and refugees.
For more tips on how to talk about the Muslim ban, check out my op-ed piece here. 
Check out our #NoMuslimBanEver page for social media graphics and other resources to share online.