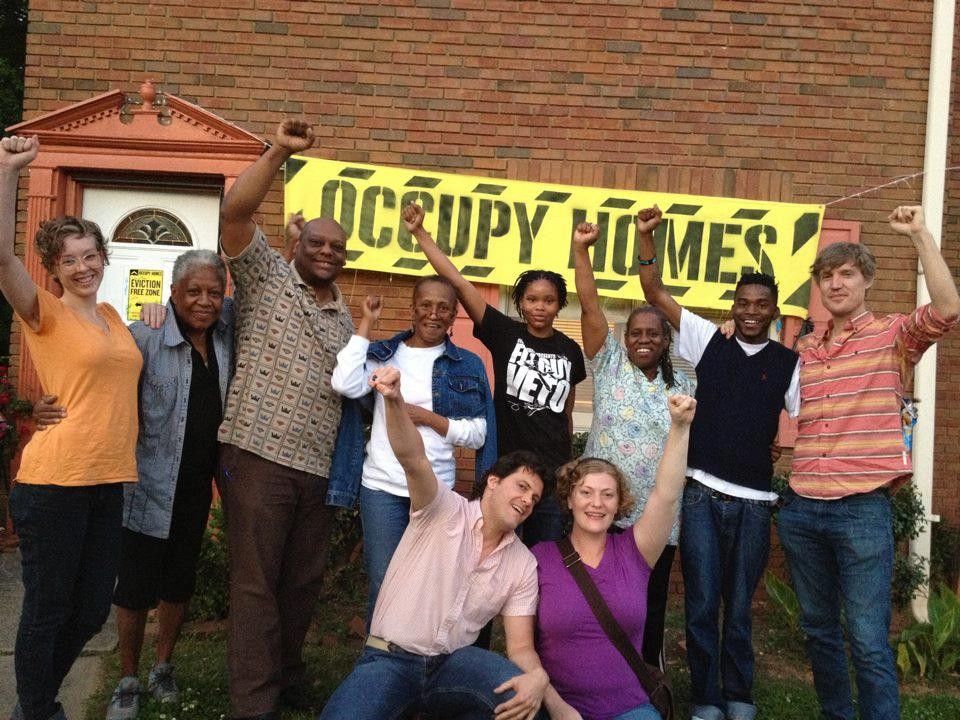 It has been nearly a decade since Mildred Obi waged a campaign to keep her home in Stone Mountain, Georgia—and won.
Like many people across the U.S., Mildred lost her job during the 2008 financial crisis. She fell behind on mortgage payments. A senior in her 60s, she struggled to find employment. Despite her best efforts to work with the bank, she was evicted from her home.
Mildred worked with AFSC and Occupy Our Homes Atlanta to reclaim her home. Community members rallied behind her when she launched a public campaign against the bank. We held a sit-in at a local bank branch, gathered thousands of petition signatures, and marched with Mildred to move her back into her house as an act of civil disobedience. Eventually, the bank agreed to work out a payment plan with Mildred so she could keep her home, where she still lives today.
"Having that community support is very important," Mildred says. "Knowing you're not alone, that you have rights, gives you strength. It empowers you."
For over a decade, the AFSC Atlanta Economic Justice Program has helped people defend their homes—from stopping evictions to preserving affordable housing to opposing gentrification.
Recently, we published the "How to Defend Your Home" manual to reach even more people. The manual is based on a resource created by Occupy Our Homes Atlanta during the foreclosure crisis, that helped hundreds of homeowners like Mildred launch their own public campaigns in the early 2010s. This new version of the manual was written for both renters and homeowners. That includes people facing eviction or foreclosure as well as tenants dealing with unsafe or difficult living conditions that landlords won't address.
"How to Defend Your Home" explains how people can research their individual situations and develop a campaign strategy. It offers best practices on sharing personal stories with the public—and building community power by organizing neighbors and the larger community. We also discuss ways to escalate public pressure and negotiate with landlords. Over the next several months, we're also holding trainings for Atlanta community members and local organizations to delve deeper into the manual and how to use this resource.
Today it's as important as ever to equip people with this information. Across the country, communities face economic uncertainty and record increases in cost of living. In Metro Atlanta, the pandemic has exacerbated the housing crisis that begun well before 2020. For years, low-income residents have seen their rents skyrocket as neighborhoods gentrify. Other tenants have been displaced by landlords eager to sell properties in a booming real estate market. Private equity firms continue to buy homes and convert them into rental properties. And research has shown that corporate landlords are more likely than other property owners to evict tenants.
These are difficult economic times for so many people. But the good news is that more and more community members refuse to remain quiet and let our homes, our communities, and our futures disappear—while the wealthiest among us get even richer. People in Atlanta and all over the country are organizing and advocating to reclaim our homes and our dignity.
As community members like Mildred have demonstrated: We are stronger when we work together.
After Mildred won her own campaign in 2012, she pledged to support many others in their struggle for housing justice. She started a support group for people facing housing evictions. She has shared her story with many and encouraged them to wage their own campaigns. She also lobbies elected officials to strengthen policies to protect the rights of low-income homeowners and renters.
"A lot of people facing evictions are ready to throw in towel," Mildred says. "I tell people, you can't do it alone. It didn't work for me until I engaged a social organization and took it to the street and got community support. People have to know that they have the power to get their homes back."
We're excited to share our "How to Defend Your Home" manual as one tool that community members can use in their efforts.