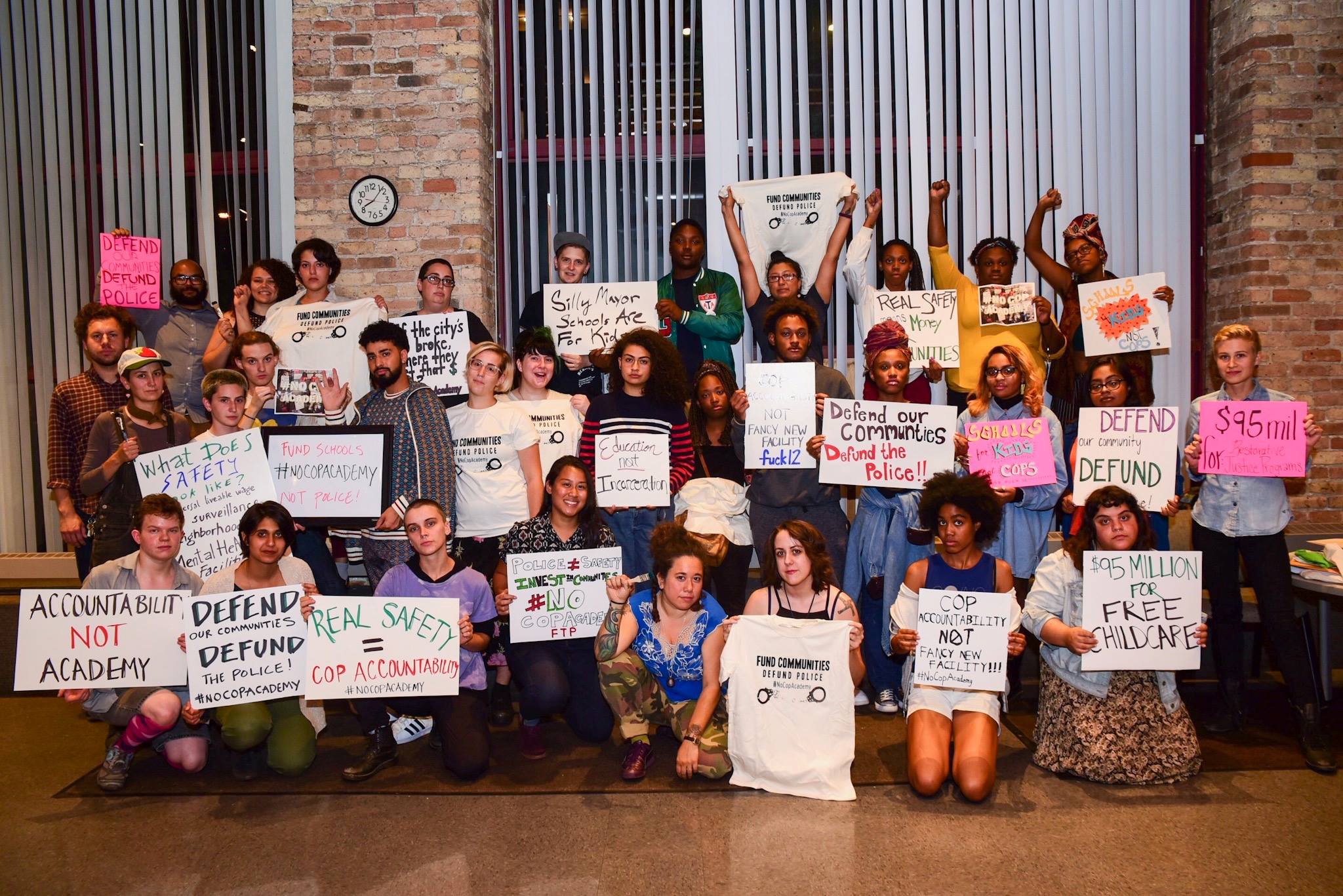 #NoCopAcademy demands real investment in communities—and accountability for decades of police violence.
Three years ago, a young Black teenager named Laquan McDonald was shot 16 times by a white Chicago police officer, Jason Van Dyke. Two years ago, the city was in uproar after discovering the roles that the mayor, chief of police, and state's attorney played in covering up his killing. And just less than one year ago, a Department of Justice report reinforced what Black communities have known and organized against for decades—that the Chicago Police Department has a pattern and practice of racist and excessive use of force.
Rather than demonstrate accountability, today, Chicago Mayor Rahm Emanuel is promising to build a state-of-the-art new $95 million dollar police and fire academy—and pushing the proposal through City Council with zero public input. Since last year, he's also put nearly 1,000 new police officers on the streets.
While Emanuel, and some proponents of modest police reform efforts, applaud this as a step forward, young Black organizers and their supporters across the city see these actions for what they are—a blank check for police violence. Especially when we consider that the mayor has also closed health clinics and over 50 schools as part of his administration's ongoing divestment from programs and services that could produce long-lasting, genuine safety for communities across Chicago.
Enough is enough. That's why over 40 community organizations, including the American Friends Service Committee, have joined the call raised by teen leaders from the organization Assata's Daughters: #NoCopAcademy!
Building a youth-led campaign
The plans for this new police academy were just announced over Fourth of July weekend, while families were grilling and press releases from the Mayor's office were the last thing on anyone's mind. But the announcement didn't escape organizers with AFSC, Assata's Daughters, For The People Artist Collective, and more. Immediately we began to meet and strategize.
In mid-September, we launched the #NoCopAcademy campaign with a press conference outside the mayor's office. For youth leaders from Assata's Daughters, it was their first press conference, but it would not be their last. Within a week, over 20 organizations had signed on to the campaign, and within two weeks, even Chance the Rapper was expressing his support on Twitter.
Since the mayor's plans for the police academy weren't widely announced, our main goal for the first few weeks of the campaign were to make as much noise as possible about the plan and clearly communicate our opposition—so we could generate more support and help to shape the media narrative around the project and our campaign.
Rather than letting the public fall for the administration's line that the project was about police reform, we have instead led by asking people the question: How would you spend $95 million in your community? Education, mental health clinics, community centers, and job programs for youth are the most popular responses—not a fancy new facility for CPD. Additionally, why is it that the city is constantly closing schools, clinics, and services to save money, but always seems to come up with additional funds for the police?
Chicago already spends $4 million per day on CPD—nearly $1.5 billion per year. That's in addition to over half a billion dollars it's paid to settle cases of police misconduct over the past decade, the $200 million in unaccounted-for overtime spending on police, and an additional $27 million that Emanuel announced for the 2018 budget as an "investment in reform."
The city spends over 300 times as much on police as it does on public health, family and support services, transportation, and affordable housing combined. We're fed up. And we're taking action to change that.
Using art for our activism
Art and cultural organizing have played a central role in building public awareness and support for our #NoCopAcademy campaign. Rather than simply denouncing what we don't want, the campaign has encouraged people to radically reimagine what's possible, and how Chicago could look if it invested more resources in communities instead of policing.
Young people have led train takeovers involving clever chants and catchy dances; supporters have dropped banners in public spaces; and we've created posters, zines, T-shirts, buttons, and more for people to spread the message of #NoCopAcademy in their schools, neighborhoods, and workplaces. We've held teach-ins and canvassed entire neighborhoods, with hundreds and hundreds of people signing on to express their support.
For The People Artists Collective—a radical squad of Black artists and artists of color who make art for the movement—has been instrumental in providing accessible, inviting, and creative ways to draw people into the campaign. They hosted an art party and a pop-up exhibit to build materials to support the effort, and provide inspiration to the next phase of the work.
Supporting the Movement for Black Lives
As AFSC in Chicago, we are proud to be a part of this effort, which is a continuation of several years working closely with organizations challenging police violence in in this city. Our work aligns with the Movement for Black Lives policy platform, and the need to divest from policing and militarism and to instead invest in communities.

With We Charge Genocide, we helped research the city budget process to uncover the $4 million per day handout to CPD, and created this budget strip to demonstrate the city's funding priorities.
In the summer of 2016, we created the Coins, Cops & Communities toolkit with our youth interns, to look at the costs of policing and how alternative priorities could generate real safety for communities. Several of the interns involved in that work are now participating in #NoCopAcademy.
All of this work connects to AFSC's long history of opposing war and militarism in all its forms, and demanding that we divest from military spending. As RadFag pointed out in his poignant piece for Truthout, the systems of policing and military occupation are both forms of state violence that inform each other and rely on domination and racial control. "Uniting to demilitarize—reprioritizing local and global economies to support oppressed communities instead of policing them—is the answer to ending state violence."