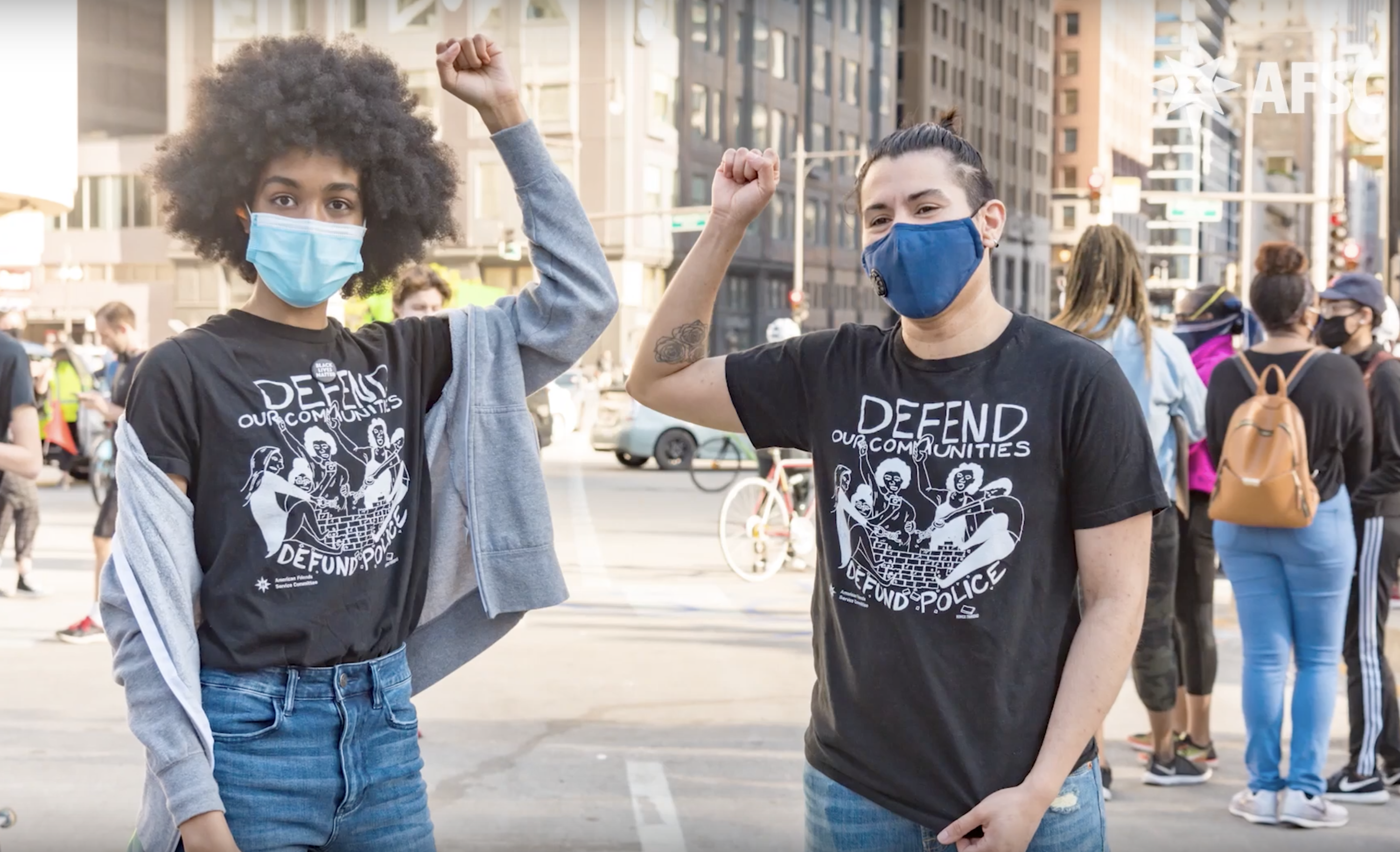 In the aftermath of the police murder of George Floyd, protests erupted in Minneapolis and across the U.S., with activists and community members demanding that Black lives matter—and with many calling to defund the police.
Many of us—particularly white people—have been taught to equate policing with public safety and can't imagine alternatives to a punitive law enforcement model. But our criminal legal system was built to reinforce deep structural racism in our society. For most individuals and communities of color, policing has brought terror rather than safety.
The murders of George Floyd, Eric Garner, Philando Castile, Sandra Bland, Michael Brown, and countless other Black and Brown people at the hands of police are not anomalies. They are evidence of a racist system that disproportionately targets people of color for violence, imprisonment, and death.
We need real change. That's why we must stop investing in police and incarceration and instead intentionally invest in alternative models that are centered in community and address the root causes of harm, in addition to making greater investments in schools, health care, and other human needs that keep our communities safe.
Here is why we should all support the call to defund the police:
1. Policing in the U.S. was established to maintain white supremacy.
The police are not a neutral body, and the institution is inherently biased. In the U.S. slave patrols and night watches were the beginning of a racially directed system of law enforcement designed to secure capital for white settlers.
Over the past 40 years, the expansion of racially targeted policing and policies such as stop-and-frisk and the "war on drugs" have helped fuel mass incarceration in the U.S., with African-Americans incarcerated at more than five times the rate of white people. Black and Brown people are disproportionately targeted from a young age, with hundreds of thousands of children ages six to 14 arrested, often by police officers stationed in schools as "school resource officers."
Police forces have also become more militarized. Since 1990, the federal government has transferred $6 billion of excess military equipment to local law enforcement agencies under its 1033 Program, giving police access to mine-resistant vehicles, assault rifles, and grenade launchers. For years police have also undergone "warrior training" that teaches them to see every encounter as potentially life-threatening, especially when those encounters involve people of color. Every year on-duty police kill an estimated 1,000 people.
What's more, a recent study revealed that hundreds of active duty officers from across the country are members of racist and anti-government groups on Facebook.
2. Policing doesn't keep us safe.
Despite the billions of dollars spent every year on policing, more than 15,000 people were killed by gun violence in 2019 alone—disproportionately young people of color. If policing and imprisonment stopped violence, the U.S. would be the most peaceful country in the world. But decades of evidence show us this is not the case.
If we believe in everyone's right to live in safety and peace, we need to dismantle institutions that were never intended to get us there —and free up resources for solutions that are actually designed to create healthy, safe, sustainable communities.
3. Body cameras, trainings, and other so-called reform measures will not end cycles of police violence.
In Minneapolis and other U.S. cities, body cameras and other reform measures were implemented as part of the Obama administration's multimillion-dollar response to the call for police accountability—and have proven largely ineffective.
Body cams are regularly shut off by police and do not result in less violent behavior—while increasing surveillance of those being policed.
Trainings on implicit bias for police have shown no demonstrable effect. In fact in Chicago, it was found that officers accused of abuses were leading the training.
Community policing—the idea that if police and community work together, there will be more trust in the police—doesn't work, either. The practice deputizes white and wealthy community members to surveille their neighbors, resulting in even more police actions based on racist attitudes and beliefs.
Meanwhile, police murders continue, with 1,002 people shot and killed by police already this year.
4. Policing diverts billions of dollars from schools, health care, and other vital programs that need more funding to strengthen our communities and support shared well-being.
U.S. cities collectively spend $100 billion a year on policing, while needed investments in education, health care, housing, and other critical programs go unfulfilled, particularly in poor communities and communities of color. New York City, for instance, spends more on policing than it does on the Departments of Health, Homeless Services, Housing Preservation and Development, and Youth and Community Development combined.
Our tax dollars must be reallocated from this system that regularly murders Black people with impunity—and instead invested in programs that strengthen our communities.
5. Black organizers are calling for divestment from policing and investment in human needs across the country.
As part of its platform, the Movement for Black Lives calls for the "reallocation of federal, state, and local government funds from "policing and incarceration to long-term strategies for education, restorative justice services, and employment programs."
In Chicago, the #NoCopAcademy campaign galvanized thousands of community members and garnered the support of more than 100 community organizations in urging the city to shift funding for a new $95 million police academy to programs that benefit youth and communities.
Faced with budget shortfalls and urgent health care needs—at least 13 cities have made cuts to their police budgets.
6. Our tax dollars should be invested in more humane and just alternatives to policing.
That includes funding health care workers to respond to mental health emergencies—instead of the police. It also means shifting our resources to transformative justice approaches that support survivors and work directly with the person who has caused harm through community-based systems of accountability. Under these models, community members work together to keep each other safe.
The human costs of investing in policing—instead of our communities—have been social as well as financial. We have created a society that looks to policing as the answer to our problems—both real and imagined—calling the police not only in emergencies, but also in response to white people's fears or annoyance in many situations where people of color are simply trying to live their lives.
Defunding police is one step we can take to free up resources and public imagination for more just and humane approaches to community safety and shared well-being. It's time to defund the police.