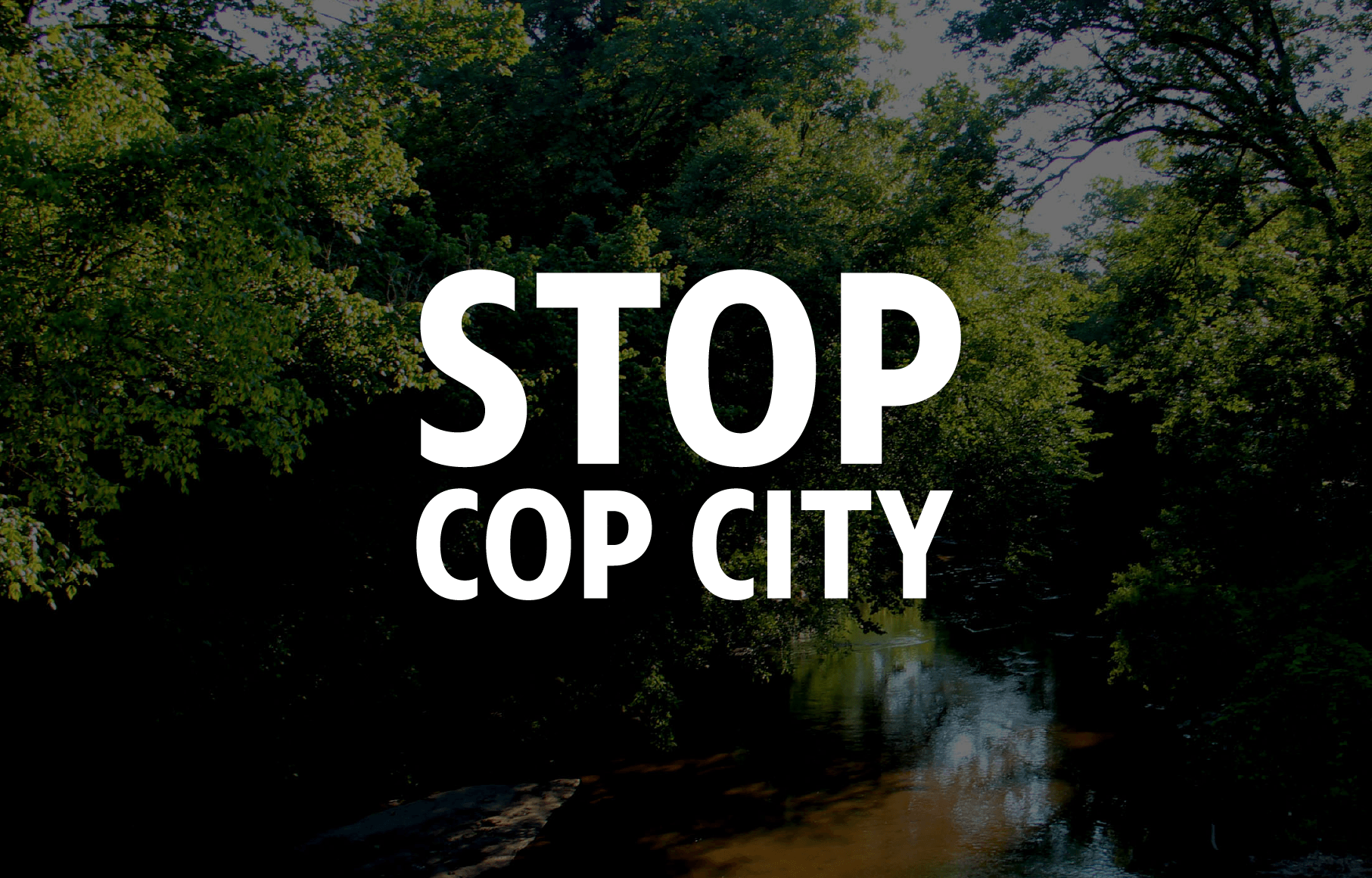 The city of Atlanta wants to build a $90 million police training facility. If constructed, "Cop City" would be one of the largest militarized police training centers in the country—all built by clear-cutting Atlanta's largest green space. The facility faces massive opposition in Atlanta and nationally.
AFSC is part of a coalition of organizations and community members in Atlanta working to stop this project. We oppose the continued militarization and expansion of a policing strategy that harms our communities, as well as the continued destruction of protected forests
Here's what you need to know.
1. Cop City will fuel the criminalization of marginalized people and further expand the carceral system.
The proposal for Cop City came in the wake of nationwide anti-police protests in 2020, when over 50 cities in the U.S. held protests after the police murder of George Floyd. Though there have never been any explicit ties to 2020 in the talking points for Cop City, the fault lines are clear. Cop City will allow police not just from Atlanta, but globally, to learn repressive tactics, so that protests and rebellions can be easily crushed. According to the original proposal, 43% of the training at Cop City will be for officers outside of Atlanta, including military training with the infamous Israeli Defense Forces.
2. Cop City is bad for the climate.
Cop City is slated to be built in the largest green space in Atlanta—the Weelaunee Forest. It will include a mock city to practice urban warfare, burn towers, bomb simulations, and multiple firing ranges,.
Environmentalists have been sounding the alarm on Cop City since its proposal, citing the Weelaunee Forest as one of four "lungs" of Atlanta and voicing concern that destroying the forest's tree canopy will accelerate the urban heat island effect. The area, which is surrounded by mostly Black residents who are at or below the poverty line, could experience up to 10 degrees of warming.
In addition, the Weelaunee Forest is necessary to maintain decent air quality, as forests in Atlanta absorb as much as 19 million pounds of air pollutants each year. The sewage pollution in the South River has been a major issue for over a decade, and in 2021 it was named one of the most endangered rivers in America. Building Cop City would exacerbate this pollution, adding lead from gun shells and bombs to the list of pollutants in the river.
3. Cop City faces intense public backlash.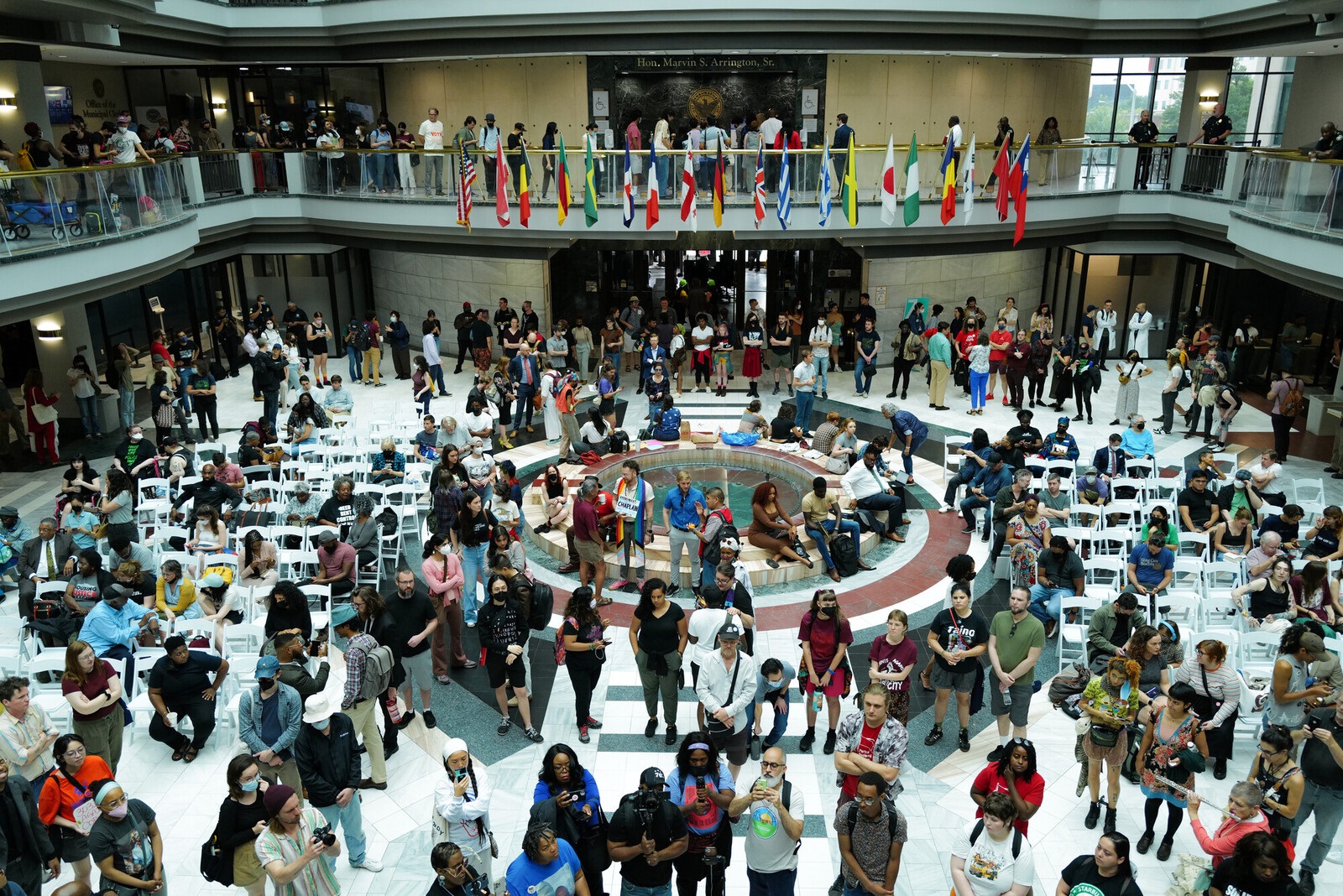 In September 2021, the City Council received 17 hours of public comment from over 1,000 Atlanta residents. Those comments, 70% of which were against building the facility, were summarily ignored, and the vote to approve the original proposal passed. In the past few years since the proposal, Atlanta residents have taken to the streets, organizing marches and rallies, demonstrating outside contractors' houses, showing up to make the recent City Council meeting the most attended in Atlanta history, and much, much more. It's clear that Atlanta residents stand in opposition to Cop City, and the city is ignoring their concerns.
4. Law enforcement killed a Cop City protester.
The tactics used by law enforcement against the protesters have been extremely aggressive. In January 2023, a 26-year-old forest defender by the name of Manuel "Tortugita" Teran was shot over 50 times by a task force of Atlanta Police, Georgia State Police, and the Georgia Bureau of Investigation attempting to clear the forest for construction. Though initial reports by police indicated Teran (whose pronouns are they and them) shot an officer and was killed in defense, the autopsy report showed they had their hands up and were seated in a cross-legged position when they were killed. This marks the first and only instance in the history of U.S. environmental protesting that an activist has been killed by police.
Tortugita was a beloved member of many activist communities. Those who knew them said they had a deep commitment to nonviolent protest, as they stated in an interview from 2022, "We're not going to beat them at violence. They're very, very good at violence. We're not. We win through nonviolence. That's really the only way we can win. We don't want more people to die. We don't want Atlanta to turn into a war zone."
History tells us that police killings of protesters will continue if officers are allowed to brutalize those who fight repression. Along with the death of Tortugita, countless others have been injured by police during raids on the occupied forest.
5. Law enforcement in Atlanta has taken unprecedented legal action against those who oppose the facility.
During protests, police officers have targeted peaceful organizers and arrested them on trumped-up charges of domestic terrorism under 2017 state legislation meant to criminalize protesters. They also raided the South River Music Festival where hundreds of people were enjoying live music. Police grabbed random attendees and targeted those who came from outside of Georgia to support the Week of Action. A number of these protesters are still being charged with domestic terrorism as a tactic to scare both residents and out-of-towners from joining this cause.
The government has also targeted the Atlanta Solidarity Fund, which has been helping activists and protesters secure legal counsel and bail money in the city since 2020. On May 31, a local community center was raided, and three prominent members of the bail fund were taken in on baseless charges of charity fraud and money laundering. This attempt to stop essential support from the bail fund and intimidate people from other locales is an effort to penalize and eliminate dissent.
In early September, the state attorney general indicted 61 movement activists on racketeering charges. Those charged include three organizers with the Atlanta Solidarity Fund.
Building Cop City is a concerted global effort to stop movements for change from succeeding. The city has been ramping up efforts to push Cop City despite overwhelming opposition from locals. At a hearing before a recent vote to fund Cop City with over $30 million in taxpayer dollars and an additional $1.2 million a year for the next 30 years, residents gave 14 hours of impassioned public comment, almost all of which was in opposition to Cop City. The city council approved $67 million dollars of public money anyway. This is a far cry from the $30 million dollar figure first promised by the council.
With bureaucracy and violent repression working in tandem, the city of Atlanta is setting an example for other states that want to further entrench the carceral system by any means necessary. The desired result from the state is the silence of protesters and the protection of capital at the expense of the most marginalized. As Atlanta experiences rapid gentrification, a warming climate, and increased flooding, the only thing the city seems to guarantee is that any opposition to its plans for development will be met with swift and brutal force.
Where we are now
A coalition of organizations—including the Movement for Black Lives, Black Voters Matter, Southerners on New Ground, the Working Families Party, CASA, Georgia Conservation Voters, and AFSC–were part of a referendum campaign to let the voters decide the fate of Cop City. Over two months, our coalition collected more than 116,000 voter signatures—nearly double the number required for a referendum. That's more than the number of people who voted in Atlanta's last mayoral election.
Our coalition submitted those signatures to the city on Sept. 11—only to face more efforts by the city to undermine what should be a democratic process.
It has become overwhelmingly clear that people across Atlanta oppose Cop City. And the city will continue to impose more hurdles to stop our efforts. But no matter what challenges we face, our coalition will keep working to hold the city to a fair process—and to ensure voters have the final say in how their tax dollars are spent.