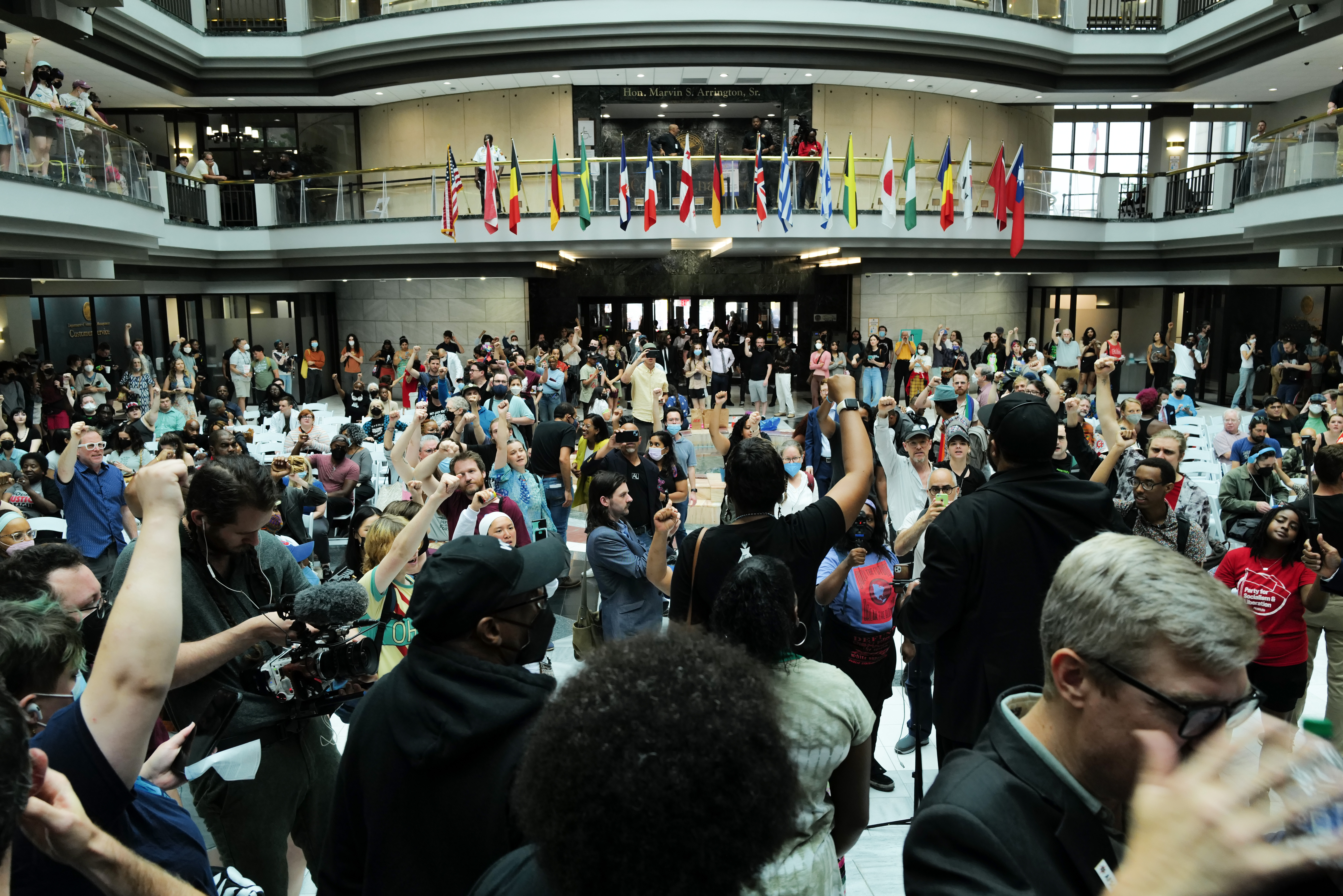 Organizations across the country send solidarity and support
ATLANTA (June 6, 2023) —Yesterday, over 1000 people converged on the Atlanta City Hall to rally and attempt to testify before City Council about their unwavering opposition to "Cop City." If the construction is completed, Cop City would be one of the largest police training facilities in the country and includes military-grade training facilities, and a mock city to practice urban warfare, all built in the middle of the Weelaunee Forest. Despite more than 15 hours of public testimony against the project, City Council approved $67 million in funding by a vote of 11-4.
"The project checks all three environmental racism criteria – race-based discrimination in environmental policy making, enforcement of regulations and laws, and targeting communities of color for the siting of toxic and polluting industries resulting in disproportionate harm," said Dr. Jacqueline Echols, Board President of the South River Watershed Alliance. "This is environmental racism at its worst. Even more appalling, the Mayor and City Council are willing and active offenders."
$67 million is far higher than the $30 million that city officials promised since 2021, and a second phase of development is projected to escalate taxpayer costs to $85.4 million.
"AFSC in Atlanta is engaged with the People's Campaign because the communities that we work alongside are opposed to this project," said Tim Franzen, Atlanta Economic Justice Director for the American Friends Service Committee. "We are opposed to the continued destruction of protected forests that are the lungs of this city and to the continued militarization and expansion of a policing strategy that is failing our communities."
The demonstration and vote followed the arrest of three organizers of the Atlanta Solidarity Fund on May 31, 2023. Atlanta Police Department officers and the Georgia Bureau of Investigation carried out the arrests, and the Georgia Attorney General's Office and the DeKalb County District Attorney's Office are now jointly prosecuting the case. Established in 2016, the Solidarity Fund has played a critical role in providing bail funds and legal representation for individuals engaging in constitutionally protected activities, including participating in protests.
Organizations across the country are watching carefully what is happening in Atlanta and the potential implications for policing nationwide. "The movement to Stop Cop City in Atlanta is important to communities everywhere, because many communities see precious resources squandered while millions of dollars go toward militarized and violent policing, and repression of protest endangers all our movements," said Mary Zerkel, coordinator of the American Friends Service Committee's Community Safety Beyond Policing project. "We stand in solidarity with the individuals who have been charged with domestic terrorism and financial offenses. The state is criminalizing the constitutional right to protest. As a 106-year-old peace organization with a role in many social movements over the decades, we have seen these dangerous tactics used time and again where people are coming together to oppose powerful interests, and we must vigorously defend the right of protest and dissent, and the right of communities to engage in mutual aid efforts such as bail funds."
###
The American Friends Service Committee (AFSC) promotes a world free of violence, inequality, and oppression. Guided by the Quaker belief in the divine light within each person, we nurture the seeds of change and the respect for human life to fundamentally transform our societies and institutions. We work with people and partners worldwide, of all faiths and backgrounds, to meet urgent community needs, challenge injustice, and build peace.