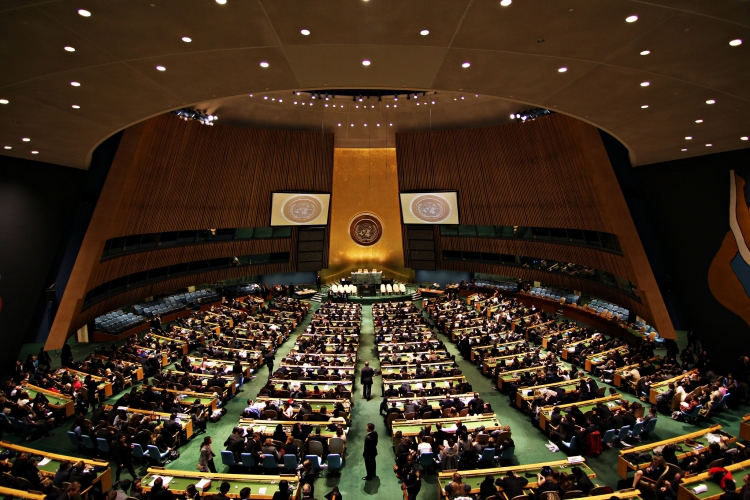 WASHINGTON, DC (December 9, 2022) Today, the United Nations Security Council passed a measure that establishes a humanitarian carve-out to the asset freeze measures imposed by UN sanctions regimes. The American Friends Service Committee (AFSC) – a Quaker organization that has long opposed the use of sanctions that hinder humanitarian efforts – applauded the resolution. Resolution 2664 was put forward by the governments of the United States and Ireland and will help reduce the suffering caused by bureaucratic hurdles and banking uncertainties that have amplified the impact of sanctions on vulnerable people and communities.
"An estimated 4,000 North Korean lives — half of them children under five — could have been saved in 2018 by the timely delivery of humanitarian aid that was stalled by sanction-induced delays," said Jennifer Deibert, Director of AFSC's program in the Democratic People's Republic of Korea (North ­Korea). "I have seen how sanctions hinder those who work for peace, and often hurt the most vulnerable people without achieving their stated policy goals. This change is a critical step to bring rapid and significant relief to millions of people suffering the devastation of conflict, starvation, and disease."
AFSC currently has programs in North Korea, Somalia, and South Sudan, all of which are subject to UN sanctions regimes. The organization has long advocated for an end to broad based sanctions that most negatively impact the most vulnerable and disrupt humanitarian aid.
"We are extremely grateful for the leadership of the U.S. government in advancing this long overdue correction of UN sanctions policy that will save countless lives across the globe," said Aura Kanegis, AFSC's Director for Policy and Advocacy. "We urge the U.S. government to also implement licensing changes in its own sanctions regimes that will ensure clear and automatic exemptions for humanitarian and peacebuilding engagement with impacted populations – no matter where they reside."
###
The American Friends Service Committee (AFSC) promotes a world free of violence, inequality, and oppression. Guided by the Quaker belief in the divine light within each person, we nurture the seeds of change and the respect for human life to fundamentally transform our societies and institutions.