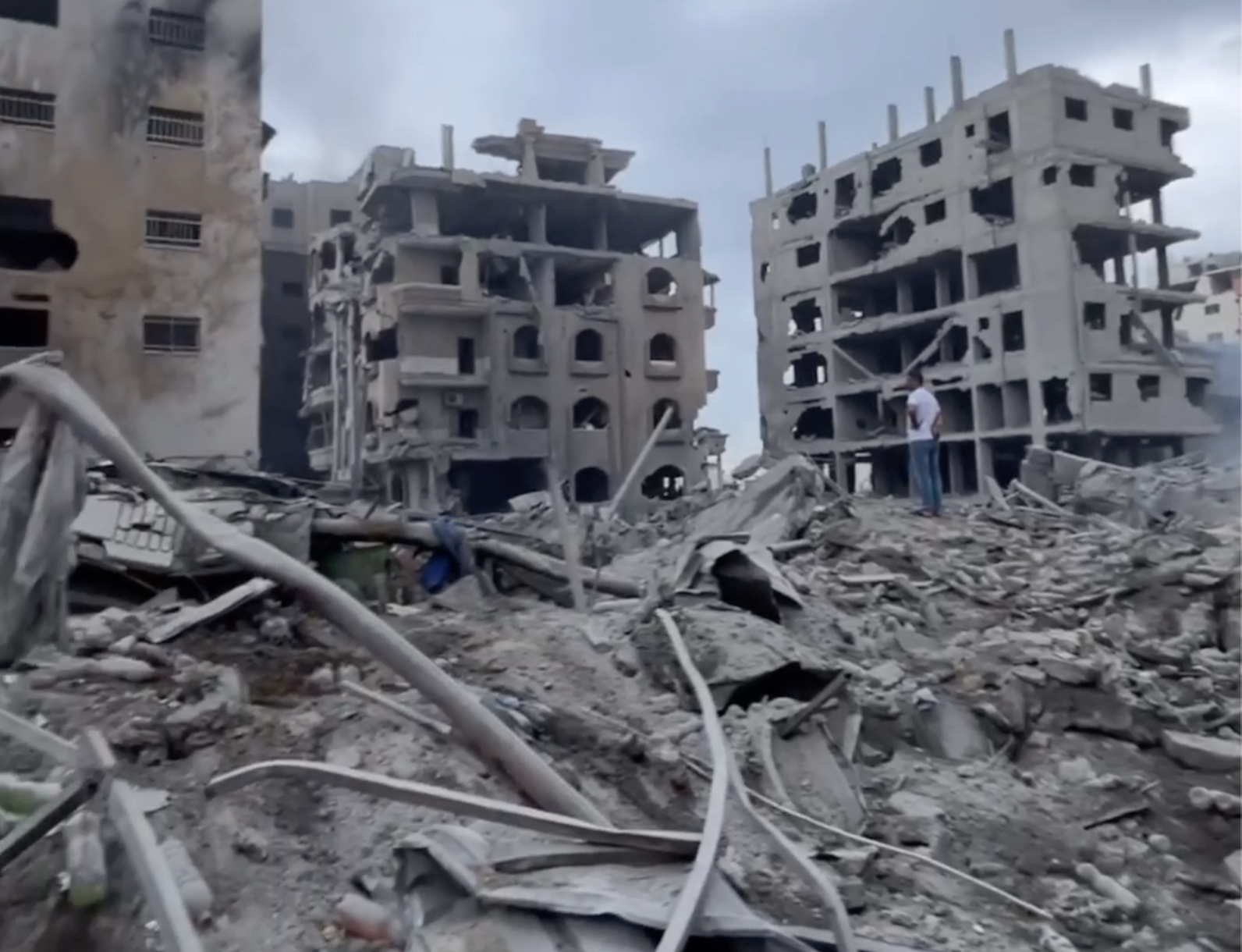 PHILADELPHIA (October 13, 2023) As bombs fall and the Israel Defense Forces prepare for a ground invasion, the American Friends Service Committee (AFSC) – a Quaker organization that began work in Gaza in 1949 – is mobilizing for humanitarian access and calling for end to military escalation and occupation. Over 1800 Palestinians and 1200 Israelis have already been killed, and airstrikes on Gaza have displaced more than 423,000 people. Israel has told 1.1 million people in northern Gaza to evacuate immediately.
"There is no transportation available, and my elderly mother refuses to leave the house, saying she'd rather die at home than sleep on the street," said Firas Ramlawi, manager of AFSC's Gaza office. "There's a flood of people walking by, and it feels like I'm in a disaster similar to 1948 … Please pray for us."
The organization is mobilizing supporters to contact Congress and demand immediate humanitarian access to Gaza as people run out of food, water, and lifesaving medical supplies.
"States are bound by International Humanitarian Law," said Kerri Kennedy, Associate General Secretary for International Programs at AFSC. "We call on Israel and the international community to honor civilian protection and international conventions. We need immediate humanitarian access to Gaza and an end to military escalation or even more people will die."
AFSC has offices in Gaza, Jerusalem, and Ramallah, where the organization works to realize a just and peaceful future for Palestinians and Israelis alike while addressing urgent humanitarian needs on the ground. This week, the AFSC office was damaged by a bomb that killed two journalists in a nearby building. AFSC staff also witnessed white phosphorus bombs falling over the nearby Gaza Port.
"We mourn the loss of Palestinian and Israeli lives," said Mike Merryman-Lotze, Just Peace Global Policy Director for AFSC. "Israel's siege and bombing of Gaza only escalate this immense suffering. Gaza has been under a brutal blockade for the last 16 years. It is only by ending the blockade and occupation that real peace can be achieved."
Between January 2008 and September 2023, over 6400 Palestinians and 308 Israelis were killed as a result of the occupation.
In addition to Congressional advocacy, AFSC is raising money for humanitarian aid to Gaza and has also produced several resources to help educate the public about the conflict. The organization also shares updates from staff on the ground via Instagram and TikTok.
###
The American Friends Service Committee (AFSC) promotes a world free of violence, inequality, and oppression. Guided by the Quaker belief in the divine light within each person, we nurture the seeds of change and the respect for human life to fundamentally transform our societies and institutions. We work with people and partners worldwide, of all faiths and backgrounds, to meet urgent community needs, challenge injustice, and build peace.