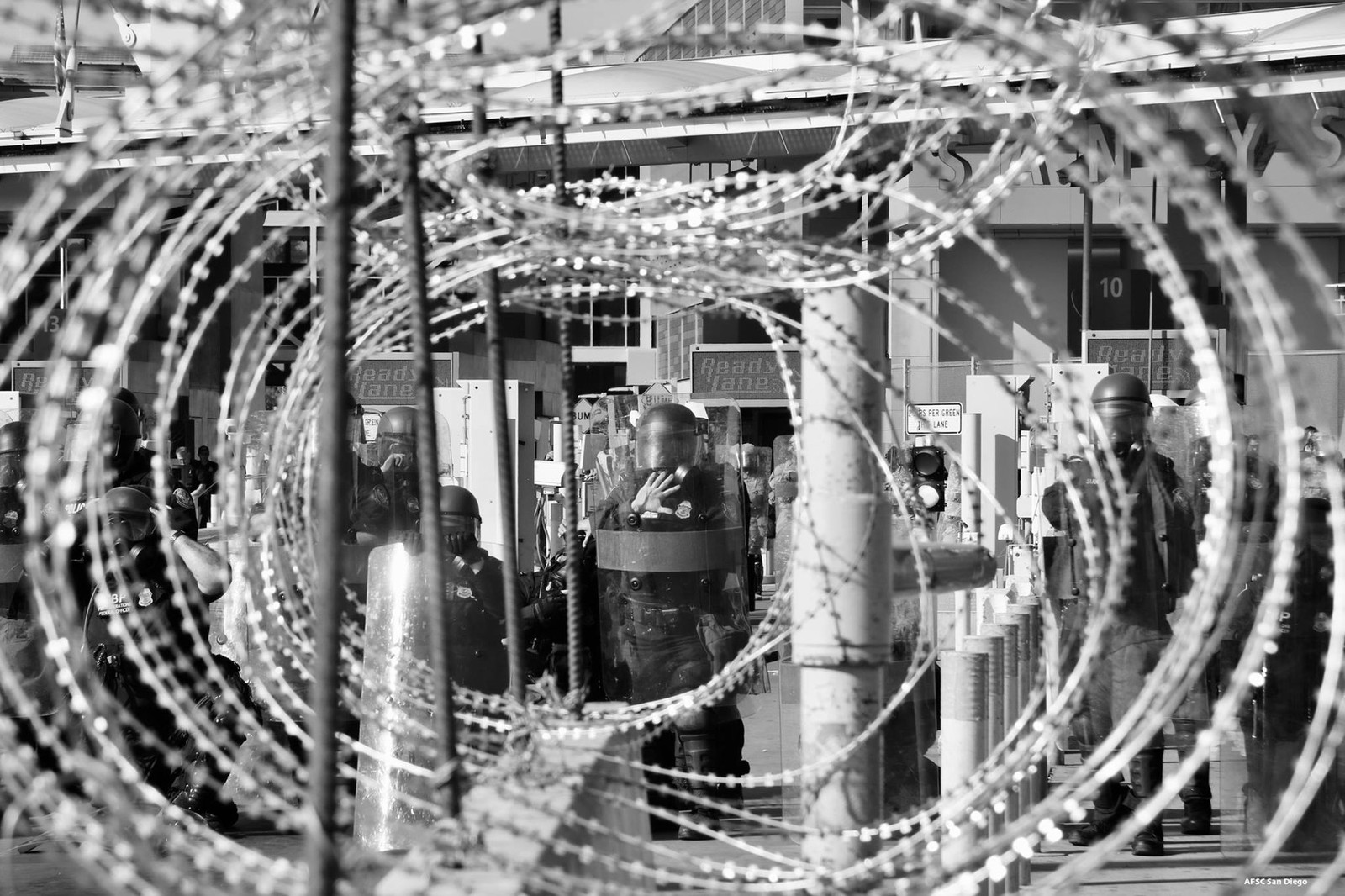 SAN FRANCISCO/TUCSON/AMSTERDAM (February 17, 2021) - A new report, titled Biden's Border – The industry, the Democrats and the 2020 elections -- reveals President Joe Biden and Democratic candidates received more money than Donald Trump and Republicans from leading border security corporations despite their markedly different campaign promises and rhetoric. President Joe Biden himself received three times more individual contributions ($5,364,994) from executives and leading employees of the border industry than Donald Trump ($1,730,435).
The report can be downloaded here: https://www.tni.org/en/bidensborder
The report analyzes 2020 elections campaign contributions data that show that 13 leading border security and immigration detention firms donated over $40 million to both political parties but favored Democrats (55%) over Republicans (45%). The report, co-published by Transnational Institute, American Friends Service Committee, and Mijente, suggests that the border industry, which has traditionally favored Republicans, pivoted towards Democrats in the election year of 2020 to ensure influence regardless of election outcomes and to try and prevent policy changes from any incoming administration that could affect a lucrative industry worth $55.1 billion between 2008 and 2020.
The report profiles 13 companies that play a pivotal role in the U.S. border industry: CoreCivic, Deloitte, Elbit Systems, GEO Group, General Atomics, General Dynamics, G4S, IBM, Leidos, Lockheed Martin, L3Harris, Northrop Grumman, and Palantir. Some of the firms also provide other services and products to the U.S. government, but border and detention contracts have been a consistently growing part of all of their portfolios. The data examines both individual donations by leading employees and donations made through Political Action Committees (PACs). Data from the report was compiled from multiple sources, including Center for Responsive Politics opensecrets.org database and AFSC's Investigate project, an online database that scans investment portfolios for companies profiting from border militarization, prisons, and other human rights violations.  
The industry has also prioritized donations to members of strategic legislative committees that design and fund border security policies: the House and Senate Appropriations Committees and the House Homeland Security Committee. The border firms contributed almost $10 million ($9,674,911) in the 2020 electoral cycle to members of these committees with Democrat Senator Jack Reed ($426,413), Republican Congresswoman Kay Granger ($442,406) and Republican Senator Richard Shelby ($430,150) all receiving more than $400,000 in the 2020 electoral cycle.
The report welcomes key initiatives by the Biden administration to change course on border and immigration from Trump's aggressive anti-immigrant policies. However, Biden's support for a 'virtual wall' and 'smart borders' that depend more on surveillance technologies than physical wall construction is actually more lucrative for the border security industry and would continue a long bipartisan approach to border militarization in place since the early 1990s. Nearly 8,000 bodies have been recovered in the U.S.–Mexico borderlands between 1998 and 2019 and many more people were disappeared or separated from families as a result of policies by both parties.
Researcher and co-author of the report, Todd Miller said:  "This report reveals the profound and pervasive connections of money and influence between security and arms corporations and politicians. If Democrats truly want to oppose the cruelty and deadliness of this enforcement apparatus, they will have to do much more than reverse Trump's inhumane policies. They will have to challenge this entrenched and lucrative system, including the infrastructure and technology that facilitates it and the industry that thrives off it."
"Virtual walls and physical barriers are all part of the same project, militarizing the border and destroying border communities, driven by a fantasy of complete control and by a growing high-tech industry of surveillance and AI," said Dov Baum, director of AFSC's Economic Activism Program. "We must challenge any messages from the Biden Administration and Congress that a 'smart' border is an acceptable alternative to physical walls, and divest ourselves from these harmful industries."
"We're especially concerned about the inclusion of tech companies like Palantir and IBM on this list," said Jacinta Gonzalez, senior campaign director with Mijente. "Border militarization enjoys bipartisan support, and it was Democrats who were some of the strongest voices for a virtual wall—something that is still enshrined in Biden's campaign platform. Now we know one of the reasons why, and we know that a virtual wall will be no different from a physical wall in endangering immigrants and border communities."
Co-author of the report and researcher for Transnational Institute, Nick Buxton added: "The influence of the border industry is not only evident in the US, it is evident in the more than 63 walls built worldwide and the growing hostility to migrants by the world's richest nations. We are in the midst of a global border militarisation arms race, fuelled by corporate lobbying and fear-based politics. The consequences every day are that families are separated, lives are lost, death and suffering normalised and our collective humanity degraded. A just response to migration will take many steps, but a first step must be putting an end to the border security industry's involvement in politics and policy." 
Notes
The report is embargoed until February 17 2020 and will be available at www.tni.org/bidensborder. The report will also be available in Spanish
The report is based on a more in depth investigation of the border industry available at https://www.tni.org/en/morethanawall and is part of a series examining the border industry globally https://www.tni.org/en/topic/border-wars         
The campaign contributions data was provided by Opensecrets.org/Center for Responsive Politics and is based on FEC data provided up to December 26 2020
Researcher Todd Miller is a journalist and author who has researched and written on border issues for more than 15 years. His books include Empire of Borders: The Expansion of the U.S. Border Around the World (Verso, 2019), Storming   the Wall: Climate Change, Migration, and Homeland Security (City Lights, 2017), and Border Patrol Nation: Dispatches from the Front Lines of Homeland Security (City Lights, 2014). His forthcoming book Build Bridges, Not Walls: A Journey to a World Without Borders will be published by City Lights in March 2021
Transnational    Institute (TNI) is an international research institute - based in Amsterdam, The Netherlands, committed to building a just, democratic and sustainable world. 
The American Friends Service Committee (AFSC) is a Quaker organization that promotes lasting peace with justice, as a practical expression of faith in action. Investigate is an AFSC project that exposes corporate involvement in oppressive state violence structures and to promote standards for corporate social responsibility and respect for human rights.
Mijente is a digital and grassroots organization made up of Latinx and Chicanx people who are organizing for economic, racial, climate and gender justice. Mijente has been leading the #NoTechforICE campaign since 2018, demanding that tech companies cut their contracts with ICE and CBP.
###
The American Friends Service Committee is a Quaker organization that promotes lasting peace with justice, as a practical expression of faith in action. Drawing on continuing spiritual insights and working with people of many backgrounds, we nurture the seeds of change and respect for human life that transform social systems.