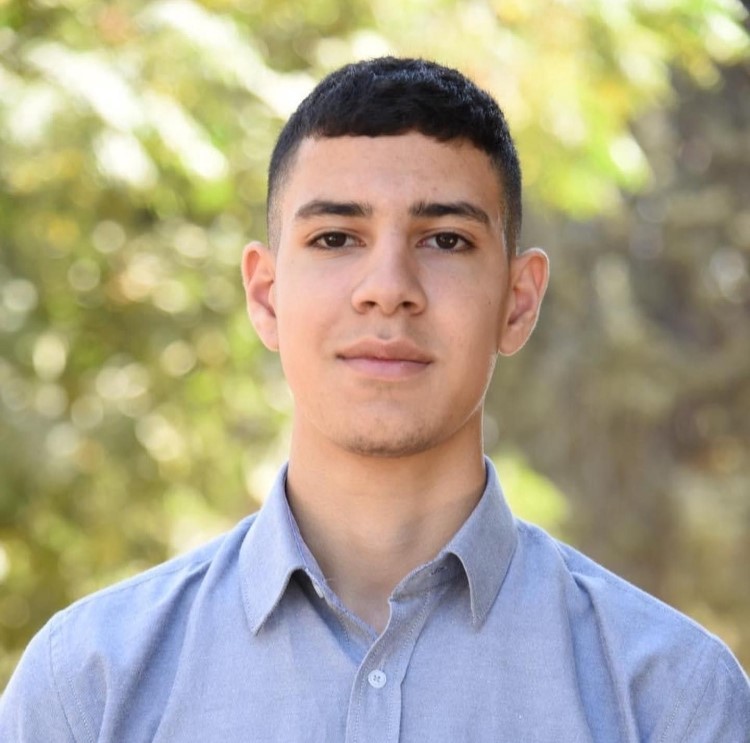 In the early morning hours of October 18, 16-year-old Shadi Khoury was rousted from his bed and beaten by Israeli soldiers who had entered his home to arrest him. Pictures taken at the scene show a trail of blood marking where he was dragged out of his house. Since his detention, Shadi has been held and interrogated without charge or trial. His court case has been postponed three times so far, leaving his family and friends in an ongoing state of anguish and disarray.
Shadi is a student at the Ramallah Friends School, a school that teaches Quaker values of peace and nonviolence. His mom describes him as warm, shy, and confident. He loves music and sports, especially soccer. His parents lead cultural organizations in Jerusalem and his grandmother, who Shadi visits daily, is a prominent Christian activist in Palestine and a long-time friend of the American Friends Service Committee (AFSC).
Shadi is not alone in his experience of abuses. Since 2000 an estimated 13,000 Palestinian children between the ages of 12 and 17 in the occupied Palestinian territory have been detained, prosecuted, and incarcerated by the Israeli army. According to the United Nations, approximately 175 Palestinian minors are currently held in military detention by Israel.
AFSC has been working to change this situation for years through its No Way to Treat a Child Campaign (NWTTAC). The campaign is a call by AFSC and Defense for Children International – Palestine to end Israel's military occupation and the systematic mistreatment of Palestinian children in the Israeli military court and detention system. Like Shadi, other young people are often dragged from their homes in the middle of the night by armed soldiers or police, suffering physical and emotional abuse with lasting repercussions. Of the 470 Palestinian child ex-detainees interviewed by Save the Children, 80% said they were beaten in detention. In 2015, UNICEF said that Palestinian children are systematically abused in Israeli military detention, and some of the treatment they face amounts to cruel, inhuman, or degrading treatment or punishment according to the Convention on the Rights of the Child and the Convention against Torture
Palestinians, including children, are systematically abused in the Israeli military court system. They are interrogated for days without access to legal counsel. Interrogations are conducted under violence or the threat of violence and other intimidation tactics. Confessions are forced, and often detainees will be forced to sign confessions in Hebrew even if they cannot read what they are signing. According to past documents released by the Israeli military and analyses by Israeli human rights groups, 99.7% of Palestinians tried in the military court system are convicted.
Palestinian children should be in school and safely at home with their families, not shackled in an abusive military detention system.
It is also important to place the abuse and detention of Shadi in the context of increasing Israeli violence in the West Bank. According to Israeli sources, during mid-October there were at least 10 attacks by Israeli settlers, often with Israeli military protection, on Palestinian civilians each day. The demolition of houses continues, and imminent mass expulsions threaten the existence of multiple Palestinian villages. New military orders that have just gone into effect will further restrict access and movement in the West Bank, increasing Palestinian isolation. Key Palestinian human rights organizations, including Defense for Children International – Palestine, have been criminalized and ordered closed. Israeli raids into Palestinian towns and villages have become a weekly occurrence. Over 130 Palestinians have been killed by the Israeli military this year, including at least 35 Palestinian children.
AFSC calls for the immediate release of Shadi and all Palestinian children held in Israeli military detention. Our hope is that Shadi's case will call attention to the need to end the systematic abuse of Palestinian children's rights in Israel's military court and detention system.
This system is a mechanism used to enforce Israel's occupation and apartheid policies. Shadi's release and accountability for military court abuses is not enough. The U.S. and other international actors must also hold Israel accountable for its systematic abuses of Palestinian rights. True accountability will be demonstrated when all military and other aid is cut, the occupation ends, and Palestinian rights are respected.
###
The American Friends Service Committee is a Quaker organization that includes people of various faiths who are committed to social justice, peace and humanitarian service. Its work is based on the belief in the worth of every person and faith in the power of love to overcome violence and injustice.