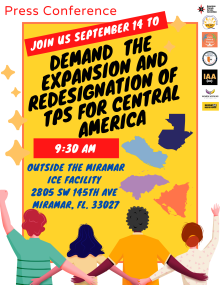 MIAMI – As several Central American nations and immigrants in the U.S. celebrate their Independence Day, community organizations are urging President Biden to issue new Temporary Protected Status (TPS) redesignations for El Salvador, Honduras, Nicaragua, and issue a designation for Guatemala.
The Miramar Circle is a coalition that focuses on the well-being of people who have to go to the Miramar ICE Facility for supervision. The group distributes essential resources and aims to expose ICE and build community resistance against the criminalization and deportation of immigrants and refugees in South Florida. On Wednesday, September 14 at 9:30 am we will join forces with organizations and immigrant families at the ICE ERO facility, where many face challenges while checking in to their immigration case visits.
WHO: American Friends Service Committee of Florida, The Florida Immigrant Coalition, and The Miramar Circle of Protection

WHAT: Press conference calling for immediate action on TPS redesignation for Central American countries

WHEN: Wednesday, September 14, 2022, at 9.30 am ET and streaming on facebook here.
WHERE: ICE ERO - Miramar 2805 SW 145th Ave, Miramar FL

SPEAKERS: Impacted community, immigrant advocates, and community leaders
###
The American Friends Service Committee is a Quaker organization that includes people of various faiths who are committed to social justice, peace and humanitarian service. Its work is based on the belief in the worth of every person and faith in the power of love to overcome violence and injustice.