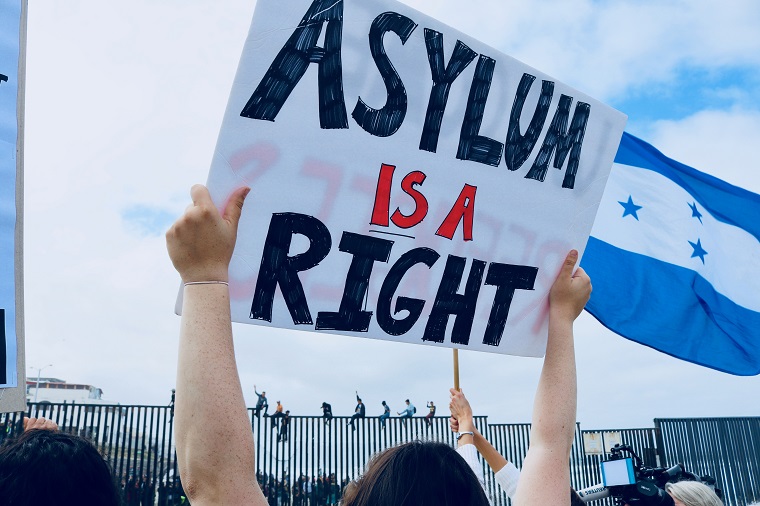 WASHINGTON, DC (December 14, 2022) Today, immigrant rights activists and faith groups will deliver a petition signed by over 1600 people demanding that the Biden administration fully end Title 42 – the order that used the pandemic as an excuse to deny people the right to seek asylum in the United States. They are also calling on President Biden and Congress to not pursue any deterrence policies that would curtail the right to asylum or increase detention. The vigil and petition delivery will take place today at noon in front of the White House (near 16th St. and H St. NW). Watch the livestream here.
For the past two years, Title 42 has blocked hundreds of thousands of migrants from seeking asylum at the U.S.-Mexico border. Under a recent court order, this inhumane policy is scheduled to be terminated at the end of this month. But now the Biden administration is appealing the decision and considering new measures that could bar asylum seekers.
"The courts have affirmed what we've always known – the enactment of Title 42 was arbitrary and capricious," said Imani Cruz, Migration Policy Advocacy Coordinator for the American Friends Service Committee (AFSC). "The United States must uphold access to claiming asylum, as required by federal law and international agreements. Asylum seekers should be welcomed with dignity, afforded all due process rights, and not subjected to further harm."
The vigil is organized by AFSC, the Interfaith Immigration Coalition, and the #WelcomeWithDignity campaign.
"For over two years, our government has denied the humanity of migrants who come to the U.S. border to exercise their legally protected right to seek asylum," said Kristin Kumpf, Director of Human Migration and Mobility for AFSC and co-chair of the Interfaith Immigration Coalition's Asylum team. "As people of faith and conscience, we are outraged that Title 42 and other anti-asylum measures are causing trauma for thousands of families and individuals who instead of being welcomed are pushed back into dangerous conditions. Today we deliver a petition on behalf of people across the U.S. who are calling on the Biden administration to stop these horrific practices immediately, and instead create real pathways to restore asylum and protect migrants seeking safety and a better life.
The vigil is part of the "Migration is a Human Right" week of action organized by AFSC and partners. From December 10th – International Human Rights Day – through December 18th – International Migrants Day – activists are hosting protests, vigils, and events across the country demanding the right to migrate be respected. Each day of the week will focus on a specific theme or set of policy changes that organizers say would be necessary to fully realize and respect this right.
"More than 73% of Americans support asylum for those fleeing persecution and violence. The President and his administration must reject Trump's draconian policies and move towards restoring access to asylum at the Southern border. For far too long, expulsion policies like Title 42 have denied people the human and legal right to seek asylum," said Melina Roche, #WelcomeWithDignity Campaign Manager. "It is time for the administration to take the moral step towards restoring humanity, dignity, and compassion to our asylum system."
###
The American Friends Service Committee (AFSC) promotes a world free of violence, inequality, and oppression. Guided by the Quaker belief in the divine light within each person, we nurture the seeds of change and the respect for human life to fundamentally transform our societies and institutions.

The Interfaith Immigration Coalition is made up of over 55 national, faith-based organizations brought together across many theological traditions with a common call to seek just policies that lift up the God-given dignity of every individual. In partnership, we work to protect the rights, dignity, and safety of all refugees and migrants. Follow us on Twitter @interfaithimm