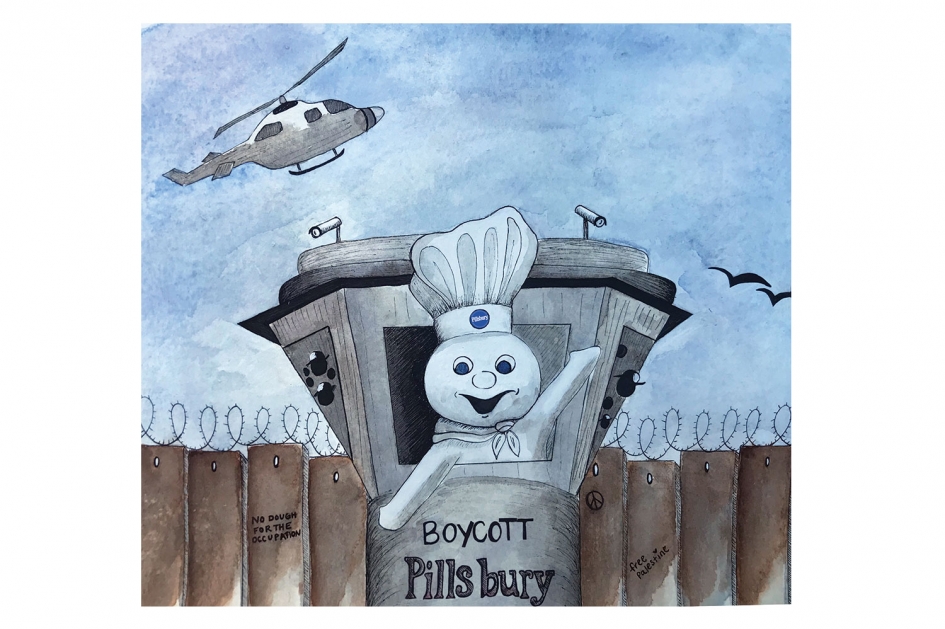 In August 2020, AFSC launched a campaign to get General Mills to stop manufacturing its Pillsbury products on stolen Palestinian land. The products were coming from a factory in an illegal Israeli settlement in occupied East Jerusalem. Israel had annexed this area in violation of international law following the 1967 war. The factory is using land, water, and other resources that were forcibly taken from their legal Palestinian owners.
AFSC worked with partner organizations, community groups, congregations, and the general public to pressure General Mills. Together, we decided to launch a consumer boycott of Pillsbury products.
This June, we got the good news: General Mills had divested its business in Israel. Pillsbury products would no longer be produced on land stolen from Palestinians. The victory is a major step forward in the struggle for Palestinian rights. Here's what made it happen.
Movement building
From the start, the campaign was a collective efort. It was coordinated by the Palestinian Boycott National Committee and steered by a broad coalition of organizations, including AFSC. In February 2020, the United Nations published its frst-ever database of companies involved in the illegal Israeli settlement enterprise. General Mills' violations earned it a spot on that list—one of only seven U.S. companies named. This presented an opportunity to confront the corporation about its longstanding involvement in the Israeli occupation.
AFSC is a General Mills shareholder, and we made the most of our position. We organized several faith investors in engaging General Mills to explain our concerns. We also raised the issue at shareholder meetings. We wanted everyone who had a stake in the company to know it was violating its own human rights policy.
Engaging the public
We created an online form so anyone could email the CEO of General Mills. We asked supporters to stop buying Pillsbury products until the company made a change—and to let the company know. More than 10,000 emails were sent during our campaign.
The visibility of our campaign grew when Charlie Pillsbury and four other descendants of Pillsbury's founders joined us. They endorsed the campaign, announcing they would boycott the company that bears their name.
Coalition partners Jewish Voice for Peace and SumOfUs created petitions and a social media campaign. Women Against Military Madness held protests at General Mills' headquarters in Minnesota. American Muslims for Palestine organized a virtual bake-of. They asked participants to make dishes without Pillsbury products and share photos on social media.
From Oakland, California to Pittsburgh, Pennsylvania, local groups picketed in front of grocery stores. They urged retailers to de-shelve Pillsbury and talked to shoppers about the campaign.
Moving forward
Today, there's a consensus in the international human rights community that Israeli authorities are committing the crime of apartheid against the Palestinian people. In February, Amnesty International issued a report citing "massive seizures of Palestinian land and property, unlawful killings, forcible transfer, drastic movement restrictions, and the denial of nationality and citizenship to Palestinians." The report joined previous similar analyses by other prominent Palestinian, Israeli, and global human rights organizations.
Corporations are often complicit in these rights violations. That also means they can and must play a role in bringing change. Just like General Mills, other corporations will act to protect their bottom line. It's up to all of us to help ensure that profting from human rights violations doesn't pay.
To learn more, visit our Investigate website. Use our tools to see if you are invested in the Israeli occupation—and take the first step toward cutting your ties with apartheid.