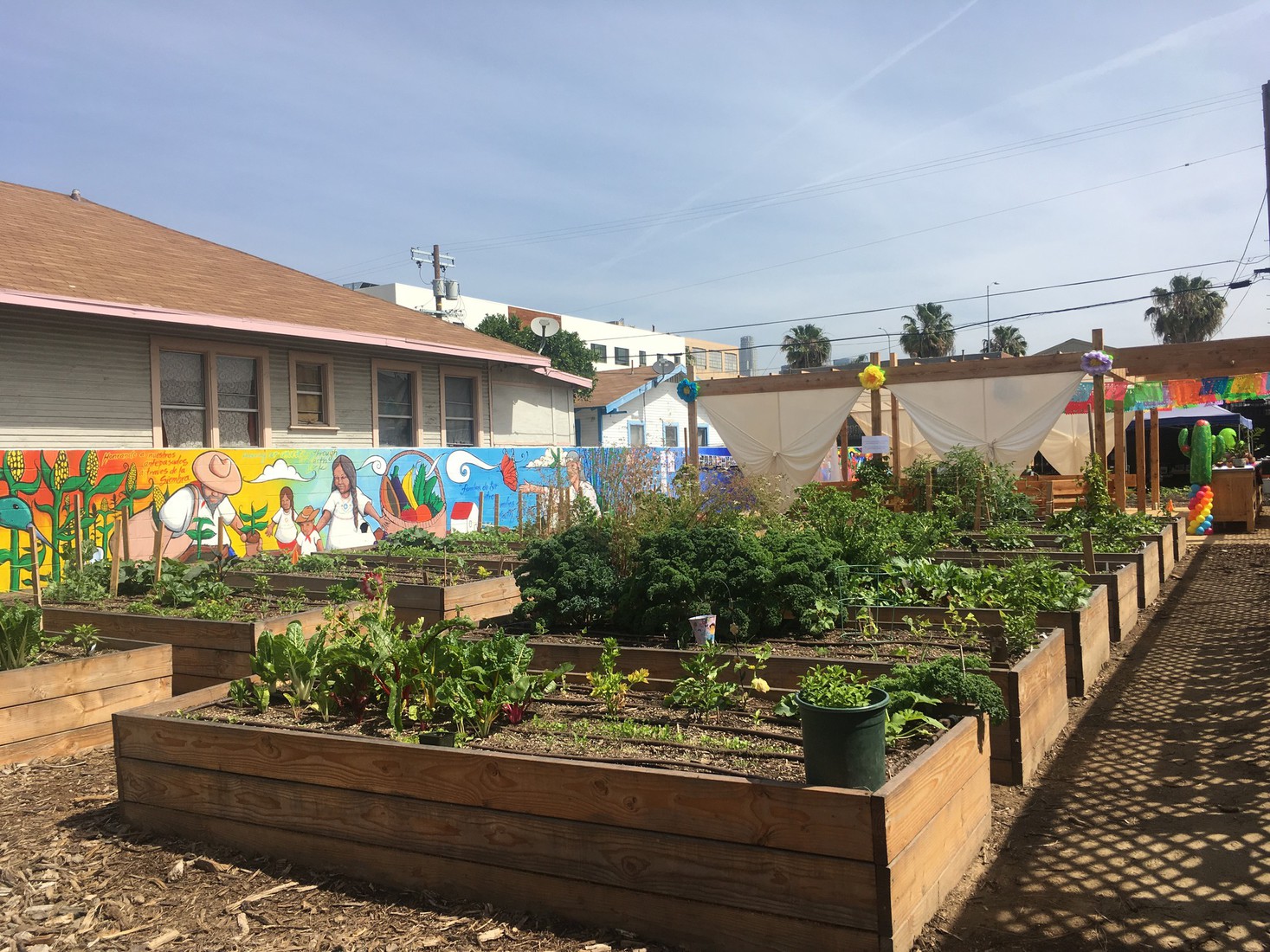 Community farms and gardens play a vital role in building more just economies, improving community well-being, and addressing climate change. AFSC has a long history of supporting communities impacted by oppression gain more control over their own food system, including in New Mexico, New Orleans, Baltimore, and Los Angeles.
Read more about how these four AFSC programs in the U.S. are farming for social change.
Addressing climate change in Albuquerque
Fidel Gonzalez looks out over a plot of land, surveying the rows of dirt that will be planted with tomatoes, peppers, and more come spring.
He graduated from AFSC's yearlong farmer training program in 2010 and has been growing organic fruits and vegetables for his local community ever since.
AFSC's program in Albuquerque, New Mexico helped him purchase solar panels to minimize his use of fossil fuels, and he built a mobile solar unit to bring to farmer's markets where he sells smoothies made from his produce. He also uses low-till methods
to reduce the amount of carbon released into the atmosphere. "I align myself with nature," says Fidel, who is also a community activist and Aztec dancer.
"Right now, nature is moving. Many refer to it as climate change."
Today, Fidel works with AFSC to train more farmers in sustainable agriculture. He's the president of the farmer cooperative incubated by AFSC, which has 15 member farms. All of the food the farmers grow in the cooperative—several thousand pounds a year—stays in the local community, including area schools. The cooperative models an alternative to large agribusiness, which has a history of exploiting workers and natural resources and driving climate change.
"I have to care for the Earth that I am on," says Fidel—a sentiment shared by hundreds of farmers who have worked with AFSC over the years to practice sustainable farming.
Community organizing in New Orleans
In 2017, AFSC partnered with the Hollygrove Neighbors Association and St. Peter A.M.E. Church to build a community garden on a 3,600-square-foot parcel owned by the city. There, young people learn to grow their own food—including mustard greens, okra, melons, and herbs—that they harvest and share with families and neighbors in the Hollygrove community.
The project is one way AFSC's Peace by Piece New Orleans Program supports Black youth and young adults in becoming leaders as they work with Hollygrove residents to build an alternative food system that nourishes the local community and promotes economic development.
"Our curriculum teaches the art of gardening and urban farming," says Program Director Dee Dee Green. "It teaches methods of sustainability—planting, harvesting, composting—while raising awareness of food insecurity in areas of the city that are strategically denied access to fresh and local produce."
The program also helps residents organize workshops and forums on climate change and other pressing issues. When New Orleans installed cameras across from the garden, Peace by Piece began an awareness campaign, Stop Watching NOLA, to inform residents of the pervasive surveillance plan initiated by the city in the name of "promoting public safety." Peace by Piece joined with other anti-surveillance groups to form a coalition opposing the installation of hundreds of police cameras throughout the city and the expansion of surveillance technologies to track and target individuals.
"Every community has a right to determine what safety is for them, and government surveillance does not ensure safe neighborhoods nor does it prevent crime from happening," says Dee Dee.
This year, The Hollygrove Neighbors Association will purchase the city-owned community garden lot, thanks to a generous donation from Live Oak Friends Meeting in Houston. And soon AFSC will help community members expand the garden and its programming to nearby Paul L. Dunbar Elementary, where an edible school yard is underway.
Reclaiming a neighborhood in West Baltimore
The Sandtown-Winchester neighborhood of West Baltimore has one of the highest rates of poverty and gun violence in the city.
It's also the site of Gilmor Homes—just next door to where Freddie Gray was arrested in 2015 before dying in police custody.
"Since the 1960s, so much of West Baltimore has been leveled, and the continuous process of demolition has taken away so much from the community, including its population," says Dominque Stevenson, director of AFSC's Friend of a Friend Program. "Children are growing up in the midst of nothingness, when instead our city should be emphasizing more rebuilding and renovation."
Over the years, Friend of a Friend has worked with the community to revitalize the neighborhood, including transforming an empty quarter-acre lot owned by the city into a community garden in 2016. The garden includes a chicken coop and more than 30 garden beds. An aquaponics system is in the works—for growing fish and plants together in one integrated system and using fish waste, instead of soil, to provide nutrients for the plants.
People know this is a safe space where all community members can feel welcome and engage in conversation," Dominque says. "The garden also brings in people from outside the community to see there is more than just violence and poverty here. There is beauty and resilience."
In the summer, young people from the neighborhood take part in young farmers' programs. And throughout the year, about 200 volunteers lend a hand, helping with planting, cleaning, harvesting, and organizing community events. Among them are college students and formerly incarcerated people who participated in a mentoring project Friend of a Friend facilitates for people in prison.
For the past few years the community has been working toward taking full ownership of the program, which is expected to happen this fall.
Growing food and power in Los Angeles
In South Central Los Angeles, participants in AFSC's Roots for Peace Program are using urban farming to increase community access to healthy foods, improve neighborhood wellness, and address racial and economic injustice. In 2018, they began to realize the long-term vision of transforming a vacant lot into a community farm and meeting space for social justice organizing.
"The farm is important for my health—and the health of the earth," says Blanca Lucio, a cancer survivor and Roots for Peace community leader. In its first year, the farm produced over a thousand pounds of produce for 15 participating migrant families, hosted a robust youth internship program, and held events addressing sustainable agriculture, climate change, emergency preparedness, and immigrant rights. In October 2019, Roots for Peace, along with partner
All Peoples Community Center, received the City of Los Angeles's Good Food Champions Award. Says Program Coordinator Eli Tizcareno, "This farm is an important neighborhood asset, a green sanctuary for residents, and part of larger efforts to address climate change and food apartheid in L.A."