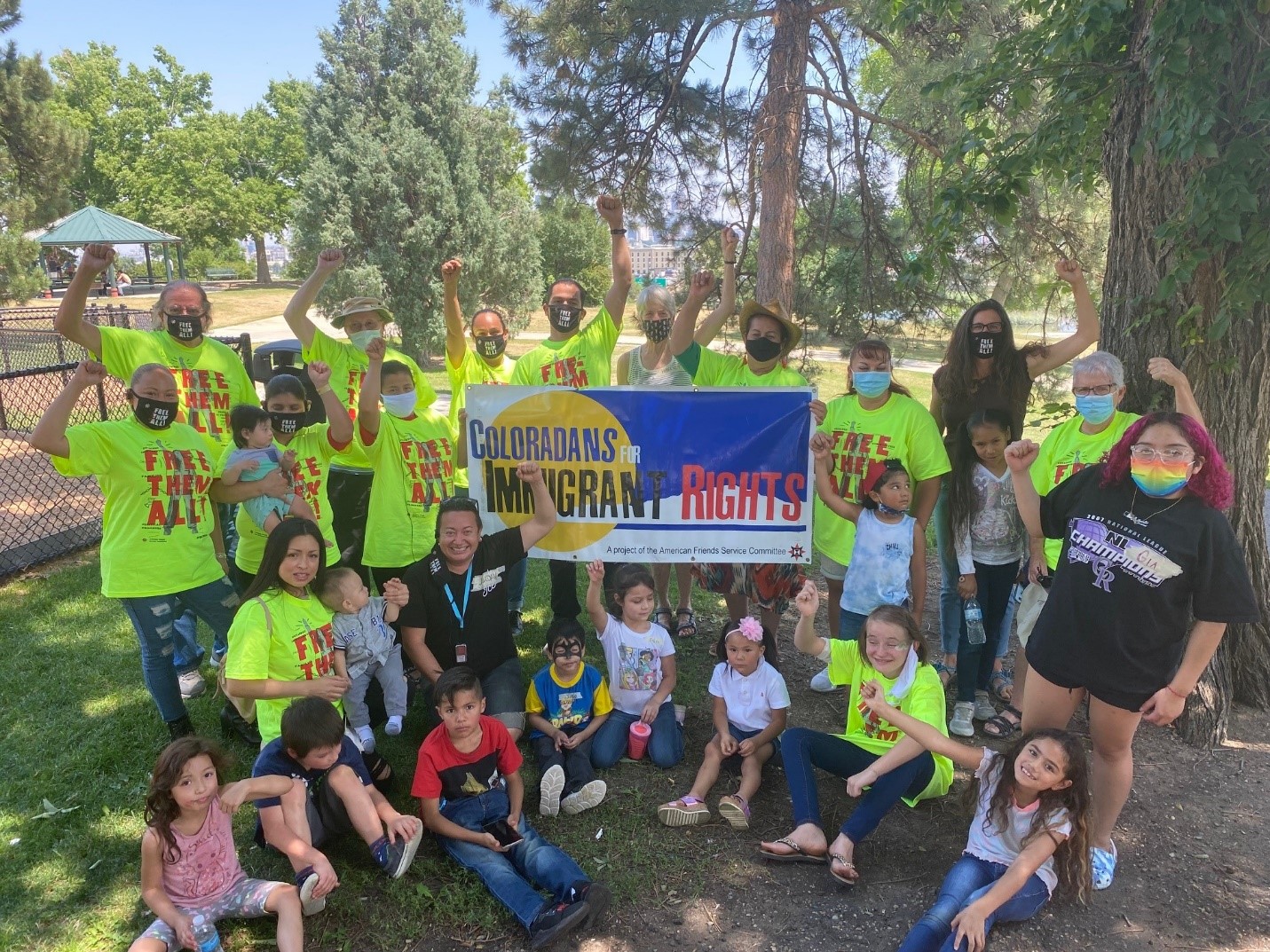 Colorado Program Projects: Coloradans for Immigrant Rights (CFIR) and
Not 1 More Deportation chapters [Metro Denver Area + Morgan County]
In this For the Month – Member Highlights | Dig Deep, Skill Up |
| Upcoming action opportunities | What we're reading and watching |
Member Highlights
Next week our members will meet with congresspeople on citizenship. You can help by sending another message to the Colorado delegation so they hear from you in real time as we see them face to face. In 2021 Coloradan for Immigrant Rights (CFIR) and Not1More members advocated hard for a path to citizenship. There's still a chance for citizenship to be included by the Senate in the Build Back Better package. Last year we went to DC twice to participate in mass actions and meet with the Colorado delegation. We also organized multiple events with our partners, locally and nationally calling for a path to citizenship. Both our Senators (Hickenlooper and Bennett) have been supportive but we need them to continue to be at the forefront, sharing about Colorado's bipartisan successes and expressing their support for moving forward to Senate Leaderhsip.
Join CFIR meetings! - Want to meet other allies working for immigrant rights? Or deepen your knowledge on immigration policy? Maybe meet with elected officials to support the vision and demands of immigrants? Every Tuesday from 4:00pm to 5:00pm via Zoom
---
Dig Deep And Skill Up -
Workshops and Volunteering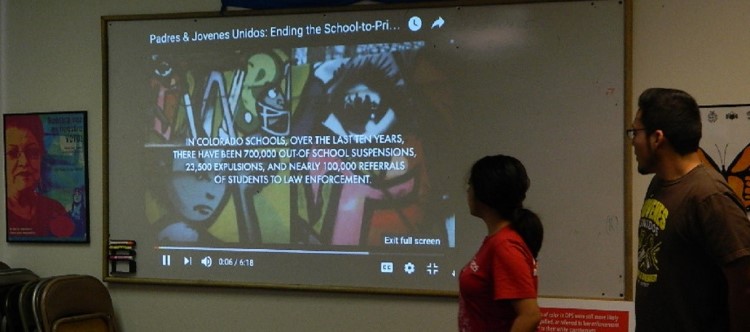 Tuesday, January 25th at 5:00 PM Join us for our January Spotlight On, Immigrant Rights at the CO Legislature. Welcome to the 2022 Legislative Session. Join us to learn the details about upcoming pro-immigrant legislation . Learn what role you can play in their success. AFSC will provide a packet with information on the bills themselves and other important legislative information!
Spanish/English interpretation provided! Register in advance for this meeting: After registering, you will receive a confirmation email containing information about joining the meeting.
January 22 or February 12 Volunteer at a clinic for people seeking asylum – virtually or in person with the Colorado Asylum Project! At these clinics, volunteers assist asylum seekers in filling out their asylum applications so they can stay in the court process and request asylum. Training happens an hour before the workshop begins and applications will be reviewed by attorneys!

The next two clinics are 12:30PM - 4:30PM on January 22 and February 12. Volunteers arrive at 11:30AM to train. Sign up to volunteer by emailing coasylum@gmail.com with the clinic date and whether you speak a language other than English.
---
Actions
Petitions, Congressional Visits, Vigils, Valentines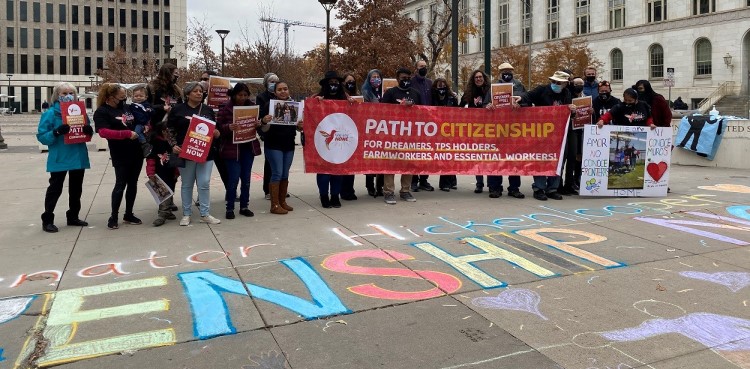 Monday February 7, 6:00pm Vigil Save the Date, Love Knows No Borders, No Walls – Free Them All
GEO for profit detention center, 3130 Oakland St Aurora, CO – the event will be masked and socially distanced. Sponsored by AFSC, the Colorado People's Alliance, the Center for Service Learning at Regis University and Somos. Invite your friends – share this email and our Facebook | Instagram posts
Whether separated by war, climate catastrophe or the US Government, We know that our Love knows No Borders, No walls! Poets and musicians will share their expressions of Love. You won't want to miss it.
Now to February 8 show the love - Make Valentine's for our loved ones in detention. Invite your friends, school, community group or faith tradition to join you. This year, we continue to deliver your handmade Valentines to every person imprisoned at the GEO Detention Center. We invite you to join this artful meditation and create a Valentine for someone separated from their loved ones. Check here for some inspiration.

Due to local advocacy and COVID 19, there is a smaller population inside the detention center, just under 700 people. We have fewer people inside so let's make sure the cards are especially beautiful and pour as much heart felt love into each card as possible, just make these cards ART! Card delivery - bring your cards to the vigil on the 7th or mail them to 1420 Ogden, Suite 201 by Tuesday, February 8 to be delivered to GEO on Friday, February 11. Any questions email Jordan Garcia at jgarcia@afsc.org.

Take action on the one-year anniversary of Biden Administration
Sign up to virtually lobby Senators Hickenlooper and Bennett with AFSC for citizenship and to pass the Build Back Better Act
---
What we are reading, listening to or watching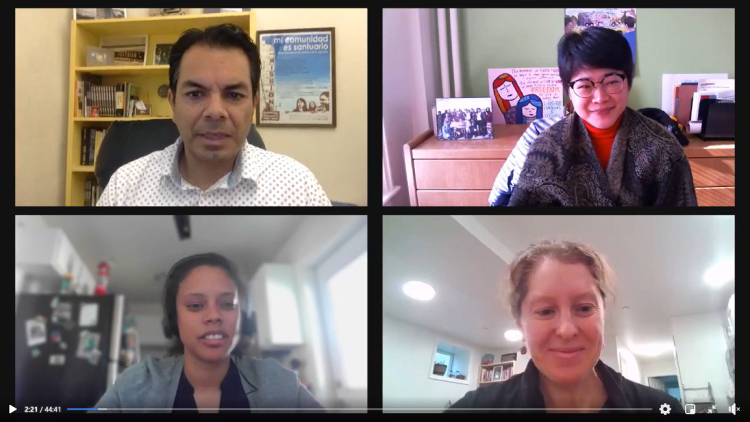 On the Biden administration's one year anniversary the record is mixed on immigrant rights – watch the video to learn more from Pedro Rios of AFSC San Diego, Chia-Chia Wang of AFSC Newark plus the Director of Human Migration and Mobility Kristin Kumpf and our immigration policy staffer Imani Cruz from the national American Friends Service Committee office.
What is in Build Back Better? This package is the largest anti-poverty measure considered in Congress since the 1940s. Specifically targeting houselessness, child poverty and lack of access to health care, these long overdue measures begin to provide some relief to families across the US. Read more here and here.
What does the call to Free Them All mean? The call to Free Them All encourages us to imagine and act for different world. Right now our criminal legal, policing and immigration systems prioritize caging people, often for profit, over systems that create community security and encourage people to thrive. The call to Free Them All, an abolitionist frame, encourages us to imagine the new systems we could create with the resources we free up when we dismantle harmful ones. You can get started by exploring Our webinar teach-in - "From Attica to Abolition" - which looks at the long history of prison abolition work in this country and by AFSC. Reflect more deeply with AFSC's Call to Reflection and Worship to #FreeThemAll.
---
CITIZENSHIP FOR ALL
"We will keep advocating for every elected official to use their political capitol to create pathways to citizenship. We have made our lives here, paying taxes and raising our children, working and starting businesses, doing what every other person in Colorado does. It's time to recognize our contributions and allow us to fully participate in the life of the United States, without the fear of being separated from our loved ones."
~ Not1More member Liceth Aguilar