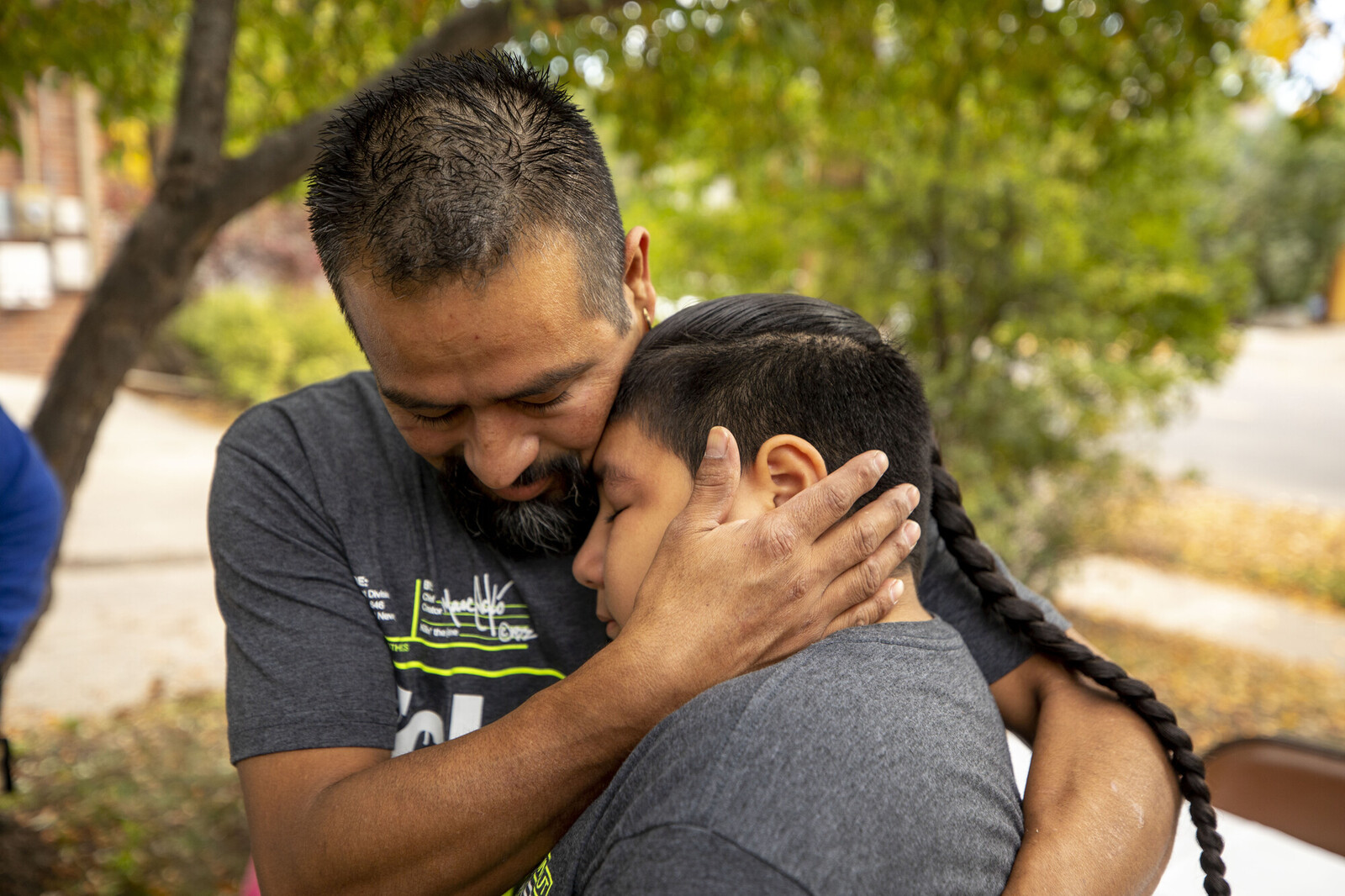 DENVER, CO (March 10, 2023) — The Zaldivar family's epic sixteen-year struggle to stay together – including wrongful detention and deportation – has come to an end. A Colorado resident for 24 years and father of five, Jorge Zaldivar was unjustly deported in 2020 and spent 34 months exiled to Mexico. He returned to Denver on humanitarian parole in October of 2022. Jorge Zaldivar's long odyssey through the byzantine immigration system finally concluded this week, with an Immigration Judge officially releasing her approval of an application for cancellation of removal. The decision makes Zaldivar a lawful permanent resident.
"I am so grateful to our community for their support through all these years and to my family, especially my wife who has worked so hard and never given up," said Jorge Zaldivar. "Today we celebrate a new future. I am home to stay with my family where I belong. I want to thank American Friends Service Committee, the Colorado Immigrant Rights Coalition, Lichter Immigration, Otros Dreamers en Accion, Mountain View Friends Meeting, Montview Presbyterian Church among many others for their support. Being a legal permanent resident is a big weight off of our shoulders, for my wife and me. I feel happiness for the freedom I'll now have – that I can go on vacation with my children without being in fear that I might not come back and I can leave to see my family in Mexico and come back. The other piece is being able to work without having to renew my work permit every few years, and the cost of that. I can now focus on working, caring for my family and contributing to my community."
Jorge and his wife Christina, a U.S. citizen, have been married for 18 years, raising a beautiful family of five: Josefyna (27), Yolanda (24), Dyego (18), Aanahny (14), and Francysco (12). The legal arguments in his immigration case had gone on so long that two of his children have lived with the uncertainty their entire lives.
"Today is a victory for us all, as our country desperately needs to move forward to fix this unjustly broken immigration system," said Christina Zaldivar. "Too many families have suffered the trauma of unwarranted forced family separations. Our traumatized children are the future of this country. We need to repair that trauma. We do that by creating a positive future by reunifying families, closing all detention centers like GEO, stop funding ICE and get back to the fundamentals of investing in our communities. This is central for the future of all of us."
Jorge and Christina were fighting Jorge's case on their own until they called the Doculine (1-844-864-8341), a statewide hotline run by the Colorado Immigrant Rights Coalition dedicated to documenting the factors that lead to contact with Immigration and Customs Enforcement (ICE) and providing support and referrals to Coloradans in deportation and asylum proceedings. Jorge and Christina found a large community of support in the American Friends Service Committee (AFSC) and the Colorado Immigrant Rights Coalition. They joined AFSC's Not1More Deportation group, helping other families stop deportations and working on pro-immigrant policies at the local, state, and federal levels. Jorge continued his activism in Mexico as part of Otros Dreamers en Accion.
"The whole team at Lichter Immigration is thrilled that Mr. Zaldivar has secured permanent legal status. We knew in 2018 that the law and the facts were on our side. It's frustrating that the fight was still so long and hard, with the legal issue going all the way to the Supreme Court," said Mark Barr of Lichter Immigration, Jorge's lawyer. "But that's the state of our immigration system today—frustratingly complex and counter-intuitive. There should have been a simpler way for this good man to make amends for coming years ago without the right documents. We're just glad that the Jorge and Christina trusted our strategy and never gave up, even at the lowest points, when victory seemed so far away. It was a privilege to help them make this day happen."
As Jorge and his family and friends worked to adjust his immigration status, he garnered support from people across Colorado, including Congresswoman Diana DeGette. "For 18 years, Jorge Zaldivar and his family have navigated a legal nightmare. Even as he raised his family and contributed to his community, he was living under the constant threat of deportation," said Congresswoman DeGette. "And for the last 6 years, I've worked to try to bring this nightmare to an end. There have been countless phone calls made and innumerable hours spent attempting to move this case forward. And I'm incredibly thankful to see it coming to a positive resolution – for Jorge, for his family, and for all his loved ones."
The U.S. immigration system failed the Zaldivar family for almost two decades by trapping them in a well-funded dehumanizing system. This case is a prime example of why Congress must immediately enact changes to U.S. immigration laws – changes that recognize the human dignity of our loved ones and neighbors with clear inclusive pathways to citizenship.
"Christina and Jorge have been key leaders in Colorado, helping overturn anti-immigrant laws that hurt our community and working with other members of AFSC's Not1More Deportation members to pass policies that make us stronger rather than separating us," said Gabriela Flora, Program Director for the American Friends Service Committee in Colorado. "Congress must act today to pass the Registry Bill and New Way Forward so no more Coloradan families experience the horrors the Zaldivar family has lived."
You can read more about Jorge and his journey here.
###
The American Friends Service Committee (AFSC) promotes a world free of violence, inequality, and oppression. Guided by the Quaker belief in the divine light within each person, we nurture the seeds of change and the respect for human life to fundamentally transform our societies and institutions. We work with people and partners worldwide, of all faiths and backgrounds, to meet urgent community needs, challenge injustice, and build peace.
Background
Jorge Zaldivar has spent more than 16 years trying to obtain permanent status. He and his wife, Christina, applied for a visa shortly after they were married in 2005. In 2007 the U.S. consulate denied the visa due to an error in the Consulate's records. Twice Christina traveled to the U.S. Embassy in Mexico with proof of the Embassy's error. The U.S. Embassy refused to correct the mistake, and Jorge made a desperate choice to re-enter the U.S. to support his family and his pregnant wife.
In May 2008, Jorge was returning home from work and underestimated a curve, hitting a guardrail but causing no injuries or damage to any other vehicle or property. The police could have issued a citation, requiring Jorge to pay a small fine or attend court. Instead, they chose to arrest him. Under Colorado's SB-90, a now repealed "show me your papers" law, officers knew low-level discriminatory arrests would place Jorge and other Coloradans into deportation proceedings.
In deportation proceedings, Zaldivar applied for cancellation of removal. To succeed on his application and obtain a green card, he had to prove that his family would face exceptional and extremely unusual hardship if he was deported. The Immigration Judge agreed that he had met this high standard. This was based to a large degree on the fact that Jorge's son, Dyego, has been diagnosed with congenital lower lumbar scoliosis resulting in a spinal fusion and Leg/Hip (Calve) Perthes' disease. These both are disabling conditions that are being watched and cared for here in the United States; his father's support is central to his care. Dyego has had spinal fusion surgery and continues to receive treatment and physical therapy. That surgery was the first of many major surgeries, including a future hip replacement. 
However, Zaldivar also had to prove that he had been in the country for at least ten years. At the time of his hearing in 2011, Jorge actually had been living in the U.S. for over ten years. However, an immigration law prevented him from relying on the time between the start of his case in 2008 and the final hearing in 2011. And because Jorge had no documentation of his first two years in the U.S., the Immigration Judge said he could not prove that he had the necessary ten years to qualify for cancellation. That holding was affirmed on appeal.
In 2013, Zaldivar applied under the Obama Administration for a discretionary stay of removal based on extreme hardship to his children if he were removed. For the next five years, ICE granted stays, allowing Jorge to remain together with his family even though he had a final order of removal. In July 2019, Zaldivar attended a routine check in and was detained. Due to intense public outcry, advocacy and organizing he was released shortly after.
Meanwhile, the legal underpinnings of Zaldivar's deportation order began to unravel due to recent Supreme Court cases. When Jorge had received the paperwork for his deportation hearing, the government used a faulty notice which failed to list the date and time of his first hearing. In 2018, the Supreme Court held that such a deficient notice would not stop the accumulation of the physical presence needed for cancellation. In other words, had the Immigration Judge applied the correct interpretation of the law, Zaldivar should have been granted cancellation in 2011.
Based on the Supreme Court decision, Zaldivar applied to reopen his case. When the Board of Immigration Appeals denied that motion, Zaldivar appealed to the federal court. Then, on November 13, 2019, despite the strength of his appeal, ICE detained Zaldivar again. In January of 2020, ICE deported Jorge to Mexico. With the absence of Jorge and all of the support he provided for the entire family, Christina was placed in a situation that was very challenging – mentally, physically, emotionally and financially – for her and their family.
At the end of February, Jorge Zaldivar's long odyssey through the byzantine immigration system finally concluded, with an Immigration Judge officially releasing her approval of an application for cancellation of removal. The decision makes Zaldivar a lawful permanent resident.
What a difference a year makes. Last year at this time, Jorge was in Mexico, having been deported despite a pending federal court appeal that challenged the erroneous denial of cancellation in 2011. In June 2022, the case was finally sent back to the Immigration Judge for a new hearing, and in October 2022 ICE paroled Zaldivar into the U.S. after nearly three years of exile.
The Immigration Judge approved Zaldivar's application in December, but her decision could not become official due to an annual quota on cancellation grants and an over three year backlog. This meant that Zaldivar would not officially become a resident until 2026.
However, in an unexpected turn of events, the Immigration Judge released her decision at the end of February, without explanation. A new green card has been printed and is in the mail as of this announcement. Jorge will now have official permission to live legally in the U.S. for the rest of his life with his spouse, children, and grandchildren.