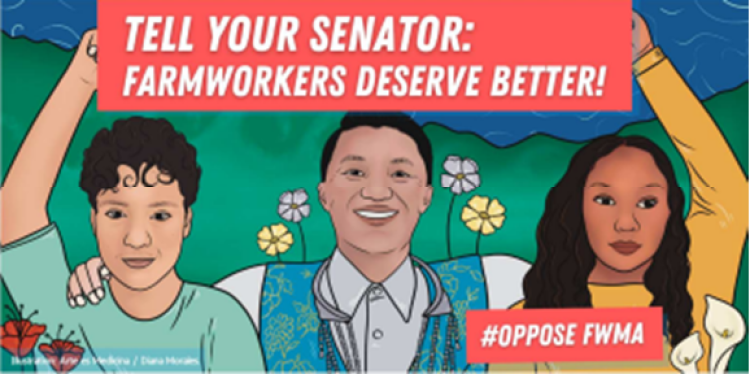 FOR IMMEDIATE RELEASE
August 15, 2022
Contact:
Oralia Maceda, 559-281-7631, oraliaa@centrobinacional.org
Sarait Martinez, 831-512-3316, sarait@centrobinacional.org
Myrna Martinez N, 559-355-5256, MNateras@afsc.org
August 29 National Day of Action for Farmworker and Immigrant Justice:
Fresno groups call on Senator Padilla to vote NO on the Farmworker Modernization Act
On August 29th, a broad coalition of organizations is holding events across the nation as part of the National Day of Action for Farmworker and Immigrant Justice. Communities are taking the streets to demand Congress oppose H.R. 1603 - The Farm Workforce Modernization Act (FWMA); the FWMA is an anti-labor bill that will set back farmworkers' rights for generations.
After passing in the House last year, there is news that a bi-partisan group of Senators is negotiating a Senate version of the bill, which could be even more harmful to workers. We are very concerned that the FWMA is dangerously close to getting the votes it needs to pass in the Senate. If passed, it would expand E-Verify and a flawed H-2A guest worker program while tying the possibility of regularized immigration status to eight years of exploitation.
We strongly believe farmworkers deserve better than the anti-labor Farm Workforce Modernization Act. We don't want laws that divide workers; we want living wages, better protections for farmworkers, and comprehensive immigration reform for all workers. The FWMA will only boost profits for the agricultural industry and big food corporations gouging prices on the backs of workers and communities. We are asking our representatives for solutions, not for more long-term problems in our farmworker communities. We invite organizations and individuals to join us for our day of action and demand:
No to the Farm Workforce Modernization Act.
No E-Verify for farmworkers and all other workers.
Immediate legal status for all undocumented people by moving the registry date to today's date, making it possible for all who need it to apply for legal resident status.
When: August 29, 2022
Where: Federal Building, 2500 Tulare St Room 1501, Fresno, CA 93721
Time: 10 am
Who: Centro Binacional para el Desarrollo Indigena Oaxaqueño (CBDIO)
American Friends Service Committee Pan Valley Institute
California Institute for Rural Studies
Other groups:
Alianza de Mujeres Activas y Solidarias (ALMAS) – Graton Day Labor Center
California Democratic Renters Council
Community to Community
Farmworkers Association of Florida
Frente Indigena de Organizaciones Binacionales
Food Chain Workers Alliance
Fuerza Mundial
Labor Council for Latin American Advancement, SF Chapt.
La Raza Centro Legal
Mississippi Immigrants Rights Alliance
Mujeres Unidas y Activas
Nicaragua Information Center for Community Action
Radical Women - US
San Francisco Labor Council
San Francisco Living Wage Coalition