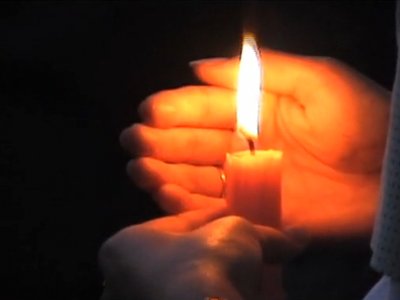 On the morning of September 28, 2023, community members gathered to prayerfully and peacefully protest the installation of a statue of the Spanish Conquistador Juan de Oñate at the Rio Arriba County Annex building in Española, New Mexico. Oñate was a colonizer who massacred 800 indigenous people in 1599, destroyed their village, and mutilated and enslaved the survivors.
The planned protest turned into a celebration at the news that the statue installation would be postponed. The indigenous women leading the event repurposed the pedestal that was to be for the statue and made a prayer altar where many people from different faiths could offer prayers of healing and reconciliation. AFSC New Mexico staff were at the event, answering the call to accompany community members in prayer and to help keep the peace.
That same morning, 23-year-old Ryan Martinez put a red Make America Great Again hat on his head and a gun on his belt and drove 130 miles away from his home to antagonize peaceful demonstrators and incite his fellow Oñate supporters. Shortly after noon, while Indigenous women were speaking about the enduring legacies of colonialism and white supremacy, Ryan Martinez recruited a small group of men and attempted to approach the altar.
People from the community – who had heard hate speech from the counter-protestors all morning – acted as peacekeepers and moved to stop them. All the men except for Martinez retreated, but Martinez continued to advance. He jumped over the wall and rushed the circle of women and children at the center of the courtyard. Community peacekeepers again stopped his advance. Martinez then drew his pistol and shot one peacekeeper in the torso and fled the scene. He was apprehended and arrested in a neighboring community.
The peacekeeper Martinez shot is Jacob Johns, an Indigenous man, a father, an artist, musician, and climate activist. He was airlifted to UNM Hospital where he is stable and expected to live. We are holding him and his family in the Light. A fundraising campaign was set up for him to help with expenses.
This act of white supremacist violence is a tragic confirmation that Oñate's legacy is alive and well in the United States. Indigenous people and their allies continue to face brutality from the defenders and perpetrators of colonialism. Historical violence resonates through time and is just as harmful today.
AFSC will always stand with those working to undo the lasting harms caused by colonization and white supremacy, in New Mexico and around the world. We will continue the work of moving toward right relationship with each other and the land we live on.
Please hold Brother Jacob in the Light and keep him in your thoughts and prayers, along with all those impacted by this act of hateful violence.